2016 continues to be a big year for Shelina Zadorsky and Stephanie Labbe. After helping Canada qualify for this summer's Olympics in Rio, they embarked on their first professional stints in the National Women's Soccer League.
Both have already made a major impact for the Washington Spirit, leading the club to the top of the standings with a record of four wins and a draw. The Spirit have conceded just one goal and have earned four clean sheets, tied for best in the league.
Zadorsky, 23, is gaining valuable experience as a starting centre-back with the Spirit and is playing important minutes ahead of the Olympics. For 29-year-old Labbe, the high quality opposition in the NWSL is pushing her to be her best. There is no better preparation for Canada's starting goalkeeper with Rio quickly approaching.
Sportsnet recently caught up with the NWSL rookies to learn about their journeys playing professionally in North America.
How has your NWSL experience been thus far and how are you enjoying Washington?
Shelina: I'm really enjoying everything. For me, I've been overseas for two seasons and this is my first professional season in the NWSL and it's pretty cool to share that with Steph as well, because she's been a mentor for me in the Canadian national team and now we're here together, which is so fun. D [Diana Matheson], too. It's a great group here. The team as a whole has been so welcoming and I think our staff has been awesome. The quality, we continue to improve on each week and then getting the results. We're currently undefeated and from my point of view, it's been pretty incredible.
Stephanie: Just to build off of that, having each other and coming in, having Shelina and [Matheson] here, has made the transition pretty easy. It's comfortable and that feeling of home with all the credit to the girls and staff as well. They're an incredibly welcoming bunch and it made the transition here so easy for us. For me, the biggest transition is just the style of play. I've been playing in Europe for the past six years, so to come here and play a totally different style with a much faster pace and a lot of transition—it's much more direct. I'm getting used to that and adapting to that has been the biggest challenge for me, but it's so fun and such a great journey so far. The success we've had so far is great and I'm looking forward to building on that.
You mention playing overseas. What other differences are you coming across when comparing North American style versus, say, playing in Sweden?
Shelina: I think it's a challenge working from the Canadian team where we work on building out, setting different platforms through our midfield and our defence. Here, it's a bit more direct. I think for any back four, it takes time to work together and work with each other's strength and weaknesses. In terms of style, I think it's a lot of running and transition. We've done well with it so far and I mean, when you have such fast players up front, I think we can use that to our advantage. It's good to get a feel for all different styles. I think playing in Sweden last year—with Denise Reddy [Washington's assistant coach], which is really cool—I think she worked with my technical ability a lot more and helped me grow. Here, I get to use a bit of both. It's a transition, but a good one.
Stephanie: For me, the biggest thing is the defensive transition. When I was playing in Europe, you're used to see a team build up and you can see the attack slowly forming, whereas here, things happen a lot quicker. Once the other team wins the ball, you know within one or two passes it's going to be coming forward. For me, it's about not having the time to organize. You have to do it early and I have to organize my back line as we're attacking because at any moment, that ball could be coming back down our throat. It's about understanding the game and always being aware, being on my toes. Offensively, when I get the ball, I'm constantly having forward outlets. I'm able to go forward quick if I want to, but finding the moments where we can set our own tempo and set our rhythm of the game where we can try to play out a bit more. It's different here because you try to play out and teams are just pressing you. They're high pressing from the start. I'm aware to pick my moments and not take any high risks, but at the same time, trying to create a rhythm and find a bit of a tempo.
You've both played in all the matches this season and have helped your team to the top of the standings. What's working so well with the Spirit?
Stephanie: Our team chemistry. It's a cliché thing that when you defend you have to defend as a team; it's not only the back four and goalkeeper. That's a big thing we have on our team is that we're defending well from the front and all the way to the back. With the chemistry, we all have each other's backs and we're not getting on each other's nerves when things aren't going well, which we just accept and move on. People continue to work hard for each other and cover each other. The biggest thing that's helping this team is the fact we're defending well from the front all the way to the back and we're defending well for each other.
Shelina: I completely agree with what Steph said. I think with this team it's fun because we have a lot of different leaders. Whether it's people leading by example in the way they work, the way they defend or people who are very vocal on the pitch. Me and Steph try to constantly speak and help people organize. Then you have someone like Joanna [Lohman] or [Christine] Nairn in the midfield who lead by example by the way they tackle, double team and help each other defend. Credit to Steph in goal, who has made some great saves and to our back line, who have done well 1 v 1, but have also been covering for each other has been really positive.
Something that's always fascinated me about the NWSL is the amalgamation of Canadian and American players. How do you separate club from country, given the strength of the Canada-USA rivalry and create a bond at the club level?
Stephanie: I think the biggest thing is at the end of the day, we're all professionals. Everybody has their opinions and their way to carry themselves, egos and all those things. Within this team, we're so fortunate in the sense we don't have egos. There's nobody putting themselves on a pedestal or doing things that they're above us because they have this many caps or they play for this national team or that national team. When we're here, everyone is here to be a Washington Spirit player and everyone is working hard toward that and when we go away to our national teams, then that's your focus and that's who you're there with. At the end of the day, we're professionals and when we're here, we're doing our best to make this club the best we can make it. The biggest thing I've noticed with our players is that we've left egos at the door. It's not about what you do outside this team; it's about what you're bringing to this team in this moment.
Shelina: I completely agree. I echo that team chemistry and how people want to better themselves, but also want to better everyone on the team. I think that's what's been happening in training. People show up every day and give it their all. That's what's making us better. You can see the quality of each game, we're getting better. We're gelling with the likes of Ali Krieger and Crystal Dunn. They're two great personalities and great leaders. I think that's been really fun and then, for me, the USA-Canada rivalry is newer than for someone experienced like Steph and those veteran national team players, but I've already had a great taste of it at the Olympic qualifiers and I know how real it is. It's fun thinking about the future and hopefully meeting them in Rio, but here, we know why we're here with this club. We're here to succeed. It's easy to focus on now and why we're doing it.
Diana Matheson is not only your teammate, but your roommate, too. What's that been like?
Stephanie: [laughs] We've been living together and it's been good. It's been a great mix because we're all so similar, yet so different. We get along well and we're respectful of each other. I think we've done our share of trying to do our best to see what's around us and go out and sightsee, do different things together. We can also find our alone time. We've all known each other for quite a bit now. Shelina and I have known each other for a year. D and I have played on the national team for eight or nine years together. We have a good friendship and we're getting to know each other really well off the field. That's only going to benefit us on the field in the future.
Shelina: It's been so fun just learning about how these two professionals do it. It's about how they carry themselves on and off the pitch. I think it's been really fun for me as a younger player to learn those habits and learn how they carry themselves. It's been fun getting to know the girls better and better. I think it's a real easy situation there. We like to have fun together [laughs].
And finally, I have to ask, have you shared any Canadian delicacies with the Spirit? Poutine, beavertails, maple syrup?
Shelina: [laughs] The team does know we like to have our pre-game pancakes and that's, of course, with maple syrup. We get a lot of heat for our accents as well, which is kind of funny. I blame Steph for that.
Stephanie: Yeah, what's that about!? [laughs] And just to reiterate what Shelina said, the biggest thing is the maple syrup. That comes up almost daily! People are always asking, 'Do you put maple syrup on that?' That's the joke around here.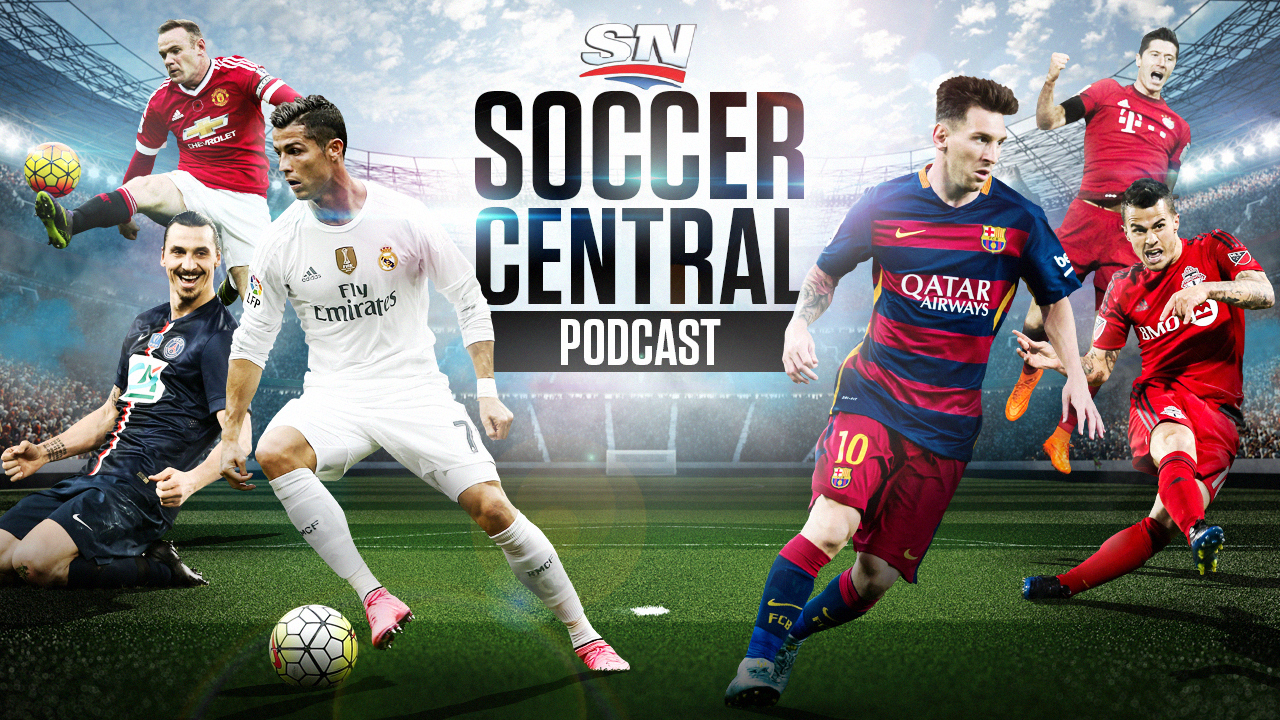 Sportsnet's Soccer Central podcast (featuring Thomas Dobby, Brendan Dunlop, John Molinaro and James Sharman) takes an in-depth look at the beautiful game and offers timely and thoughtful analysis on the sport's biggest issues.