TORONTO – Steven Beitashour and Justin Morrow are the best of friends off the field who both play the fullback and wingback positions, but go about their jobs in slightly different ways.
Morrow is known for his marauding runs down the left side in Toronto FC's five-man midfield, renowned for his attacking forays in the final third of the pitch and delivery of dangerous crosses into the box. He's also been one of the highest-scoring defenders in Major League Soccer over the past three years, and is currently tied as the Reds' third-leading scorer this season with three goals.
Beitashour makes probing runs down the right flank, and like his teammate on the other side of the midfield, he's known for his positioning, defensive awareness and consistent play.
But it's fair to say Morrow gets far more attention and recognition than Beitashour, in large part due to his scoring prowess. While Morrow has a keen nose for goal, Beitashour has only scored twice during his MLS career – and both goals came when he was still playing alongside Morrow with the San Jose Earthquakes, long before he joined TFC in 2016.
Although a regular starter who played a key role in TFC's march to the MLS Cup final in 2016, Beitashour flies under the radar, his simple but nuanced game going largely unnoticed.
"I'm okay with that. It's not my job to talk or to score goals. My job is to do all the little things right on the field in my defending," Beitashour told Sportsnet.
"People obviously take notice of goals, and maybe that's why I don't get much recognition, because that's what they watch for. I haven't scored much, so people will say, 'We didn't even know he's on our team.' And that's okay."
Beitashour may not garner much attention from fans and pundits, but coach Greg Vanney argues the California-born defender, who's been capped six times by Iran's national team, does the many little things right, and that's why he's been so successful.
"Not everybody sees his qualities but his ability to anticipate a defensive situation and turn it into nothing when it could be something is off the charts. I think a lot of people tend to focus on what a player does with the ball, or how many assists they have or how many goals they scored," Vanney explained.
"Where Beita stands out is his knack for reading a play defensively and helping us manage the situation, or maybe deal with the situation when it wasn't his responsibility but he senses something is wrong and then he's there to make up for the play."
He later added: "Beita is a very insightful player on the field. He's got an incredible nose for danger from a defensive perspective."
Spend any time with Beitashour and what will come across the most is the almost complete lack of ego – he routinely talks about the team, rarely, if ever, about himself. That plays out on the pitch, too.
"You won't see me score. That's just not my thing. My first instinct is to always pass; I'm looking to get other guys the ball. I get more joy out of watching my teammates put the ball in the back of the net. I get more joy seeing the joy on someone else's face from scoring," Beitashour admitted.
One of the Reds' most consistent performers since coming to Toronto via a trade with the Vancouver Whitecaps, Beitashour credits his mother for having such a selfless attitude.
"She's always putting other people before herself. My dad always kids with me whenever I have an open chance to shoot and I pass – he says, 'You take after your mom! Why don't you shoot more?' It's just one of those things. It's in my DNA," Beitashour quipped.
TFC has benefited greatly from Beitashour's unselfish play over the past two seasons, as he's helped the Reds become one of the best defensive teams in MLS. Vanney explained that Beitashour has a natural defender's mentality, who wisely picks his moments to get involved in the attack.
"Beita is a defender first and an attacker second, so his mindset is it to be a little bit unselfish and pessimistic to make sure things are taken care of on the defensive side before he goes an extends himself on the offensive side," Vanney said.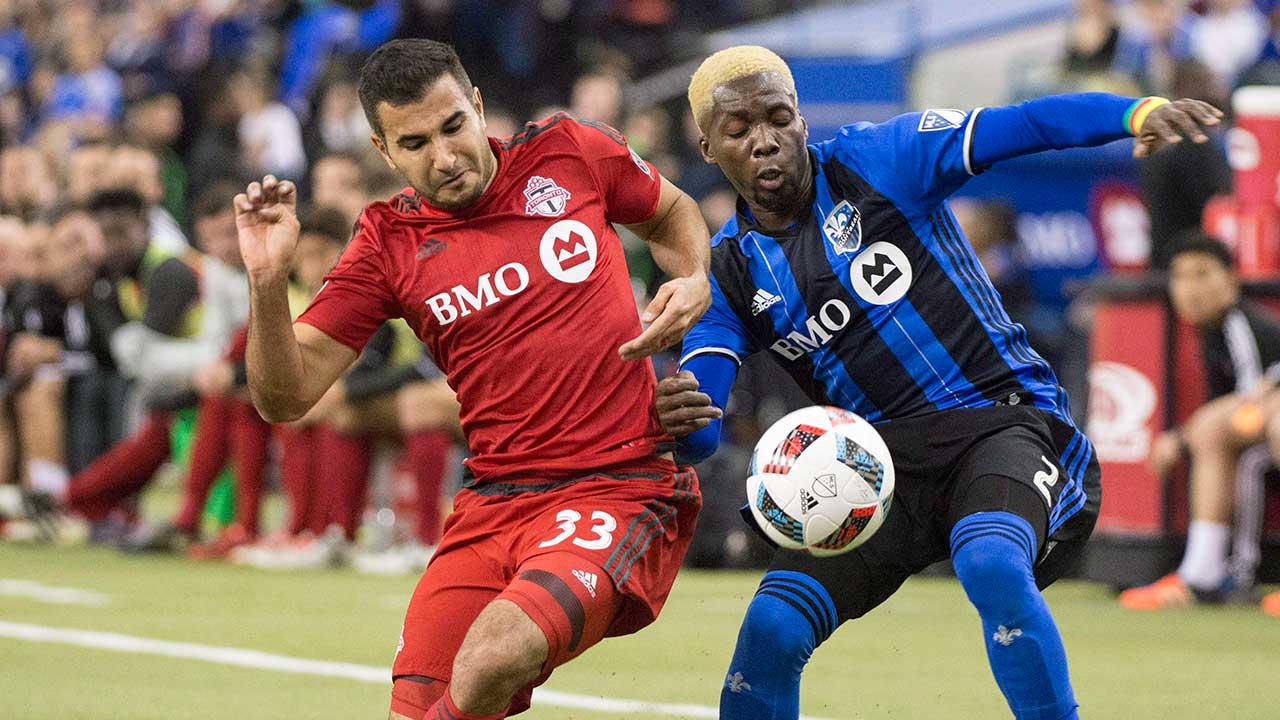 Morrow was recently named to the United States national team's preliminary roster for next month's CONCACAF Gold Cup. It marks his return to the U.S. setup since earning his lone cap, against Canada in a friendly on Jan. 29, 2013 in Houston. Morrow's recall has been a long time coming, as he's regarded as one of the best left fullbacks in MLS.
It's been roughly the same amount of time since Beitashour last played for Iran – although an American citizen he qualifies to play for the Asian country through his parents. He made his debut for Iran in an Asian Cup qualifier in 2013, and was later named to the country's 2014 World Cup roster, but he didn't end up seeing any action in Brazil.
Beitashour, who along with his wife often babysit Morrow's infant daughter Chiara, believes his TFC teammate's return to the U.S. team is long overdue.
"He deserves it. He's been so consistently good for the past three years. He's a good friend of mine so I felt bad for him, but it also resembled how I felt with Iran and not getting called back in after the World Cup," Beitashour said.
"We were both talking about how come either of us hadn't been recalled. I'm glad it finally happened for him, and now he's saying to me, 'okay, now it's your turn to get called in by Iran.' Hopefully it happens. I joke with him, saying maybe I need to score a few more goals like him to get their attention."
TFC Pitchside will provide Toronto FC supporters with an inside look into their favourite obsession Monday nights at 11 pm ET on Sportsnet 590 The FAN. Call it an all-access pass for all things MLS brought to you by co-hosts Dan Riccio, Thomas Michalakos and producer Amil Delic. You'll hear from the biggest names around the club, and the MLS. You'll also get reviews and previews of every TFC game with reports from Pitchside at training and on game days at BMO Field. The Six is about to get done!