TORONTO – It is one of the most infamous statements ever made about Toronto FC.
In a fit of frustration after a 3-1 loss to D.C. United on May 19, 2012, ex-TFC forward Danny Koevermans lamented that the Reds were "setting a record as the worst team in the world."
The loss at RFK Stadium was Toronto's ninth in a row to start the regular season, and the club was essentially out of the playoff picture before June. Days later, the Dutchman was asked if he let his emotions get the better of him, but instead of walking back his original statement he defiantly doubled down.
"Name me one team in the whole world that is 0-9," Koevermans vented.
A lot has changed since the burly forward left town. The 'Bloody Big Deal' was a big bust, Jermain Defoe came and went (was he really ever here?), and BMO Field had a facelift.
Toronto FC has undergone a major transformation, too. The Reds were one of the best teams in Major League Soccer during the 2016 regular season, and are now 90 minutes away from reaching the Eastern Conference finals. Toronto won the first leg of their two-game playoff series against New York City FC last week, earning a 2-0 decision at home. The return match is this Sunday at Yankee Stadium.
Former Canadian international Terry Dunfield has enjoyed an intimate view of TFC's renaissance this season. The 34-year-old native of Vancouver played for the Reds from 2011 to 2013 before being released. Now working as a commentator for TFC TV, the club's video web channel, the former midfielder was a member of that terrible Toronto side that opened the 2012 campaign with nine straight losses.
Dunfield took time out of his schedule to talk to Sportsnet about the not-so-good old days with Toronto FC and his thoughts on the current squad.
This is like old times, eh?
Ha. Yeah. This brings back memories, you sticking a tape recorder in my face after practice. No, really, you were always easy to deal with, other guys not so much. [laughs]
As a former player, what do you make of the run that TFC is on. How has the team fundamentally changed since you played for the Reds?
For the three seasons that I was here, this is what we strived for back then. This run that they're on now hasn't happened over night; it's taken a lot of time and patience. Each year the team progressed nicely, and in the last month or so the team has gone to another level. The top players here have got the very best out of everybody in the squad. This is why you're in the game—to win championships.
You can see the city is behind the team. We got support when we played in the CONCACAF Champions League, and we got a little taste of the excitement. But we never, unfortunately, were able to achieve what this team has done now. It's brilliant to be a part of it in a different capacity now. Their success is not a huge surprise to me. You could feel it was coming.
How much has the culture of the club changed compared to when you played for Toronto?
Huge. Michael Bradley, Sebastian Giovinco, Jozy Altidore—these guys have set a high standard for everyone. There's also more MLS experience in this squad, and that's hugely important. With each big occasion, there's no fear whatsoever. They are really embracing it.
Could you have been a starter on this current team?
Ha. I think at the moment that anybody could play alongside Michael Bradley in midfield. You could probably get a game with him and not look out of place. [laughs]
The competitiveness in me says I could, but I think their starting midfielders, not to mention the guys on the bench looking for a chance, would make it hard for me. There's so much quality there; it's really one of the main strengths of the team. I would have loved to have played with this group of players.
Any one player in particular?
Giovinco. Someone like that who you can just give him the ball and he'll create something out of nothing when you're struggling. Altidore, when the ball goes into him you know it's secure, and you can gamble and get forward. Bradley, with his incredible running capacity, how well he reads the game and how he simplifies an often-complicated game, to play alongside someone like that would be brilliant.
Is there anybody on this team that makes you think, 'Boy, if we had this guy back when I played for Toronto, he could have made a big difference for us'?
Looking beyond the three designated players, I think Drew Moor. His signing has been essential for this team, or a guy like Will Johnson. Players who really know this league have been great for TFC this season, and what I really like about this current side is I don't think this is a flash in the pan.
If you look at the ages of these players—Will, Drew, Justin Morrow, Steven Beitashour, Bradley, Altidore, Seba—there's a core of players there, and if the front office can keep them together it's not just going to be one run at a championship like this year, but this team could absolutely dominate MLS over the next three to four years. History has shown in MLS that when you have a core group of players, and you keep them together, it's very important. I think Toronto FC, for the first time in their history, have that.
So, you like the job that management has done in building this team?
I do, yeah. What's so great about this side is that each player brings something different. There are not players who are similar. In my time if you look at our midfield with Torsten [Frings], Julian [de Guzman] and myself, we were similar types of players. You look at this midfield and each player brings something dynamic, something unique. There is a wider and greater breadth of qualities that they bring.
Let's be honest, you played on some pretty bad TFC sides during the lean years. Toronto never made the playoffs while you were here. How difficult has it been for you to watch this team, and see them succeed, and you're not a part of it?
Oh geez, I'd love to be out there and playing, especially in this midfield. I love this club and to be somewhat close to it now like I am, that's special. But there is a part of me that thinks back and realizes we worked so hard in my three years to get where this team is now. We just weren't able to do it. But it's what this team deserves. This city has always deserved a fantastic team, and they finally got one.
They've come a long way from 'setting a record as the worst team in the world,' haven't they?
Ha. The Danny Koevermans quote, good one. I'm good friends with Koevs, and I actually spoke to him the other day. He's doing well, and doing a little bit of coaching back in Holland. He knows what's going on with [Toronto FC]. He watches every game and is emotionally invested.
This team has gone to another level since Danny and I were here, and credit to the front office for the job they've done. Not just in terms of pure talent and ability, but also this team has a ton of character. They've battled extremely hard, and in the end that's got them to this point.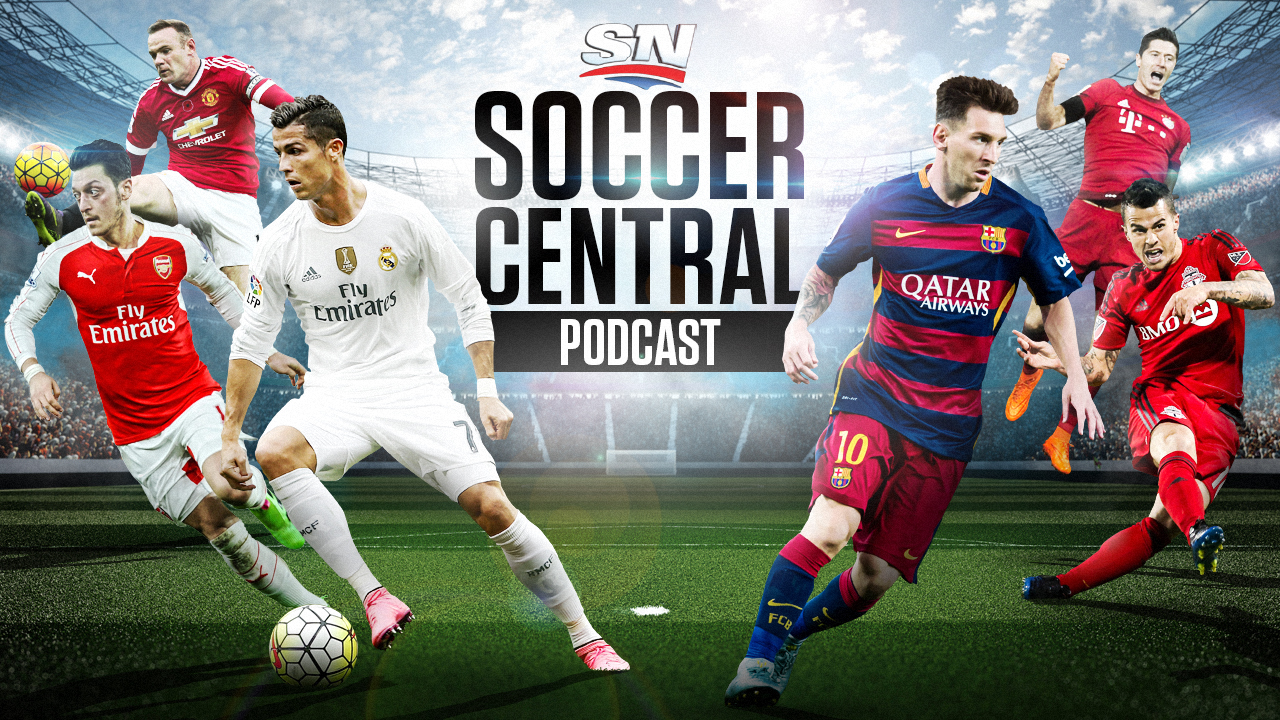 Sportsnet's Soccer Central podcast (featuring James Sharman, Thomas Dobby, Brendan Dunlop and John Molinaro) takes an in-depth look at the beautiful game and offers timely and thoughtful analysis on the sport's biggest issues.