When Greg Vanney was hired to replace Ryan Nelsen as coach of Toronto FC on Aug. 31, 2014, few outsiders believed he'd stick around for any length of time.
After all, this was his first coaching assignment, MLSE had gone through a number of managers in the previous seven years, and TFC was in a state of disarray – the team had yet to qualify for the playoffs since its first MLS season in 2007.
But Vanney has defied the critics and expectations. It's four years later and he is still standing. Not only is Vanney the longest-serving coach in Toronto FC history, he's also the most successful, having won three Canadian Championships, an MLS Cup and a Supporters' Shield. He was also named MLS and CONCACAF coach of the year for 2017.
At the moment, though, all is not well for TFC. The club currently sits nine points out of a playoff spot, and unless the Reds can run the table and win all seven of their remaining matches, they more than likely won't qualify for the post-season.
On the occasion of his four-year anniversary, Vanney sat down for a lengthy, one-on-one chat with Sportsnet to discuss a variety of subjects, including: whether TFC needs to undergo a culture change, his future ambitions, his thoughts on the new Canadian Premier League, his working relationship with GM Tim Bezbatchenko and much more.
This interview has been edited for length and clarity.
So, it's been four years since you replaced Ryan Nelsen. How has the time gone by for you?
Vanney: Honestly, I've lost track [of time]. It's gone by fast. When you're in the heat of the battle sometimes it doesn't always feel like it's going by fast, but when you have a chance to reflect, it feels like it's gone by fast. There's been a lot of new experiences this year that we have to learn from, and we'll process. That's how I personally approach everything. I try to be honest with myself and my players, and am always trying to get better, which means being honest and learning from situations.
Last year, a lot of things went well and smooth, so there was probably a little less reflection on some things, as opposed to a year like this where there were a lot of different variables and things we were contending with. It helps you to reflect and balance what happened last year with this year, because you always want to get back to having more years like 2017. That's what I'll take away from this season.
One of my worst experiences was at Chivas USA [Note: Vanney was an assistant coach with the now-defunct MLS club from 2011 to 2012.] On the face of things, it wasn't very successful, but I learned a lot from that experience, and that helped us to be successful in our process here.
Aside from winning trophies – be it MLS Cup, Canadian Championship or Supporters' Shield – what do you consider your greatest achievement with TFC? What are you most proud of the past four years?
There's been some players who have really grown and developed – [Jonathan] Osorio has come a long way, and I'm really happy for him and his family that we were able to re-sign him. But for me, it's the stature of the club within the city. The fan base has been reinvigorated over the last few years. The stadium is full on most nights. More times than not we put on an entertaining show for the fans. Beyond the city, the club is recognized as one of the best teams in MLS, and one of the model teams in the MLS.
When you look at our run this year in the Champions League, we made a big statement outside of just MLS, but also in CONCACAF. When I took this job, it was to try to be different and to be the best, and be open-minded to all the challenges involved in that. We've managed take a lot of steps in the right direction, and that's going to be the importance of reassessing a year like this – there'll be a lot to learn from it in order to continue to grow the club. We can't be satisfied with what we've accomplished in the past.
Have you gone back and re-watched the second leg of the Champions League final in Guadalajara vs. Chivas? What are your takeaways from the match?
I thought our effort, our resilience, our toughness, our adaptability – we were short-handed down there, Michael [Bradley] had to play in the middle of defence – against a very good Chivas team was great. We put ourselves within one play away from being CONCACAF champions. A couple of those plays existed when I watch both legs back, those plays were there for us. So, when I look at it from a single game perspective, I'm very proud of the group. When I look at the shootout, I'm gutted because of the effort that everybody put in to have reached that point and not finish it off. We just weren't able to close it out.
Former New York Red Bulls coach Jesse Marsch recently left MLS to become an assistant at Bundesliga club RB Leipzig. Do you have any similar ambitions to one day work in Europe?
I'm happy for Jesse. I actually owe him a phone call of congratulations, and I've been thinking of that a lot recently. For me, I'm very happy with where I am, but it's about finding ways to continue to learn and get better within this environment. Who knows where it will go in the future, but I still want to win and I believe we can win more championships here.
[Going to Europe as a coach] is something I've thought about. When I was a player in MLS, after eight years in the league, an opportunity came and I wanted to go challenge myself in Europe. … I'm ecstatic and happy to be here. I'm sure there will come a day when I won't be here, and at some point, yeah, as a manager, I would love to go to Europe to challenge myself.
What about the U.S. national team? Is that a job you'd like to have one day?
Yeah, I'd be interested in that. Maybe even the Canadian national team, one day. Being an international coach and going to the World Cup would be an objective of mine. As a player, I was an injury away from playing at the World Cup, and never got to go, so I would love to eventually coach a national team.
Next month marks the 10th anniversary of your retirement as a player. You were 34 when you called it quits as a member of the LA Galaxy, but I remember thinking at the time you could have played another season or two. Why did you walk away when you did?
I probably could have [kept playing]. Physically, I could have. I knew I wanted to be a coach. I spent much of my time, some of my coaches back then would say too much time, thinking about being a coach. The last two to three years as a player, I changed clubs four times and lots of things had transpired in my life. The Galaxy that season were totally unsuccessful. It was a circus year by all accounts, and it just didn't feel stable to me, and with me being 34 and already knowing what I wanted to do next, I felt my heart was more into making that move than grinding out a few more seasons as a player. It probably took me four or five years after retiring to say I wish I had played a few more seasons. But for the first few years, I didn't miss it one bit.
What was David Beckham like as a teammate?
A really good guy. A family guy. I enjoyed our time together. He was a hard worker, and he's a winner. He understood and knew how to see a situation and how to turn it into a winning situation. There were obviously lots of things outside of soccer that were going on his life, but he was very gracious. It's good to see him in the league now and owning a club [Note: Beckham is part of the ownership group behind the team in Miami set to join MLS by 2020.] because he'll hold very high standards with regards to how the club operates. He'll find a way to make the club successful.
Do you ever think about the path not travelled? For instance, what would you have done had you suffered an injury in your final year at UCLA before being drafted by the Galaxy in 1996, and were unable to play professionally? What was your backup plan?
I would be in coaching. I'd still be involved in the game. Probably to my wife's [consternation], I am obsessed with the game of soccer. My parents were educators and I was coaching when I was 12 years old – a group of little kids in the YMCA. I've always loved the analysis of the game and the teaching of the game. So, I would have been a coach.
You've previously told me that there's been times when you've struggled to maintain the balance between your job with your role as a father of four kids and a husband, and that when you do, your wife Amy is quick to set you straight. This past year has been even more hectic for you, thanks to the CONCACAF Champions League. How have you managed the balance?
I think pretty well when I'm in town. She has been around the block long enough to know the challenges of the season. It helps a lot that two of the boys are here. [Note: Vanney's 11-year-old twins Mason and Dylan play in the TFC youth academy.] I don't know what we would do if they weren't here. And this past year, our youngest son is playing somewhere else, so the schedule of driving the kids around and getting them to various things – my daughter just started a new high school which is in a new place, and she's going to a new gym for gymnastics which is Mississauga. I don't know how the next year is going to go, but I think we have a good balance at home. What's most important is that when I'm at home that I'm present.
How do you unwind away from work? What do you do for fun? Toronto FC is off this weekend – what are your plans?
[laughs] You know what I'll be doing this weekend? I'll be here [at the club's training facility]. I'll be watching youth team games. Tonight, I'll be at the TFC 2 game. That's part of my obsession with it all. At a certain point at night I try to put the computer away and watch shows that my wife and I have managed to agree upon. There's a handful of those. [laughs]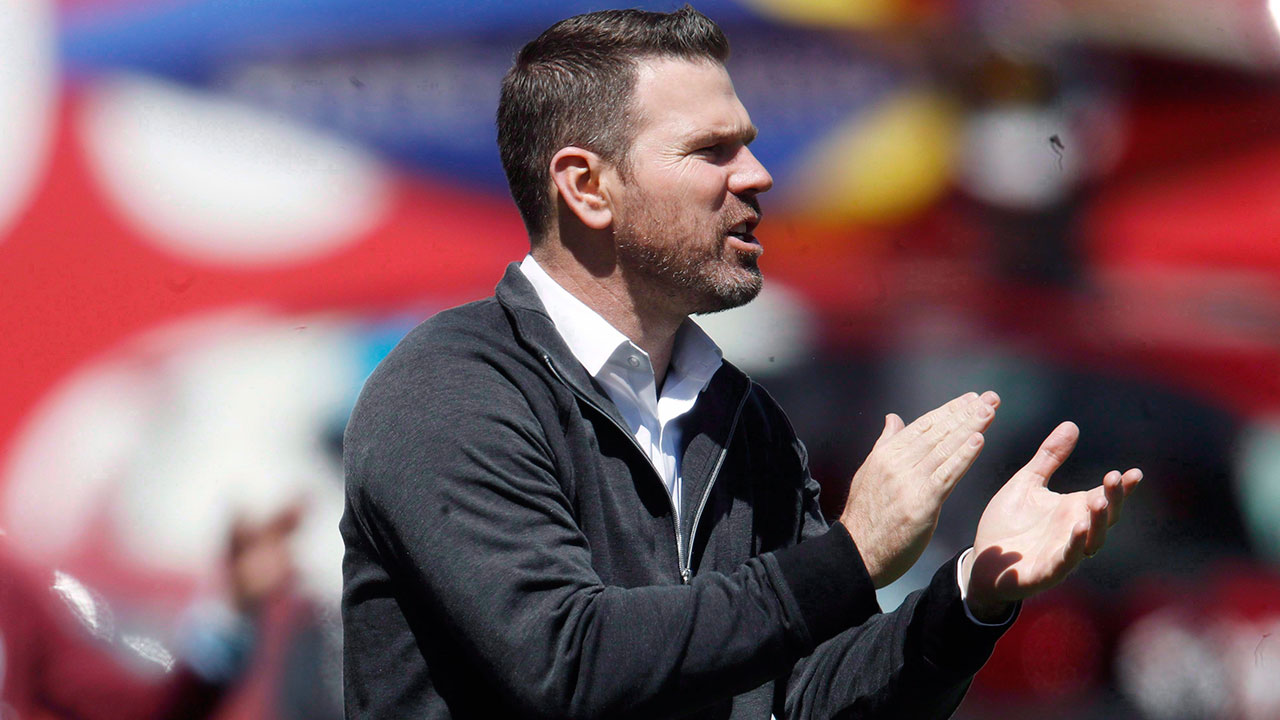 What are your thoughts on the Canadian Premier League that will launch next year?
I think the league is great. We need to continue to drive player development in Canadian soccer. [But] I also think we need to produce more good players to sustain this league, and the quality of this league, and the interest in this league, which means emphasizing the things that can be worked on in youth development. In my opinion, there needs to be a broader and bigger eye into the investment in that, so that way the sustainability of the CPL will be better.
I understand that the CPL could motivate more clubs, more people into committing more time, and energy, and resources into grassroots and youth development. I hope that's something that will happen, as well. I think there's going to be a gap between the quality of the youth player who comes through to support the CPL and the numbers they want to get [involved in the league] across the country, which means they'll likely have to push some players faster and sooner than you normally would.
You and general manager Tim Bezbatchenko have both played major roles in building TFC into a team with one of best and deepest rosters in MLS. What's the working partnership like between you and Tim?
I think honesty is a big part of it. We will debate and discuss things. We have a great scouting department led by Jack [Dodd], who provides us with a lot of options. Tim and I are pretty clear on the qualities of the players we want to add to our group. What we have to continue to work on, and what is the most difficult thing is, is to match the qualities of the player along with the personalities of the guys you're bringing into the team. A lot of times when you're scouting, you can tell what the player's qualities are by watching a video or DVD. You can make some good initial assessments that way. But the real challenge is the personality of the players and how that will fit in with the group at large, and how they'll mesh, and whether this is the right place for them. Those are the types of things that Tim and I agree on 100 percent of the time.
Aside from putting the roster together, you've also played a prominent role in helping to change the culture of this team from what it was when you took over from Ryan Nelsen. In light of the team's poor run in MLS this season, and considering Michael Bradley's recent stinging comments, do you think Toronto FC has to undergo another culture change?
I don't know if I'd say a culture change is needed. I think a culture check is needed, for various reasons. There were a lot of variables we dealt with throughout the season. When a lot of those variables came into a play, some of the things that are important to our culture got lost through it.
The fact we lacked so many full training sessions [due to guys being out injured] hurt the culture a little bit, because who we were as a team over the last few years was when we went to the training ground, we trained hard. Guys worked hard and they suffered together in training. We built confidence and relationships through that, and we just haven't had that this year on the training field. That's a part of what went into our success the last two years. There's a lot of different things that went into it, but that's one of them, and I think we've suffered a bit this year because of it.
We need to check and re-establish some of the really important things to our culture, and making sure that they are in place. Part of that is looking in the mirror, all of us, and making sure that's right.