HARRISON, NJ—Toronto FC had a hard act to follow in their last two Major League Soccer regular season openers.
Two years ago, the Reds waltzed into Seattle and thrashed the Sounders. In 2015, they did the same to the Whitecaps in Vancouver.
Toronto's 2-0 win over the New York Red Bulls on Sunday afternoon before 21,303 spectators wasn't pretty, nor did it set hearts racing with its entertainment value like those openers in Seattle or Vancouver. But for a TFC side beginning the 2016 campaign with a gruelling eight-game road stint, they did what they had to do: defend, and ride their luck, all with an eye towards trying to take a point off the Supporters' Shield holders.
They ended up taking three thanks to Sebastian Giovinco's goal from the penalty spot in the 82nd minute. The Italian also set up Marco Delgado's injury time goal.
Based on the balance of play, the final result was harsh on New York. But this isn't a meritocracy. You take what you can get—TFC made the most of their chances, the Red Bulls didn't.
TFC normally doesn't win games this way, by getting down and dirty, and being tough to break down. Toronto also turned the tables on the high-pressing Red Bulls by strategically pressuring New York high up the field.
"It was a just a gritty, hard-nosed defensive performance that gave us a chance to win the game. We didn't win a ton of games like that last year," TFC coach Greg Vanney said.
"For us to come in and win that way, really on the strength of our defending, is great for our group. It's an even bigger building block to win that way than to win by out-possessing them, and creating chances. For us to win that way psychologically is important."
Captain Michael Bradley agreed: "Last year we beat the teams that were better than and we lost to the teams that were better than us. That was indicative of where we finished [in the regular season], right in the middle."
With forward Jozy Altidore out injured, Vanney deployed a 4-3-3 formation, with Giovinco flanked by Daniel Lovitz and Japanese rookie Tsubasa Endoh in attack. Bradley was partnered with Will Johnson and Jonathan Osorio in midfield.
The defence featured newcomers Drew Moor (in the middle) and Steven Beitashour (on the right), accompanied by left fullback Justin Morrow and central defender Damien Perquis. Clint Irwin, another newcomer, started in goal.
TFC's new look back line was abetted by Bradley, who played very deep as a defensive shield in front of Moor and Perquis. As a consequence, TFC didn't look very dangerous going forward, and in fact, they deliberately slowed the game down every chance they could.
"Sometimes it's hard to get midfielders in front of you to listen to you. [Bradley] had his ears open and did exactly what we asked of him. … He's pretty good on the ball—you give it to him and he's going to find the outlets, the right pass. That way we're not completely absorbing too much pressure. He's one of the best players in this league for a reason," Moor stated.
Attacking thrust was sacrificed for defensive stability, which hardly came as a surprise—TFC was playing away from home (they were winless in six previous games at Red Bull Arena), and are coming off a 2015 season in which it conceded a league-worst 58 goals.
A clean sheet away to New York is great way to start the year. Another positive was Moor looking pretty comfortable in marshalling Toronto's back line.
"The Red Bulls want you to beat yourself; they bait you into making mistakes. We didn't do that. We took advantage of the opportunities we had, and we stayed extremely organized. They had the better of the play, but I never felt uncomfortable, I never felt pinned in," Moor offered.
Endoh displayed some nice touches for a rookie—his final balls played into the box were another matter—and looked lively for most of the game. He also won the penalty that led to Giovinco's winning goal.
"He's got an incredible work rate and he's got a ton of confidence in what he's capable of doing. I was very proud of him today," Vanney said of Endoh.
A cat-and-mouse first half produced only two genuine scoring chances, both by New York. Ronald Zubar out-jumped two Toronto players to a corner kick played deep into the box, but he powered his header over the crossbar. Bradley Wright-Phillips and Lloyd Sam played a quick one-two on the edge of the box that pulled Morrow out of position. Sam blasted his shot high and wide.
New York squandered a glorious opportunity to break the deadlock in the 65th minute. Toronto failed to clear its lines before the ball broke kindly for Mike Grella. Irwin challenged Grella by making himself big, forcing the midfielder to shoot wide.
Without much service, Giovinco didn't exert much influence on the day, until late in the game. The Italian played a lovely cross into the penalty area for Endoh who charged towards goal before being brought down from behind by Kemar Lawrence. Giovinco slotted the ensuing penalty attempt inside the lower left corner past Red Bulls goalkeeper Luis Robles.
After coming on as a substitute, Delgado sealed the result for Toronto with an injury-time goal, breaking in on alone off a feed from Giovinco that unlocked the Red Bulls' defence.
NOTES: The Red Bulls lead the all-time series against TFC with 12 wins and five draws in 24 meetings… These teams will meet two more times this season: May 28 in New Jersey, and Sept. 18 in Toronto… TFC won't play its first home game of the campaign until May 7—construction and renovations to BMO Field means Toronto must begin the season with eight consecutive road games… TFC returns to action next Sunday versus New York City FC.
---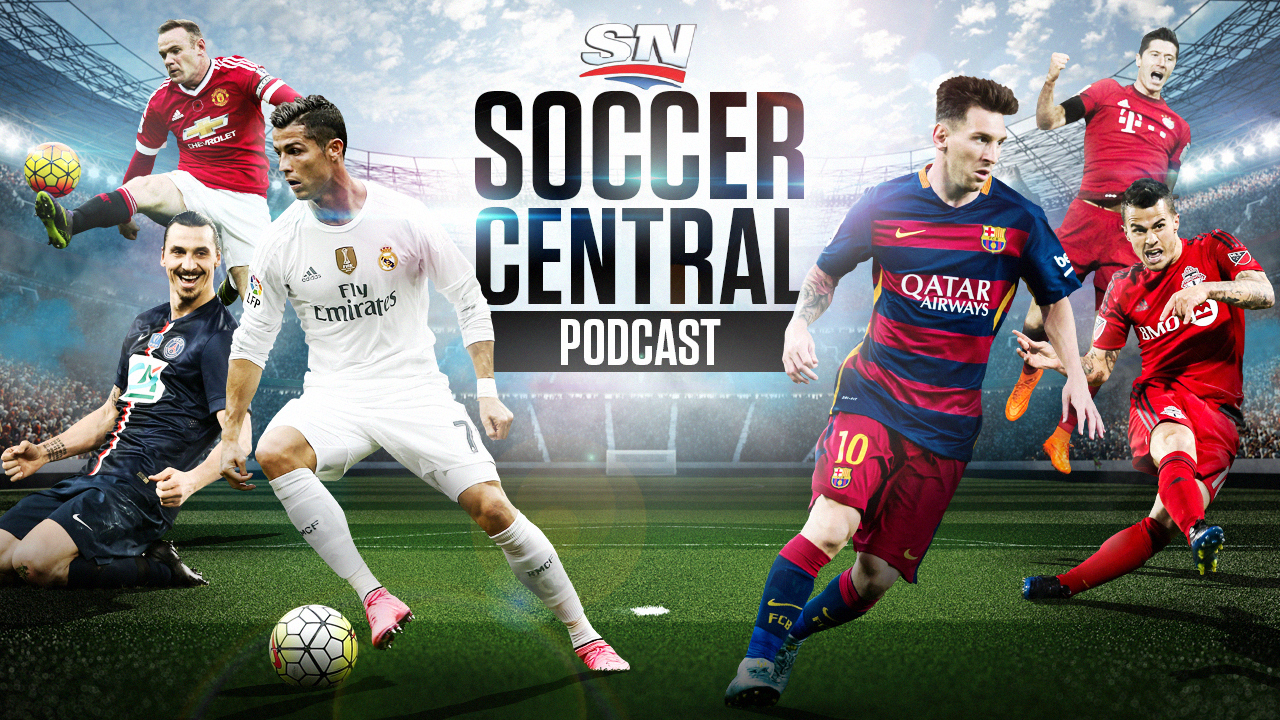 SPORTSNET.CA's Soccer Central podcast, hosted by James Sharman and John Molinaro, takes an in-depth look at the beautiful game and offers timely and thoughtful analysis on the sport's biggest issues.
Listen here | iTunes | Subscribe to the podcast
---