Toronto FC was back in training on Wednesday ahead of its home game against the New York Red Bulls this weekend.
Here are some news and notes from today's practice at the club's training facility in Downsview.
A win away from clinching a playoff spot
Believe it or not but Toronto FC can officially clinch a playoff berth on Sunday. Admit it: that snuck up on you, right?
While TFC left it relatively late last year in securing their first post-season berth in franchise history, this year they can clinch a playoff spot with five games to spare if they beat New York.
A few players were surprised to learn this when informed by reporters after Wednesday's practice.
"That's the first I heard of that, to be completely honest with you. That tells you where we're at," Jozy Altidore admitted.
It's clear from speaking to the players that making the playoffs is simply not good enough—they want to finish in first place in the Eastern Conference, thus earning a first-round bye and securing home field advantage in the post-season. They also have their sights set on Western Conference-leading FC Dallas, who currently leads the race for the Supporters' Shield, awarded to the first place team overall in Major League Soccer at the end of the regular season.
"Our goal this year is different than in past years. We're searching for higher things, we're searching for first place in the East, [and] we're searching for the Supporters' Shield. We know we can't achieve that this weekend, so our goals are further down the road, and were going to keep striving until we get there," defender Eriq Zavaleta said.
Altidore called it "a bonus" to clinch early in competitive league such as MLS, but he echoed Zavaleta's sentiments.
"For us, I think we're looking a little bit past [just qualifying for the playoffs]," Altidore said.
For the record, TFC can also clinch on Sunday with a tie AND if two of the following three happens: 1) D.C. United wins or ties vs. Chicago Fire on Friday, 2) Orlando City ties or losses vs. Columbus Crew on Saturday, 3) New England Revolution ties or loses vs. Montreal Impact.
Giovinco's status, other injury updates
Top scorer Sebastian Giovinco did not practice on Wednesday as he remains sidelined with an injury—he suffered strains in his quadriceps and adductor during the Reds' 1-0 loss to the Montreal Impact in late August.
The Italian has missed one game, last week's 2-1 win in Chicago, and remains doubtful for Sunday's match versus New York.
Canadian forward Tosaint Ricketts is questionable for Sunday after picking up a groin injury in Chicago.
Canadian midfielder Jay Chapman is still out due to an MCL tear, and is likely a week away from returning to full training. Defender Mark Bloom is still dealing with an ankle injury, but he should return to practice this week, and he could be available to play on the weekend.
Canadian defender Ashtone Morgan remains out long-term with a stress fracture in his foot.
Battle for 1st place heats up
Sunday's game at BMO Field could go a long way in deciding who finishes first place in the Eastern Conference by the end of the season.
At the moment New York (12-9-8) sits second in the East, two points and one place behind leaders Toronto (13-8-7). The Red Bulls are coming off a 2-2 draw against D.C. United at home this past weekend. Toronto sports an all-time record of 7-13-5 against New York in MLS play.
"We have a four-game span at home and it's important that we pick up as many points as we can, but especially against a team that's close to us, that's surging and that's done well," Zavaleta said.
This is the third and final game of the year between these two clubs. TFC earned a 2-0 win in New York on March 6 on the opening day. The Red Bulls gained some revenge via a 3-0 win at home on May 28.
After Sunday, TFC continues its four-game stint at BMO Field with matches against the Philadelphia Union (Sept. 24), Orlando City (Sept. 28) and D.C. United (Oct. 1).
With five of the Reds' last six games of the season at home, TFC controls its fate in the battle for top spot in the East.
"Things are in our hands playing at home in front of our fans. It's up to us to make this thing happen and get results. There's really not any excuses and we know that," Altidore said.
Alex Bono or Clint Irwin?
Who will start in net for TFC against New York on Sunday: Alex Bono or Clint Irwin?
Irwin was on the bench in Chicago after coming back from a lengthy injury layoff. He was fit to play, but coach Greg Vanney continued to go with backup Alex Bono.
Irwin started the first 15 games of the season for Toronto before suffering a quadriceps strain in late June. Since then, Bono has looked solid as the Reds' goalkeeper, posting an 8-3-3 record with three clean sheets. He's made a case for more playing time after confidently backstopping Toronto in Irwin's absence, so don't be surprised if he starts again on Sunday.
"It's very important for us to have at least two goalkeepers down the stretch who are in form, who are ready to step in at any moment, and Alex has been good. I thought [the Chicago win] was maybe one of his best games so far with us," Vanney said.
Simonin back in the fold
French defender Clement Simonin could be back in the mix for the first time in a year.
Simonin hasn't played for Toronto FC since last September when he suffered a knee injury that ruled him out for the rest of the season. The Frenchman only made two MLS appearances in his rookie year totalling 171 minutes.
After undergoing surgery, Simon went through a lengthy rehabilitation program and has recently logged some playing time with TFC 2, the club's farm team that competes in the third-tier USL, in order to help him get back into game shape.
Vanney didn't rule out the French defender rejoining the team over the course of the last few weeks of the MLS campaign.
"He's got a special talent that's different than our other centre backs. He's left-footed, which is always nice, but he's got a special left foot and [he has the] ability to open up the game and find passes," Vanney said.
NOTE: I chatted one-on-one with Jozy Altidore on Wednesday evening to get his thoughts on NFL quarterback Colin Kaepernick's decision to not stand for the national anthem. Look for the story on Thursday afternoon on Sportsnet.ca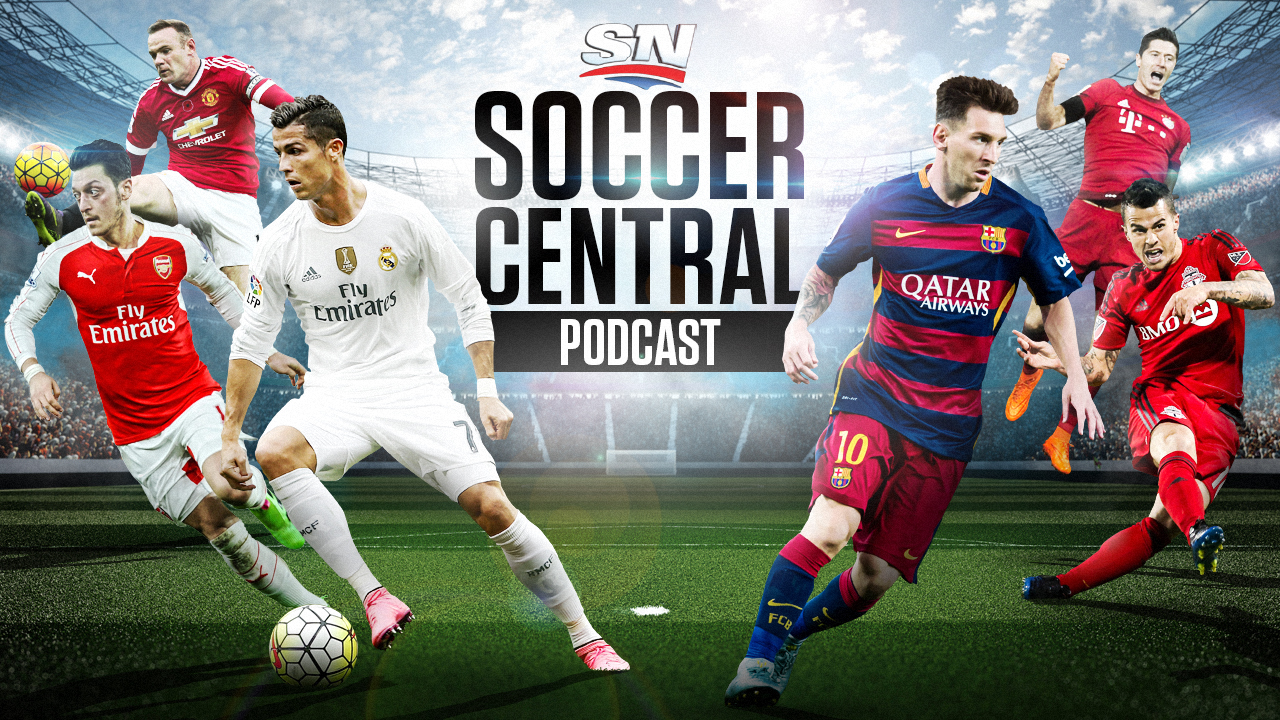 Sportsnet's Soccer Central podcast (featuring James Sharman, Thomas Dobby, Brendan Dunlop and John Molinaro) takes an in-depth look at the beautiful game and offers timely and thoughtful analysis on the sport's biggest issues.