TORONTO – Who has the advantage between Toronto FC and the Montreal Impact ahead of Wednesday night's second leg of Major League Soccer's Eastern Conference final? It depends on how you look at it.
With a 3-2 victory at home in last week's opener of this aggregate series, the Impact have more room for error in that either a win or a draw would allow them to become the first Canadian team in league history to advance to the MLS Cup final. Toronto, on the other hand, needs to win, ideally 1-0 or 2-1, but a two-goal victory by any score line would also suffice.
TFC also has the added advantage of playing this decisive match at home, in this case a BMO Field with added seating, which means the Reds will host the Impact before a sellout, record crowd of 36,00 fans on Wednesday evening.
So, this game is delicately balanced, with the series poised to be decided by the slightest of margins. And that suits Toronto FC just fine.
Ever since last year when the Reds conceded a league-high 58 goals during the regular season, coach Greg Vanney has worked hard to reinvent his team into a defensively-responsible side. Starting in pre-season training camp, he preached to his players the importance of grinding it out in close matches, to be able to win games 1-0.
The new approach worked. TFC gave up only 39 goals this season, tied for the second-best defensive record in MLS, and, just as important, they won six matches by 1-0 score line. Here Toronto is, facing the biggest game in franchise history, and another 1-0 win would see them go through to the final. Funny how life works out sometimes, eh?
Vanney was reminded of his pre-season mantra after the team's final practice on Tuesday morning.
"They were prophetic words at the beginning of the year in pre-season when I said that's something we have to get comfortable with," Vanney said.
He later added: "We don't necessarily have to rush at the beginning and look for the goal. We can look for that goal over the course of the match."
Down 3-0 in the first leg early in the second half, Toronto clawed its way back into the game and this playoff series courtesy of goals from Jozy Altidore and captain Michael Bradley. Had the game ended 3-0, the odds would have been stacked against the Reds. As it stands, those crucial road goals gave TFC a life line going into Wednesday's return match.
"We feel very good about the position we're in," Bradley said. "This is why you play. We have 90 minutes at home to get to a final.
"Opportunities like this aren't coming around every day and I think we have a group of guys who understand that and who are ready to embrace the game and go for it and leave everything we have on the field."
Don't expect the Impact to stray too far away from their game—a counter-attacking style that relies on quickness in transition—in the second leg unless they need goals. They'll likely clog the midfield with bodies, stay defensively compact, and force Toronto to break them down, while looking to pounce on mistakes and hit on the counter when the Reds concede possession.
That formula worked last week in Montreal for an hour when a rampant Impact side stormed out to a 3-0 lead. There is one thing, though, that Montreal coach Mauro Biello would change about his approach for Wednesday's contest.
"The first game we took that lead, that 3-0 lead, and, you know, we took a little bit of our foot off the pedal. We saw the finish line, and we decided to slow down a little bit. But, you know, those are experiences that we need to learn from and grow from. In the end now, we're preparing to be ready for different moments and how we need to react to those moments," Biello said earlier this week.
Because this is an aggregate series the landscape of Wednesday's game can change in an instant. An early goal by Toronto would mean Montreal must open things up and try to score. Conversely, if the Impact go out in front, TFC then must become very aggressive in attack and try to score twice.
It means both coaches must quickly adjust their tactics to multiple scenarios.
"We need to prepare for everything," Biello said. "For us, it's about being ready of what Toronto could give us and at the same time preparing the teams so that we can unbalance them.
"In the end, the message to my team, obviously, when we don't have the ball is to limit their space and time, and when we do have the ball it's about believing that we can score in any moment."
NOTES: Should TFC lead 3-2 after 90 minutes on Wednesday, the teams would then play two 15-minute extra time periods in their entirety. If the aggregate score remains tied, they'll go to a penalty shootout to decide the match… If Toronto advances, it will host the MLS Cup final on Dec. 10. If Montreal moves on, the Seattle Sounders, who beat the Colorado Rapids to win the Western Conference, will host the final. Unlike in the NFL with the Super Bowl, Major League Soccer's championship game isn't staged at a neutral site—instead, the higher seed of the two finalists gets to host.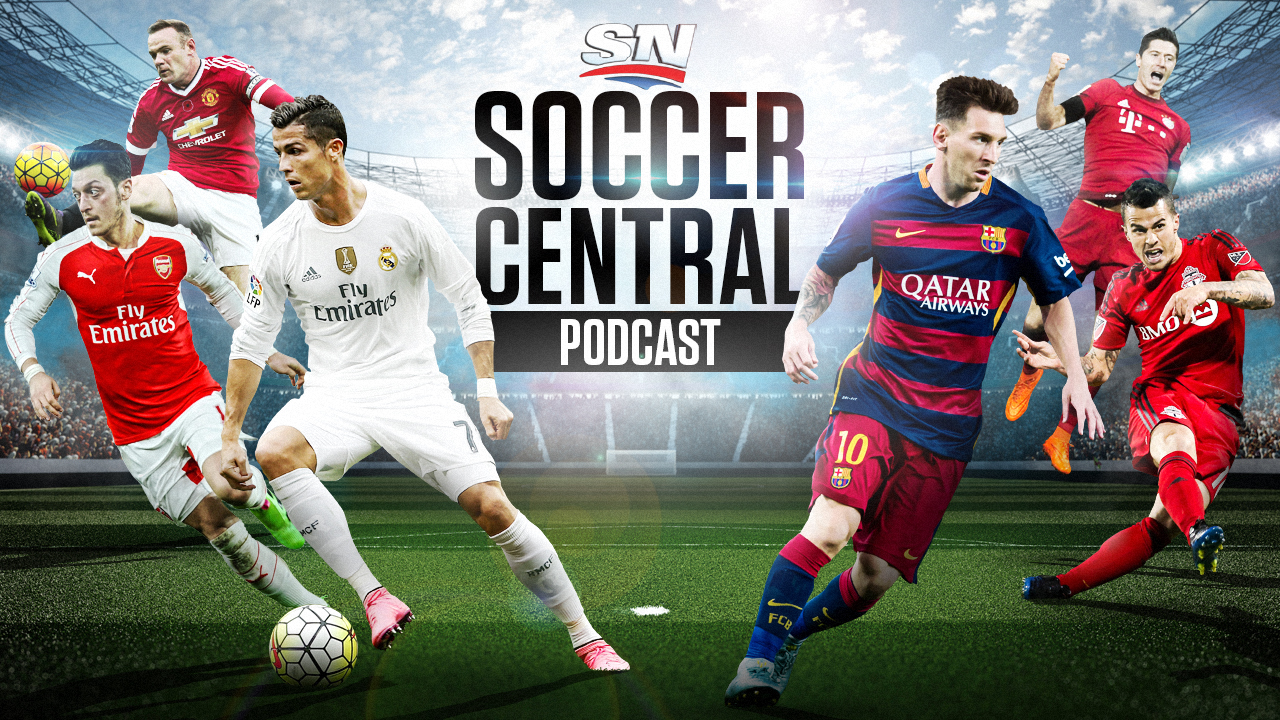 Sportsnet's Soccer Central podcast (featuring James Sharman, Thomas Dobby, Brendan Dunlop and John Molinaro) takes an in-depth look at the beautiful game and offers timely and thoughtful analysis on the sport's biggest issues.
Listen now | iTunes | Podcatchers