TORONTO – You'd have been forgiven for mistaking Toronto FC's training facility as a morgue on Monday morning.
There was no energetic buzz swirling around the building after the Seattle Sounders beat the Colorado Rapids to win the Western Conference on Sunday evening, a result that guarantees Toronto FC would host the MLS Cup final on Dec. 10 should it get past the Montreal Impact.
Instead, TFC's Kia Training Ground was eerily silent, the only sounds coming from the cook staff diligently working away in the dining hall and kitchen, and the players hard at work out on one the facility's perfectly manicured grass pitches.
Down 3-2 from the first leg of the Eastern Conference in Montreal, the Reds can win the aggregate series and ensure that MLS Cup takes place at BMO Field should it beat the Impact in Wednesday's return match. Unlike in the NFL with the Super Bowl, Major League Soccer's championship game isn't staged at a neutral site—instead, the higher seed of the two finalists gets to host.
A 1-0 or 2-1 win on Wednesday would seal the deal for Toronto. We're getting used to saying this, but this is the biggest game in franchise history—TFC is 90 minutes away from hosting the MLS Cup. It's a huge opportunity for this club, but coach Greg Vanney maintains that knowing TFC can clinch home-field advantage changes neither his tactical approach, his preparation, nor the team's mentality.
"No. Nothing. It's actually, in my opinion, quite irrelevant for the next two days," Vanney told reporters after Monday's practice. "Nobody said a word about it today in our [coaches] meeting, and in my interaction with any of the [players], not one person even mentioned it. We know we have plenty of work ahead of us in dealing with this next match with Montreal."
It's not a distraction? Not even in the slightest?
"Honestly, not one word has been spoken about it," Vanney affirmed.
Still, it is quite amazing that we're even talking about the extraordinary and remarkable opportunity that sits before the Reds.
Toronto FC, long the laughing stock of this league, can host the MLS Cup before their long-suffering fans with the right result on Wednesday—this after the "Bloody Big Deal" campaign went down in spectacular flames two years ago.
Surely, the gravity of the situation has registered with the players, no?
"For me, to [the media], and I'm sure to [the players] in their own heads, there is that recognition that a good result, a favourable result for us makes a historical day for the city. It's a great opportunity. It's just not something that we spend too much time turning our attention to. It's not to say that we aren't quite aware of it. We know the value and the possibilities that exist should we take care of business on Wednesday," Vanney admitted.
So there's a recognition of the situation, there just isn't anticipation. Or, at least, that's TFC's story, and they're sticking to it.
Sunday's win by Seattle, who like both Toronto and Montreal entered the league as an expansion franchise, means that for the first time in MLS history that at least one of the league's "original" clubs won't be in the final.
That, according to Vanney, is a sure sign of how much that MLS has grown since its inaugural 1996 season. Vanney also believes that with the 20-team league set to welcome three new clubs over the next two years that it will become even harder for sides to have the same opportunity that Toronto currently has of hosting the MLS Cup.
"A lot of the teams that have [come into] the league have entered in with guns blazing and a willingness to bring in the best players they possibly can, and for some of them to compete as a big club in this league. There's a lot of ambition with the clubs that have come in… to try and get there and be successful," Vanney explained.
"The league is going to continue to grow, and it's going to get more and more difficult to get to this point. To have the opportunity to play [an MLS Cup] at home is going to be more and more difficult every year from here on out, because as we add more teams [fewer teams will] have that opportunity. We know that. We don't talk about it. But we know. We're aware."
Wednesday's game has also led to a debate as to which team is the favourite going into this crucial second match. On the one hand, TFC is playing at home and knows that all it needs is a 1-0 win. On the other hand, Montreal has a 3-2 aggregate lead, and can advance with a draw.
"They have the lead, so from that perspective they enter the game as the favourites," Vanney claimed. "What we have on our side is that we're at home and that [if] we score one goal we can quickly turn that around. It's almost like the game is 0-0 for a certain portion of the game and if we score we're on top."
Veteran defender Drew Moor views it differently.
"I don't think there's a favourite either way. We don't think about that kind of stuff. If we win 1-nil, great—we go through. They're playing extremely confident now. … A lot of people say we're in a great spot with two road goals, but history has shown it's difficult when you have the second leg at home after you didn't get a result from the first leg," Moor said.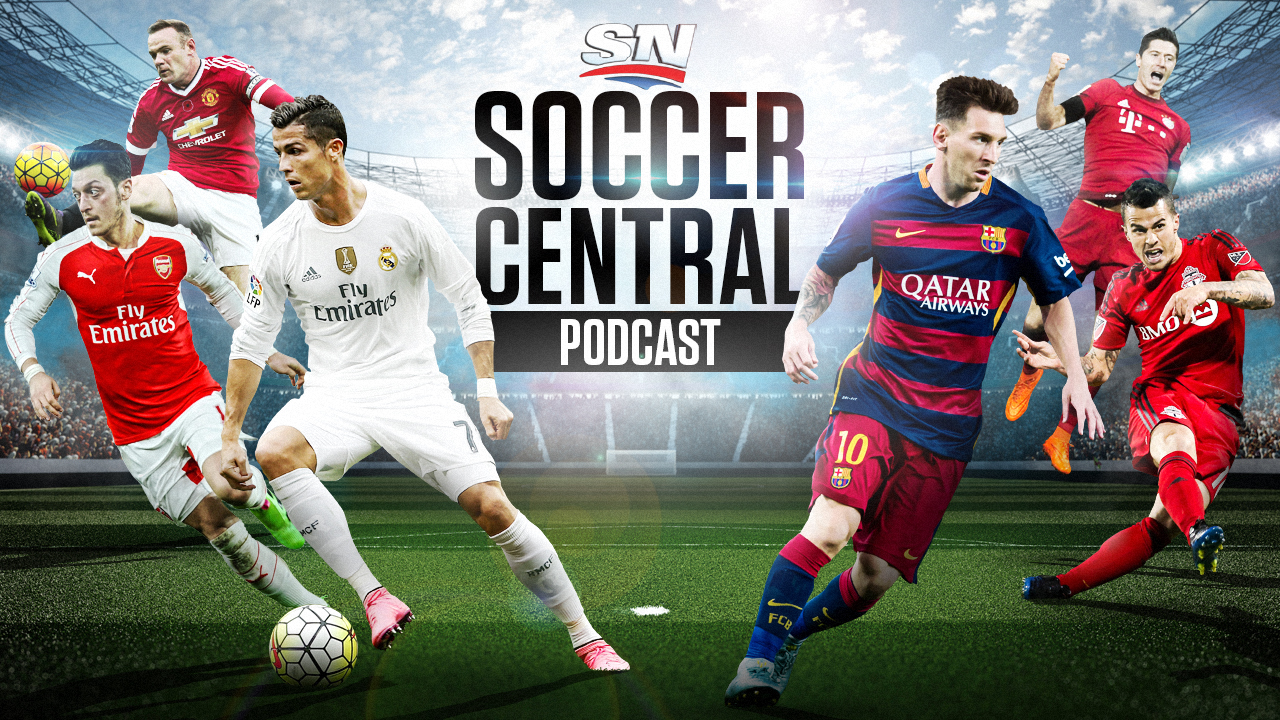 Sportsnet's Soccer Central podcast (featuring James Sharman, Thomas Dobby, Brendan Dunlop and John Molinaro) takes an in-depth look at the beautiful game and offers timely and thoughtful analysis on the sport's biggest issues.