Eight teams vying for four remaining spots over the course of two legs.
That's the situation as the qualifying playoffs get underway on Thursday with the final European spots for the 2018 FIFA World Cup up for grabs.
To get you ready for what are sure to be four fascinating fixtures, here's a full breakdown of the matches and teams.
Watch both legs from all of the 2018 FIFA World Cup qualifying playoff series in Europe live on Sportsnet from November 9-14. You can also watch online at Sportsnet NOW.
UEFA WORLD CUP PLAYOFF FIXTURES
Northern Ireland vs. Switzerland
• First leg: Switzerland 1, Northern Ireland 0 || Second leg: Northern Ireland 0, Switzerland 0 || Switzerland wins 1-0 on aggregate to qualify for World Cup
Croatia vs. Greece
• First leg: Croatia 4, Greece 1 || Second leg: Greece 0, Croatia 0 || Croatia wins 4-1 on aggregate to qualify for World Cup
Sweden vs. Italy
• First leg: Sweden 1, Italy 0 || Second leg: Italy 0, Sweden 0 || Sweden wins 1-0 on aggregate to qualify for World Cup
Denmark vs. Republic of Ireland
• First leg: Denmark 0, Ireland 0 || Second leg: Nov. 14, 2:45 ET in Dublin (Sportsnet ONE)
TEAM BREAKDOWNS
Northern Ireland
FIFA ranking: 23
Qualifying record: 6-1-3
How they got here: Two losses to Group C winner Germany guaranteed Northern Ireland would have to qualify for their first World Cup since 1986 through the playoffs, with a win and draw against third-place Czech Republic clinching its place in the two-legged win-or-go home showdown.
Player to watch: Jonny Evans
Northern Ireland face a stiff challenge against a Swiss team that lost just once in qualifying, on the final matchday to Cristiano Ronaldo and Portugal. In Northern Ireland's favour is the fact Evans and Co. allowed just six goals in qualifying (five to Germany). That stout defensive play will need to continue over the next two games with their best defender leading the way.
Jonny Evans hails the acheivement of reaching the @FIFAWorldCup Play-Offs… #DreamBigger #GAWA pic.twitter.com/T9Y5FnGhVl

— Northern Ireland (@NorthernIreland) November 8, 2017
Switzerland
FIFA ranking: 11
Qualifying record: 9-0-1
How they got here: The Swiss led Group B from Matchday 1 and were undefeated until a 2-0 loss to Cristiano Ronaldo's Portugal in the final game of qualifying relegated Vladimir Petković's squad to the playoffs.
Player to watch: Haris Seferovic
The 25-year-old forward was a key player for the Swiss in qualification, scoring four goals and tallying three assists in 10 appearances, leading the team in both categories.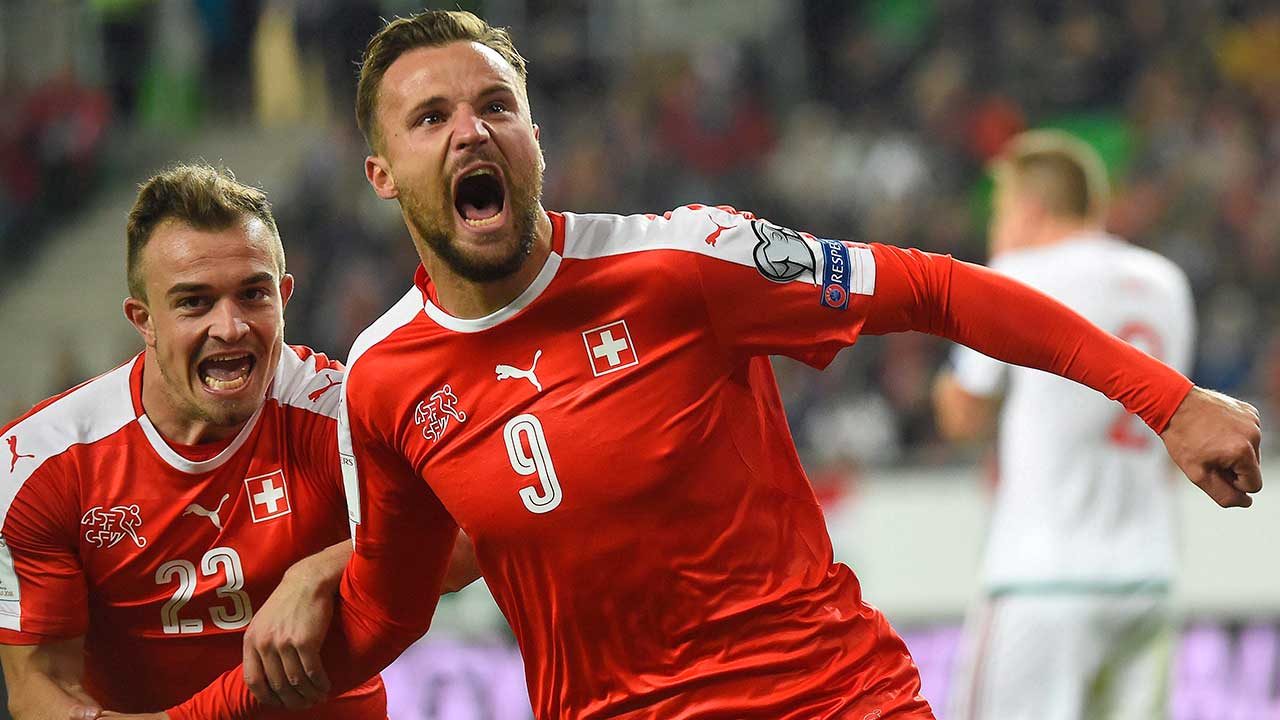 Croatia
FIFA ranking: 18
Qualifying record: 6-2-2
How they got here: Favourites to win Group I when it started, a 1-0 losses to Iceland in June and Turkey in September have forced Zlatko Dalić's team into a playoff against Greece despite allowing just four goals in qualifying.
Player to watch: Luka Modric
Facing legal issues at home and struggles at club level with Real Madrid, a return to form for his country would come at the perfect time for Modric against a scrappy Greek side. Modric tallied three assists in eight qualifiers but failed to score a goal. However, at his best, the 32-year-old midfielder can lead Croatia to its fifth World Cup.
Greece
FIFA ranking: 47
Qualifying record: 5-4-1
How they got here: Belgium ran away with Group H, becoming the first European nation to clinch a World Cup berth on Sept. 4, while Greece edged Bosnia and Herzegovina by two points for second. The Greeks were their usually-stout selves in qualifying, surrendering just six goals in 10 matches.
Players to watch: Konstantinos Mitroglou
Greece is in tough against a quality Croatia side, and while Michael Skibbe's squad will look to shut down their opponent with a defensive brand of football, goals will obviously be vital. That's where Mitroglou comes in, leading his country with six of the team's 17 qualifying goals, including two in the 4-0 win over Gibraltar to clinch playoffs for his team.
Sweden
FIFA ranking: 25
Qualifying record: 6-1-3
How they got here: The Swedes gave eventual Group A winners France a bit of a scare with a shocking 2-1 victory in June, but a 3-2 loss to Bulgaria in late August meant Janne Andersson's team had to fend off the Netherlands to book a spot in the playoffs. They did just that, outscoring Bulgaria (in their second meeting) and Luxembourg 12-0 to advance on goal difference.
Player to watch: Marcus Berg
Sweden exploded for 26 goals in qualifying, including those 4-0 and 8-0 wins over Belarus and Luxembourg, respectively. The 31-year-old Berg led the team with eight (plus an assist) in nine games, and will be vital if the Swedes are going to stun Italy over the two legs.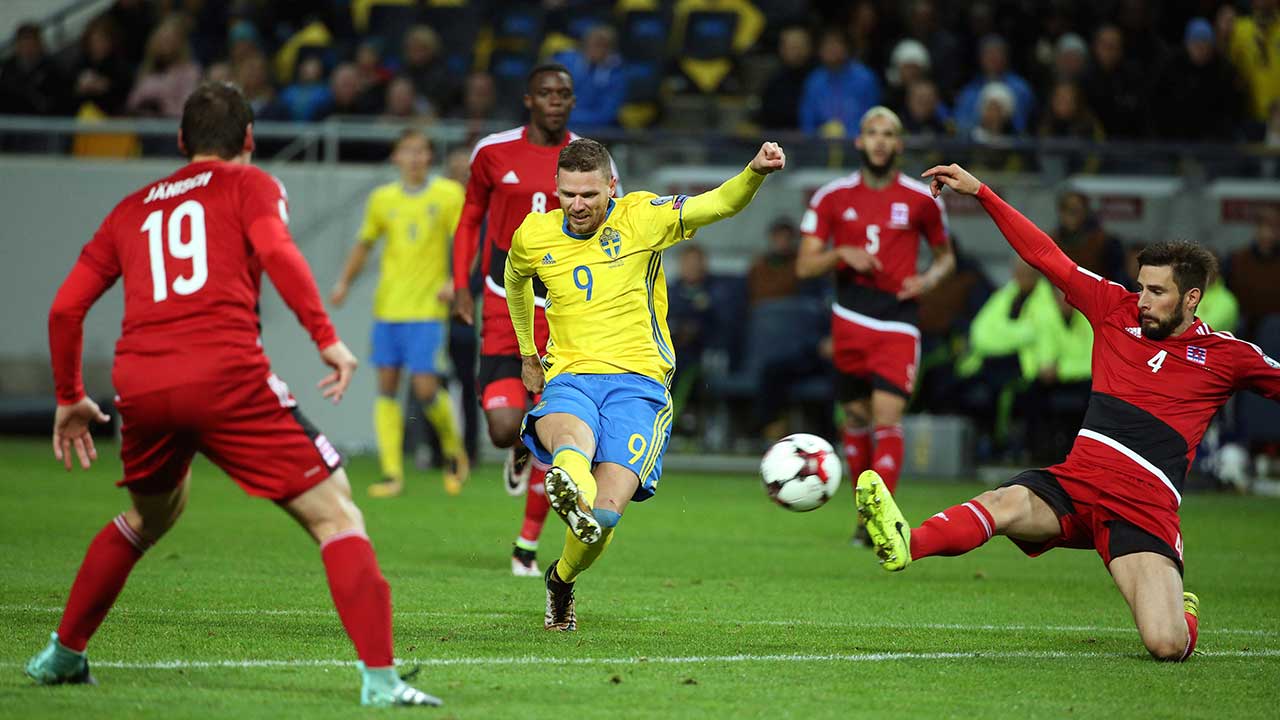 Italy
FIFA ranking: 15
Qualifying record: 7-2-1
How they got here: The playoff team with most World Cup pedigree, Italy is in danger of missing their first World Cup since 1958 thanks to a backbreaking 3-0 loss to Spain at the Bernabeu and a stunning draw with Macedonia in Turin in early October.
Players to watch: Gianluigi Buffon
The Italians struggled in the latter half of qualifying and now face Sweden, a team that scored a whooping 26 goals in qualifying. Buffon, as always, will be crucial in securing another World Cup berth for Italy as the 39-year-old 'keeper looks to end his career on the biggest of stages.
| Today marks 20 years since @gianluigibuffon's Italy debut. All the best saves from the #Azzurri captain!pic.twitter.com/nHkTi1eeEs

— Italy (@azzurri) October 29, 2017
Denmark
FIFA ranking: 19
Qualifying record: 6-2-2
How they got here: Tight losses to Group E winners Poland and Montenegro early in qualifying last October meant Denmark immediately faced an uphill climb to finish second. But Age Hareide's side went undefeated the rest of the way to secure a spot in the playoffs.
Players to watch: Christian Eriksen
Eriksen was the only Dane to play every minute of qualifying and, while football is the ultimate team sport, the Tottenham man put his nation's World Cup hopes on his back at times. Eriksen led Denmark in both goals and assists, contributing a goal and two assists in the team's most impressive win – a 4-0 thrashing of eventual group winners Poland in early September.
Republic of Ireland
FIFA ranking: 26
Qualifying record: 5-4-1
How they got here: With the likes of Serbia, Wales and Austria as opponents in Group D, Ireland looked hard-pressed to qualify for just their fourth-ever World Cup and first since 2002. But a 1-0 win over a Gareth Bale-less Wales on the last day of qualifying has Martin O'Neill's team in a position to do just that.
Players to watch: Darren Randolph
The Republic of Ireland is on the verge of a World Cup berth thanks to a pair of clean-sheet wins over Moldova and Wales in which Randolph made a total of 13 saves. Against a Danish team that scored four goals three times in qualifying, Ireland will need more of the same from the 30-year-old Middlesbrough 'keeper.