The University of Memphis has long been a developmental hot bed for Canadian talent.
Dozens of women have suited up for the Tigers since the early 2000s, and currently 15 Canadian-born players are on their roster, and many them have seen time in the national youth programs.
Right now, Memphis includes forward Marie Levasseur, who recently trained with the Canadian senior squad, and represented Canada at the 2015 Pan American Games in Toronto and the 2014 FIFA U-17 Women's World Cup in Costa Rica.
What's behind the Canadian connection at Memphis? You can look no further than coach Brooks Monaghan, who has been at the helm of the program for more than 15 years.
During a recent one-on-one interview, Monaghan told Sportsnet that he takes pride in the link his school has created with the Canadian soccer system:
What is it about players from north of the border that piques the interest of the University of Memphis?
One of my assistants, Jodi Grant, is from Alberta. She's from Sherwood Park and we originally started out with a player pipeline in Alberta. Over time, that pipeline extended to all over Canada. Next year, we'll have kids from B.C. to Nova Scotia, all the way across the country.
This Canadian pipeline started a little bit before I was the head coach. We already had a few players then. When I took over, Jodi became my assistant and I told her we needed to continue this pipeline. It wasn't easy to get to other provinces other than Alberta because we didn't have many contacts. Over time, those contacts grew and one thing that really helped us was that some of our Canadian players were [called into Canada's senior team]. Once you got a couple of Canadians that were in the national program, it allowed that pool of players to grow because you sell what you have.
Alberta started it all. Those players did very well and opened doors. Canada and the U.S., in my eyes, they're very similar countries and it makes it easy for the kids to adapt. The cultures are very similar. The Canadians we had very early on seemed to adapt really well and had the right mentality to play at the college levels. Our Canadians have had a lot of success over the years representing their country and some of those players were on the youth national teams, while others were at Memphis when they got those opportunities.
I realize we're not the biggest name out there. We aren't UCLA or Florida. However, I'm not selling Memphis short. My job as a coach is to recruit the best players and sometimes for us, it's hard to get those American national team players. For us, Canada Soccer [the CSA] is very, very good and we're able to get some of the top Canadians in the country. Canada has proven on the world stage that they're doing a lot of good things and having success. Lucky for us, we're able to get some of those players.
Given that Canada is such a large country area-wise with soccer players in every corner, how do you do your scouting?
I get up to Canada three or four times a year and there are certain tournaments and events I go to. I'm going up there in April for the Ontario-Quebec series. I'll check out the provincial teams and see the most talented players from each province playing against one another at U-14,U-15,U-16 levels.
There's a big tournament on the May long weekend in Toronto and that attracts all the top Ontario teams, with some from outside Ontario. We also see players in tournaments across North America. For example, one of our new players is from Nova Scotia and we saw her playing at a tournament in Florida. It's becoming more common for the Canadian teams to travel to the US.
You develop new contacts and there are now different ways to see players.
You've got a unique situation in that you're coaching a set of twins with Marie and Catherine Levasseur. What's it like having the duo on your squad?
It's great. They really complement each other. Actually, Marie is sitting out of school right now because she's had a lot of success on [Canada's] youth team and obviously has her chance with the [senior] team. We set it up where she could sit out the semester so she could be at full residence with the Canadian team, but she got hurt. Right now, she's waiting for the next full camp in April and hopefully she'll be healthy enough to be able to return to that camp.
Those two are great for each other. They're two totally different kids, but they complement each other well on and off the field. You watch how these two kids really look after each other and they really do.
I look at a player like Kylie Davis, a member of Canada's 2014 U-20 FIFA Women's World Cup team. She earned many national accolades for not only the work she did on the pitch, but also her work in the classroom. How do you help your players find that balance?
Honestly, when you look at the big picture, most of the best women's soccer players are the best students. Not always, but you see it a majority of the time. We are fortunate.
And let's talk about Canadians, because I think your school system overall is strong. The high school system really prepares these kids for college, maybe not in American history [laughs], but still, they're great students. Overall, that transition is not a difficult one.
With the twins, they're francophone and are faced with another set of obstacles. Luckily, the students have so much support with tutors and mentors. We're blessed here at Memphis. I remember the first time I spoke to the twins and their English wasn't strong. And now, it's amazing how quickly they've picked everything up. Some of our francophones don't even have accents anymore!
Who are some of the best Canadian-born players who have come through your program over the years?
You already mentioned Kylie; she's up there. We had a girl named Christabel Oduro, who earned some caps with the [Canadian senior] team. She's still playing overseas. One player who didn't get enough attention as she deserved is Lizzy Hildebrandt from Calgary. That's a kid who had an amazing career with us. She wasn't a national team player, but was that player, in her four years, that every team needs. She was the glue. I have to give props to Lizzy.
The U17 and U20 programs in Canada have gone under a major overhaul over the years, under the guidance of John Herdman. As a college coach, have you seen a change in the Canadian program?
I feel like the players are more hands-on. There's a lot of communication that I have with [the CSA]. I don't want to knock the past, but under John's staff, the communication has been very good in regards to following up with me. It's been a win-win situation for us because they understand our needs and we understand theirs. It's been a good working relationship because John's staff has followed up with me to keep tabs on the kids. It would be tough if we didn't have that working relationship, but we're working together. Whether it's missing school or for example, 'We'd like to see Marie improve in these areas'.
As a bystander, I can see John is giving youngsters some looks and I think that's a true positive.
---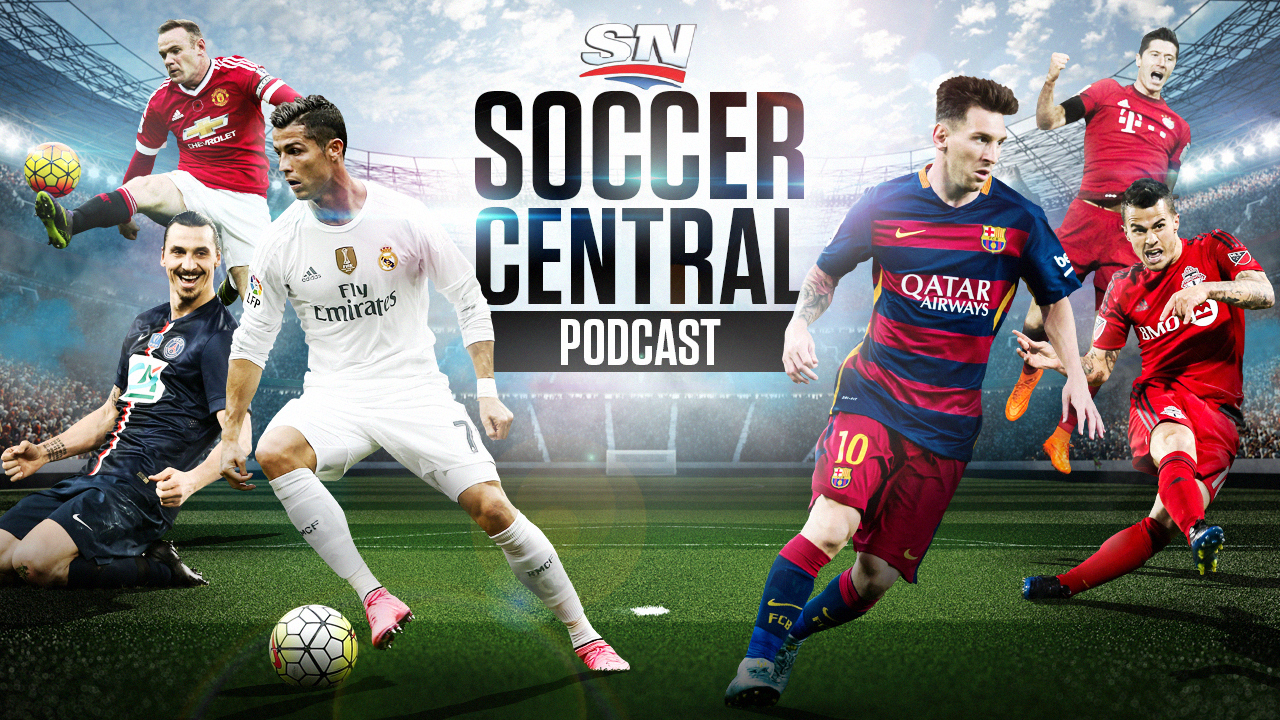 SPORTSNET.CA's Soccer Central podcast, hosted by James Sharman, takes an in-depth look at the beautiful game and offers timely and thoughtful analysis on the sport's biggest issues.
Listen here | iTunes | Subscribe to the podcast
---