VANCOUVER—The stadium announcer at BC Place sounded like an auctioneer, calling out a list of names in rapid-fire succession as players in white filed on and off the pitch.
It was the 61st minute of the Vancouver Whitecaps' friendly with Crystal Palace on Tuesday, and the home side was making eight substitutions at once. You could almost hear "Yakety Sax" playing in the background.
These moments are always a little comical, if only because of the disparity between the scene in view and the usual rules and procedures. While the match, which ended in a 2–2 draw, didn't mean anything, and the 14,788 fans in attendance were a little quiet, the game did provide an opportunity to watch some new faces in action—and against the FA Cup finalists, no less.
Canadian international David Edgar, who signed with the club last week, made his first appearance in a Whitecaps jersey. The 29-year-old central defender was brought on for his skills as well as his leadership—his vocal nature, said Vancouver coach Carl Robinson, would help to organize the team's back line (the team has one of Major League Soccer's worst defensive records so far this season).
Edgar looked sharp in his 60 minutes of play, and he even managed to score—the first goal of the match, in the 50th minute (the first half of the friendly had been dull as entertainment goes, but the second half was much more open, which seemed to get the fans going).
"I thought he was good," Robinson said. "I talked about fundamentals in football—he does them very well. His defending, his footwork, he's reading, he never puts himself in [bad] positions."
Edgar, who was released from Birmingham City in May, seemed to enjoy his first outing with the team.
"It felt good to be out there and get a bit of match sharpness," Edgar said. "I actually felt quite up to pace, and obviously getting a goal in my debut in front of the home fans is a very good feeling."
Marcel de Jong, who'd made an appearance as a substitute in Vancouver's win over Real Salt Lake last week, played a full hour in his natural position at left fullback. The 29-year-old Canadian international looked much more poised than he had in his debut with the club, when, as Robinson had noted, he'd looked a little tired.
The most exciting appearances, though, belonged to the younger guys who play for Vancouver's third-tier farm team. Four Whitecaps FC 2 players made appearances in the second half: Brett Levis, Sem de Wit, Daniel Haber and Kyle Greig.
Levis, especially, impressed. The 23-year-old left fullback, who was converted to the position this year after starting out in midfield, made some nice runs and deft passes. He even managed to set up Whitecaps defender Kendall Waston for the equalizer in the 78th minute.
"I don't think he said much," Levis explained when asked whether Waston had talked to him after the assist. "He just kind of picked me up and we were pretty excited, so I just got ready for the next kick."
Levis, who played at the University of Saskatchewan before signing with the Whitecaps' USL club in 2015, spoke about how excited he was for the chance to make an appearance with the senior team, and said his main goal had been to enjoy himself on the field at BC Place.
"One thing Carl said in the pre-game talk was just to enjoy it. And he said you're going to make mistakes, but just have fun and work hard," Levis explained. "Again, it's against a Premier League team, so you're playing against some of the top players in Europe. It was a good test."
Robinson praised his Whitecaps FC2 players.
"They've all done themselves very proud," he said. "They're obviously different positions of players but you see Brett crossing some great balls, setting up the goal and setting up the chance of Kyle. You see Daniel with his work rate. So there's a number of good performances from those guys. Little details in football are the most important, goals for and goals against, and these boys have got to learn, because the top players do it the best."
The most thrilling youngster to watch, though, was once again 15-year-old Alphonso Davies, who signed his MLS contract last week. Davies' movement on the field seemed to really get the crowd going, and he created a number of good chances, never for a second looking out of place against his Premier League opponents.
"He did OK," Robinson said afterwards, smiling. The coach hopes to downplay the buzz over his teenaged winger/forward, which will be hard to do given how talented the kid is, and how much fans seem to enjoy cheering him on.
Crystal Palace assistant coach Keith Millen was impressed by what he saw in the youngster, too.
"He'd come on and opened the game up, didn't he," Millen said. "So he certainly had an impact, you can see what strengths he's got."
Robinson, whose team allowed a pair of goals as well—"It's a regular thing here, 2–2 draws," he quipped—will now turn his attention to the Whitecaps' weekend match, when the team faces Houston Dynamo on the road. Tuesday evening was an opportunity for a better look at a few new faces on the first team, and Edgar especially seems poised to feature on Saturday.
"As far as I'm concerned now—I spoke to the manager—I'm ready to go now when called upon," Edgar said. "I'm available for selection."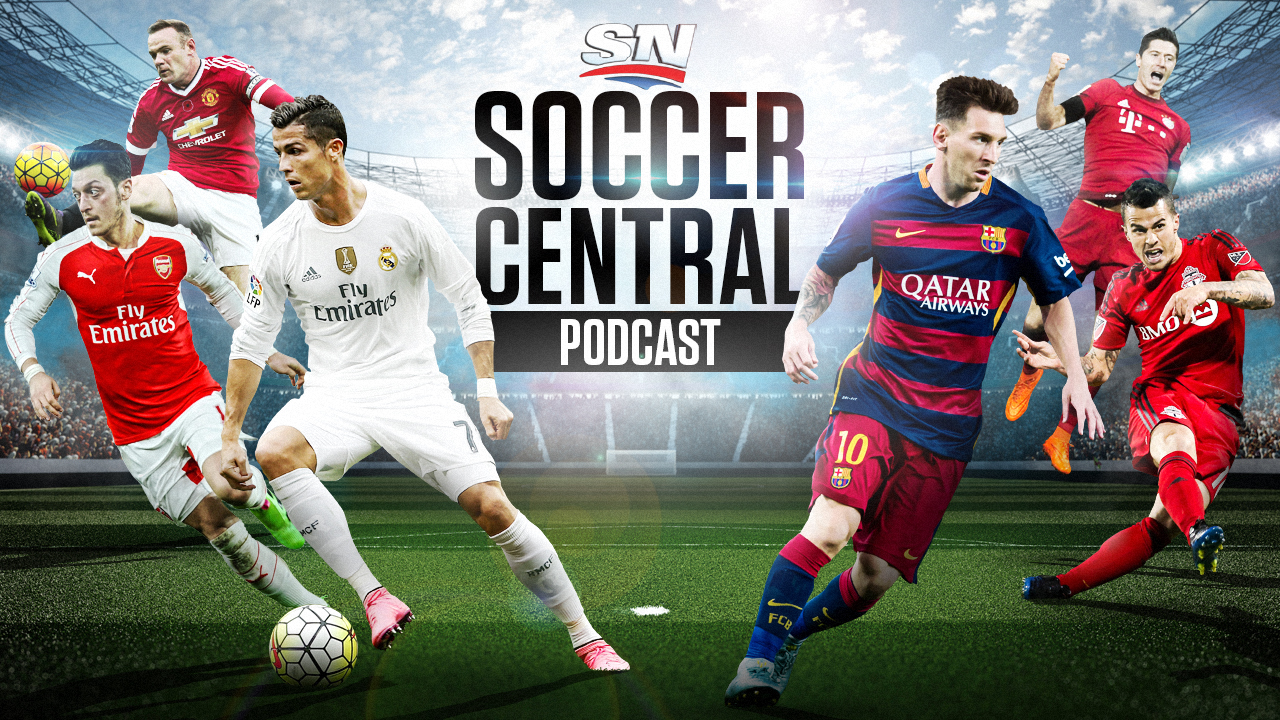 Sportsnet's Soccer Central podcast (featuring Thomas Dobby, Brendan Dunlop, John Molinaro and James Sharman) takes an in-depth look at the beautiful game and offers timely and thoughtful analysis on the sport's biggest issues.
Listen now | iTunes | Podcatchers