VANCOUVER—The Vancouver Whitecaps are five games into their Major League Soccer campaign, and a few themes have started to emerge: toughness in the face of adversity, for one, but also discipline—though not the kind they'd like to be talking about.
So far this season, the Whitecaps lead all MLS teams in disciplinary points with 144. There have been in-game expulsions and retroactive suspensions, with Christian Bolanos, Jordan Smith, Kianz Froese and Masato Kudo all serving time. Most recently, in Saturday's match versus the L.A. Galaxy, midfielder Matias Laba was issued a controversial red card for what was deemed an illegal tackle.
And it's not just the Whitecaps who are seeing red. A number of controversial calls have been made, and even Galaxy coach Bruce Arena, in his post-match press conference, derided the abundance of red cards being handed out, saying that too many of them were "ruining games."
What do the Whitecaps players make of all the red cards, then, and how will it affect their approach going into Saturday's matchup with D.C. United and beyond? Defender Jordan Harvey, speaking after a training session at UBC this week, said he has no plans to alter his game, though he acknowledged that the inconsistencies in refereeing have left him scratching his head.
"We talk about it in the locker room," said Harvey of the disciplinary controversies. "I think this weekend is a perfect example of how you can't really gauge how to play, where to play, or what a tackle is—red card, yellow card."
Harvey continued: "You look at [Toronto FC's Benoit] Cheyrou gets a yellow; [the New York Red Bulls'] Felipe gets a red. For me, that's the same tackle. You look at [Philadelphia Union's Warren] Creavalle—tackle from behind, red card; [Orlando City's] Brek Shea, yellow. [Editor's note: Shea has since been handed a one-game suspension.] Mati Laba's, he gets him. Is it a red? Is it a yellow? That's up for debate. I just feel like throughout this weekend you saw a contrast of decisions."
Central defender Tim Parker, who returned to action on Saturday following an absence because of international duty, said he, too, planned to stay the course and not rethink his approach with a view to what a referee may or may not deem illegal.
"But I think in the back of your mind you kind of know that in every tackle there could be a rash decision made," he admitted.
Parker was critical of what he feels is the league and the referees wanting to make their mark in games.
"I think obviously the league wants to get a little bit more control over the games, and I think in their eyes that's gonna better this league," Parker stated. "But for some of us we don't feel the same way."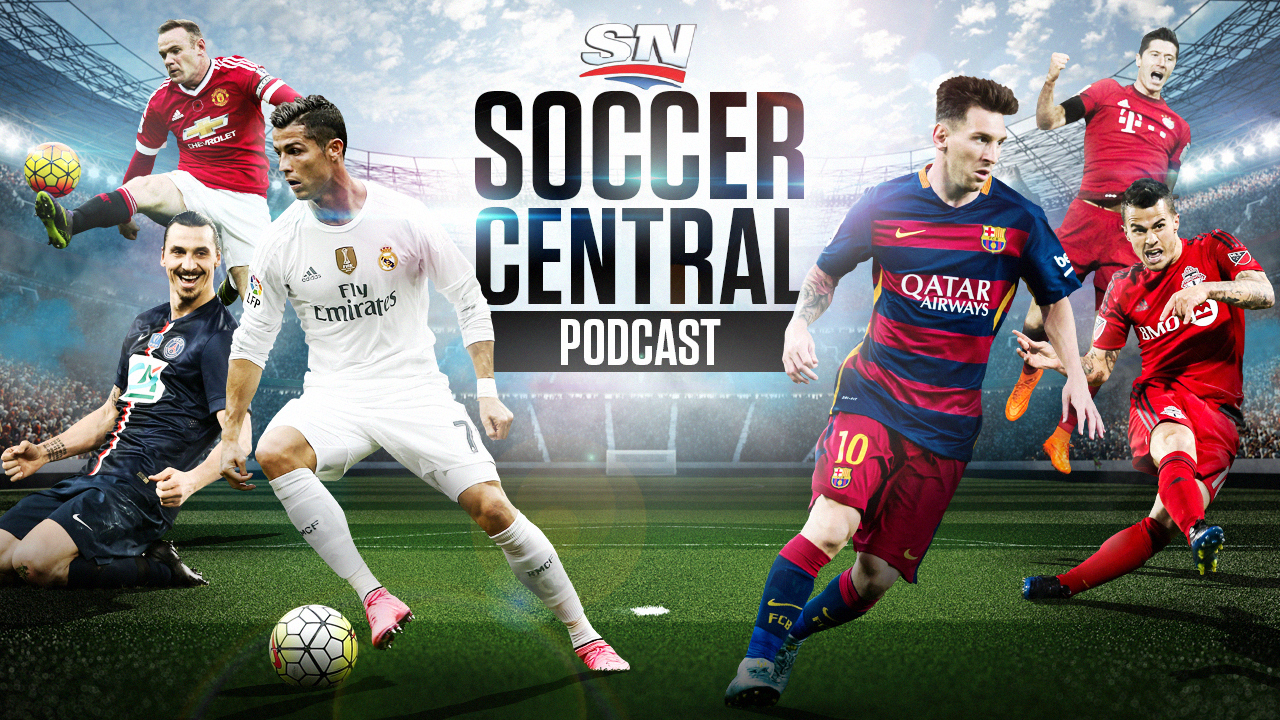 Sportsnet's Soccer Central podcast, hosted by James Sharman, takes an in-depth look at the beautiful game and offers timely and thoughtful analysis on the sport's biggest issues.
Listen now | iTunes | Podcatchers
Whitecaps goalkeeper David Ousted voiced his disappointment at the situation overall.
"It's unfortunate for MLS right now that that's the narrative," he said, echoing Harvey's statement that players are confused about what's a red and what's not.
"We can continue complaining about the refs, but I think it's a little bit unfair to them as well."
The onus, said Ousted, is on MLS to decide what is and isn't a red card—and then to allow the referees to do their job.
"It has to come from the players as well, I feel, to step up and say something," he added.
Ousted noted that he hoped Laba would not become more hesitant to make a tackle when he returns to the pitch.
"One of Matias's great strengths is his aggressiveness and the way he tackles," Ousted explained. "I've seen it a couple times and I still don't believe that's a red card."
While Laba's red card raises eyebrows, the amount of red cards being offered up by refs this season probably shouldn't. Or rather, the number on its own isn't the issue.
For one thing, the Professional Referees Organization made it known ahead of the season that they would be focused on identifying red-card offences—an attempt to improve on last season, when they said 28 percent of those offences were missed.
Sixteen red cards have been issued through 42 games in 2016. That's the second-highest rate of dismissal in 15 years, but nowhere near the highest (23 red cards through 43 games in 1998). The obvious problem is inconsistency: a failure to apply the rules in the same way across games—a problem that's exacerbated by controversial retroactive calls.
The worry with inconsistency, too, is that could lead to more embellishment in the game—if anything could be a red card, a player might be more likely to dive.
"You can't really blame the guys because they're trying to win those games," Ousted said. "We want embellishing out of the game, we want diving out of the game, but we also want it reffed in a way that you're allowed to tackle, you're allowed to go in on a guy. And you know what? If someone takes it too far, I know the players as well will be the first to step up and say that's not okay."
Whitecaps coach Carl Robinson is hoping we'll be moving past this discussion soon, so the games will become the focus, not the controversial refereeing.
"I've watched it probably too many times," he said of Laba's red-card-earning tackle. "I said at the time that I didn't believe it was a sending off. Not much has changed, but I respect the decision as always I do. And we move on."
For the players, the disciplinary rulings have been baffling, but the desire is clear: to make sure the game remains a physical one—within the rules, of course.
"When there's rash tackles, when there's bad tackles in the game, obviously we feel that they should be punished," Parker said. "But at the same time we want the competitive feel of the game to still go on."
Until there's some sort of consensus about the type of action that should and shouldn't draw a red card, then, there's not much the Whitecaps can do but carry on.
"I'm just gonna keep doing what I do," said Harvey with a smile, "and hopefully I land on the yellow side."