It's been a rough start to 2019 for Russell Teibert.
A niggling ankle injury ruled Teibert out to begin the MLS season with the Vancouver Whitecaps, and then a quad issue prevented him from playing in Vancouver's 3-2 loss to the Houston Dynamo last week.
Despite those knocks, Teibert was able to accept a call-up to the Canadian men's national team for their Concacaf Nations League qualifying finale against French Guiana in Vancouver on Sunday.
Teibert's last competitive match was with Canada when he assisted Atiba Hutchinson's winning goal in Les Rouges' 1-0 victory over Saint Kitts and Nevis on Nov. 18. More than four months later, the Whitecaps midfielder is raring to return to the pitch for the first time.
"I feel good," Teibert told Sportsnet. "At the beginning of the [MLS] season, it was week-to-week and it's been a tricky start to the season. But I think I feel that we've got everything under control right now. I'm feeling good and I've just got to keep trending that way until kickoff."
His fitness will likely be managed carefully during Sunday's game, but surely coach John Herdman will be enticed to start Teibert after his last two performances. The 26-year-old native of Niagara Falls thrived as a No. 8 with the Whitecaps at the tail end of the 2018 campaign, and replicated that form with the national team.
Teibert was a constant menace in Saint Kitts last November. The Sugar Boyz frustrated the Canadians with their deep defensive block, their pressing in midfield and the counter-attacks. But Teibert wasn't fazed. He consistently delivered passes into the opposing penalty area and only misplaced five of his 40 attempts during the game.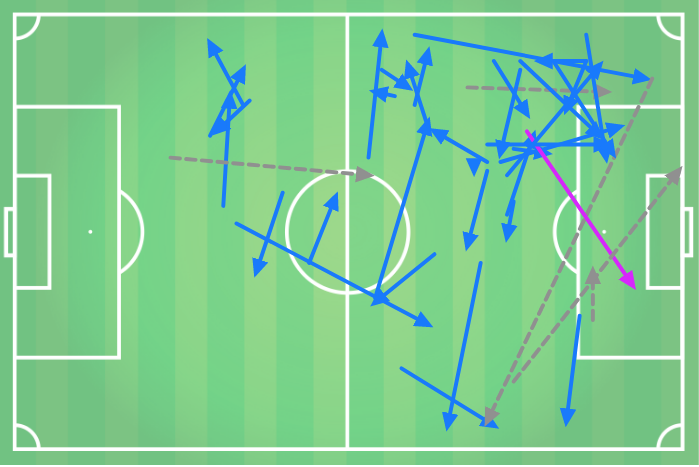 Given that Teibert broke into the Whitecaps first team as a winger, it's not a surprise to see him excel with more attack-minded duties.
"It's just getting back to what was natural for me," Teibert said. "I think in the No. 8 position, you're allowed to get higher up the field, whereas a No. 6 is staying more connected with the back line. I'd been playing the No. 6 position for a couple years and I had gotten used to connecting with the centre-backs and making sure you're defensively organized instead of getting higher up the field. I think that's what's really been exciting for me and what has helped my game over the past year."
Teibert largely credited Herdman for that tweak to his game. In his first camp under Herdman, the long-time Whitecap told his national team coach that he was a No. 6, but Herdman was adamant that Teibert could impact the team more as a box-to-box midfielder.
The early results back up Herdman's claims.
And your regular reminder…

(Atiba & Teibert were fantastic in the middle. Those passes into the box from Rusty: )https://t.co/xk9faaKuWa

— Peter Galindo (@GalindoPW) November 19, 2018
In fact, almost everything Herdman has touched has turned to gold. There are tougher tests awaiting the Englishman, but several players cannot speak more highly of their coach.
However, Teibert initially reserved judgment on Herdman after he took over for Octavio Zambrano last January.
"I remember he spoke to a handful of us at the Whitecaps when he first took over," Teibert recalled. "I questioned things and I doubted things. I just wanted to know more and that's my nature."
With time, though, Teibert was slowly won over.
"He told me to trust him, he told me to trust his process. I went to my first camp and I saw guys that were committed. I saw a staff that was clear with their message. I saw this team that was being something that I've never seen before and I wanted to be a part of it. That feeling is contagious," Tiebert explained.
"The time that I've spent with Canada under John has been revitalizing for me. It's breathed a new life into my career with the national team.
"Any chance, any opportunity I get to put on a Canadian shirt, I'm extremely proud and honoured and, most importantly, happy to wear the Canadian shirt and I owe a lot of that to John."
Once the final whistle blows on Sunday at BC Place, the attention shifts to the Concacaf Gold Cup this summer. It will be Herdman's first tournament in charge of the men's side and will be a barometer of the team's progress thus far.
Two years ago under Zambrano, Canada reached the knockout stage of the tournament for the first time since 2009. There is a deeper squad at Herdman's disposal in 2019, but with greater strength in depth comes greater responsibility.
"Different coaches have different philosophies and identities [and] I think that's something we've lacked in the past," Teibert explained. "We weren't clear about how we wanted to play. I can tell you from being at a bunch of camps with John is that it's very clear. It's a work in progress, but we're still working at it.
"It's not something that happens overnight. I think everybody wants to do the best that they can for this team, but you have to follow the tactics. You're never going to win with one person alone.
"It's not just going to be those 90 minutes at BC Place [on Sunday]. It's the connection with guys, making sure they understand tactics, watching videos that the staff sends out, being present in the meetings that we have, making sure we're doing the work on the field, it's all those things that not everyone sees."
With less than three months remaining until the Gold Cup, Herdman needs to establish a first-choice lineup and fast. Based on current form with the national team, Teibert could be in that 11 for Canada's opening game.
For now, though, Teibert is fixated on returning to the pitch. What lies in the future can wait.