From controversial decisions to record-setting performances, Matchday 3 in the Premier League was surprisingly full of storylines.
Elsewhere, a couple of sides earned vital wins, while a few others have lingering concerns.
Here are four winners and losers from the Premier League weekend.
WINNERS
The Neves-Moutinho duo
Wolverhampton Wanderers held Manchester City to a 1-1 draw, albeit under controversial circumstances (more on that later). However, Wolves were able to keep City at bay and threaten in the final third thanks to their Portuguese duo in midfield.
Joao Moutinho assisted Willy Boly's opener, while Ruben Neves – and Moutinho – delivered another excellent performance on both sides of the ball. Both players combined for seven tackles, two interceptions, 10 duels won and covered a ton of ground.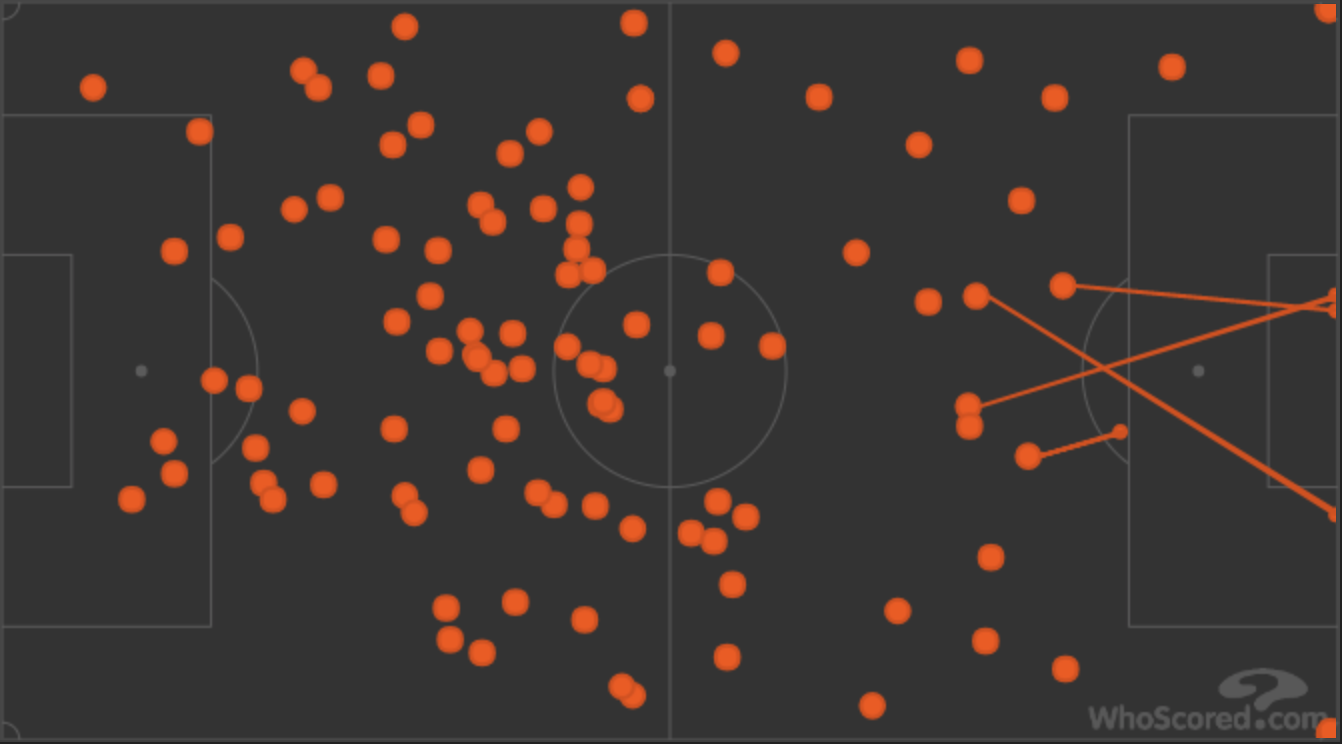 Most importantly, Neves and Moutinho were able to dribble or pass through Man City's high press, which few midfields are able to accomplish. As soon as they'd recover possession, they would fearlessly launch a threatening counter-attack.
In doing this, the Portuguese partnership may have provided a template for other clubs when facing City in the future.
Jorginho
Chelsea and Newcastle United's match really picked up in the final 15 minutes. After some late drama, the Blues came out on top, earning their third win in as many games to start the season.
A major key to victory, yet again, was Jorginho.
The Italian international recorded an astounding 186 touches and completed 158 passes, 30 more than Newcastle managed in the match.
186 – Jorginho against Newcastle yesterday:

186 touches (joint-record in the Premier League since 2003/04)

173 passes (2nd highest tally in the PL since 2003/04)

158 passes successful (3rd highest tally in the PL since 2003/04)

Everywhere. pic.twitter.com/VU02cVdRIu

— OptaJean (@OptaJean) August 27, 2018
Eventually, that swift and never-ending ball circulation unlocked Newcastle's defence and Marcos Alonso drew a penalty, although it was a debatable decision.
Maintaining focus for the full 90 minutes against Maurizio Sarri's sides requires incredible mental resolve. When Jorginho is able to penetrate the deep blocks and continually cycle the ball across the pitch, it becomes exhausting.
Unai Emery
Few clubs had as difficult a start to the season as Arsenal. A valiant effort went unrewarded versus Chelsea, while Manchester City cruised to victory in the opener at the Emirates Stadium.
After those brief hiccups in the opening two weeks, Unai Emery earned his first win as Arsenal manager, with his side topping West Ham United 3-1.
It was far from convincing, though. West Ham continually threatened Arsenal on the counter, especially in the first half. The Hammers even took the lead by capitalizing on the large gaps in midfield.
Regardless, Arsenal persevered and emerged victorious. That, more than anything, has been a notable change from Arsene Wenger's final years. When the Gunners trailed 2-0 early against Chelsea, they fought back to level the match before halftime. Facing adversity again on Saturday, they pulled through.
It may be a year of transition under Emery, but at least Arsenal will be resilient.
Fulham's attack
It was always going to take a few weeks until Fulham's attack clicked.
Boy, did it ever gel on Sunday.
Aleksandar Mitrovic and Andre Schurrle were unstoppable in the victory over Burnley, while Jean Michael Seri thrived in a more advanced role. Seri even opened the scoring with a sensational strike from distance.
The only downside was Fulham attempting a high volume of shots. Burnley, as it often does, is content to allow attempts from distance. But credit Mitrovic and Schurrle for generating and converting on chances in the box.
xG map for Fulham – Burnley. Combined high xG allowed and conceding more goals than xG. Not very Burnley from Burnley so far this year. pic.twitter.com/qV1RACdx0Q

— Caley Graphics (@Caley_graphics) August 26, 2018
LOSERS
Jose Mourinho
Testing out a three-at-the-back system using a midfielder, Ander Herrera, in the back line against Tottenham wasn't the wisest strategy from Jose Mourinho.
Herrera clearly struggled with positioning, especially when he failed to play the offside trap. That allowed Lucas Moura to double the lead for Spurs and seal the victory on Monday.
— Diego Montalvan (@DMontalvan) August 27, 2018
Beforehand, Manchester United was causing fits for Tottenham. The visitors failed to bypass the press from Paul Pogba, Fred and Jesse Lingard, which led to some dangerous counter-attacks. But then the intensity dropped to start the second half and it led to Harry Kane striking via a corner.
As mentioned last week, every negative result will heap more pressure onto Mourinho, which is clearly not ideal for him nor the team.
Arguments against VAR
It's been three weeks and there is already significant calls for a Video Assistant Referee (VAR) system in the Premier League.
Be it Chelsea's penalty versus Newcastle or Willy Boly's handball-turned-goal against Manchester City, there were two highly questionable decisions made. The former is debatable because some officials may not believe it's a "clear and obvious" error when reviewing the incident. However, the latter is inexcusable.
Boly's handball was clearly an infraction and would've been negated instantly after review. VAR will never please everybody, but it will eradicate the majority of errors on the pitch, and that's what matters.
Issa Diop
The unfortunate own goal aside, Saturday was a debut to forget for West Ham United's Issa Diop.
The French defender clearly struggled with the pace of the match, which is common for new signings to the Premier League. He was caught out at times, which led to some hasty decision-making.
On the bright side for Diop, he's still just 21 years old and reads the game very well, which was evidenced by how he contained Pierre-Emerick Aubameyang for the majority of the game.
The Burnley magic
Since achieving promotion in 2016, Burnley have overachieved in many ways.
However, there is a method to the madness. Burnley typically concedes a high number of shots, but most of them are from distance and have a low scoring probability. Sean Dyche's side also counter-attacks effectively and generates a sizeable number of high-quality opportunities.
That effect has seemingly worn off to start the season. Although, based on their expected goals – an advanced analytic used to determine the quality of a shot – they were somewhat unlucky against Fulham.
The additional Europa League qualifiers might have taken a toll on a thin squad as well. For now, this is a trend worth monitoring to see if it persists for the next few weeks.