This story originally appeared in the June 9, 2014 issue of Sportsnet magazine.
THEY SAY THE FINAL WHISTLE had the deafening impact of a bomb. There was no screaming after it blew; there were only tears.
The favelas, always so vibrant with the sounds of thousands of people living on top of each other, were quieter than usual, life having spilled out of Rio de Janeiro's hillside slums and into the streets below where millions of Brazilians had gathered in the shadow of the greatest soccer stadium ever built. The streets had been in chaos since dawn, but by evening something truly awful had happened. And everything was silent. A great playwright would later note it felt as though "an irredeemable national catastrophe" had befallen Brazil.
It was Sunday, July 16, 1950. The last day of the World Cup in Rio. The world's most gifted footballers, Brazilians who took an English pastime and turned it into something beautiful and artistic—even spiritual—had walked into the Estadio do Maracana and betrayed the trust of a troubled nation.
Tensions had been building for months as Brazilians grumbled at the millions spent to host an international party while the country struggled to care for its people. But everyone understood that in victory Brazil would emerge as the world's only soccer superpower. No one put much thought into what might happen if the team failed. It didn't seem possible. Not with the best attackers in the game, Ademir and Zizinho; not with the gifted goalkeeper Barbosa. No, victory had been foretold.
It was the greatest day in Brazilian history. And then, suddenly, it wasn't: With 11 minutes left, Uruguayan winger Alcides Ghiggia put his team up 2–1 and in that moment Barbosa became forever known as "the man who made Brazil cry." When the game ended, a few distraught fans committed suicide, others suffered heart attacks. It became the country's darkest day, remembered still as "The Defeat." A day no member of the Selecao has been allowed to forget.
As Brazilians prepare once more to host the World Cup, there is a sentiment that should their team falter at the Maracana again, the repercussions could be far greater than they were on the day of "The Defeat." Anger has spilled into the streets over the past year, as tens of thousands protest the expense and alleged corruption behind the tournament, creating a feeling, shared among the Brazilian players now charged with competing on the country's behalf, that the masses might explode if the team fails to win. An immense pressure has been placed on the 23 men who have inherited from their predecessors all the hopes and burdens of a still-troubled nation. Never mind that Brazil has won a record five World Cups since "The Defeat." The country's identity remains intertwined with the fate of its national soccer team. Brazil's current squad, led by a skinny 22-year-old superstar named Neymar da Silva Santos Junior, enters the tournament under more stress to perform than any other athletes alive.
In the Brazilian Football Museum in Sao Paulo, a video clip of "The Defeat" runs on a loop to the sound of a dying heartbeat. It serves as a sombre memorial of a horrible incident and a reminder to all who visit that soccer is more than just a game. It is a national passion and obsession, one of few unifiers in a country with a history of class division and slavery, of poverty and alienation. "Everything we do, every game we play makes the whole country go up and down," veteran striker Fred says. "[There is] the feeling that people will die if we don't win."
In that same museum, glass screens adorned with larger-than-life-sized images of Brazilian soccer stars from years past track the lineage of the nation's often mononymous deities. There is at least one for every generation. First came Arthur Friedenreich–Brazil's soccer patriarch–then Preguinho, Leonidas and Ademir, the fallen star of the first Brazilian-hosted World Cup. Then came Pele. As a boy in 1950, he watched his father cry on the day of "The Defeat" and said, "Don't worry. One day I'll win it." He would lift three World Cups for Brazil, become the greatest player the sport had ever known and come close to replacing Jesus as the man with Rio at his feet. Eventually, others would rise to follow him as leaders of the Selecao. In 1994 it was Romario, four years later, Ronaldo. Now the lineage carries on with Neymar, a man whom even Pele himself has deemed the next Pele.
Being the chosen one for Brazil is a burden, an inherent comparison to those who came before, some of the greatest to ever play the game. Some fail to live up to it. Robinho filled the role recently, as did Kaka. Both are successful and talented players by any objective measure, but neither lived up to their country's expectation—lead Brazil to World Cup glory—and their legacies are the worse for it. Both remain active, of useful age and at a big club; neither was called for this World Cup.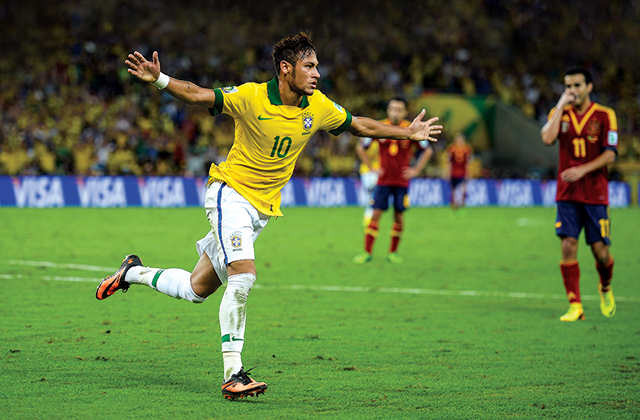 Though Neymar is Brazil's most popular and marketable player, only the most devoted "Neymarzetes" (the name bestowed upon the hordes of screaming fans who stalk his shadow from Toronto to Beijing) regard him as the best player on the planet. To most of the soccer world, he's no better than third, behind both Lionel Messi of Argentina and Portugal's Cristiano Ronaldo. He plays with flair and imagination, the kind of style that Brazilians take to enthusiastically. It's earned him the country's affection. But that doesn't mean his people won't turn on him if he lets them down. Like all Brazilian heroes, he faces high expectations, but the added pressure of leading the team at home means he can't just fade from prominence like Kaka or Robinho have since they failed in 2006 and 2010. With the World Cup playing out in soccer's spiritual homeland, Neymar risks going down in history as a second Ademir, the man who couldn't score when his country needed him most.
LIKE MILLIONS OF BRAZILIANS before him, Neymar grew up dribbling a soccer ball down the streets of Sao Paulo. The son of a footballer, he is known at home and in his adopted Spain for the choreographed dance moves he busts out after every goal he scores and for his ever-changing hairstyle, which fluctuates between a mohawk, a mullet and a bleached-blond side part.
A prodigy from an early age, he was 14 when Real Madrid first tried to bring him to Europe. Chelsea tried, too, and Manchester City, offering millions for his signature. But he turned down the offers, choosing instead to hone his game at home. In so doing, he was trumpeted as a new kind of star for a new Brazil: one who would not follow the exodus of footballers to Europe. He spent his formative years playing with Santos, the same storied Sao Paulo club where Pele spent most of his career. It was there that he developed into a precocious attacker with a penchant for the spectacular. In 2011, he led Santos to victory in the Copa Libertadores, South America's answer to the Champions League.
Two years later, he was gone, bought by Barcelona to play alongside Messi. In his last game before leaving for Spain, his fans cried openly, as did he. The transfer shocked Brazilians, who considered him a symbol of Brazil's growing presence on the world's economic and political stage, a country strong enough to keep its heroes at home.
His arrival in Spain was met with fanfare—but also with criticism: for being underweight (he weighs just 140 lb.), for being overpaid (he earned an estimated €17.68 million in 2013) and for being overrated. But while his nascent European career has been subdued—his nine goals in 25 games with Barca would be a decent tally if it weren't so often compared with and so far behind Messi, who has averaged 1.08 goals per game during the past 10 years in Spain–he has proven that his skills and slight frame can stand up to heavy, European-style defending.
Meanwhile, he has excelled with a Selecao side that, while no match for the legendary Brazilian squads of 1970 or 1994, has the talent to enter the tournament as clear favourites. Unusually for Brazil, their back line is their biggest strength, anchored by the intelligent and gifted Paris Saint-Germain centre back Thiago Silva—one of the best defenders Brazil has ever produced—and Chelsea's David Luiz, and an embarrassment of riches at fullback, with Marcelo, Dani Alves, Maicon and Maxwell available to defend the flanks.
The midfield hinges on the creativity of Oscar and Paulinho, and is secured by the holding play of Luiz Gustavo. Up front, Neymar is joined by Fred, Jo and the muscular Hulk. Of the four, only Fred has played in a previous World Cup. Neymar himself only got his first cap shortly after the World Cup in 2010, scoring on his debut. He has since posted 30 goals in 47 matches for his country, enough to rank him 11th all-time–and he's still just 22 years old. By comparison, Fred is 30 and has just 16 international goals to his name.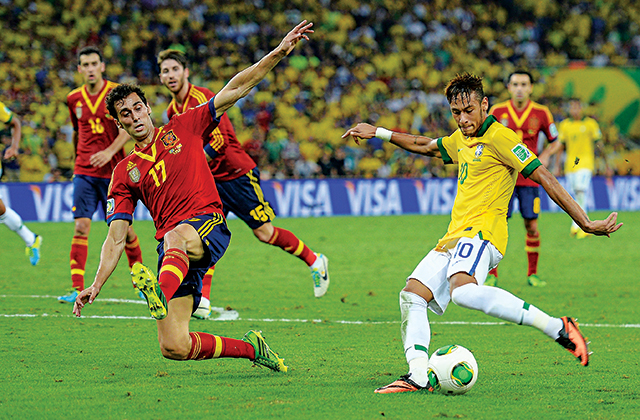 The entire team showed well at the Confederations Cup in Brazil last summer, but none more so than Neymar, who scored four times—including two match-winners. It was there that he became the focus of Brazil's attack, and where he turned thousands of protestors in the streets into revellers by running his own riot over defending World Cup champions Spain in the final.
Neymar avoids speaking of the burden of leading his country, but Brazil's goalkeeper and co-captain Julio Cesar—a veteran in net with 78 caps to his credit—recognizes in him the qualities that can carry on Brazil's legacy. "Every player at his level has that kind of pressure on them, but I feel like he's really prepared for this World Cup," Cesar says. "Ronaldo, Ronaldinho–those are all players who were able to deal with the pressure, and I believe that Neymar is very prepared for it."
For the second time in 12 months, Neymar finds himself leading the home team of a country set to explode. It was during the Confederations Cup that vast demonstrations against government corruption, high transit costs and the expense of the pending World Cup drew tens of thousands into the streets of Rio. Rioters clashed with police up to the day of the final. The fate of that tournament—traditionally a warm-up run for soon-to-be World Cup hosts—was thrown into doubt, with FIFA forced to confirm the final would go on despite the violence. And yet when it was all over, people poured out from the stadium shouting Neymar's name in the streets.
But now that name is being chanted as part of a different tune. With Brazilians still protesting, there's a song being shouted among the masses and its lyrics go a little something like this: "I'm sorry, Neymar, but during this World Cup I won't be cheering for you."
At no point during Brazil's century-long love affair with soccer has the game proved so divisive. The favelas are war zones, as police and bulldozers pour into Rio's and Sao Paulo's slums to flush out drug lords and demolish houses to polish the metropolises in the lead-up to the tournament. The same Brazilians who cheered time and again for their national team have felt their passion turn to rage. Cars have been burned, police and civilians shot, and countless people have been relocated. Meanwhile, the team looks on, waiting to see what happens, keenly aware of the increased pressure the unrest puts on them to succeed. Though the Selecao enters the tournament as favourites, defeat remains a possibility—but not an option. "We are the hosts," head coach Luiz Felipe Scolari has said. "That means that the minimum we have to do—the minimum—is win."
Still, Scolari is content to have his team "win ugly—as long as they win. "Playing beautifully and winning is great, but playing beautifully and losing is horrible," he recently told members of the press. "Whoever says the opposite is an idiot."
And yet the nation's history of sublime football imagination may require an aspirational, generational triumph. Winning by any means may be fine for the manager, but inspiring an angry people to put down their Molotov cocktails and begin dancing in the streets around the Maracana may well demand a performance that lives up to Pele's "beautiful game."
There is only one man in the tournament capable of delivering that type of victory. If this World Cup is to be redeemed for the hosts, it won't be the stifling, cerebral defence of Silva or the quietly competent goaltending of Cesar that turns the screams in the street from anger to adulation. It will have to be Neymar, and he will have to be at his brilliant, baffling best. He will have to be Pele. He will have to be Romario and Ronaldo in one. He will have to earn his place in his nation's soccer pantheon, perhaps even as his country burns around him.