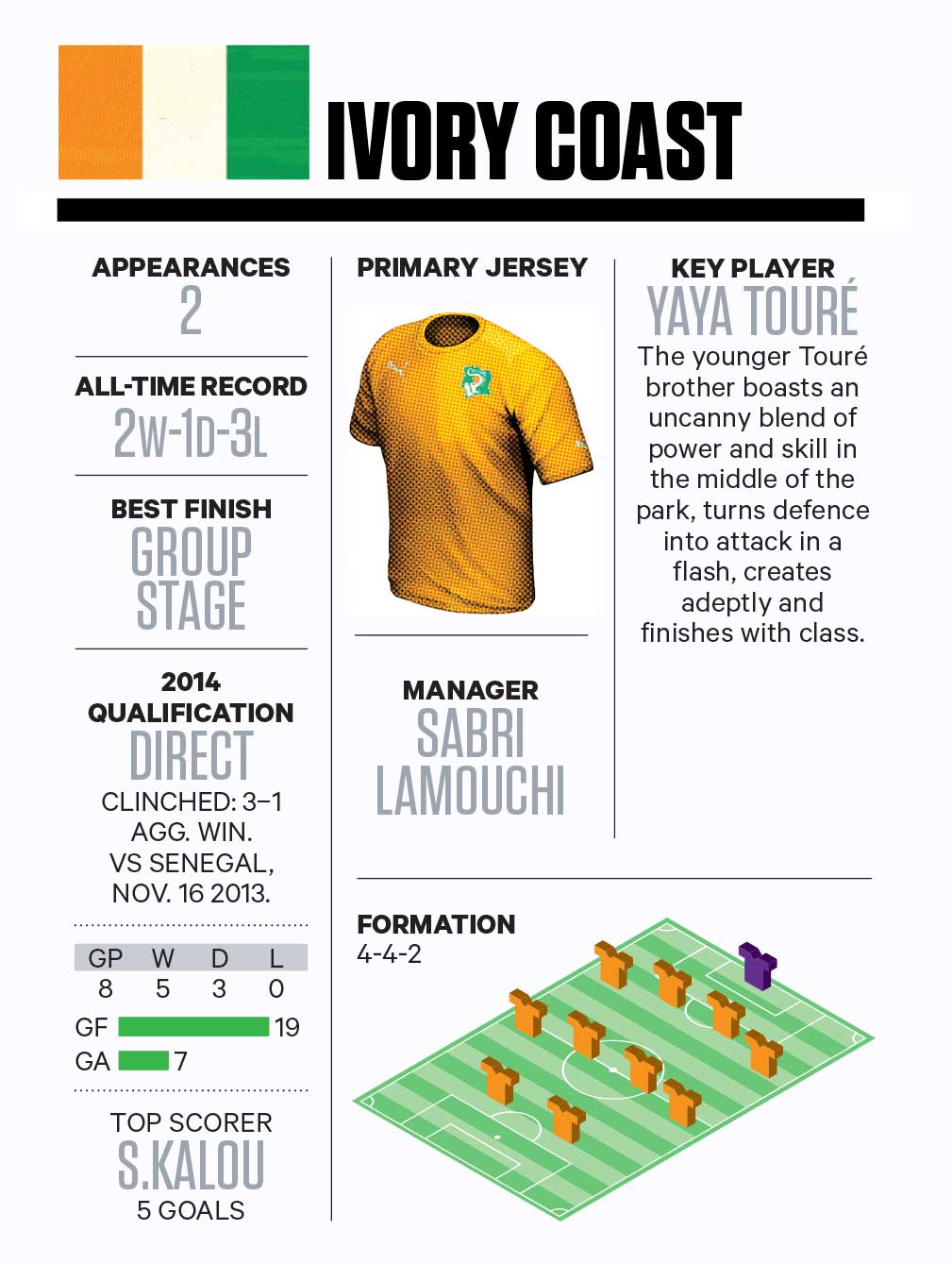 Are "golden generations" more of a curse than a blessing? In the past couple of decades, many gifted groups of players—notably for England and Portugal—have failed to live up to expectations at major international tournaments. At the end of the World Cup, it will be clear whether or not Ivory Coast should be added to that list.
The core of this team should be giving the tournament's big boys trouble in the latter stages, not getting embarrassed at African Cup of Nations tournaments, like they did in 2012 when they lost to Zambia (Zambia!) on penalties. Didier Drogba (Galatasaray), Salomon Kalou (Lille), the Touré brothers (Liverpool and Manchester City), Gervinho (Roma) and the rest of Les Elephants play for some of the biggest clubs in Europe. Kolo and Yaya Touré, Drogba and Kalou have all played in Champions League finals, earning three titles between them. Brazil 2014 is the last chance this group has to write itself into history.
They certainly won't struggle for goals—Drogba, Yaya Touré, Wilfried Bony and Gervinho all find the back of the net regularly for their clubs, with Touré in particular looking increasingly impressive for Manchester City. It's at the other end of the pitch where they could experience some problems. Kolo Touré, who looks well past his prime and rarely got a game at Liverpool in the second half of the season, is the most accomplished defender in an inexperienced back line. Manager Sabri Lamouchi may be tempted to field Didier Zokora as a defender to make up for that, and it's unlikely Zokora would be missed in midfield as Touré and Cheick Tioté are more than capable of bossing play.
Zokora's adaptability could be particularly handy during the group stage as both Colombia and Japan tend to flood the box with versatile playmakers, but whether Touré and his defensive partners are able to keep up will be crucial for the success of Ivory Coast.
Africa's best hope for a deep run, the Ivorians have finally gotten some luck with their draw. In their first World Cup appearance in 2006, they were grouped with Argentina and the Netherlands, so going out before the knockout rounds wasn't seen as a shock. In 2010, they were paired with Portugal and Brazil. Again, a group stage exit hardly came as a surprise. In 2014, however, anything less than a round of 16 appearance will be seen as an utter failure, and Drogba and Co. have even bigger aspirations. With no real heavyweights in their group, this is their chance to become the first African country to reach the World Cup semifinals. And with no standout youngster knocking on the door these days, it's time for this generation to earn its golden reputation. —SASHA KALRA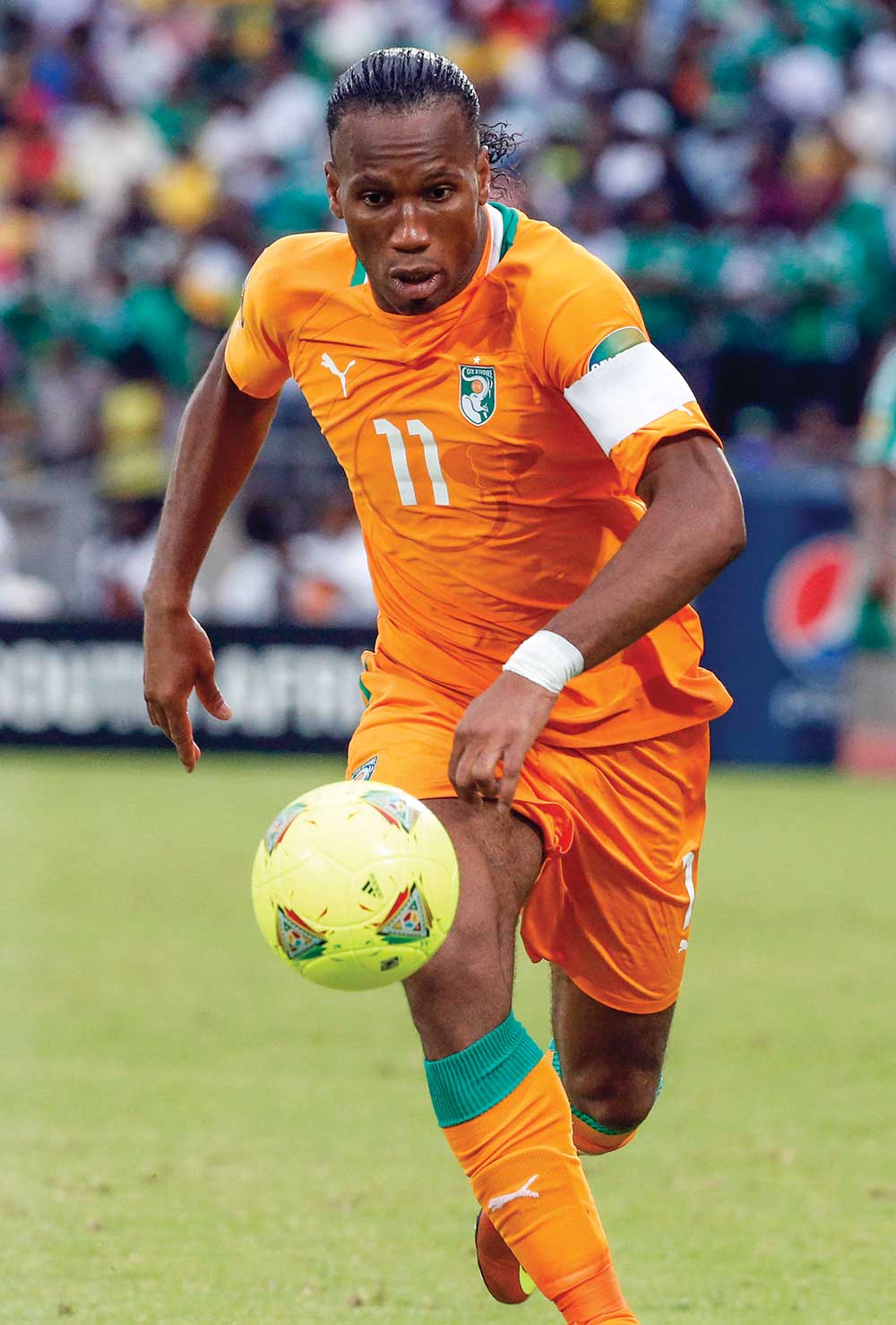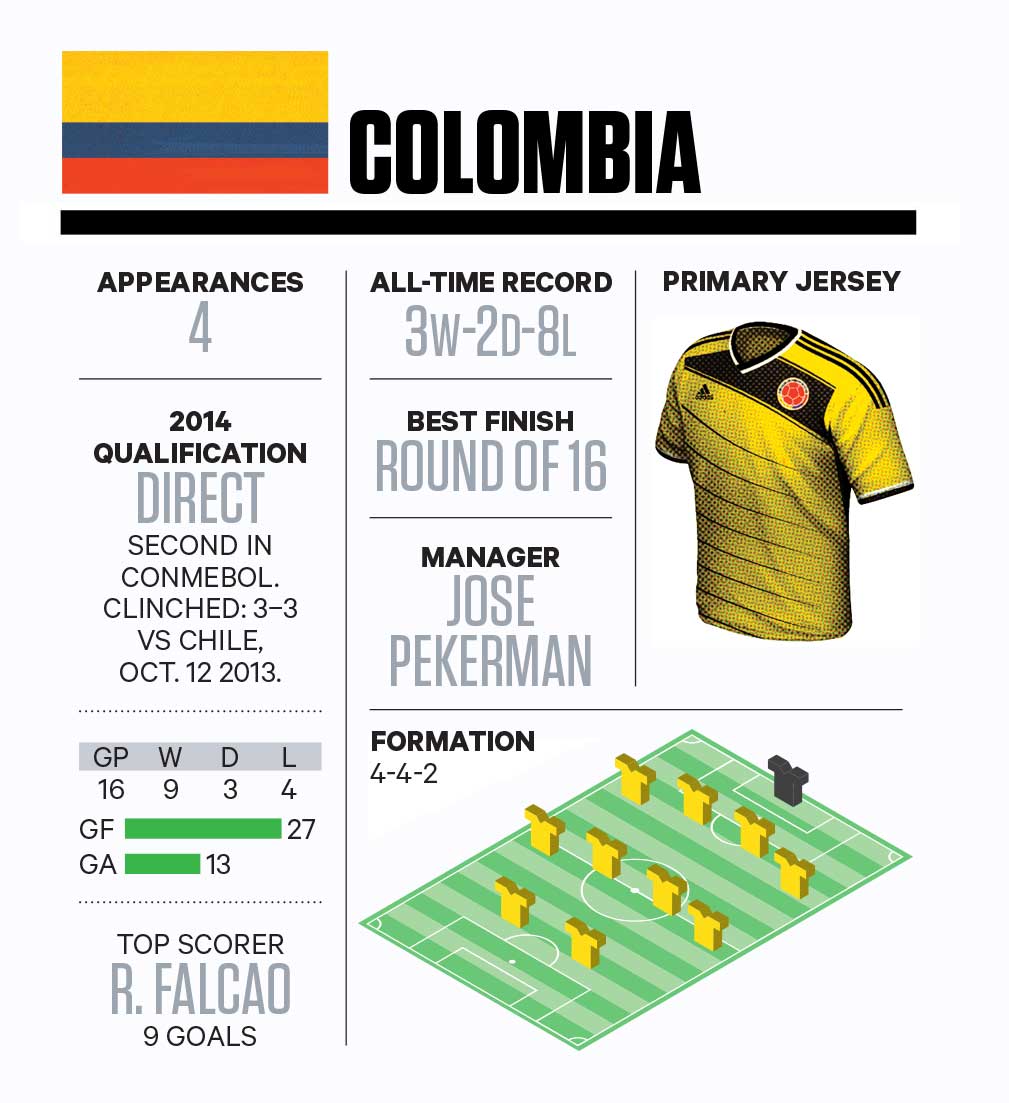 This likely won't be the Colombian team everyone wanted to see. Once-in-a-generation striker Radamel Falcao is struggling to recover from a devastating knee injury suffered in January. By mid-May he was at 60 percent, according to reports quoting his father. The €70-million Monaco star scored a third of Colombia's goals in qualifying, leading them to second in the South American group, so fans will want him back as long as he's able to walk.
But Colombians needn't be quite so desperate. This is a team that has quality from back to front. Captain Mario Yepes anchors a tough back four that earned seven clean sheets in qualifying. The attacking midfield features world-class talent, with James Rodriguez in the middle and Fredy Guarin on the wing. As it stands, they'll be feeding Jackson Martinez, who's been prolific for Porto, and complemented by the speedy Luis Muriel and poacher Carlos Bacca. Taken by themselves, they're the best Colombian front line in years, but it's hard to ignore the man we're all waiting for, whose presence or absence will define Los Cafeteros' hopes.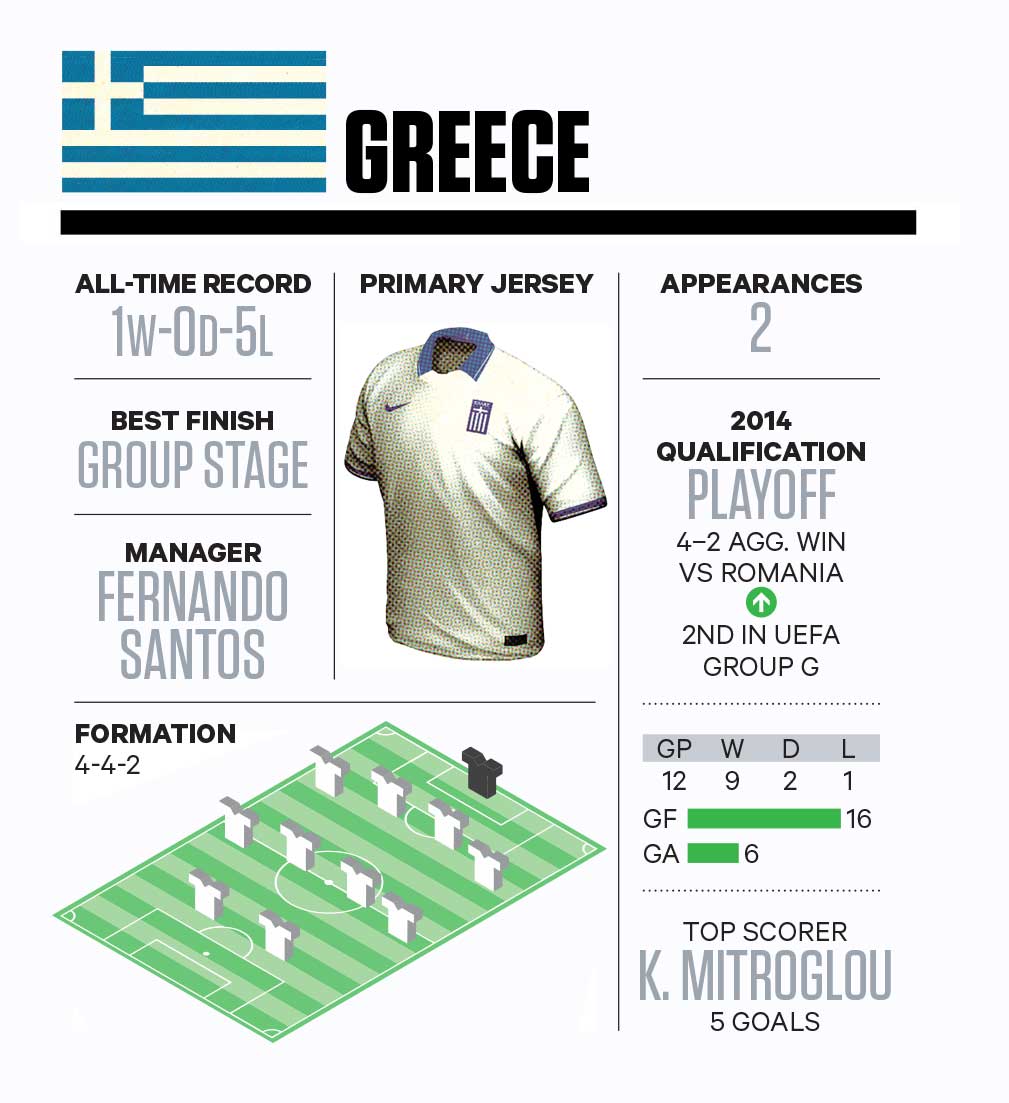 you sometimes get the feeling watching Greece that if they could win a match without scoring a goal, they'd be happy. Sure, that's a shot at their less-than-enthralling style of play, but it's also a compliment to their rock-solid defending. In qualifying, Greece allowed just four goals in 10 group-stage games, three of which came in a single match against group winner Bosnia. In typical Greek style, they won six qualifiers 1–0.
The thing is, they've added legitimate scoring threat to beef up their counterattacking style. Their four front options—Kostas Mitroglou, Georgios Samaras, Theofanis Gekas and Dimitris Salpingidis—pack a powerful punch.
Knockout-round ambitions depend on Greece being as stingy as ever against the attack-minded Ivorians and the crafty Japanese, while being efficient with a counter that's strong enough to make Group C fear the Greeks, even when they park the bus.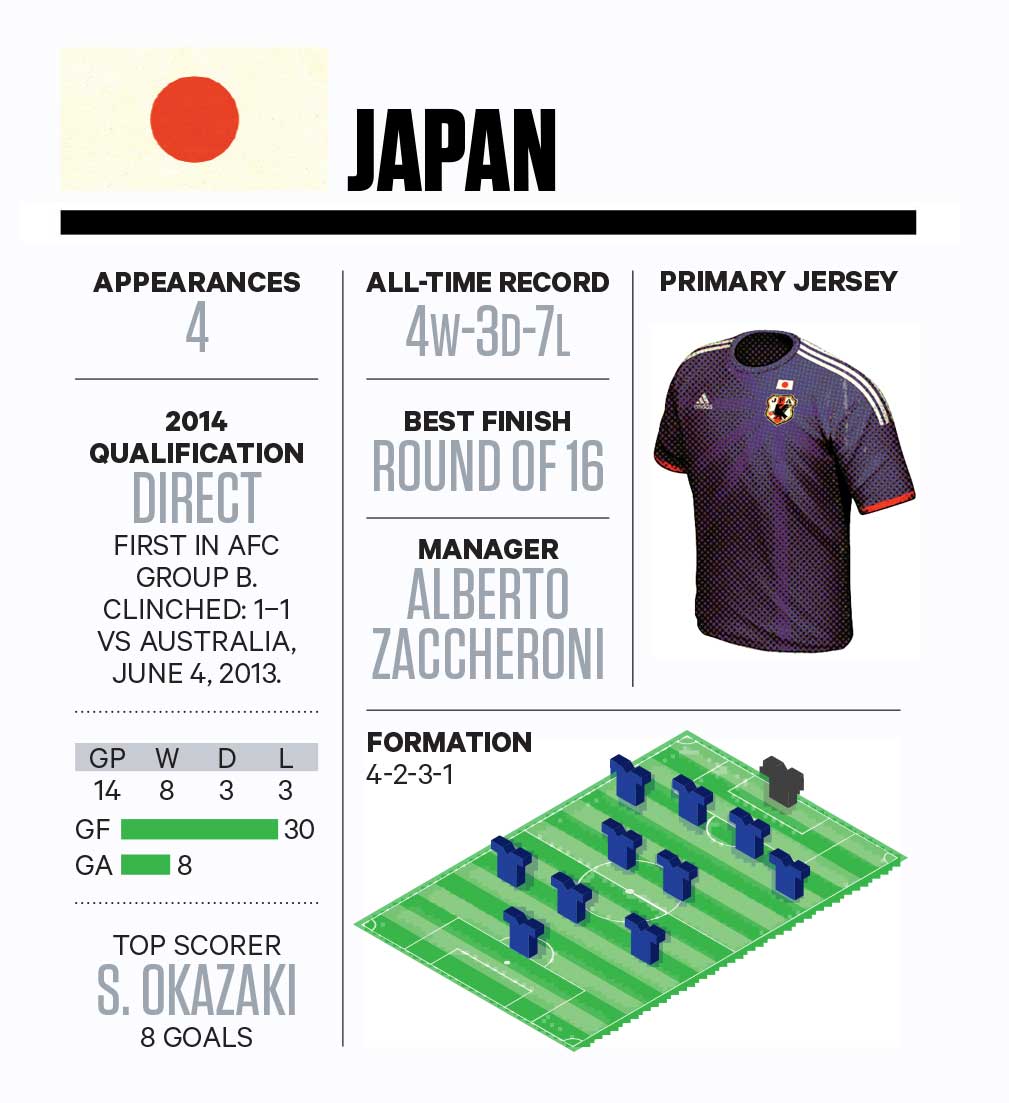 The Samurai Blue have a lot going for them. They play with attacking flair, with Shinji Kagawa (Manchester United), Shinji Okazaki (FSV Mainz) and Keisuke Honda (AC Milan) combining seamlessly and frequently. It's often quite lovely to watch, and earned Japan 30 goals in qualifying.
The problem? Japan seems more determined to play well than win. Perhaps it's a symptom of qualifying through relatively easy opposition in the Asian confederation, where Japan can play their attack-minded game without fear. Against tougher opposition, though, they get stung. In the Confederations Cup, Japan won praise for their stylish play but failed to win a game.
That strong attack and weak defence sets up interesting contests with Ivory Coast (who stack up the same way—prepare for goals) and Greece, who will sit back and defend. Two different tests of will, and Japan needs to win at least one to progress.