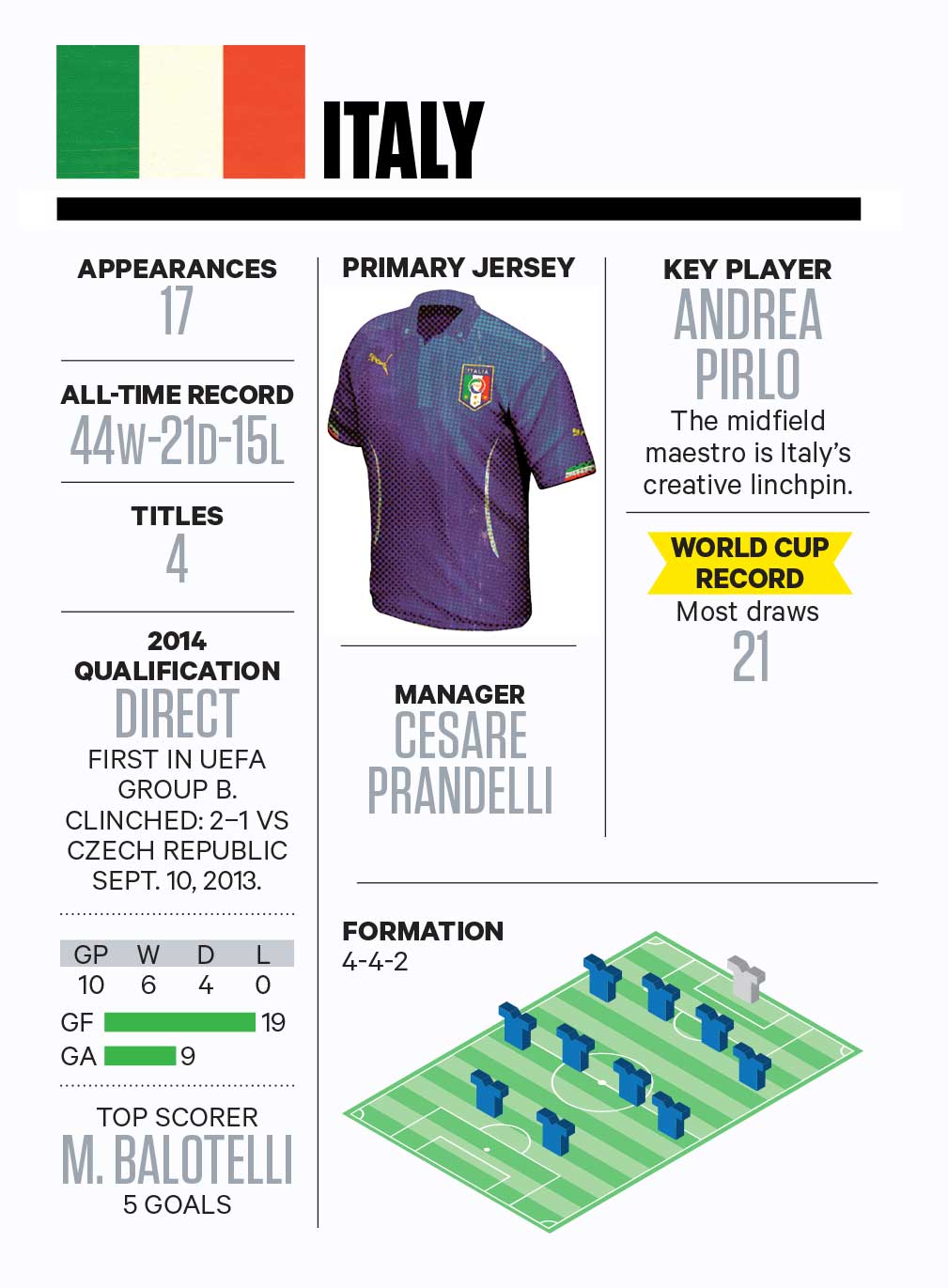 All hail Caesar! Or in Italy's case: All hail Cesare! Manager Cesare Prandelli has transformed the Italian national team since taking over the coaching reins in the aftermath of the Azzurri's capitulation at the 2010 World Cup.
The Italians went to South Africa four years ago full of pomp as the defending World Cup champions, but meekly bowed out in the first round after failing to win a single game—they were even held to a draw by minnows New Zealand. Cue hysteria back home, where fans called for an overhaul of the national team.
Prandelli obliged, and started by showing the door to several veterans (including 2006 World Cup heroes Gennaro Gattuso and Gianluca Zambrotta) while at the same time drafting in a number of promising young hopefuls (most notably, then–Inter Milan striker Mario Balotelli). More importantly, Prandelli stressed a possession game based on the successful Spanish model, and a more attack-driven style of play.
Prandelli's work led to instant results, with Italy reaching the final of Euro 2012. Proving that was no fluke, the Azzurri followed that up by going unbeaten in qualifying for Brazil, topping their group with ease as they clinched their spot in Brazil with two games to spare—the quickest they've ever qualified in their storied history.
What's been especially encouraging is how Prandelli has reshaped the Azzurri into an attacking force. Traditionally, Italy has been known for its defensive prowess—legendary defenders such as Paolo Maldini and Franco Baresi instantly spring to mind when thinking about Italian soccer. But in the qualifiers under Prandelli, Italy scored an impressive 19 goals, and the team has genuine depth in attacking positions, with the dangerous—but still temperamental—Balotelli leading the way.
This team has a point to prove in Brazil after returning home in shame from South Africa. Buoyed by youth and Prandelli's vision, Italy has been reborn. It would be a brave soul who bets against them this time around. —JOHN MOLINARO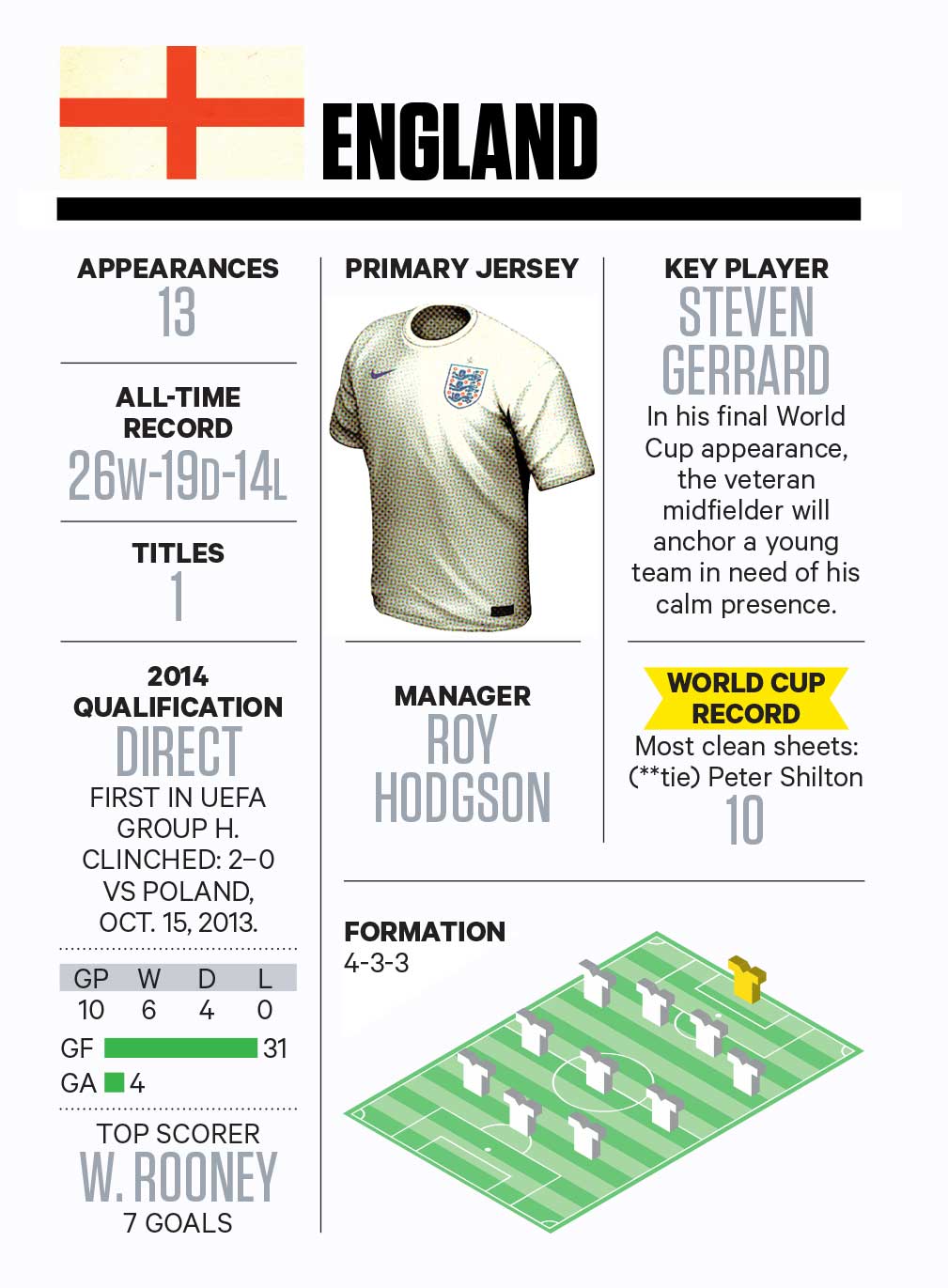 England's standard World Cup failing is twofold: An inflated sense of the team's quality ratchets up expectations, and the British media squeezes the players with those expectations until they crack. Which, inevitably, they do.
While the press attention is as intense as ever, maybe this time the team's reaction will be different. There's a more relaxed feeling heading into the tournament, and a new generation of players has brought new, more reasonable expectations.
With an average age of 26—the second-youngest English World Cup squad ever—the team has 11 players with 10 or fewer senior caps. It gives a fresh start for an England side after a tired showing from a veteran squad in 2010.
The youngsters on the roster offer a great deal of talent and complement each other well. Arsenal's Jack Wilshere brings instinctive playmaking and blood-and-guts tenacity to the midfield, while fellow Gunner Alex Oxlade-Chamberlain provides speed and striking power. Manchester United's Danny Welbeck is a slick finisher, and his club teammate Phil Jones is a powerful and solid defender. These are stars on the cusp of their prime, set for a breakout tournament.
The problem is that England's success depends on a significant proportion of its squad stepping up on the big stage. Moreover, there are spots where the inexperience is glaring. Raheem Sterling (19 years old, two caps), Ross Barkley (20 years old, three caps) and especially Southampton left back Luke Shaw (18 years old, one cap) are all promising players, but their inclusion gives the team the feeling of a work in progress. Perhaps Roy Hodgson is playing a long game, selecting as strong a team as he can while building for the future.
It's not a bad idea. Facing Uruguay and Italy, England will be hard-pressed to get out of their group. If Hodgson's kids can overcome those odds, it will be a great achievement. If they can't, they can only hope the experience will stand them in good stead next time. —JAMIE DOYLE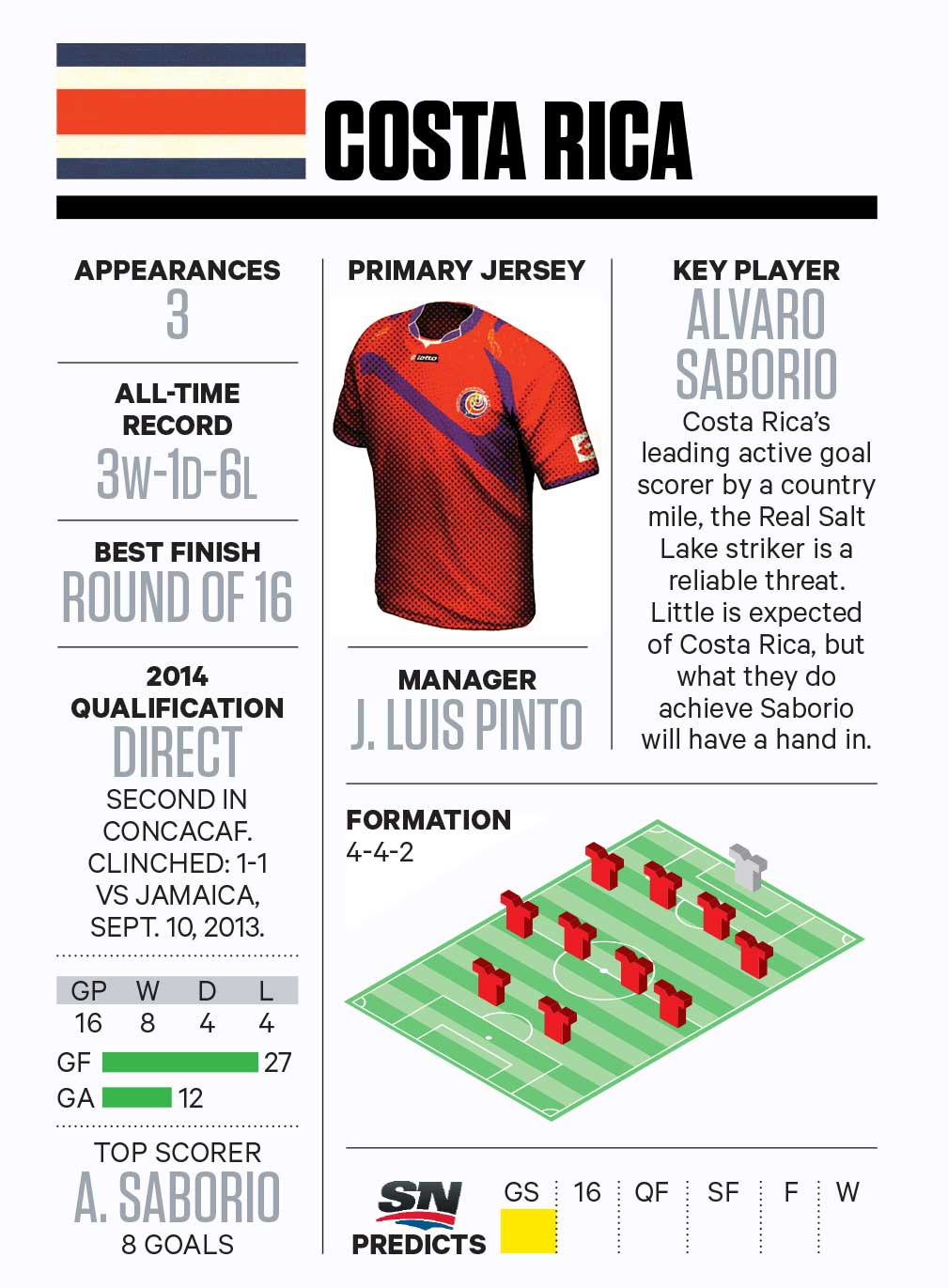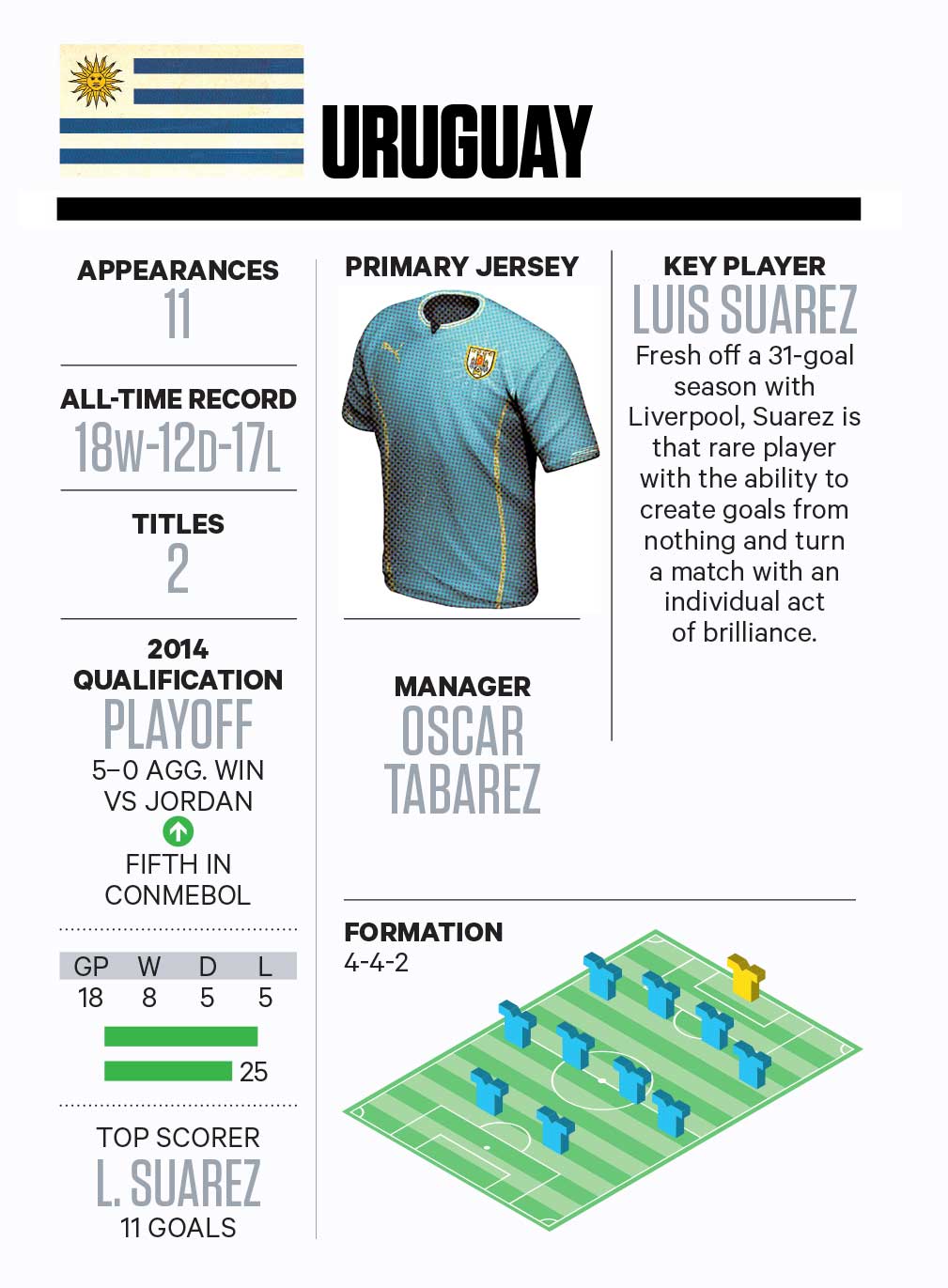 It's hard to know what to make of Uruguay. On the one hand, they've got Luis Suarez, perhaps the best striker on Earth right now; on the other, they limped through qualifying with a 7-4-5 record. On the one hand, they scored four goals against Chile; on the other, they have a shaky back line led by Diego Lugano, who is without a club after getting just nine games in this season at West Brom. It's hard to see the Uruguayans making a run to the semis as they did in 2010, but it's also hard to see them failing to exit their group, even with England and Italy lining up against them. They'll be confident and buoyed by strong support, but anything can happen. The smart money is on Suarez finding a way to elevate his team. How far he can carry them is anyone's guess.