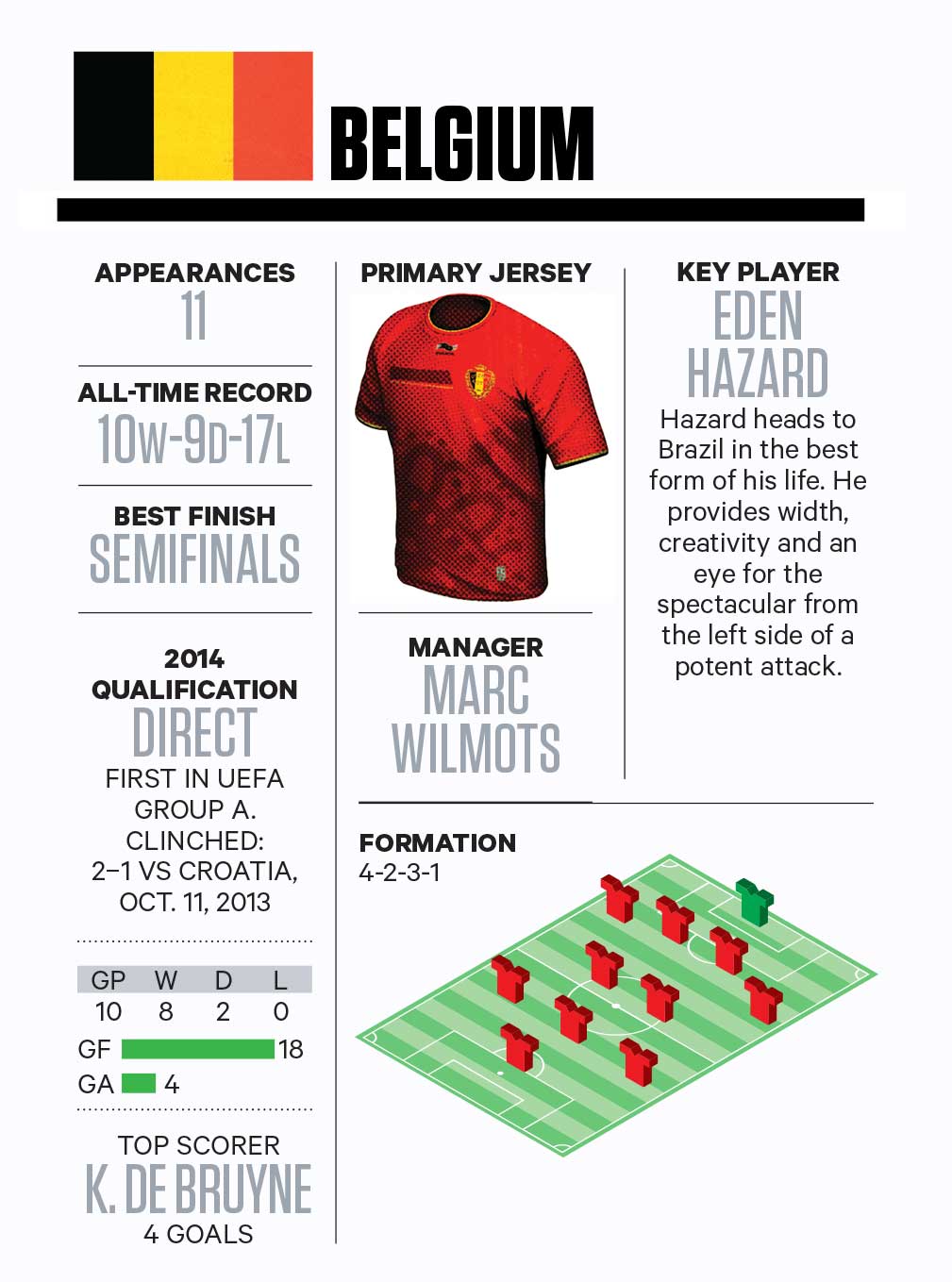 twelve years is an eternity in international soccer. Just ask the Belgians.
They bowed out in the second round of the 2002 World Cup co-hosted by Japan and South Korea, but not before putting on a brave effort in a loss to eventual champions Brazil. It seemed as though better days were ahead for a country that had become a World Cup mainstay—the Belgians were appearing in their sixth consecutive tournament, with their best showing coming in 1986, when they reached the semifinals in Mexico.
Nobody could have predicted that it would take them 12 years to return to the tournament. But that's what happened, thanks in large part to a lag in developing new players.
Fast-forward to 2014, and Belgium has become the darling of world soccer, heralded as an exciting team capable of disrupting the sport's natural order and pulling off a major shock by winning this summer's tournament in Brazil. That's not going to happen. But everybody is talking about Belgium for good reason.
Buoyed by an exciting generation of young players—including Chelsea's Eden Hazard, Romelu Lukaku of Everton and Atletico Madrid goalkeeper Thibaut Courtois—the Red Devils went unbeaten in the qualifying round with eight wins from 10 games to take the group by nine points, averaging almost two goals per game.
Flush with offensive options, including Manchester United's Adnan Januzaj, who recently declared his international allegiance, Belgium has become an attacking dynamo, capable of ripping opponents to shreds. The team is particularly strong in the midfield, where Hazard is coming off a sensational season for Chelsea and headlines a diverse group that includes Zenit St. Petersburg's Axel Witsel and Tottenham's Moussa Dembélé.
Equally critical to Belgium's recent success has been the poised play and leadership of captain Vincent Kompany. The Manchester City star marshalled a back line that was breached just four times in qualifying matches.
Not everything is perfect, though. Star striker Christian Benteke ruptured his Achilles while playing for Aston Villa in April, ruling him out for this summer's festivities in Brazil. And this is a young team—maybe too young. The majority of the key players who will be with the team are in their 20s and lack much international experience, which suggests that Belgium will be better equipped to compete at the 2018 World Cup in Russia.
Barring a major disaster, though, the Belgians will be a team to watch, and could surprise in the round of 16 in Brazil. —JOHN MOLINARO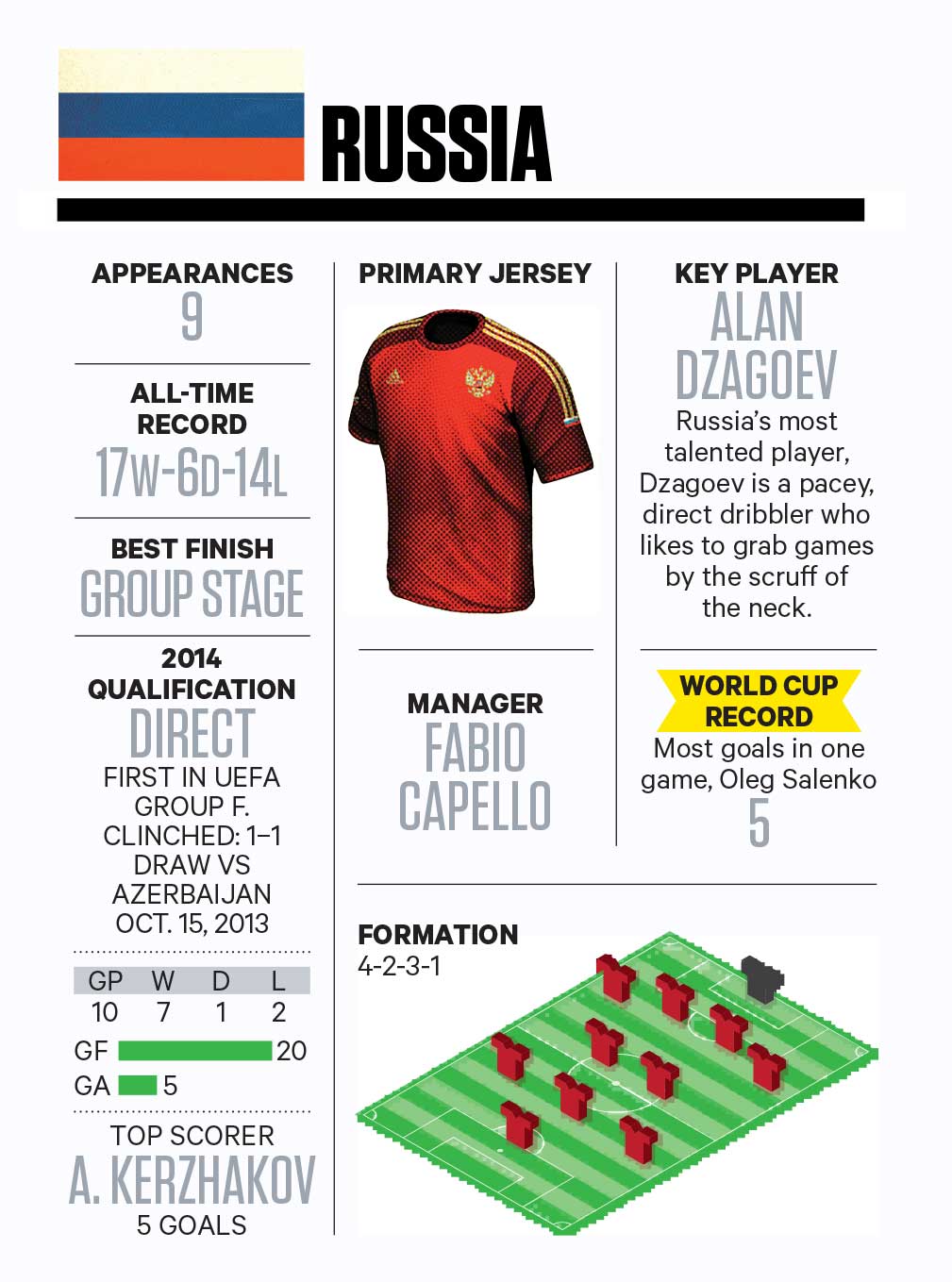 IN breezING through UEFA qualification, beating Portugal for the top spot in a tricky group, Russia seemed to have the perfect blend of skill and experience. Fabio Capello's veterans combined beautifully with the mercurial talent of Alan Dzagoev to form a team that went out every night and did exactly what was expected of them—they won.
Ominously, though, one could say the same thing about England's run to the 2010 tournament (subbing in Wayne Rooney for Dzagoev). Under Capello, England breezed through qualification for South Africa, but unravelled the minute they landed arrived. Capello won't tolerate anything remotely similar this time around. This World Cup is about redemption for him and for this Russian team, which infamously missed out in 2010 at the feet of Slovenia.
Russia conceded a mere five goals in qualification, showing the water-tight defence needed in tournaments. Sergey Ignashevich marshals the back line expertly, and Igor Akinfeev is a superb keeper. While group opponent Belgium is getting dark-horse buzz, Russia seems to be flying under the radar. That should suit Capello just fine. —sasha kalra —SASHA KALRA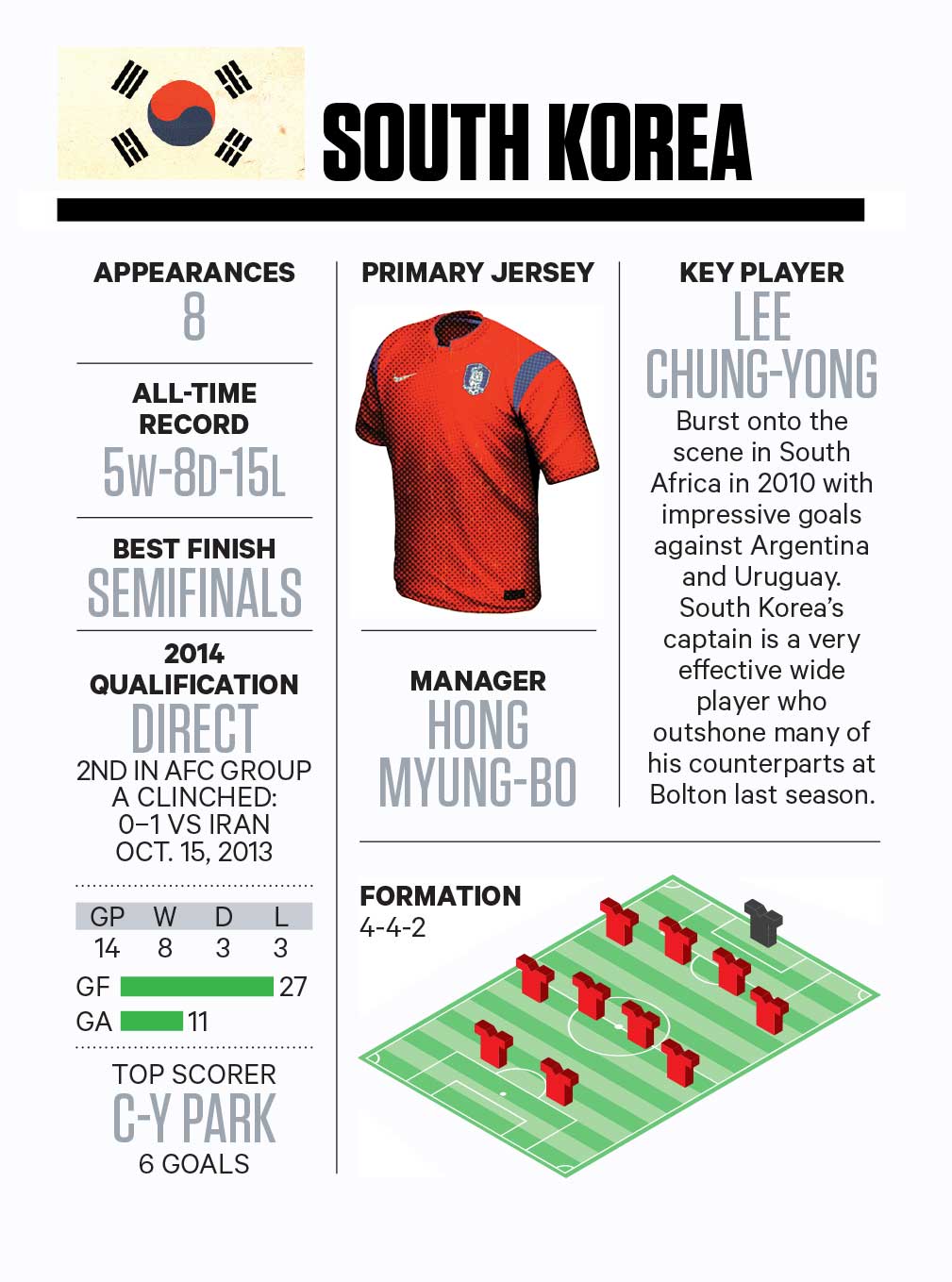 After qualifying for its eighth consecutive World Cup—an amazing achievement for any nation­—South Korea heads to Brazil backed by a feverish fan base that remembers its run to the semifinals in 2002 and will be expecting success.
That's asking far too much of the Red Devils, though, especially after a laboured Asian qualifying campaign. South Korea lost to eventual group winners Iran on the final matchday, and only beat out Uzbekistan for second place on goal difference. It's hard to imagine they'll do much better in Brazil, where the calibre of competition will be considerably higher.
One thing the South Koreans have going for them is speed. Manager Hong Myung-Bo can call upon a crop of young and energetic players—midfielder Kim Bo-Kyung foremost among them—who will be tough for opposing teams to contain. The Red Devils use the full width of the field when in possession and will take advantage of their pace when attacking down the flanks.
The challenge for South Korea will be recognizing when to curb their attacking enthusiasm and tend to defensive duties. —JOHN MOLINARO