The 2018 French Open came to an end on Sunday, and while the men's side of things provided no surprises whatsoever, the women's event culminated in the crowning of a first-time Grand Slam champion.
Here are the biggest takeaways from the past fortnight of tennis:
1. Nadal is the king of clay, but Thiem is the heir apparent
Defeating Rafael Nadal on the clay of Roland Garros may just be the toughest individual challenge in the history of sport. He is now 86-2 at the tournament, and now has as many Grand Slam titles at the French Open (11) as greats Bjorn Borg and Rod Laver finished with in total. Over the last two tournaments, he's lost one set.
But, what about when Father Time opens up opportunities for the rest of the field? Dominic Thiem showed over the course of this tournament that he is more than ready to take the reins. He cruised through to the final, losing just three sets on his way to the inevitability that is Nadal. Per MatchStat, he is 91-24 on the surface since 2015.
It's also nice when the incumbent gives you a vote of confidence.
"I am sure you will win here in the next couple of years," Nadal told Thiem after the match.
2. Finally, Simona
World No. 1 Simona Halep had lost three times at the final of a Grand Slam, twice in the semis, and five times in the quarter-finals since 2014, before finally breaking through on Saturday.
It didn't look good early on, having lost the first set and giving up an early break in the second set. Despite thinking she may have blown her chance once again, she dug deep, changed her tactics and found an incredible level the rest of the way to leave Sloane Stephens stunned.
The Romanian had placed in the top two of the WTA rankings for the past five years, and the relief on her face was palpable when Stephens sent her forehand return of serve crashing into the net. With the monkey off Halep's back, perhaps this will now spur her on to bigger and better things.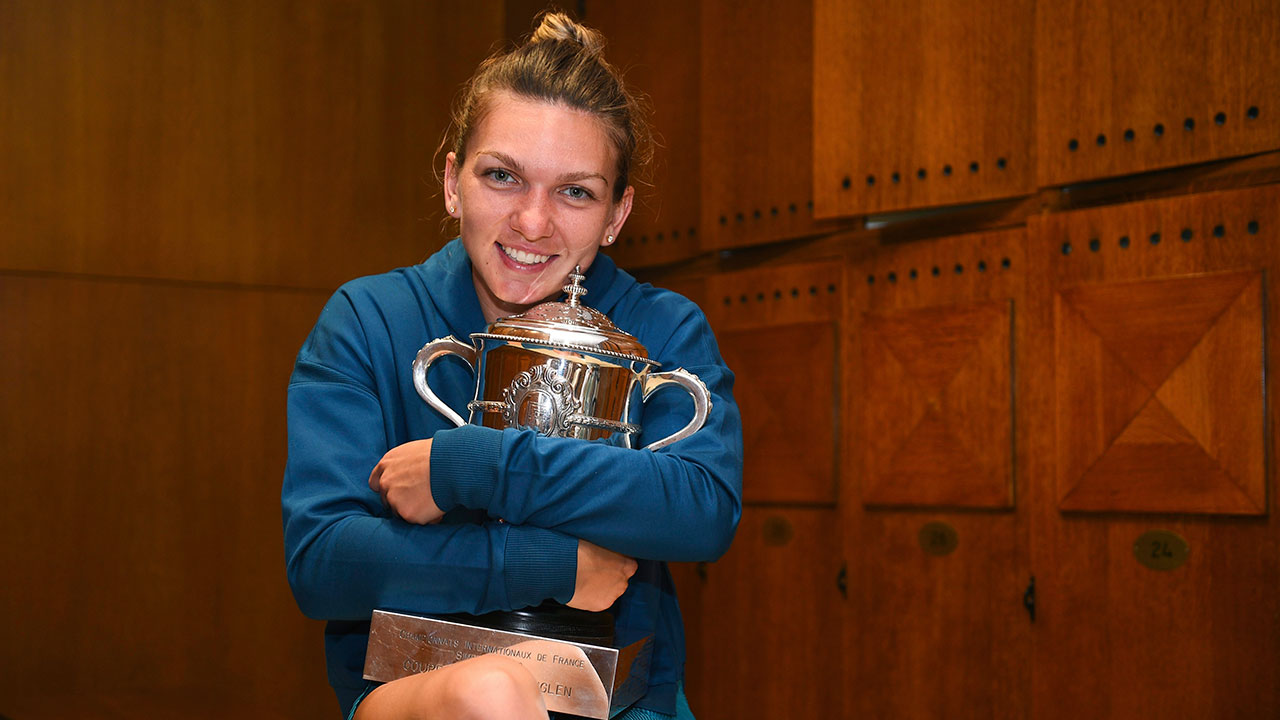 3. The best match that never was
They did enough to make the matchup possible, but the highly anticipated fourth-round clash between Serena Williams and Maria Sharapova never came to be after the former had to unfortunately pull out with injury.
Serena struggled to find her best in the early going, relying on experience and guile to work her way past Kristyna Pliskova (not to be confused with sister and World No. 6, Karolina) and Ashleigh Barty. Williams trailed Barty by a set in the second round, but with her back against the wall, was able to summon some of her best tennis and carried that over to the third round where she handled 11th-seeded Julia Goerges quite easily.
Sharapova had a similar story, working her way past Richel Hogenkamp and Donna Vekic before finding her feet against Karolina Pliskova with a 6-2 6-1 victory. With the two tennis giants seemingly approaching something that resembled their best tennis, it's a real pity Williams' right pectoral muscle got in the way.
At the very least, her coach indicating that the 23-time Grand Slam champion should be available for Wimbledon offers some consolation.
4. Shapovalov fails to live up to his own lofty expectations
Denis Shapovalov built up a serious head of steam by winning six of eight matches at Madrid and Rome to surge to 26th in the ATP rankings, putting away the concerns of losing in the first round of the two clay tournaments he played (Monte Carlo and Budapest) before that.
After a convincing straight-sets victory over Australian John Millman in the first round, things were looking up for the Canadian teenager once again as he took the first set and broke early in the second set against Maximilan Marterer. The German then found some momentum of his own, broke back, and took the second set along with the next two to complete the shock. Eighty-two unforced errors for the Canadian didn't help his cause.
"It's one of those days," Shapovalov said after the match. "It's a little bit disappointing, but like I said, credit to (Marterer). He played a really good match and he deserved to win today."
5. Djokovic still not up to par
It's hard to look at a 12-time Grand Slam champion and not compare him to what he was, but Novak Djokovic almost needs to be viewed as a different player since his return from both personal issues and injuries.
Like Shapovalov, he stirred up some momentum with a run to the semifinals in Rome, where he played some good tennis in a defeat to Nadal as well. But, after showing that he may be onto something with a win over 13th seed Roberto Bautista Agut in the third round, and a comfortable victory over veteran Fernando Verdasco in the fourth, his inability to execute in big moments against unseeded Marco Cecchinato in the quarterfinals looks to have undone all the good work.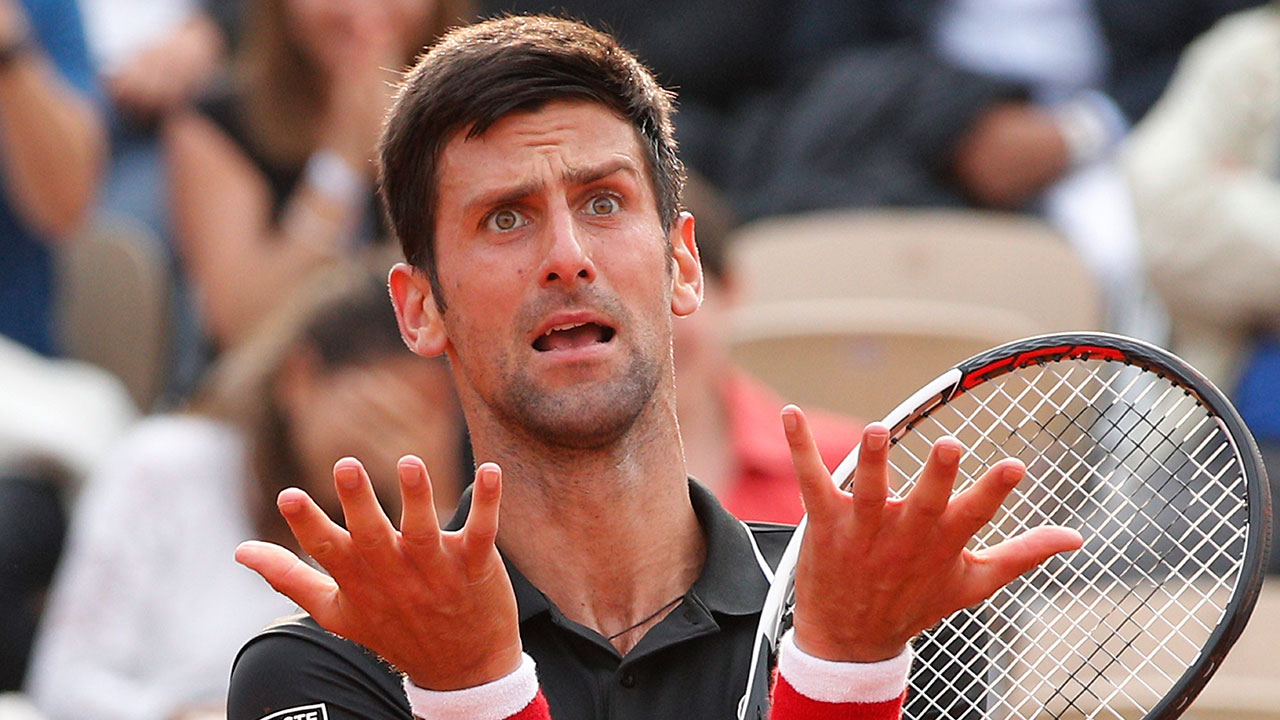 Djokovic was reportedly livid with himself after the match, having rescued himself from two sets down by winning the third set and going up 4-1 in the fourth. With a fifth set appearing an inevitability, Cecchinato started to find the best of his game again and the former French Open champion failed to raise his.
In the tie-break of the tournament, Djokovic trailed 3-0, then played a couple of stunning points to save match point and give himself a couple of set points, before losing 13-11.
That he finished with reporters after the match by saying he doesn't even know if he'll play Wimbledon says all there is to about where his mental space and game is right now.
Djokovic rushed to press but not in main room. Settled in room 2 : chaos followed. He's obviously dejected, super angry and disappointed. Said he missed too many chances. Added that he wasn't sure if he'd be playing on grass at all. Pissed off is an understatement for his mood.

— Carole Bouchard (@carole_bouchard) June 5, 2018
6. So close, yet so far for Dabrowski
Canadian Gabriela Dabrowski entered the mixed doubles event as both defending champion and the No. 1 seed, but fell along with her Croatian partner Mate Pavic to an agonizing 6-1 7-6 [5] 10-8 defeat against the second-seeded pairing of Latisha Chan and Ivan Dodig in the final.
The final set isn't your traditional set, but rather a super tie-break which is a race to 10 points with a difference of at least two points. With the score at eight-all, Pavic unfortunately double-faulted to hand the championship point to his opponents, which Dodig took full advantage of to serve out the set.
Dabrowski old won the Australian Open title earlier this year, and will now be looking to improve her career-best mixed-doubles quarter-final appearances at both Wimbledon and the U.S. Open.
The 26-year-old also confirmed after the tournament that there won't be any hard feelings between her and Chan going forward, as they'll be teaming up to play women's doubles events going forward.
Perhaps just some good natured ribbing.