MONTREAL — It was not quite 10 minutes after he had kissed the blue court, thanked the Montreal crowd and waved to his mother — who anxiously sat in the corner, behind the baseline and above the wall. It was not long after he'd left the court, to the kind of thunderous roar that Jarry Park had reserved for a Bill Stoneman no-hitter or Gary Carter home runs. It was not quite 11:00 on Thursday evening, after he'd passed the throng of hundreds waiting for him along the outdoor concourse, through a dark tunnel into an indoor building and a plush, empty, carpeted locker room.
It was not quite 10 minutes after the greatest accomplishment of Denis Shapovalov's young life that this 18-year-old stood shirtless in the middle of that locker room with his physiotherapist, Nick Martichenko, his coach, Martin Laurendeau, and Canadian Olympic doctor, Nick Sauve, and breathlessly wondered aloud, "What the hell just happened?"
And nobody in the room could really answer his question.
Canadian tennis history was re-written Thursday night at Stade Uniprix, when this country's next tennis hope took down one of the greatest tennis players to ever live. It was a wild, didn't-it-have-everything match that was settled in a third-set tiebreak and left Rafael Nadal — yes, 10-time French Open champion Rafael Nadal — without an answer for a teenager who didn't back down.
As the crowds began to leave the site and Canadians turned off their television sets, there stood Shapovalov in shorts, his body beginning to seize up as it cooled and his next battle began: with his coach over the post-game meal.
"You told me you like sushi," Laurendeau told him, holding two containers of rolls and sashimi.
"Not during tournaments," Shapovalov replied.
The coach stared at him. "Just eat some rolls, Denis."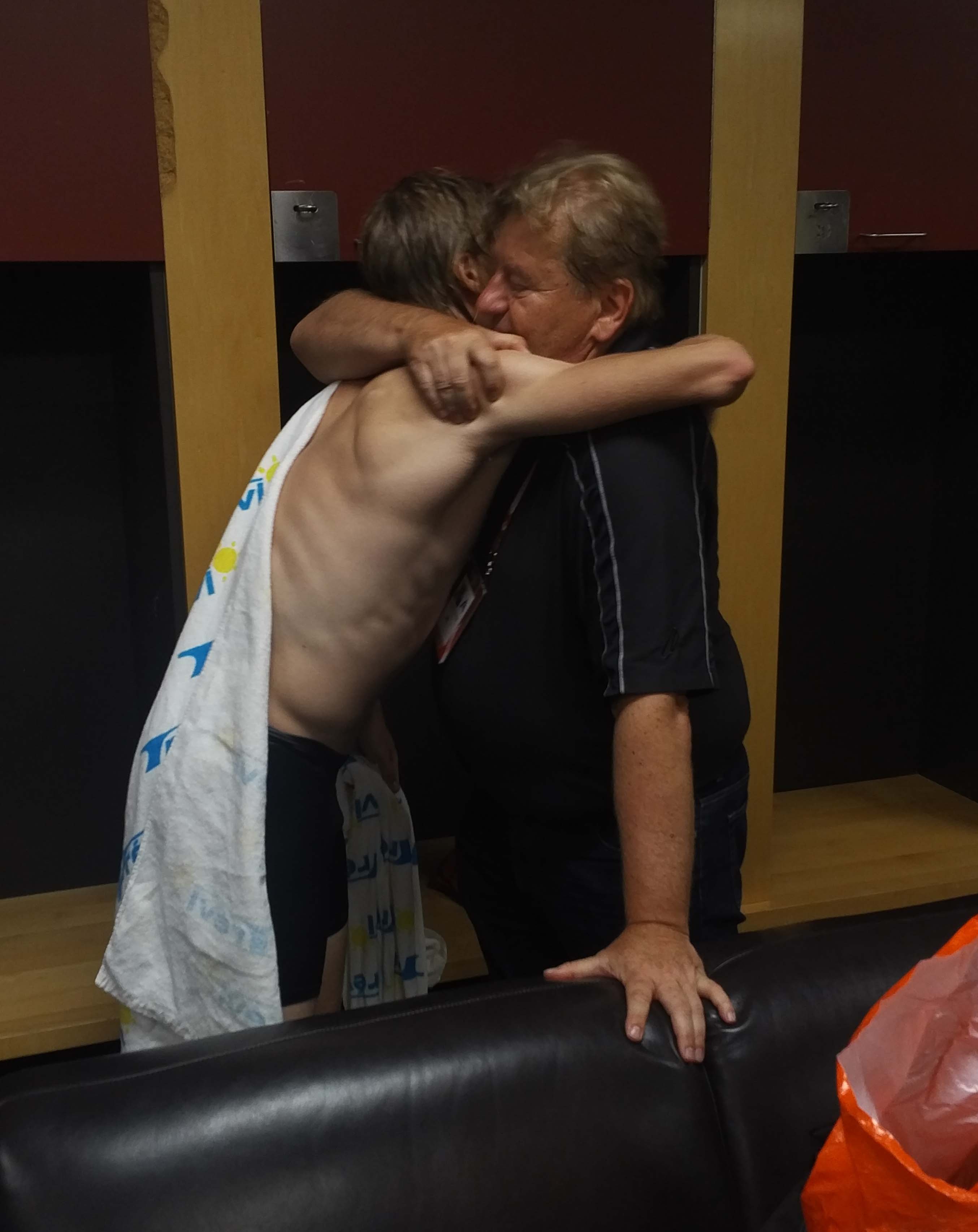 Shapovalov grabbed one of the boxes and went into the back shower area for a 15-minute ice-bath session as part of his recovery. Martichenko followed him. The sounds of laughter and joy came from that adjacent room, while the coach and Sauve tried to put into context what they'd just witnessed.
Laurendeau: "Doc, he just took it to him and took his chances and pulled the triggers. And he went for it."
Sauve smiled.
 
Laurendeau continued. "How many times was Shapo in the hole? In trouble? Break points. That game at one-all in the third set, I mean, how long did it go?"
Over 14 minutes.
"Unbelievable," Laurendeau said, shaking his head. "That was Maddux versus Jeter at the plate. Thirty-two pitches. Unbelievable. I just don't know what to say."

 
Just down the hall, Nick Kyrgios did. He'd watched the final match of the night in its entirety. After it was done he walked through the players' lounge, a beer lifted in the air and chanted "SHA-POH-VAH-LOV." Then he got everyone's attention and yelled, "Here's to Denis!"
Meanwhile, back beside the locker room, Shapovalov sat in that ice bath, trying to get his legs back, not touching the sushi, checking his phone, yelling at how damn cold the 11-degree pool was. "Do I look like I'm enjoying this?" he asked to anyone who would listen.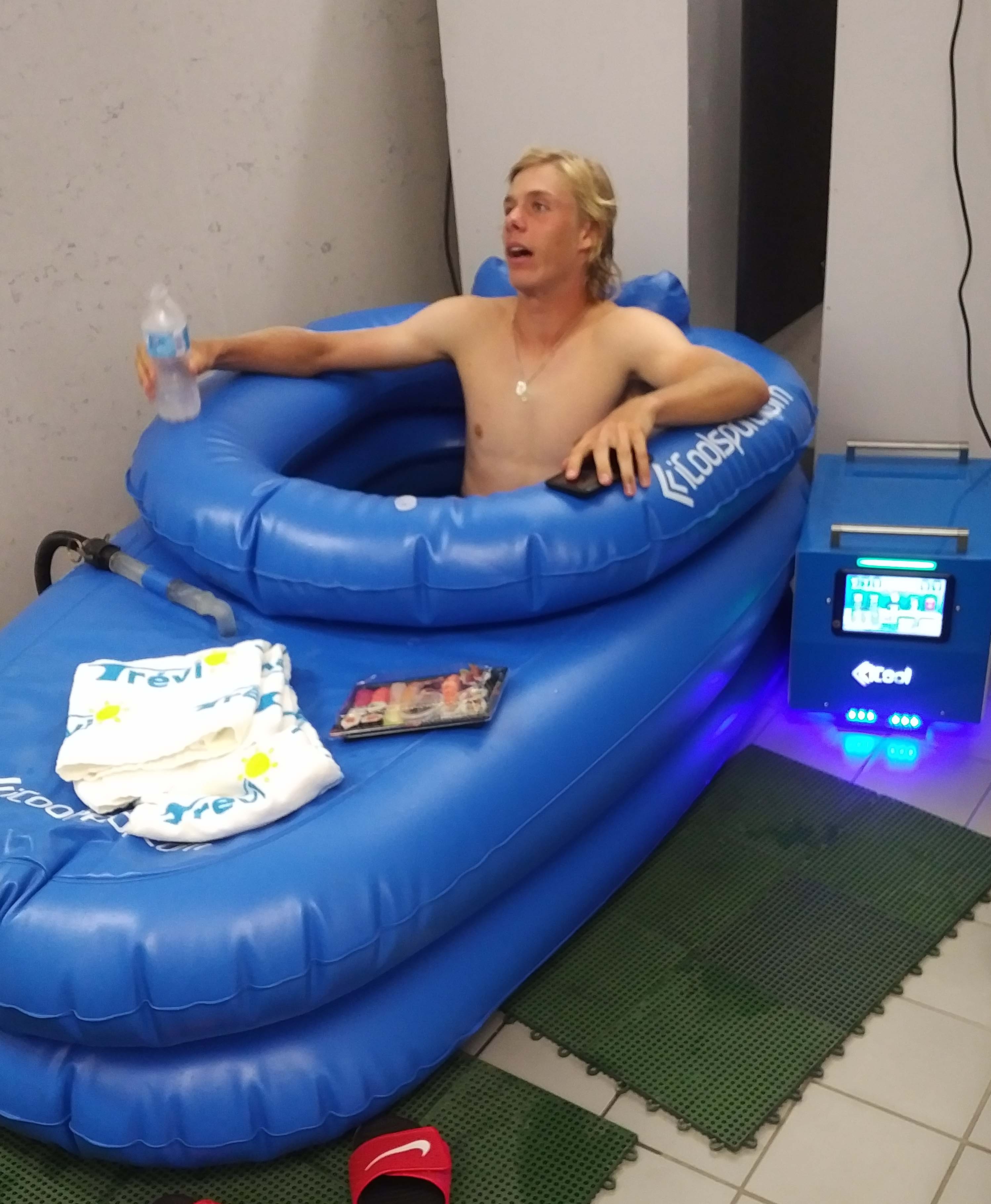 Then he cramped up, and Sauve applied pressure to his quad, and all was okay for a minute, as Shapovalov sat in the inflated pool of cold water, his feet extended wide. Then his coach arrived to continue the match breakdown.
"You kept coming at him," Laurendeau said. "You lost seven, eight points, but you kept hitting unbelievable shots and the last three you won – because you kept at it."
Shapovalov didn't seem to be paying attention. All was quiet for a while. And then he repeated three times: "I don't know how I did it. I don't know what happened."
Watch Denis Shapovalov's Rogers Cup quarterfinals match vs. Adrian Mannarino at 6:30 p.m. EST on Sportsnet ONE.
The poignant moment lasted a minute. Then his quad cramped again and Sauve went back to work on him, and when it calmed down, everyone but Denis started laughing. "You love my pain!" Shapovalov yelled at them. 
Sports culture: deriving joy from the misery of those closest to you.
Out of the ice bath and with his post-match recovery duties all but done, he went to say hello and goodbye to the friends and family he'd had in the crowd — his friend Penny Oleksiak (see sidebar), and his mother, Tessa Shapovalov, among them.
It was Tessa who introduced her son to the game when Shapovalov was five. She is from the former Soviet Union, a tennis player herself, and moved to Tel Aviv when her coach relocated there. Denis was born in Israel, and she and her husband, Viktor, were uncertain how safe it would be to raise kids there. They looked at options abroad: Australia and Canada were two of the easier countries to emigrate to. They ended up in suburban Toronto, and Tessa began coaching her son before opening her own tennis school.
She was telling this story Thursday afternoon, standing at the fence surrounding Court 4, mid-way through her son's pre-match practice. He was hitting with fellow Canadian and former tour pro, Jesse Levine, a leftie, to prepare him for Nadal. Now both an analyst for Sportsnet and a tennis coach, Levine knew his assignment for the workout. A critical part of the hitting session was working on the cross, and for Shapovalov to take the ball early to go down the line.
As Oleksiak and others looked on, Levine also bombed southpaw serves at him, plenty of which went to the body to get Shapovalov used to the spin. At one point, a serve handcuffed the teenager and Levine yelled, "That's Randy Johnson out there, baby," likely unaware a kid born in 1999 probably doesn't even know who the towering, former big league pitcher even is.
Shapovalov's day-time practice lasted 65 minutes. He ate lunch on-site at the tournament and went back to Felix Auger-Aliassime's place – where he's been crashing in the basement this week. The two are close from their time training at the national tennis centre. Shapovalov is last year's junior Wimbledon Champion, Auger-Aliassime the 2016 junior U.S. Open champ. They have aspirations to win a Davis Cup together for Canada.
Two nights before beating Nadal, they celebrated Shapovalov's first-round Rogers Cup win and Felix's 17th birthday at the Montreal restaurant, Le Serpent. A group of them went: Malika Auger-Aliassime, Felix's sister, sat across from Shapovalov; to her left were Chih Chi Huang and Benjamin Sigouin from the national tennis centre. Felix was at the head of the table. To Denis's right were Juan Carlos Manuel Aguilar (who used to train with them in Montreal) and Alexis Galarneau, now playing tennis at North Carolina State University.
So when Shapovalov's Thursday morning began around 10:30 a.m. in the Auger-Aliassime house, he woke up to a poster of Rafael Nadal hanging on the wall and sent Felix a Snapchat message that read, "Take that down."
Ten hours later, Shapovalov did the same to the top seed at Rogers Cup, who blew his chance — for now — at regaining the World No. 1 ranking.
Which is why the celebration was on in the locker room, even after the cramping and the frigid cold-tub temperatures. While he was receiving his final wind-down massage on the ground floor of Stade Uniprix, Shapovalov said the in-match moment he remembered most was his forehand approach shot on match point. "I played it so loose, so clean," he said.
Someone talked about getting Denis some real food to eat, and the sushi was pushed aside and a plate of noodles and chicken arrived. Shapovalov began to stab away at it when his phone rang. His long-time junior coach, Adriano Fuorivia, was calling.
"We did it!" Shapovalov yelled at Fuorivia on speakerphone. "And I'm cramping and trying to eat some pasta!"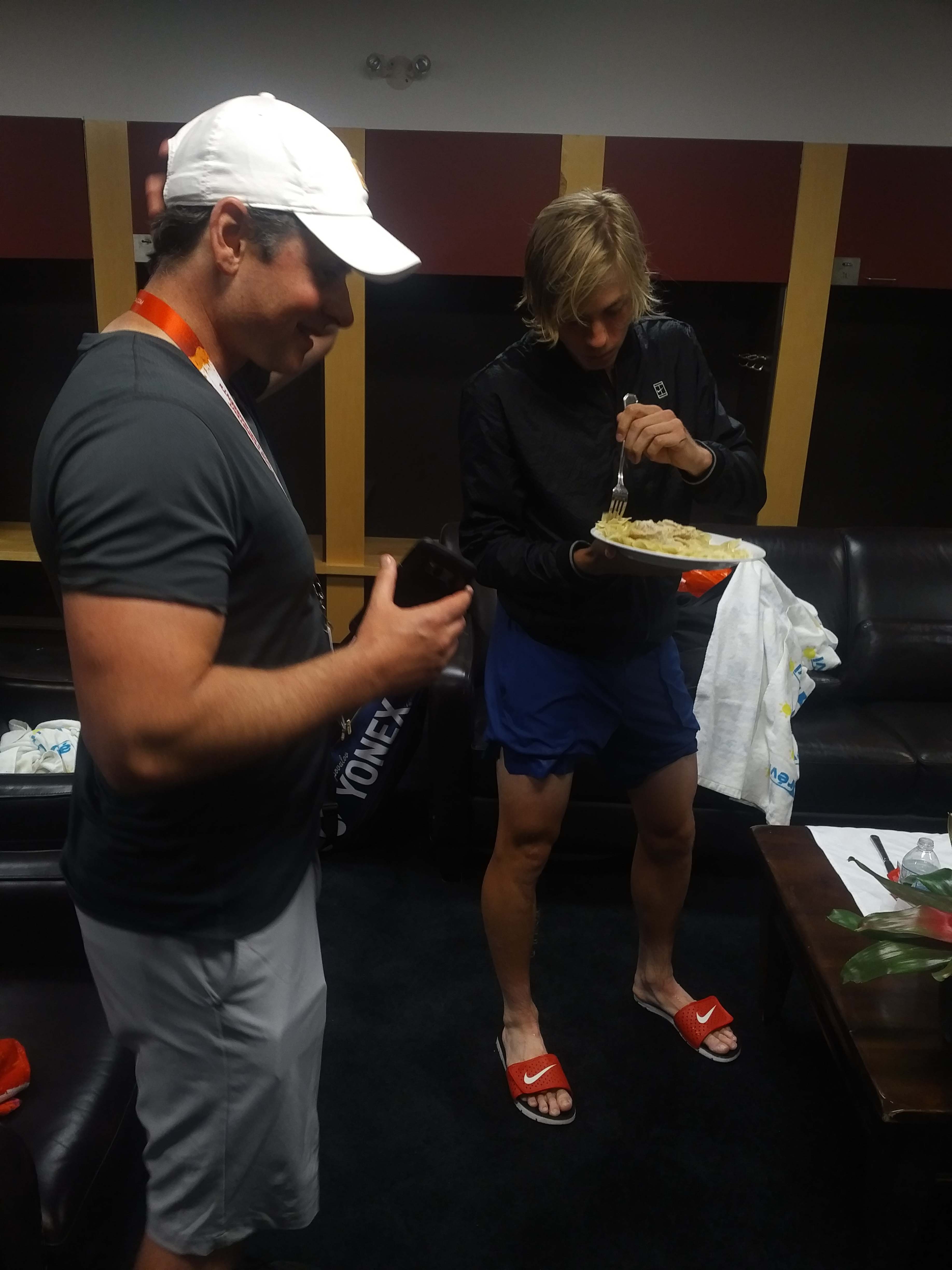 Fuorivia told him how proud he was of him, and then mocked him about a moment or two in the match that had Shapovalov in hysterics.
"I'm not going to talk about your volleys," joked Fuorivia.
Laurendeau retreated to the back of the room, away from the noise. The enormity of the moment was sinking in for the 53-year-old Canadian tennis lifer. This was Nadal, dammit, on Centre Court, at home, of Rogers Cup. No player this young has ever reached a quarterfinal of a Masters 1000. Laurendeau is a former tour pro, now coaching and captaining the country's Davis Cup team. He was there when Daniel Nestor upset then–World No. 1 Stefan Edberg in 1992; he wore the maple leaf at the Olympics; he's a walking encyclopedia of Canadian tennis history.
"It's one of the greatest moments in Canadian sports," he said. "There's been some great nights of tennis here, and this one was really unbelievable. To beat a legend like this…. It was just a magical night of tennis."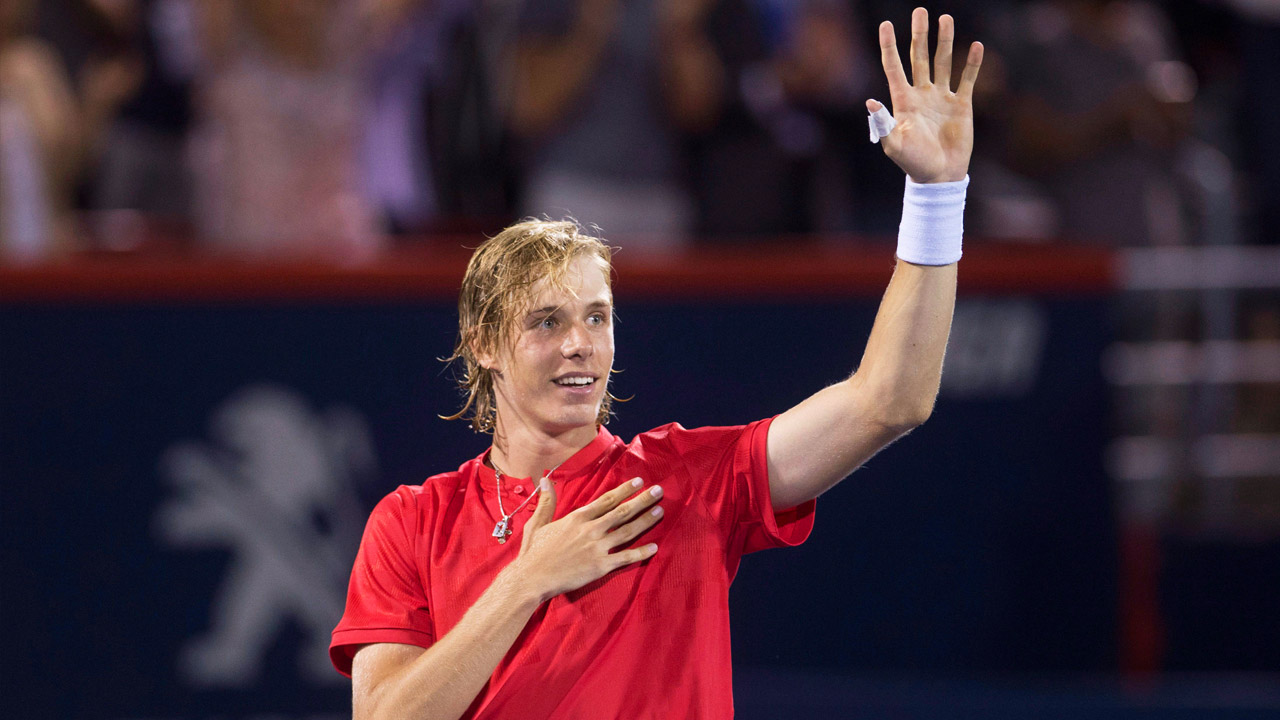 Shapovalov continued to eat pasta, but did so standing up, hoping his body wouldn't tighten up on him again. He guzzled water. His media session was a few minutes away now. He jammed more food down and a grin broke across his face.
"If I'm cramping, can I take the elevator?" he asked.
There's a rule at Tennis Canada's high-performance complex: juniors, until the age of 19, must take the stairs. It's a seniority thing. And no, not even beating Nadal would allow him to skirt the laws of the land at the national tennis centre. Shapovalov can ride the elevator next year. For the next nine months, including Thursday night, the stairs it is.
Just before midnight on the building's second floor, Shapovalov called the win over Nadal "a dream come true," and said he was so grateful for the support of Penny Oleksiak (see sidebar) and Wayne Gretzky. It's Gretzky and his wife and youngest daughter who have all been in Montreal from the start of the week, back when Shapovalov was ranked 143rd and his biggest triumph had been a challenger tournament win. Now, this. Now, all of this.
Now he's in the quarterfinal Friday against Adrian Mannarino, a winnable match that could propel him to No. 66 in the world. With No. 99 watching, Shapovalov could end up with Mario's number next to his name. Go figure.
If he gets past Mannarino, he's one win away from Sunday's final. Roger Federer is the top seed remaining and on the opposite side of the draw. Imagine that meeting. And just when you want to write off Shapovalov's chances of winning it all – even at the mere thought — you remember the Nadal match. The clutch shots he made and the lack of nerves he showed in big moments.
So, what did just happen Thursday night and what does it mean? Well, from here on in, that's anybody's guess.