TORONTO — The sign that's been greeting fans walking into the Aviva Centre the last couple days says it all: "Rafael Nadal plays Wednesday night!"
The hype isn't just because the Spaniard is the World No. 1 — it had also been nearly a decade since he last played here in Toronto.
On Wednesday, Nadal made his long-awaited return with a straight-sets victory on the hard court, his first win in this city since 2010, and one that puts him in the third round of the Rogers Cup — which he's looking to win for a fifth time.
"It's important victory for me, for my confidence," Nadal said following the 6-2, 6-3 victory over Frenchman Benoit Paire.
"And, you know," Nadal added, "I think I played a solid match."
He did. Though it took slightly longer than Nadal expected, thanks to a day three times delayed by rain that pushed back his evening start time. And it didn't go exactly how the 32-year-old expected, either, with a second set that featured seven straight breaks of serve.
"It's true that with myself in the second set, I had some troubles," Nadal said with a laugh. "But my return worked well. And it was not about the serve. It was more about the mistakes from the baseline in my opinion."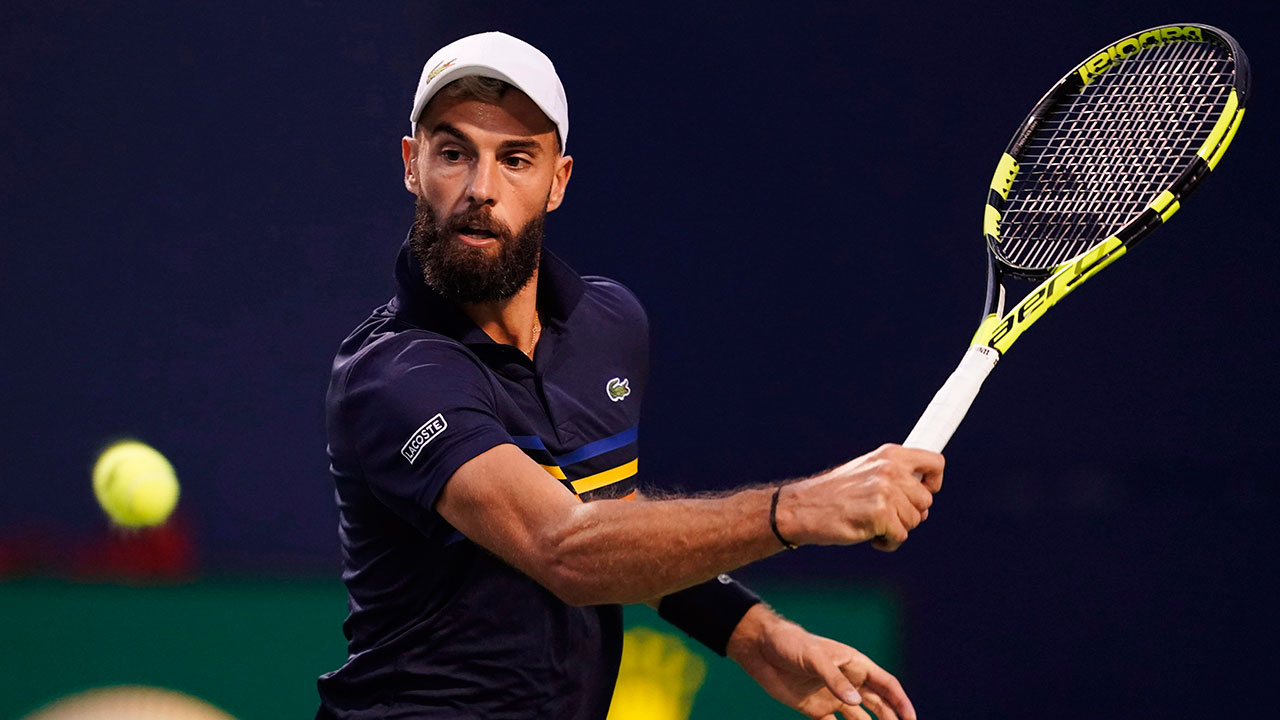 Nadal looked clinical in the first set, a 6-2 win that saw him float in some un-gettable drop shots and rifle some backhand winners down the line, and one at an insane cross-court angle. Paire whacked his racquet against the court in that first set. Twice.
The second set was downright weird, though, for both players. Nadal won his opening game on serve, and then they each broke the other — seven times in a row — until it was 5-3. Nadal finally managed to hold serve and get the win, which saw the packed stadium here stand and cheer.
On a Wednesday that featured four Canadians in action — though only Denis Shapovalov won, and he's the lone homegrown player standing in the singles draw — it was the top-ranked player in the world who drew the biggest crowd at this tournament so far.
Nadal last won in Toronto 10 years ago, in 2008. He's looking for his fifth title this season, having already locked up four, including the French Open. His singles record is now a ridiculous 36-3.
But these hard courts are a different story. Nadal last played on this surface back in January, at the Australian Open, where he lost in the quarter-final.
"Here, it's important to be on the rhythm," Nadal said. "It's important to play matches. It's not about tricks. It's about to play well. These tournaments are so hard. Since the beginning, you play against the top 50 players. So it's a big test from the real first round, no?
"So, that's all. You need to be ready. And today I found a way to be through, and let's try again tomorrow."
Nadal is set to face Stan Wawrinka in Round 3, and the expectation is he'll get closer to feeling 100 per cent as he plays more matches on the surface.
"I don't play a singles match on hard court since Australia. So, is a long time. And that's it. You need time," he said. "And the victories of course helps, and good to work on the practice for sure, no? But even if you have a good work on the practice, you need matches to get that percentage that you need.
"So, yeah, it's going to be an important and tough match hopefully for both of us."