Ana Ivanovic
Age: 28 | Height: 6 feet | Weight: 152 lb.
Hardware: French Open 2009; 15 WTA titles
As a kid you watched Monica Seles and decided you wanted to be a tennis player. What was it about her?
I loved the way she held herself on the court; she always had an aggressive style of game, and that really appealed to me. It looked like so much fun. I tried to copy her, to be aggressive.
Did you copy her high-pitched grunt, too?
No. Not at all. [Laughs.] And I never tried double-handed forehands, either.
So you took it upon yourself to join the local club.
I was watching tennis on TV, and between games they were showing a commercial for a tennis school. I wrote down the number, gave it to my mom and said, 'This is what I want to do.' She thought it was a joke, but I was very stubborn and I kept bringing it up. For my fifth birthday, I got a small tennis racket. That's how I started.
Did you have an overpowering forehand even as a kid?
Yes, it was always my weapon. I think it's the most natural shot for me and it's always been my best. I think it's just how it comes off my racket.
Growing up in Serbia when you did, was it more difficult to develop as a tennis player?
Coaches were all saying that I was really talented and I had potential, but coming from Serbia, it wasn't easy. The '90s were the hardest years for our country—we went through two wars. It was very hard for us to train and to travel and support ourselves, especially because tennis wasn't a very popular sport at home. But my love of the game drove my parents to support me fully, and I was very fortunate to get sponsors at a young age, and that helped me to play more tournaments and go abroad a bit, which helped me establish myself as a professional player.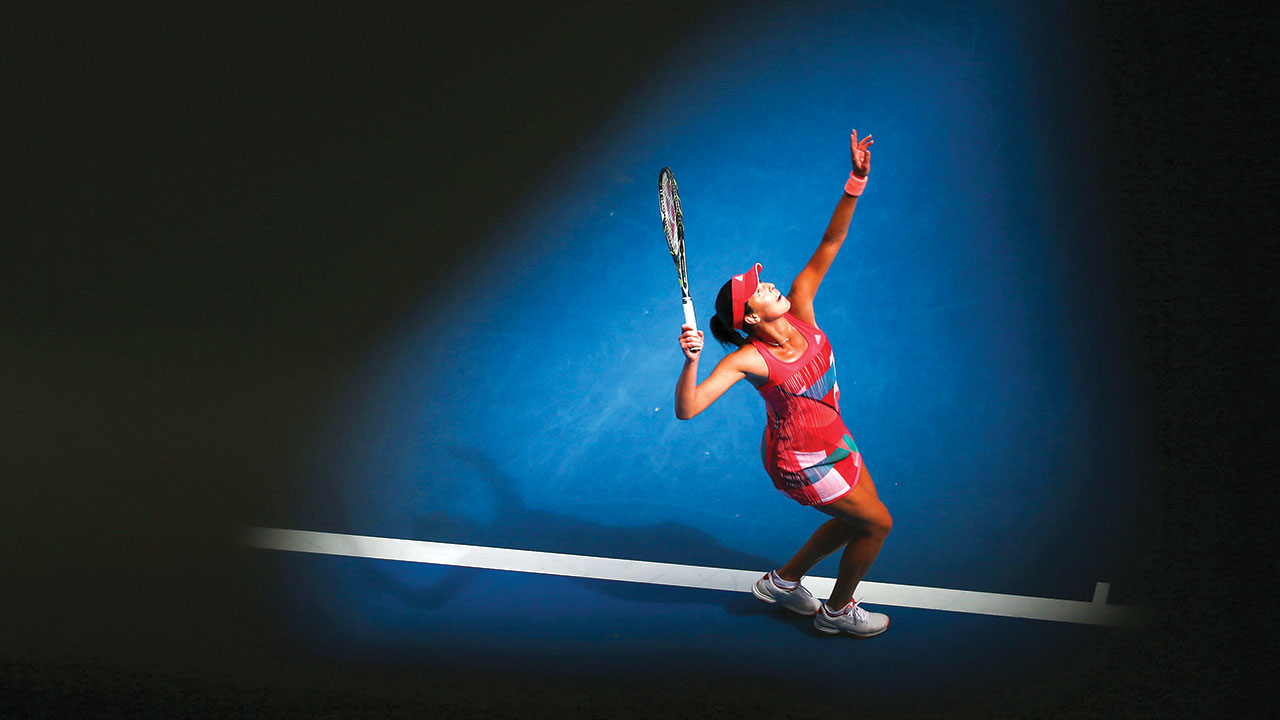 How did you train during wartime?
When the bombing was happening, from about noon to about 6 a.m., we had these sirens that indicated the danger of attacks, basically. So we would train from 7–9 a.m. then go back home and stay home most of the day. But after a few months, they started to try to run everything like normal. So we had tournaments. Between bombings, we used to play tournaments and compete.
That must have been terrifying.
Yes, and we had these rules: The matches would start, and if the sirens came on, the matches would end and no new ones would start. Looking back, it was so silly to try to force that, especially because we were all kids. But it was our way of surviving, too.
Tennis as a means of survival.
Exactly. That was all I wanted to do.
I heard you trained in a swimming pool.
Yeah. It was an indoor Olympic swimming pool, and they had no money to heat it up, so there weren't many people using it. Because we were lacking indoor tennis courts, they decided to empty the pool and put carpet inside to make two singles courts, which were about 10–20 centimetres from the wall. And that's where we trained during wintertime, because that was all we had.
Would your racket hit the side of the pool?
Yes, sometimes. So when we played points, we had rules that you were not allowed to play cross-court, because it would make the ball run into the wall and the point would be over.
That must have been hard when you went back to regular courts.
Yes, definitely. But I was very fortunate: I got sponsors when I was pretty young. When I was about 14 or 15, we got better facilities, which was very helpful.
You've said if you could play doubles with anyone, living or dead, you'd pick Roger Federer. Good choice.
Yes, Roger is obviously one of the greatest players of all time, maybe the best ever. Like everyone else, I am amazed by his beautiful style of play, and he's a great person, too, so it would be a big honour to play doubles with him.
Your looks are much talked about. Do you get tired of that?
I think anyone who is in the public eye is under more pressure to look good. The media and press can be relentless, especially with women. Personally, while I take pride in my appearance and enjoy the compliments, when I'm on court, it is all about my game.
Do you think people realize how difficult it is to remain among the best in the world in your sport?
Probably not. When you see players winning often, it's easy to take for granted all the hard work that goes into those achievements. It's normal for every athlete to have ups and downs in their career, and it's very, very difficult to stay at the top for a long time. Things can happen: injury, loss of confidence, changes in your team. It's very rare for a player to stay in the top 10 for their whole career after they first got there. I can't think of anyone who has done that since I've been on the Tour—even Serena was down in the rankings some years ago.
What is the hardest part about climbing back up once you fall in the world rankings?
It was hard not to panic: I so wanted to get back to the top, I was maybe rushing to do it and not realizing that it was going to be more of a process. I changed too many things when I should have been faithful to what got me to the top in the first place. And then the longer you go without showing your best form, the more confidence you lose. The way I was able to play my best tennis again was to be more relaxed and not put so much pressure on myself. I was able to stop thinking about the rankings.
Not a lot of people start their careers as a teenager. What's that like?
That was the dream, and that's something that was driving me. That's why I am really happy and I never regret it. I know that I didn't have enough time with my friends during holidays, but that was what I gave up, because I loved to compete.
Winning the French Open at 20 must have been incredible.
That was an amazing experience. It's something I'll never forget. I dreamt so long of winning Grand Slams and being in that situation, and to achieve it at such a young age was really amazing. I did appreciate it a lot, but I don't think I was aware at the time how big it was.
If and when you get back in the Grand Slam winner's circle, will it mean more?
Definitely. I think I'd approach it completely differently. When you're young, you take many things like they're normal, and as you get older, you start to appreciate everything more because of all the experiences you've had and the appreciation for what you work for. It would not be something I'd take like it's normal. I know now just how difficult it is.