Got a big sports idea?
Ryerson University announced on Friday a partnership with Rogers Communications called the Next Big Idea in Sport Competition. It's a contest for startups with unique approaches on how to use technology in sport to address everything from analytics and athlete performance to consumer experience and social innovation.
And the winner of the competition gets a cool $50,000.
Among the judges who'll determine the best next big idea is CFL commissioner, Mark Cohon. "The reason I want to do this is because of mentorship," Cohon said Friday at Ryerson's Digital Media Zone, where the contest was announced.
---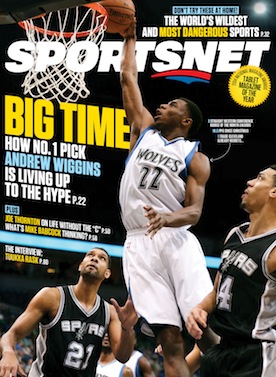 ATTENTION Rogers and Shaw customers. Already enjoying Sportsnet ONE? Now get access to digital editions of Sportsnet magazine at no extra cost.
---
Cohon said there's no guidebook on how to be a league commissioner, so when he started heading up the CFL he relied on mentors, including his father and NBA commissioner, David Stern. The advice he got from Stern? "Whack the owners, and whack them hard."
Other Next Big Idea in Sport Competition judges include vice president and GM of NBCSports.com, Troy Ewanchyna; VP of Content for Maple Leaf Sports & Entertainment, Alyson Walker; Rogers Communications Chief Brand Officer, Dale Hooper, and President of Sportsnet & NHL Properties, Scott Moore.
Said Hooper: "We are passionate about innovation at Rogers, and we want the Next Big Idea in Sport to inspire students and startups to develop new and creative solutions for athletes, coaches, teams, sport media and even professional sports leagues."
Among the companies who'll be entering the competition is brizi, which takes aerial photos at sports events and concerts and allows fans to instantly share them across social media. brizi, complete with a branded social drone—a blimp-carrying-camera—was among the new startups on site at the contest's launch.
Applications to the Next Big Idea in Sport are due by May 1, 2015. As many as 10 Canadian startups will be chosen to work for four months at the Ryerson Digital Media Zone in Toronto, and then they'll present their idea to the panel of judges.
This competition is the first of its kind in North America. The top three prizes are $50,000, $30,000 and $20,000.
Find more details on the Next Big Idea in Sport here: www.ryerson.ca/dmz.