VANCOUVER—In a wild matchup of top dog versus underdog, the UBC Thunderbirds men's basketball team nearly came away with a victory over the No. 1–seed Ryerson Rams on Thursday night. And though the CIS championship quarterfinal game—which the Rams won 109–101 in overtime—wasn't broadcast on national television, it had all the elements of a must-watch sporting event: high skill, huge emotions and epic drama.
For UBC guard Phil Jalalpoor's parents, that drama was as thrilling as it was nerve-racking. Jalalpoor, a native of Schifferstadt, Germany, is in his first year with the Thunderbirds after transferring from Olds College in Alberta. The kinesiology student, who came to love basketball after his mom gifted him a copy of Space Jam when he was five, played a year of high-school hoops in Washington state before eventually ending up at Olds College, and, after being courted by CIS teams following a successful season in the CCAA, landing in Vancouver.
Jalalpoor is used to being a long way from home—he first left when he was 16 to pursue his basketball dreams—but being so far from Schifferstadt has meant that his parents hadn't seen him play live in four years. So with the Thunderbirds hosting the CIS men's basketball championship tournament, the Jalalpoors decided to make the transatlantic trek. They flew from Frankfurt to Paris to Vancouver, arriving a few hours before tip-off.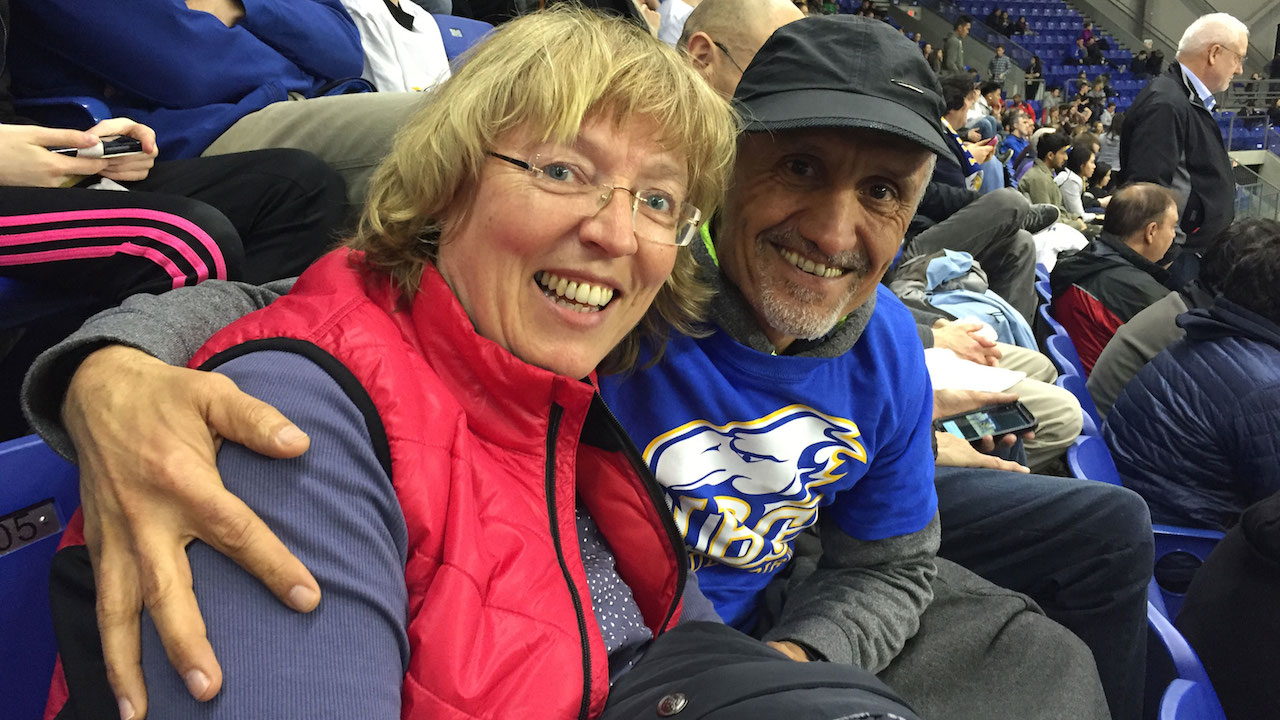 "Now it's 5 o'clock in the morning for us," said Jalalpoor's father, Masood, during halftime, explaining why he was tired but excited. Midway through the game, the Thunderbirds led the Rams 47–43. "We are very proud of him," he added. "But we are very nervous."
Jalalpoor's mother, Birgit, explained her coping mechanism for dealing with stress: chewing gum. But if her son was equally stressed, she said, you'd never know it. "He's like a professional. He's very calm and says everything is OK. But the heart is pumping."
Although the Jalalpoors hadn't seen Phil play in person since 2012, they follow CIS action back home by watching online.
"We are very, very happy to be here, to see him live," said Masood, explaining his delight in getting an up-close view not only of his son, but his son's teammates and friends. "For us it was very important to see Conor Morgan and [Jordan] Jensen-Whyte—you know, you hear all of the names, but only on the TV. That was excellent."
The eighth-seed Thunderbirds led through the course of the game—propelled by a boisterous St. Patrick's Day crowd—and Jalalpoor led his team in minutes on the court, posting 17 points and scoring back-to-back triples. But Ryerson stormed back in the final minutes to force an overtime they would dominate.
"I honestly believe it was the best game of the year for us," said Thunderbirds coach Kevin Hanson after the loss. "I thought it was an epic-style game."
"We got up 15 in the second quarter; they just pecked away at it," he added, explaining that Ryerson's superior depth was the difference-maker in the final result. His team, having led for so long, was simply drained. "Give them credit," he said of the Rams. "That's one heck of a basketball team."
Although the loss was disappointing for UBC's squad—who came so close to upsetting the championship favourites—Hanson said there were positive takeaways. The entertainment factor was huge, and the game showed why CIS basketball deserves a bigger audience.
"There was some top-quality basketball players there, and I really hope that the fans and the young kids that came and watched that game understand how good the CIS level is," said Hanson. "I thought that was a great basketball game."
For student athletes like Phil Jalalpoor, the feat of playing high-level basketball is even more impressive when you factor in how much is on their plates. Two of the men's team members were required to write midterms they couldn't get out of earlier on game day, and Jalalpoor, like his teammates, has a huge pile of homework to get to. He's working on an eight-page paper examining marriage customs in Zanzibar for an anthropology class, and another looking at teratogens for a class in motor development. Both are due next week.
"You've gotta be smart in a way," said Jalalpoor, who has two more years of CIS eligibility. "If you have practice you've gotta come early. If you've got physio, maybe you bring your stuff to study there. And then after, don't mess around—go to the library."
But for athletes like Jalalpoor, the rewards of CIS basketball outstrip any potential downsides—the tight schedules, the sometimes-disappointing results, the exhaustion. "There's obviously some late nights where you've just gotta give up on a little bit of sleep," he said. "But I've got the future years to sleep, I guess. Now's the time to grind."