LONDON, Ont. — Jack Sheffar collapsed to the track, chest heaving, purple-and-white University of Western Ontario Mustangs singlet glued to his body with sweat. This was it. He'd done it. The dream of winning a 3000-metre U Sports gold medal finally realized.
Laid out on his back, salt stinging his eyes, he couldn't make out the confused looks spreading through the crowd who'd gathered at Universiade Pavilion in Edmonton to watch Canada's best university runners compete for a national title. He couldn't see the coaches and officials pointing at him; their shouts were muffled, barely registering over the blood pumping through his head. It wasn't until a man began trying to pull him up that a sinking realization started to seep in.
"There's another lap to go," Sheffar remembers the man saying in a thick French accent as he was hoisted upright, "they messed up the count. Get up, you have to finish."
In any competitive, multi-lap race, a lap counter charged with tracking the event's progress is positioned across from the finish line, beside the score clock that faces the crowd. When the final lap rolls around, the counter rings a bell to let everyone know. It's a simple job, but one with no margin for error. Most times nothing goes wrong, the bell rings, the lap is run, a winner is named. This wasn't one of those times.
"When they rang the bell, [Sheffar] and Connor [Black, of the University of Guelph] just took off and there was so much noise, it was deafening, " Ben Carson, Sheffar's co-captain on Western's cross-country team, says. "It wasn't until about 100 m. to go — or what they thought were 100 m. to go — that I realized, 'Holy shit, they miscounted the laps.'"
Sheffar hadn't had the same realization. Back on his feet, his legs shook and buckled under him. From the corner of the track he watched as the runners he thought he'd just beaten kept going. He pushed himself back up to his hands and knees, muttering "no, this can't be happening" to himself between staccato breaths. But by the time he found his feet again, lactic acid had taken over his legs, the tears were starting, and any slim possibility of finishing the race was gone.
"I was just broken," Sheffar says now, sitting on a kitchen bar stool in his parents' London, Ont. home. "My whole year I really wanted to win that race, that was the one. And it felt like it was taken from me."
It's a familiar refrain. Losses are elemental and, often, the line between the way things are and the way they could have been is drawn by chance. The specifics of those losses vary. But the feelings beneath them, the lows they send you to and what it takes to come back from them rhyme each time. Sheffar's seen his share. The bell lap error was an anomaly, a high water mark for misfortune. But the list of setbacks didn't begin or end there. Even as he became among the most decorated runners in provincial history, health and injuries each took their turns taking national championships away from him. Ask anyone in his orbit and they'll be quick to tell you that after the way his first four years running in purple and white panned out, giving in with one year of varsity eligibility remaining would have been understandable. Understandable, but also inconceivable.
Sheffar walks over to the refrigerator and pulls out a pair of drinks. He's strikingly tall and carelessly handsome, with a wiry frame built for running and not much else. Most days, even hard ones, he is quick to joke and flash an unassuming smile. But now, as he takes his seat once more, that smile is elsewhere. He looks away, his mind wandering between that race and all the ways things went wrong after, searching for where to begin.
"I do wish I had gotten up and hobbled around the track, it's a pretty big regret of mine, but it was just the most devastating, hopeless feeling I've ever had," he continues, cracking open his drink. "It really felt like everything I had done up to that point had been taken away and was for nothing."
Backlash for not finishing came quick. Forums flooded with messages, people made their opinions known on social media — Sheffar's worst moment was turned into a punchline. So he did what athletes are expected to do. He tried turning the setback into fuel. 'No days off' stopped being an aspirational ideal and started being a literal routine, he traded rest for extra workouts, adding kilometres in a desperate attempt to make up for the bell lap error. "I think I was just so motivated to come back and prove people wrong and beat those guys who had beaten me. I wanted to run a race that was going to overshadow the race from the indoor season."
But anyone who's made running a part of their life, from casual morning joggers to marathoners, can tell you that kind of regimen isn't sustainable. Rest is needed even when it isn't wanted. Eventually, the body gets pushed just a little too far for a little too long and something gives out. For Sheffar it was his left tibia. "I ran a race on a Saturday and then May 23 was a Tuesday — my birthday — and I remember going out for my easy run in the morning and, like, literally crying from the pain in my shins during it and the next day while trying to do a workout," he says. Sheffar was diagnosed with a stress fracture. Two weeks after someone else's error cost him a medal, his own body cost him his chance at redemption.
"I didn't handle it in a very healthy way for sure. I went out all summer. I drank a lot. I was just trying to numb the pain of not being able to run."
It wasn't the first time, either. Western was the only university to recruit Sheffar out of high school, so he'd started his varsity career with everything to prove. But anemia derailed most of his rookie season and almost made him quit running altogether. Back then, he could be patient; back then, there wasn't pressure; back then, there were still four years ahead of him. This was different. "It was like three months with no running. My recovery was just — I didn't handle it in a very healthy way for sure. I went out all summer. I drank a lot. I was just trying to numb the pain of not being able to run," he recalls. "I kept chasing that immediate pleasure because what I was doing during the day was so brutal."
Sheffar needed time. Time to regroup, time to be away from everything that had happened, time to look inward instead of out at what everyone around him was accomplishing. He spoke with Vickie Croley, who's been the track-and-field coach at Western for 24 years, and Guy Schultz, Western's coach for middle-distance runners, and arranged to be on a different training schedule — one that incorporated more outdoor solo running than track-work. "The track is very quantitative," Sheffar explains. "You know all your splits, you know what's good, you know what's bad, and you know the workouts you've done in the past. So I was running outside a lot because it's harder to quantify. It was just easier for me to be like 'I'm really tired after that run or that workout, so I'm assuming it went well'."
The strategy worked. Sheffar enjoyed running again and his performances bounced back. He won gold in both the 1500-m. and 3000-m. races at the indoor Ontario University Athletics Championships (OUAs) for a second year in a row, setting him up for a chance at redemption on the national stage. It seemed that, at last, after anemia, a lap-count error and a stress fracture, the run of bad luck was finally behind him. Then he got sick a week before race day.
"I probably watched the Jordan flu game highlights a thousand times, not gonna lie, just trying to get hyped up and convince myself I could do it. 'I can run well while being sick. Jordan did it.' Not that I'm trying to compare myself to Michael, but I was just trying to find inspiration wherever I could," he says.
Still, Sheffar was stubbornly set on competing. After all, it was just the flu, and the flu can come and go like the breeze. Maybe all he needed was a good night's sleep. Maybe he'd feel better in time.
Two days ahead of his 3000-m. at the 2018 U Sports national championships in Windsor, Ont., Sheffar attempted an easy workout. The results weren't encouraging. He struggled from the start, consistently running laps that were three to four seconds slower than his 3000-m. race pace. Even at that reduced speed "[it] felt like I was going all out," he remembers. "That's not a good sign, obviously."
Instead of traveling with the rest of Western's team, Sheffar asked to drive down a day later so he could steal some extra rest. The plan was to leave by 10 a.m. on race day. Then 10 a.m. became 2 p.m., 2 p.m. became 3 p.m., then not leaving immediately suddenly meant risking missing the race altogether. Making it from the couch to the car was exhausting. The ride from London to Windsor yielded no cures. He dragged his feet through warmups, fighting against the creeping realization that this was going to go as badly as he felt, doing all he could to soldier through without his teammates knowing something was wrong. "Don't tell anyone that I'm sick," he remembers telling Vickie one week before the race. "I'm hurting, but I didn't want people to be like, 'Don't worry you can get through it.' This is something I want to do on my own and I don't want any pity for it."
Sheffar took his place at the starting line. His face felt red and surely looked worse. He slapped his cheeks, a final attempt to knock the flu right out of him. The crowd at Windsor's Dennis Fairall Fieldhouse went quiet. He took a last deep breath, the gun echoed, his legs took off as they were trained to do.
"I probably watched the Jordan flu game highlights a thousand times, not gonna lie, just trying to get hyped up and convince myself I could do it."
At first, keeping pace seemed possible; maybe, just maybe this race could be his Flu Game. But each stride took twice the effort it should have, as though he was running with weights strapped to his ankles, and then the lap count dwindled to six. He rounded the second corner, his legs turned to lead and all he could do was watch as he fell farther and farther behind — from clinging to third to fighting against being lapped. The bell sounded, a reminder of where he'd been one year ago. He forced his feet over the finish line and the clock made clear exactly how the day went: He'd run 11 seconds slower than the second-last place runner, 35 seconds behind a gold medal. "I could have easily dropped out, I was way back in last, but it was really important to me to finish after what happened the year before," Sheffar says. "I talked to my parents after and just said, 'I'm sorry I let you guys down again, everything's gone wrong, all I had to do was look after myself and not get sick and I was going to run better than the year before, and I didn't do it.'"
The next day Sheffar sat out the 1500-m. and, just like that, it was back to the drawing board. Again. Another year that could have been golden, another setback. "It was similar but also different than the year before," he recalls. "When the bell rang early, I was super motivated to prove myself. But after the flu [race] I was just — I was just tired. Like, this can't keep happening, can it?"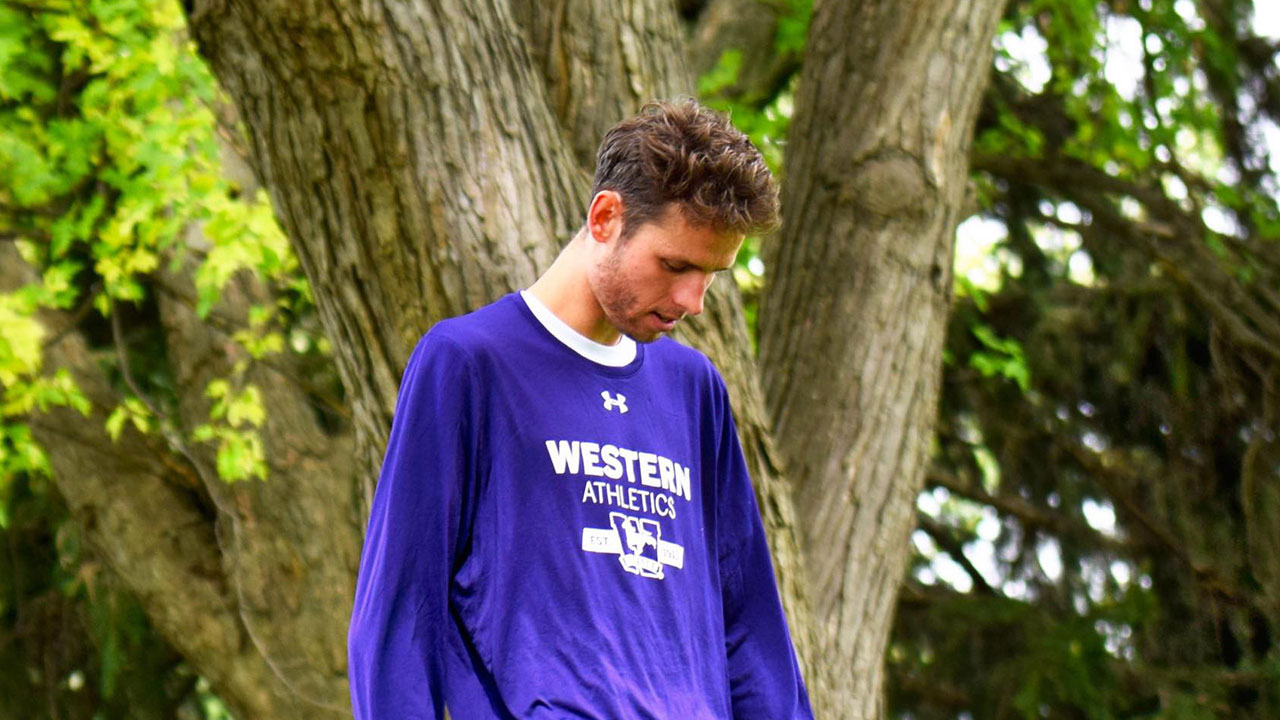 Sheffar is an emotional person. He's the first to acknowledge it, good days lift him up as completely as bad days bury him. After the flu race he was fighting away the bad ones. The off-season between indoor and outdoor running is supposed to be a reset, a chance for runners to catch their breath after spending weeks chasing ever-shrinking finish times. But this year it wasn't enough. "The mental struggles are just as tough sometimes. Even if you are physically fit, your mind can let you down," he says. "By the time you get through your break, you should feel like you want to run. I was just so tired, there was no motivation to go out the door to do it."
Sheffar needed a spark, something to pull him out of his slump. He found it, as he had the year before, by escaping. Except this time it wasn't into bottles. This time it was with a plane ticket to train in Arizona with his long-time friend Jeff Tweedle, a former U Sports 1000-m. bronze medalist. "He's really good," Sheffar says. "And it was like, okay, if you want to go run with him you've got to get off the couch here and start working hard."
The plan was simple. Go to Arizona, work his way into the best shape he'd ever been in, come back to Canada, and win the redemption he'd been chasing since the bell lap. It didn't go quite that smoothly, though. Sheffar struggled with the return to Canadian altitudes once the season started, and his first race back was bad enough that to this day, 15 months later, he still hasn't looked at the official results.
"The mental struggles are just as tough sometimes. Even if you are physically fit, your mind can let you down."
But as summer turned to fall it became clear the trip made him physically stronger than ever and, maybe most importantly, the time away unearthed a new mindset. "This year, my mantra was, 'Just do what you can today.' And that was it. Don't look too far forward or far ahead, don't worry about what happened in the past. Just be your best self today," he says. "I had it on my phone as a screensaver, 'best self today', so that every time I opened my phone I would see it."
Sheffar's newfound mindfulness worked. During the outdoor cross-country season, he finished fifth at OUAs and followed it up with an eighth-place performance at the U Sports national finals a couple weeks later. Then, while competing at Boston University's annual David Hemery Valentine invitational, he posted a time of 7:56.76 — a new 3000-m. personal best, and the second-fastest 3000-m. finish of any Canadian so far in 2019. Sheffar was peaking at the right moment, rounding into the best version of himself in a year where his toughest track competition appeared to be losing a step.
Heading into indoor OUAs he was a prohibitive favourite to medal, heading home from them he was a definitive dual-gold medalist in the 3000-m. and 1500-m. for the third year in a row — an all-time record. But, for Sheffar, those accomplishments weren't enough. Reaching the top of a hill means less and less when you want to climb mountains. "I have OUA medals, but I really, really wanted the U Sports medal," he says. "I told people I'd trade all six of my OUA medals for one U Sports gold medal. That's the one I want."
Sheffar embraces routines. He finds calmness in obsessing over them, in being able to control exactly where everything is and when everything happens. On race days, his morning starts with an easy five-kilometre run eight hours before he's due at the starting line. Then he has breakfast and coffee. At the track, he puts his socks and shoes on in the same order every time; there's a pair of each for warm ups and a pair for racing. He wears the same shirt and the same pants he has for the last three years while warming up. His bag is packed precisely — water in this pouch, caffeine gum in that pocket. Music two hours before he races, and no earlier, otherwise he'd get too excited and anxious.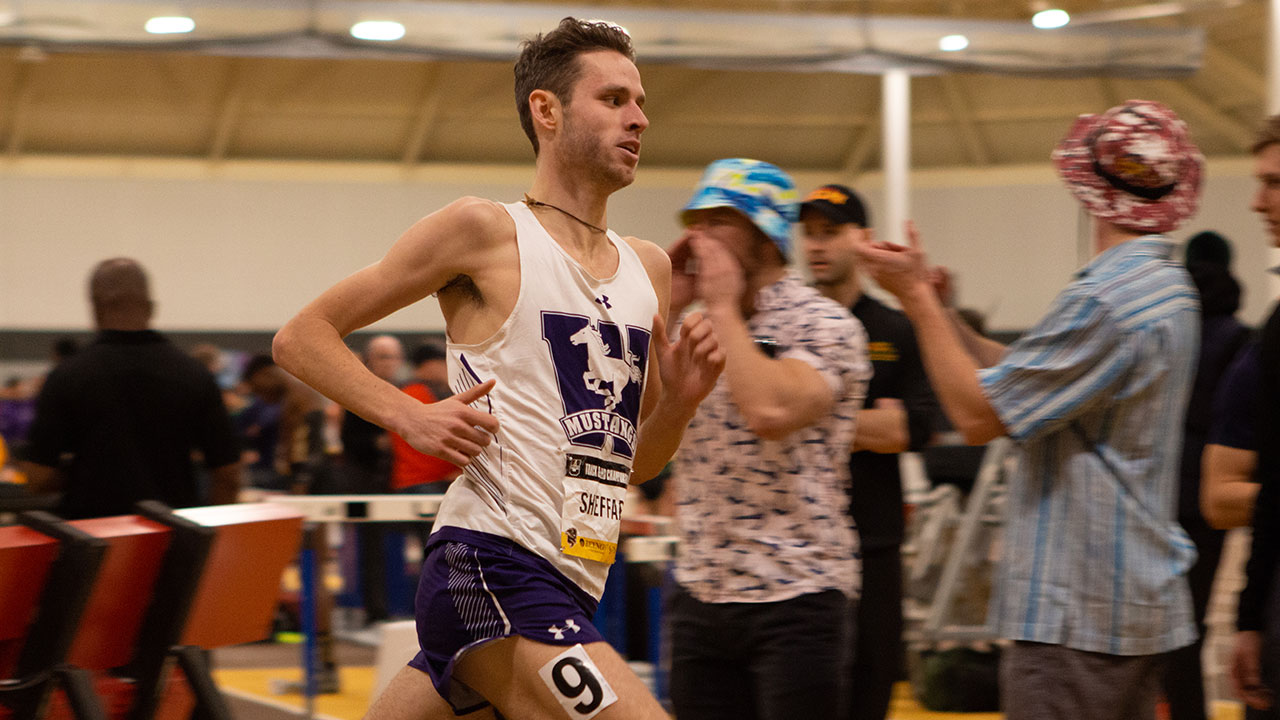 This year's warm up at the James Daly Fieldhouse in Winnipeg — his last as a Mustang, his last chance for U Sports gold — followed the script. He did his thing and people let him. Like a pitcher in the midst of a perfect game, nobody wanted to be the one who said the wrong words, the one who jinxed him.
Sheffar took to the starting line, his parents took their seats — his mom finding one from which she could watch the lap count, his dad positioned sufficiently far from her stress. Introductions were made over the Fieldhouse PA. The gun went off. The race began.
Each stride felt right, rhythmic, his feet barely kissing the ground. One lap disappeared, then a second and a third. The pace slowed, just enough to erase the space between the leaders and the pack, but more than enough to raise the risks. Rogue elbows jabbed into sides. A stray spike pierced his thigh. To his left, he felt Angus Rawling, last year's 3000-m. gold medalist, trying to make a pass on the inside. It was too tight. He heard the pilon fall, he heard Rawling hit the track. Was that his fault? How close was he to joining him? He shook off both thoughts. Through it all, his breaths stay steady, none of the stress or pressure worn on his face, intimately aware that his wiry frame was built for stretches like this.
"You just knew that he was on another level," Carson remembers. "After about halfway through the race I was standing with Lewis [Kent, formerly of Western running], and we looked at each other like, there's no way [he loses], he's got this. And then lap by lap he just opened up the gap a little more."
Another lap passed. The group stayed close. Rawling's fall loomed large in his mind. He wasn't going to risk it, not this time, not this year. His strides quickened. The bell rang and Sheffar didn't hesitate, chasing down his gold, his redemption, his relief. He rounded the final corner, comfortable, relaxed, and stole a look back to check his lead. Insurmountable. He buried his face in his palms as he neared the finish line, overcome as the moment and everything in it hit him.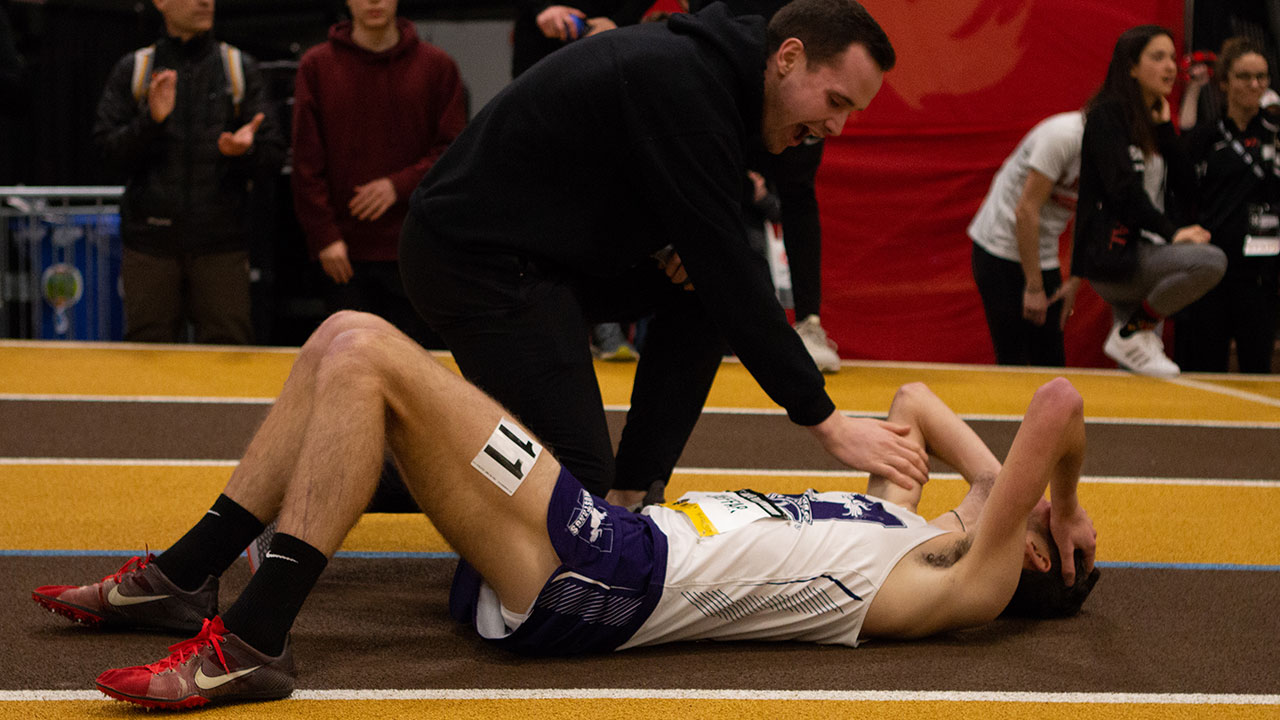 Sheffar collapsed to the track, chest heaving, purple-and-white Western Mustangs singlet glued to his body with sweat. This was it. He'd done it. The dream of winning U Sports gold finally realized.
Laid out on his back, salt stinging his eyes, he couldn't make out the runners crossing the line behind him, and this time it didn't matter. Sheffar rose to his hands and knees. He couldn't count just how many people wearing Western-purple rushed towards him, nor could he pick out voices from the crowd, their roars blending together to drown out the blood pumping through his head. Then Carson offered a hand and some choice, expletive-laden congratulations, and everything sunk in. All that remained was for him to get his medal.
"I get goosebumps thinking about it. There'd be times on runs when I'd think about, 'Man, it hurts so bad right now but you know how good it'll feel when you go on that stand and they give you that medal?' And I'd get goosebumps running and my heart would go fast and I'd have to tell myself, 'No, you can't be thinking about it now,'" he says. "I put it on and I just remember holding it and looking at it and just smiling, being like, this, this means so much to me. It's the best, all this work, all of it, was for this, and it was worth it."
Sheffar went on to win gold in the 1500-m. the next day. Still, he'll likely never entirely divorce himself from that miscounted bell lap. And maybe it's better that way. Greatness, after all, is as much about what precedes achievement as the achievement itself. Across from the track at Western's rec centre there's a hall of fame wall — plaques and photos paying homage to the school's history. It's nearly full. But there's room for a little more.
"Definitely he should be there," Croley says. "He's one of the all-time best…. Things that come easy for people along the way, they could have been better if they had to face some of this adversity. Whether it be injury, illness, the officials, what people say in the media and online. They can't bring you down. They have to make you fight stronger. If you really want something, you're going to fight that much harder."