DUNEDIN, Fla. – Since breaking into the big-leagues midway through the 2012 season, Aaron Loup has become one of the most effective and reliable members of the Toronto Blue Jays bullpen.
During his rookie campaign, the left-hander with the funky pitching delivery posted a 2.64 ERA in 33 games, and then he followed that up with a 2.47 ERA in 64 contests in 2013. That's pretty good stuff from a pitcher middling along in the minors until Blue Jays pitching co-ordinator Dane Johnson suggested that the 26-year-old try dropping his release point.
Loup made the change at double-A New Hampshire in 2012, and soon found himself in the majors.
"What it came down to is I wasn't performing," says Loup. "I wasn't getting guys out, I wasn't effective, and he came in and he said, 'What you're doing now is not working and it's not going to get you to the next level. Have you ever tried throwing sidearm?' I'd played around with it, just messing around in the outfield, but never really tried it. (Johnson) goes, 'I think you've got pretty good arm action, we can drop you down and I think you'd be effective.' We took it to the bullpen, tried it out, and ran with it from there.
"I knew what I was doing wasn't good enough to get me where I wanted to be, and I needed to find something. I never thought I'd be a sidearm pitcher. At first it was like, am I really doing this? Has my career really come down to this? But at the same time it worked right off the bat, it worked right away, it changed my whole game, my whole career, really."
Here's a step-by-step look at how his unique delivery works.
Step 1: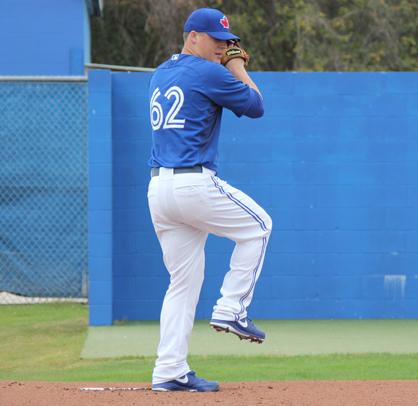 "For the most part mechanically, as far as the leg lift and all that, it's the same as before, basically the arm slot is really what changed. I may be a little bit more across my body now, and get down into the sidearm more, while when I was over the top I was more straight-up. But the leg lift and being balanced over the rubber is the same. The hand positioning is all the same."
Step 2: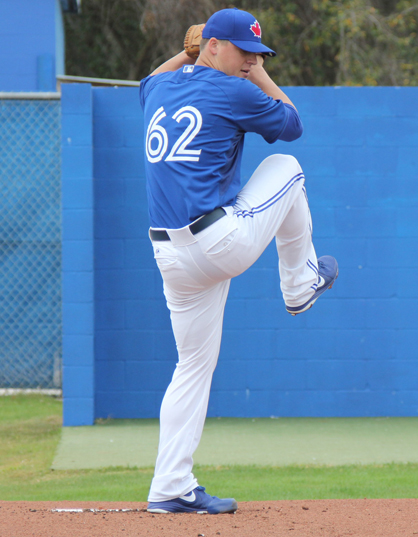 "When I come set and bring my hands together, I get the ball as close as I can to where I want (the grip). Once I begin to kick my leg up, I finish getting my grip in the glove."
Step 3: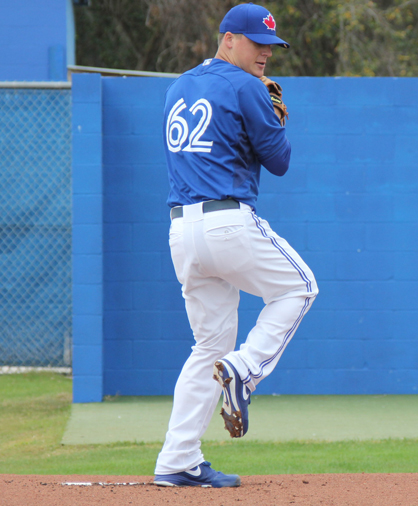 "You try to be on line (to the plate with your stride) but I know I'm not like most guys. I kind of throw across my body. I've always done it, I don't know why … I'm maybe two or three inches to the left of being straight on. I usually lift my leg up, bring it back down and try to maintain balance as well as I can. The drive is all coming off the back leg for the most part."
Step 4:


"From here I'm finding the catcher and locking on to my target. Once that front foot lands everything is ready to rock and roll. Basically I broke my hands, trying to stay balanced over and back, trying to get my head locked on where I'm throwing this ball."
Step 5: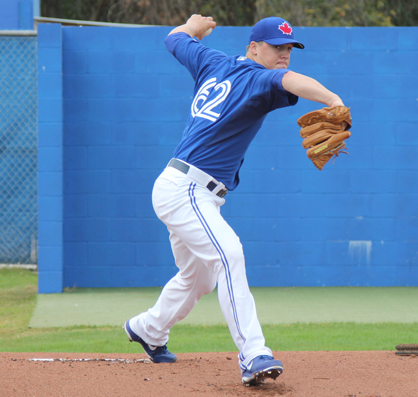 "Here I want my front arm tucked away toward the target. I feel like I'm trying to point my elbow although it's basically your whole arm is going toward the target. My back arm is getting into position and getting my hand on top of the ball when it all comes forward."
Step 6:


"I'm just trying to throw it in there as best as I can here. It is freaky looking, though. The weird thing is I never knew I did that until I'd seen a few pictures. I never had any idea my arm went back that far. My arm has always had a lot of whip to it, but I never knew it was that nasty looking, for sure."
Step 7: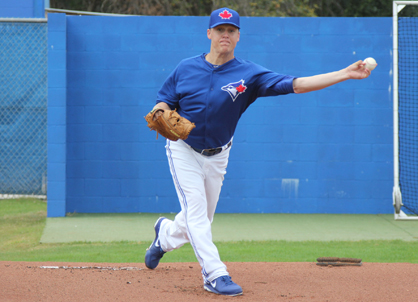 "Right here, I was probably a tick up here before, more a high, three-quarter slot, six to 10 inches (higher) maybe. The difference in movement was night and day. When I was over the top I started getting impingements in my shoulder and I lost the two-seam run and sink. It was just straight and flat. Once I dropped back down, I don't know if it was being able to get on top of the ball with that pronating action, but you get that good life and good action on the two-seamer. It did kind of happen right off the bat for the most part."
Step 8: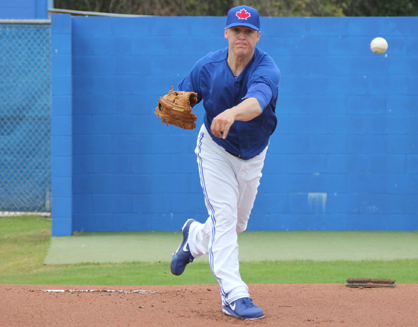 "Once I release the ball, I'm trying to bring this back leg around and land square up almost like a position player, ready to field the ball. Once you turn that ball loose there's no telling what can happen as far as the ball coming back at you. I try to keep myself in a good position as ready as I can be to catch a ball."
Step 9: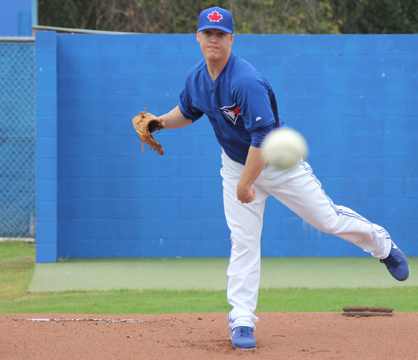 "I want the glove in the general area it's in there so you can react if the ball comes back to you, be in the best possible position to give yourself a chance to field it. I'm ready for action, about as good as it's going to get."
Step 10: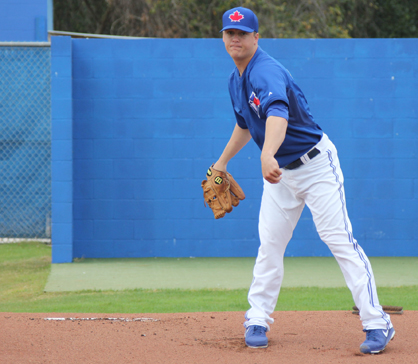 "I'm finishing off to the first-base side. When I was over the top I was more centred on the rubber where now I slide over to the first-base side, so the little bit I threw across my body exaggerated it that much more. Being sidearm, you're coming from way out, it almost looks like it's coming from the second baseman sometimes."