In the fall of 1992, the Toronto Blue Jays reached the World Series for the first time in franchise history. Their opponents, the Atlanta Braves, had lost the World Series in seven games the previous October. A year later they had reason to believe the outcome would be different. With future Hall of Famers John Smoltz and Tom Glavine leading the way, Atlanta had baseball's best pitching staff.
This week, as Sportsnet re-broadcasts the 1992 World Series, we'll re-surface a series of articles first published in 2017. Each piece corresponds to one of the six games between the Braves and Blue Jays, highlighting notable performances and storylines from the time.
Final score: Blue Jays 5, Braves 4
Series tied 1-1
In a way, the success Ed Sprague enjoyed after 1992 allows us to forget just how improbable the biggest home run of his career really was. After 25-plus years, we remember Sprague as the third baseman who hit 36 home runs in 1996 and later became an all-star, not as the unproven catcher who stepped in to pinch hit in the ninth inning of a game his team trailed against Jeff Reardon, at the time baseball's career saves leader.
The resulting two-run home run turned a 4-3 deficit into a 5-4 lead for a Blue Jays team just two outs away from another loss. Instead, the Blue Jays evened the World Series after a memorable day that saw the U.S. Marine Corps Colour Guard fly the Canadian flag upside down during the national anthems.
David Cone, a major summer acquisition who cost the Blue Jays Jeff Kent, didn't pitch particularly well in his first career World Series start. But the bullpen picked him up with 4.2 scoreless innings capped off by Tom Henke's fourth save of the playoffs.
How it looked on Toronto TV in 1992
City Toronto's post-game highlight pack from Oct. 18, 1992:

City Toronto's post-game report from Oct. 18, 1992:

Toronto Star Game 2 headlines from 1992: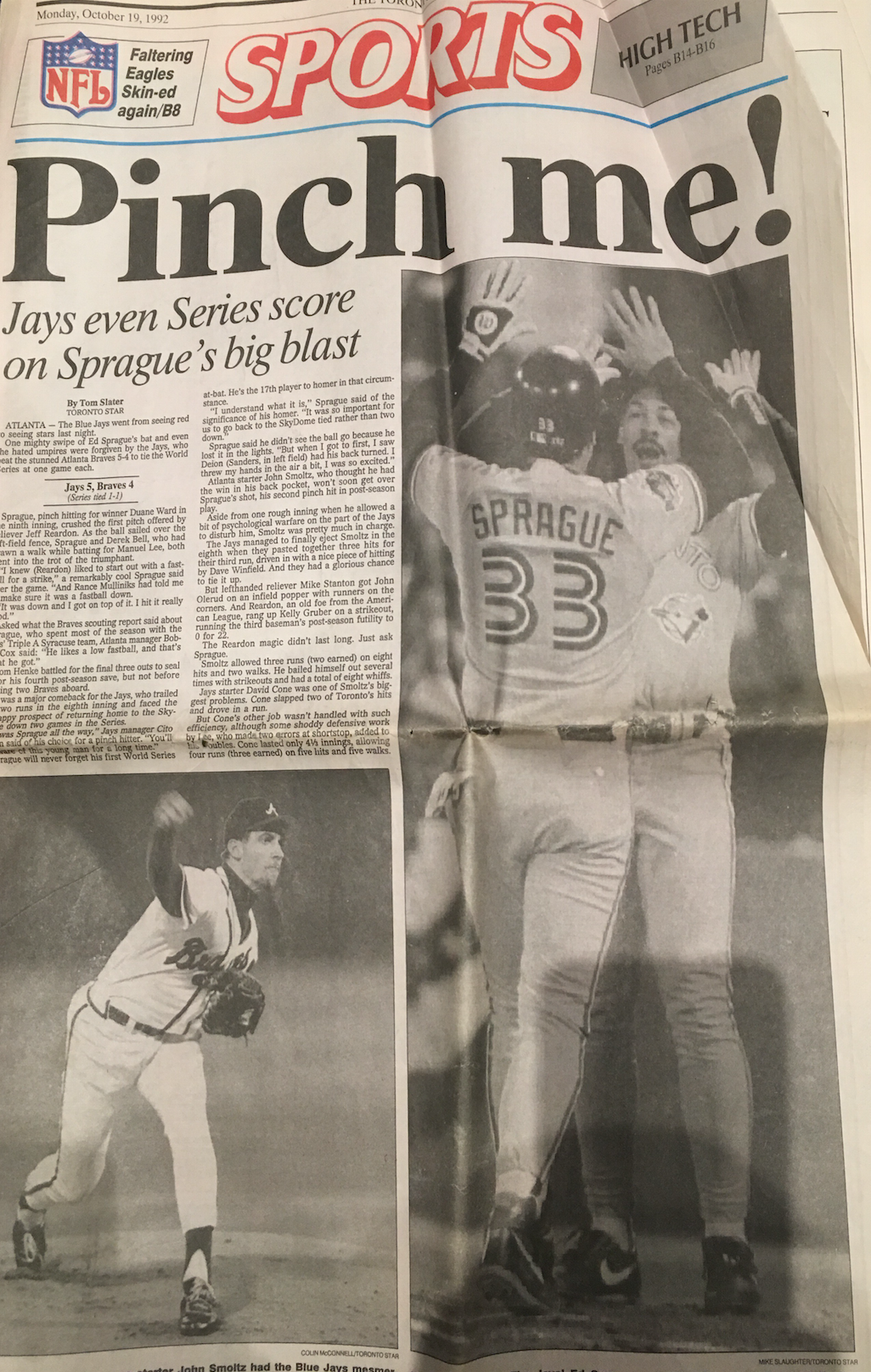 Conventional-then-but-controversial-now managerial move:
Before Game 2, Braves manager Bobby Cox benched Ron Gant for Deion Sanders. Completely justifiable when you consider that Sanders was enjoying his best MLB season and Gant had struggled down the stretch. The two strikeouts in Game 1 didn't help Gant's case, either.
But he was still a powerful bat who had homered 32 times in both 1990 and 1991. A right-handed hitter, he crushed lefties, with a lifetime .840 OPS against them. So when the pitcher's spot came up for the Braves in the bottom of the sixth inning with Toronto southpaw David Wells on the mound, a case could be made for pinch hitting with Gant. Instead, John Smoltz struck out looking and the Braves missed out on a chance to add to their lead. In the end, an add-on run or two would have been useful for Atlanta.
To be fair, there's also a compelling case for leaving Smoltz in. He was a Hall of Famer at the height of his powers, and Gant was scuffling. Let's leave at this, then: if this series were replayed today, it would not be a foregone conclusion that Smoltz would hit in that spot.
Gant would pinch run later in Game 2, but he didn't score. He was benched in Games 3, 5 and 6, and the snub hurt. The following season, he told Tom Verducci, then of Sports Illustrated, that he had been hoping for an off-season trade. "I wanted to go somewhere where a team appreciated the things I can do," he said.
Game 2 Boxscore (via Baseball Almanac)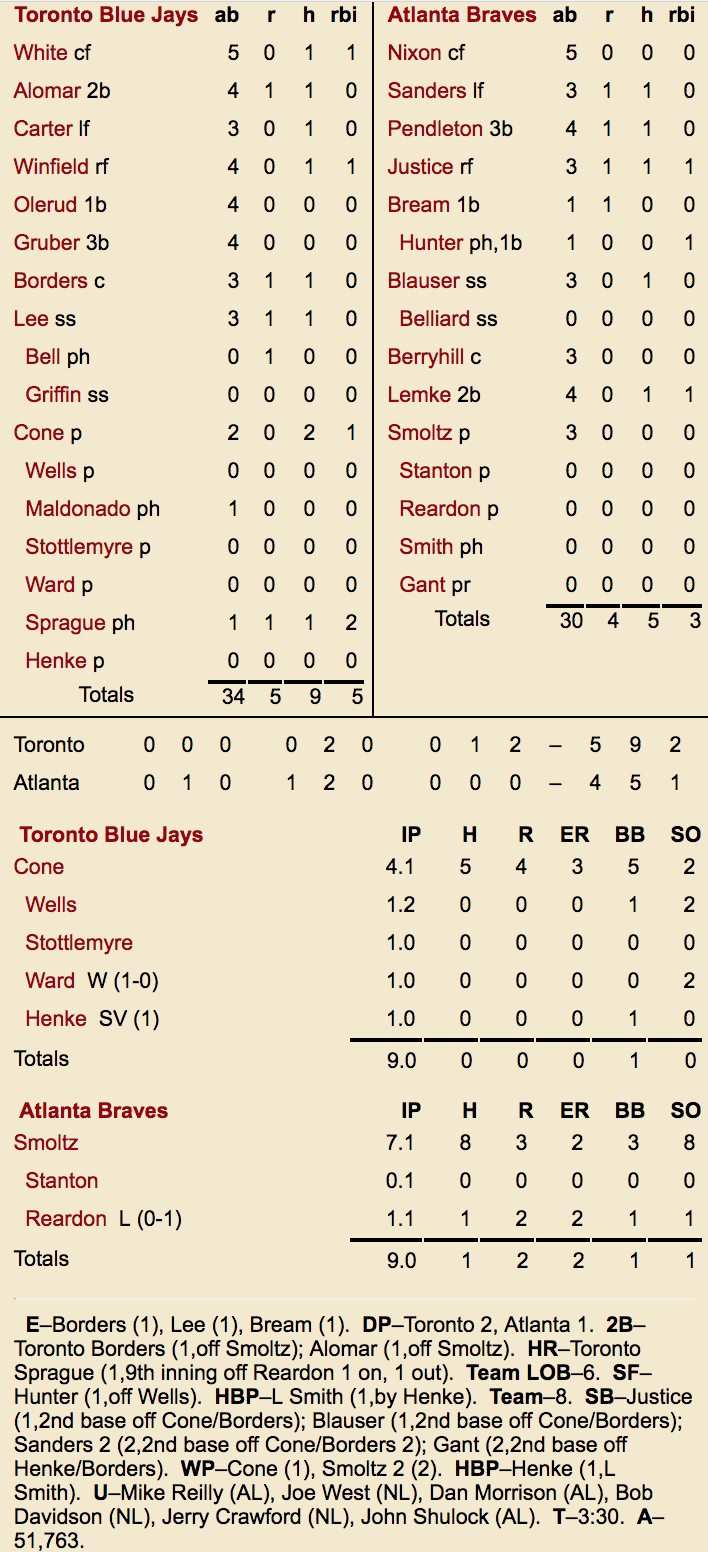 [relatedlinks]