If 1968 was the year of the pitcher, 2014 was the year of the position player pitching. Big league managers asked position players to pitch 23 times in 2014, and everyone from Adam Dunn to Drew Butera to J.P. Arencibia got in on the action.
Dan Johnson wants to be next.
Now 35, the first baseman knows he's not viewed as an up and comer anymore, but he wants to stay in the big leagues, so he's working to increase his versatility by developing a knuckleball that would allow him to become a two-way player.
"Why not have something else in the bag? Give yourself every chance," Johnson said. "I'm not 24 anymore. I want to help out as much as possible and still be relevant in this game."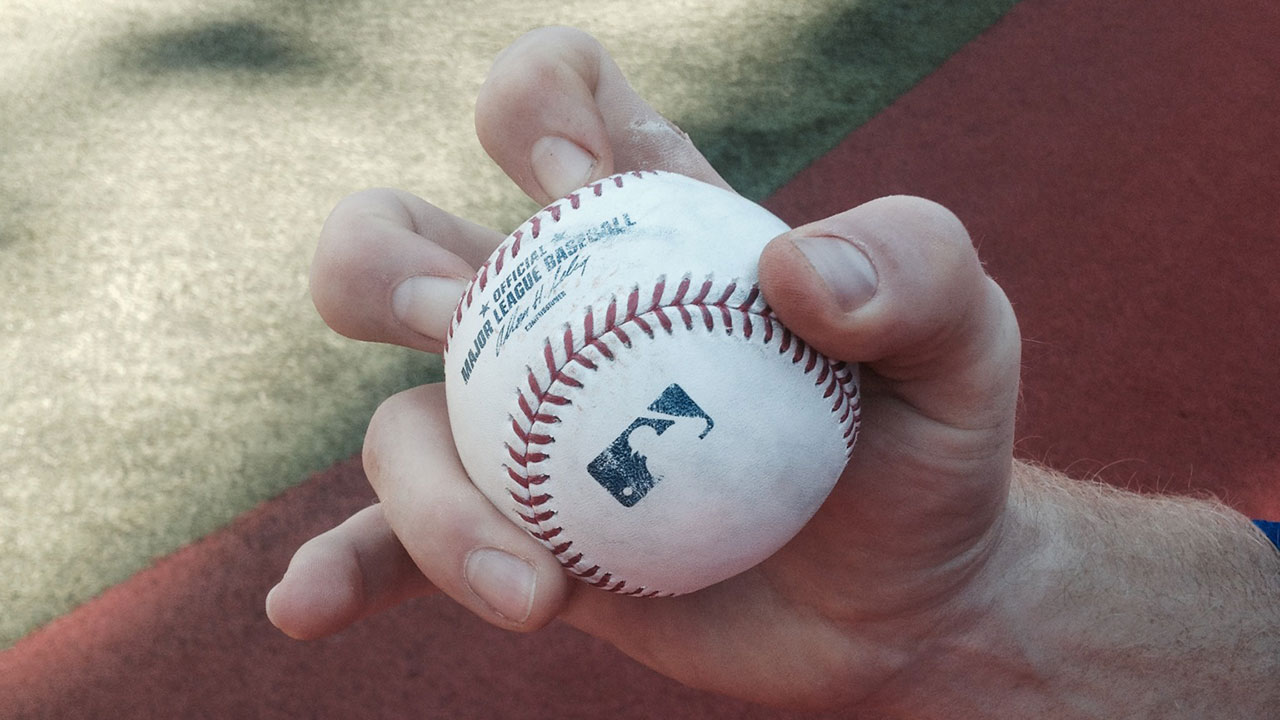 Johnson has toyed with a knuckleball for years, and he started thinking more seriously about it during the summer of 2013, when he was playing for the New York Yankees' triple-A affiliate at Scranton/Wilkes-Barre. He threw the pitch regularly in side sessions, and was even set to start a professional game for the first time ever until the Baltimore Orioles picked him for the stretch run.
---
PROGRAMMING NOTE: Watch the ALCS on Sportsnet Friday starting at 7 p.m. EST.
---
By the following spring Johnson was in camp with the Toronto Blue Jays – theoretically the perfect place to learn more about the knuckleball because of the presence of 2012 Cy Young Award winner R.A. Dickey. But a lost fingernail de-railed Johnson's hopes of toying with the knuckler for the early part of the year, so he stuck to his day job, posting an .815 OPS with the triple-A Buffalo Bisons and earning two stints with the Blue Jays.
Once the fingernail grew back, Johnson started throwing the knuckleball on the side again to regain his feel for the pitch, as Sportsnet's Jamie Campbell reported.
"It's not one of those things that you get overnight, so I know that there's a learning curve and you've got to pay your dues and get control of it, because it's not an easy pitch," he said. "If you knew how hard R.A. had to work at it to get to where he's at, it's pretty amazing."
Dickey a 1996 first-round pick, didn't enjoy his breakout season until 2010 at age 35. In the five seasons since, a dozen or so players have asked him about the pitch, including Johnson. Dickey tells them what he learned first-hand: mastering the pitch takes plenty of work.
"It took me – and I consider myself a decent athlete – it took me a good two years before I really felt comfortable enough to say 'I can do this in a game situation, my game clock's going, there are things happening around me, runners on base, throwing it for strikes, downhill plane to good hitters," Dickey said. "It took a lot of devotion."
It also takes the athleticism to repeat a delivery – something Johnson's still working on.
"Throwing it is not the issue," he said. "You can make the ball move, but you've got to be able to throw strikes."
He knows he has a long way to go before his firm knuckleball and relatively slow two-seam fastball could retire big league hitters consistently. But MLB managers showed this year that standards are changing, especially when it comes to mop-up innings.
"There's no reason to waste bullets for a good bullpen arm when the game's out of reach," said Blue Jays infielder Steve Tolleson, who pitched for Toronto twice in 2014.
It's not as though Johnson, who hit free agency earlier in the month, will stop hitting. The left-handed hitter realizes his lifetime batting line of .236/.337/.409 will be his primary calling card this off-season.
"My hope was to ultimately become a guy that could do both," he said. "Essentially if you needed a bat or position player I could do that, and if you've got a game that's maybe getting out of hand, instead of burning up a whole bullpen, being able to go out and throw 70 or 80 pitches and suck up innings."
The likes of Dunn and Arencibia showed that plenty of big league position players can get a few outs here and there. Johnson hopes that he can go a step further and refine his knuckler to the point that he offers more than just a willingness to tire his arm out for the sake of the team.
"I don't want to do it as a sideshow. If I'm going to do it, I want to do it right."