OAKLAND, Calif. – The Toronto Blue Jays ended a franchise record 0-for-34 drought with runners in scoring position on an infield single that not only didn't bring in a run, it led to an out at home plate. They hit five balls in excess of 100 m.p.h. off Jesse Hahn, and three of them resulted in outs. An outfielder that can be run on threw out a stretching Kevin Pillar at second base when he decided to run. Marco Estrada straightened out his change-up only to get burned on a couple of fastballs and some bad luck.
Add in the troubling news that Devon Travis was placed on the disabled list with a bone bruise and cartilage damage the same right knee he had surgically repaired during the off-season, and things were disjointed all around for the Blue Jays, 4-1 losers to the Oakland Athletics on Tuesday night.
A second straight loss dropped them back to three games under .500 at 28-31, with left-hander Francisco Liriano set to start Wednesday afternoon's series finale versus Jharel Cotton with his team firmly in salvage mode.
"I didn't give the team a chance to win, that's basically it, and not being able to go deep in the game," Estrada said of his frustrated look as he walked off the mound after 5.2 innings of work. "I felt pretty good, the last inning just got away. It's unfortunate."
Especially since runs have become scarce since the Blue Jays put up 28 during last week's three-game sweep of Cincinnati – the Reds pitchers were certainly good hitting – with just 16 in the six games since, during which they're 2-4.
The lengthy rut with runners in scoring position factors into that, as the offence has been largely dependent on the home run in recent days.
"That's how we do our damage and have our big outputs and it's tough to hit them here," said manager John Gibbons. "(Ryon) Healy made it look small (with two homers Monday) night but it's not that easy. I thought we had some good approaches we just couldn't get that big double with guys on base, something like that."
[snippet id=3319157]
But Josh Donaldson's infield single in the third with Ryan Goins on second was representative of the way things have been going. Goins got waved home as the all-star third baseman beat out a weak chopper, only for Yonder Alonso to easily beat the runner home with a money throw.
Troy Tulowitzki's RBI single brought home a run that tied the game 1-1. But with the bases loaded and one out, Goins hit into a double-play and the Blue Jays didn't threaten in a meaningful way again. They finished 2-for-8 with runners in scoring position and stranded eight runners.
"Normal game of baseball, sometimes you run into some good pitchers," said Tulowitzki. "Our approach is always to get a good pitch and put a good swing on it. Every hitter is different, all of us are trying to do different things, there's not one approach that a team necessarily says this is what we do. We're all professionals, we all have an idea of what we're trying to accomplish but the game presents difficulties at times."
Estrada, meanwhile, recovered from the seven-run beatdown the Yankees laid upon him last Thursday but still ended up with a pitching line of four runs on seven hits over 5.2 innings that wasn't fully representative of how he pitched. Getting his change-up back down in the zone, he struck out eight with just one walk, retiring 12 batters in a row starting with Khris Davis's sacrifice fly in the first inning.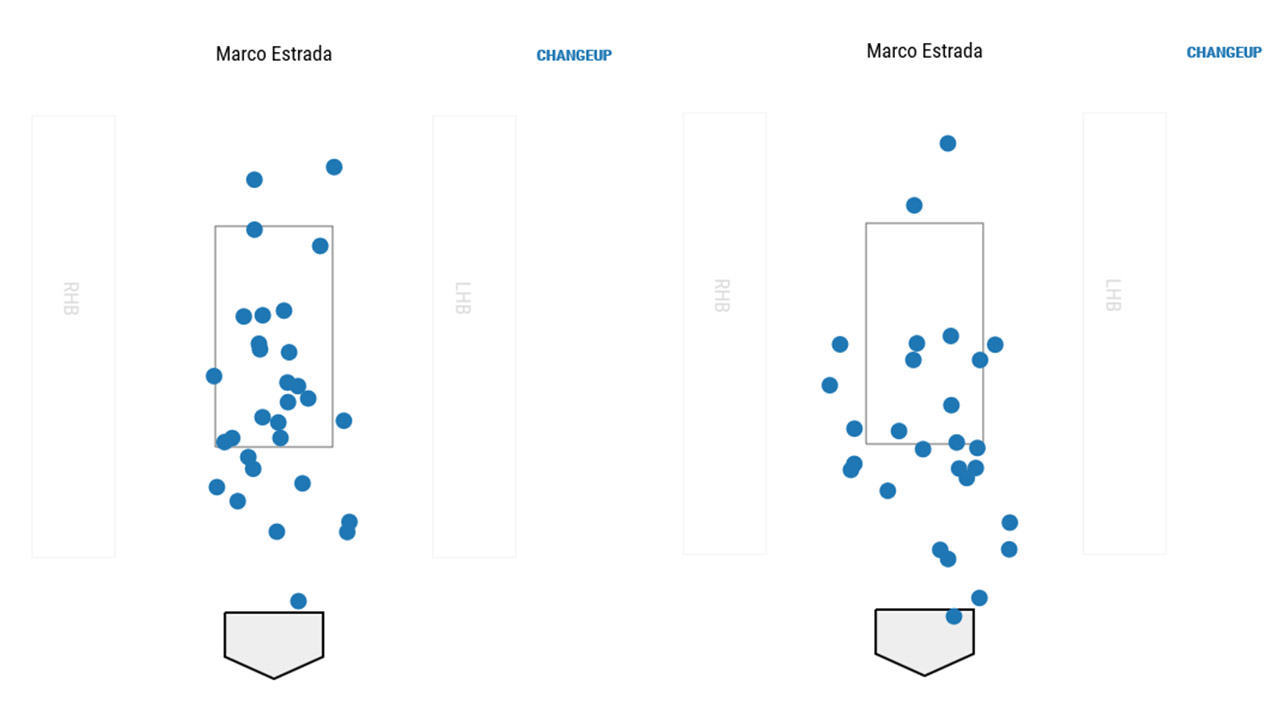 "It was a lot better, I had a lot of swings and misses (eight) on it," said Estrada. "I saw what I wanted to see out of it. Last game was just a mixture of everything really not being there, I wasn't commanding anything whereas today was a little better. I still have to improve but when it came down to it, I made a lot of good pitches, just that last inning, they got a little aggressive and I wasn't throwing the first pitches where I wanted to and I got hit."
Stephen Vogt ended the run of 12 straight outs with a one-out walk in the fourth and when Ezequiel Carrera – who had one of his adventure nights in the field – bobbled a Mark Canha double, turned for home. A strong relay from Tulowitzki to the plate cut him down, but Adam Rosales followed by dribbling a curveball off the glove of a diving Tulowitzki for a single that put the Athletics up 2-1.
A Jed Lowrie single and Davis RBI double off a four-seam fastball in the sixth made it a 3-1 Athletics lead. Estrada would have been out of the inning but a Healy liner faded under a charging Carrera's glove in left for a double that tacked on another run.
"I thought he was OK, obviously he can be better," Tulowitzki said of Estrada. "His last couple of outings, he hasn't been himself, but I definitely think he's about to get hot and be the same guy. He left a couple of pitches over the middle of the plate, they took advantage of it and we weren't able to scratch out enough runs."
More crucially, they couldn't deliver the big blow either, Tulowitzki coming closest with a drive at 101.8 m.p.h. off the bat to the wall in left in the sixth inning, where Canha comfortably settled under it for the out.
"I clipped underneath it," said Tulowitzki. "A close miss."
Same for the Blue Jays, who are now 3-11 in games when they don't go deep.
[relatedlinks]