If you spent enough time at McKechnie Field 10 springs ago, you would have gotten to know a pretty bad Pittsburgh Pirates team. Okay, they had Jason Bay in left field, Jack Wilson at shortstop and Matt Capps closing out games, so they weren't completely helpless, but still, the fans who showed up at the Pirates' Bradenton, Fla., spring training facility didn't have all that much cause for hope.
As for the clean-shaven 27-year-old Pittsburgh was bouncing from position to position, he would have seemed only slightly more likely to end the team's losing ways than a stadium usher.
J.P. Ricciardi and Alex Anthopoulos spent a lot of time at McKechnie Field 10 springs ago. Then the general manager and assistant GM of the Toronto Blue Jays, respectively, Ricciardi and Anthopoulos often visited Bradenton for road games. Just as often, the Pirates made the quick trip north to Dunedin. Relatively speaking, it was — and remains — an easy Grapefruit League trip. The Blue Jays and Pirates see a lot of each other every spring, and familiarity builds along the way.
So it was with some help from geography that the Toronto Blue Jays' top executives became familiar with the player who would define much of the franchise's next decade, Jose Bautista.
"We knew him inside and out," Anthopoulos recalls. "We knew he was athletic and could play all over the place, [that] he could throw." But that familiarity alone wasn't enough to complete a deal: injuries, opportunity and some cooperation from the waiver wire were also necessary to bring Bautista to Toronto.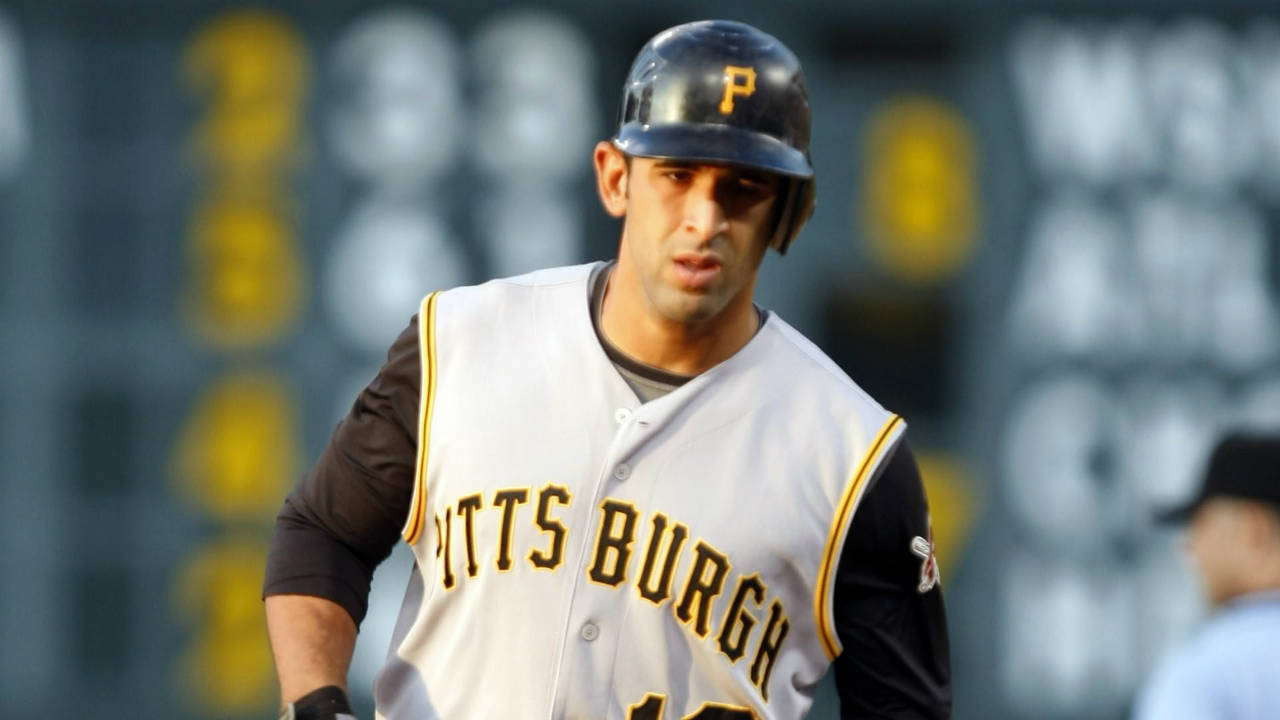 David Zalubowski/AP
In scouting parlance, a role 4 player is a guy who can suit up every game for a weaker team — the 2008 Pirates, to name one example — but wouldn't necessarily start on a contender. You'd love to fill your bench with players like this. Back in the spring of 2008, when the Blue Jays faced Bautista in the Grapefruit League, that's how they viewed him.
"Hit .240, maybe hit 20 home runs and play solid defence for you," Anthopoulos says. "We thought he was a classic role 4 player, but he walked and he did have some power."
Right, the power. It hadn't fully translated at the MLB level yet, but Bautista hit 16 homers in 2006 and 15 in 2007. Those who watched him take batting practice knew those numbers were no fluke: there was potential here.
"I don't think we were looking at him being a guy who was going to hit 50, but we thought if he played every day he could probably hit 15," Ricciardi says. "Power's one of the hardest things to project and predict, but we thought there was a little more in there. You've got to give guys opportunity sometimes."
By August of 2008, Bautista was losing exactly that in Pittsburgh. With 12 home runs and a .729 OPS, he was having a solid-but-unspectacular season that validated the industry perception of him as a bench piece. Believing they'd seen enough, the Pirates moved on, acquiring Andy LaRoche from the Dodgers and sending Bautista down to triple-A Indianapolis soon afterwards.
"You just kind of sense some of these things coming once you've been around the game for a while," Bautista recalls. "I knew that I wasn't being looked at as part of the solution moving forward there, so I was kind of hoping for a new beginning."
In August of 2008, Toronto could provide one. Scott Rolen was dealing with a shoulder injury and the Blue Jays needed solutions. "We were looking for someone who could play third base and then, when Scott came back, could possibly play other positions," Ricciardi says.
And who should appear on the waiver wire but the player the Blue Jays had watched spring after spring in Bradenton. Within the Blue Jays' executive offices, Anthopoulos's mind started racing.
"I was like, 'This would be an interesting guy to claim,'" he recalls.
At the time, Bautista only made $1.8 million — an affordable sum even for a Blue Jays team whose payrolls lagged way behind the Yankees and Red Sox. Plus, if the Pirates didn't view him as a big-leaguer now, the chances were good that they would non-tender him over the winter, making him a free agent. How high could their asking price be?
"So I call Tony LaCava," recalls Anthopoulos. At the time, LaCava held the same title as Anthopoulos: assistant GM. Still, he was 16 years older than Anthopoulos with far more experience in the game, and Anthopoulos would often bounce ideas off him. "You want to vet your process before you go to the GM in case it's a stupid idea."
"What do you think about Bautista?" Anthopoulos asked LaCava. "I was thinking about going to J.P. What do you think?"
When LaCava said he liked the idea of claiming Bautista, Anthopoulos resolved to present it to the GM.
"J.P. was great," Anthopoulos says. "You could bring him ideas any time you wanted to. Sometimes he'd say yes, sometimes he'd say no. He deserves credit, because he could have said no. If says no, we're not putting in that claim. Your job as an assistant is to present ideas."
So, midway through August of 2008, that's what Anthopoulos did.
"What about claiming Bautista?" he asked Ricciardi. "Rolen's shoulder, we'd have some [team] control over him, it won't be a big [arbitration] number going forward."
As it turns out, Ricciardi had been thinking along those same lines. Bautista could fill in for Rolen short term and later bounce between second, first and the outfield.
"I like it," he responded. "I've always liked him in spring training. Go put in the claim."
His idea now validated by two senior executives, Anthopoulos filed the paperwork. Viewed from the perspective of the GM, this was a relatively simple call.
"I really remember Alex and myself being the ones who were able to pull the trigger," Ricciardi recalls. "I liked the player. Alex liked the player, but it wasn't like we had to get seven votes to make the claim, it was just we liked him, it fit a need, it was attainable, we could control him and it was cost-effective."
Even then, there was no guarantee that the Blue Jays would land Bautista. Trade waivers are league-specific, meaning NL teams have first priority on NL players. And even if the Blue Jays were awarded the claim, August waivers are revocable. The Pirates had the option of preserving depth and pulling Bautista back instead of jettisoning a talented player.
But no NL team claimed Bautista, and he slipped past the AL clubs with worse records than Toronto, too. The Blue Jays were awarded the claim. Now they had two days to strike a deal.
At this point, Ricciardi and Anthopoulos compared notes on some potential trade proposals for the Pirates. With J.P. Arencibia emerging as a potential star, they felt they had catching depth to spare and it was with that in mind that Ricciardi gave Anthopoulos the go-ahead to start talking specifics. Pittsburgh liked Brian Jeroloman, a 23-year-old catcher with an impressive knack for getting on base. So did the Blue Jays, though.
"We didn't want to trade Jeroloman," Anthopoulos recalls. "So it went back and forth."
The Blue Jays said no to a Jeroloman-Bautista swap, but another option soon hit the table: the Pirates were also interested in Robinzon Diaz, a 24-year-old catcher in the Blue Jays' system, who was hitting .290 with a .727 OPS.
"What do you think about Diaz?" Anthopoulos asked Ricciardi. "They'll do Diaz."
Ricciardi didn't need much time to think it over. Bautista looked like a big-league contributor at a position of need. The Blue Jays had seen him so much that they didn't even need to check their formal scouting reports. As for Diaz, he was a prospect, but the Blue Jays had depth behind the plate.
"We ranked our prospects 'A,' 'B' and 'C,'" Ricciardi recalls. "He was a 'C' prospect for us and we thought if we're going to give up a 'C' prospect for a major-league player, it's kind of a no-brainer."
Anthopoulos called the Pirates and told them they had a deal. In Charlotte, N.C., Bautista was preparing for a triple-A road game when he got the call.
"All I remember is going to the stadium and grabbing my bag and getting on a plane," he says. "Going from a National League team to an American League team was different enough for someone that didn't have an everyday role, because obviously the bench gets used a lot less. Playing time moving forward wasn't very clear, but I was glad to get a new beginning."
It was with little fanfare that the Blue Jays announced the acquisition of Jose Bautista for a player to be named on Aug. 21, 2008. When the Blue Jays sent Diaz to Pittsburgh to complete the trade four days later, the move seemed justifiable on both sides. The Pirates got a prospect and the Blue Jays addressed a need.
As Diaz puts it, "Nobody knows the future. He was a big-leaguer then, but nobody knew he would be the player that he is now. And at that time, I was a top prospect, too."
"We thought we were getting a utility player," says Anthopoulos.
"Pretty simple," Ricciardi adds. "It was nothing earth-shattering."
Except Bautista showed signs of breaking out a year later. By 2010 he was an absolute force at the plate, hitting 54 home runs to lead the American League. Another home run title in 2011 proved he was here to stay. All-star appearances followed in each of the next four seasons as he solidified his place as one of baseball's top hitters. Then, in 2015, Bautista led the Blue Jays back to the playoffs for the first time in 22 years and punctuated their run to the ALCS with perhaps the most iconic bat flip of all time.
All for a catching prospect who has played 43 MLB games since. As baseball trades go, that's pretty earth-shattering.