Each week Blue Jays Confidential will ask a panel of Sportsnet Blue Jays Insiders and personalities to weigh in on issues big and small with the team and around Major League Baseball.
1. We're a long way from October, but with the NBA and Stanley Cup playoffs already offering up some memorable games and stunning sweeps, what is the most stunning MLB playoffs upset you either watched or covered?
Jeff Blair (@SNJeffBlair):
Covering the 2001 World Series – the Diamondbacks signaling the end of the Yankess dynasty with Luis Gonzalez walking it off with a bloop off Mariano Rivera that went over the head of Derek Jeter. We ALL had our stories sent in to our newspapers. Not just written, but physically sent in for editing.
Arden Zwelling (@ArdenZwelling):
I'm still a little flabbergasted that the 2015 Kansas City Royals — a team that relied on hitting singles, sacrifice bunting, reckless risks on the basepaths, improbable late-game comebacks, and devil magic — won the World Series.
Shi Davidi (@ShiDavidi):
A few come to mind for this. The 83-win, scrape-into-the-playoffs St. Louis Cardinals in 2006 beat the 88-win Padres, 97-win Mets and 95-win Tigers to win the World Series, which was totally wild because they barely, barely made it. They're the ultimate argument for why it's worth rolling the dice for a wild-card berth. The 1990 Cincinnati Reds, riding an unreal Jose Rijo, sweeping the 103-win Athletics in the World Series. And the 1987 Minnesota Twins, default champions of the AL West with 85 wins, knocking off the 98-win Tigers in the ALCS.
Ben Nicholson-Smith (@bnicholsonsmith):
Blue Jackets-level upsets are harder to come by in baseball given the sport's inherent unpredictability, but the 2003 World Series comes to mind for me. The Yankees were stacked back then, with the core four plus Roger Clemens, Mike Mussina, Alfonso Soriano and Hideki Matsui. By way of comparison the wild-card Marlins were pretty unrecognizable, so I was surprised to see them upset the Yankees in six games.
Mike Wilner (@Wilnerness590):
Maybe it's because I'm in Minnesota right now, but off the top of my head, it's the Twins beating Detroit in the 1987 ALCS. The Blue Jays and Tigers had just had an incredible season-ending series, heart-breaking for Jays fans, and the Tigers were a 98-win team taking on the 85-win Twins, one of only two teams in the then-seven-team A.L. West to finish above .500. Apparently those seven great games with the Jays over the last week and a half of the regular season took a lot out of Detroit, because the Twins beat them in five on the way to their first World Series victory.
[snippet id=3305549]
2. Danny Jansen is earning rave reviews for his work behind the plate. However, he continues to struggle mightily at the plate: .409 OPS, 4 BB, 17 K in 46 at-bats. How much do you attribute his offensive struggles to the demands that are placed on him as a rookie starting catcher in the Majors and at what point does his offensive development become a concern?
Jeff Blair (@SNJeffBlair):
I've covered some teams with rookie catchers or catchers in their first full season. I give them a season-long mulligan offensively. I want to see how they handle pitchers and how they contribute defensively. Janssen gets that from me in 2019.
Arden Zwelling (@ArdenZwelling):
There's definitely a lot on Jansen's plate before he even gets a chance to think about working on his swing — handling a pitching staff, game-calling, continuing to improve his defence, etc. And considering his .226 BABIP, he could really use a broken-bat single right now. Jansen's xwOBA (.270) dwarfs his actual wOBA (.196) — as does his xSLG (.302) vs. his actual slugging percentage (.174) — which suggests he hasn't seen the results you'd expect from the quality of contact he's been making. But even if Jansen had those expected numbers, he'd still be having an underwhelming offensive start to his season. Catching's hard, hitting's hard, and being a rookie major-leaguer is really hard. Jansen deserves plenty of rope.
Shi Davidi (@ShiDavidi):
At this point, it doesn't seem as if Danny Jansen is being overwhelmed by his challenges at the plate. The moment that changes, it becomes a concern. Otherwise, let the kid develop and learn. I've been impressed and heard complimentary things about his defensive work and if he's bringing it there and can ride out the slow start with the bat, hang with him.
Ben Nicholson-Smith (@bnicholsonsmith):
At least to some extent, Jansen's performance is a concern right now. Simply put, he's hitting the ball on the ground too much to take advantage of his power. His ground ball rate is way up and his launch angle has dropped considerably. But noticing that trend is the easy part. The real challenge lies in making that adjustment in-game.
Mike Wilner (@Wilnerness590):
Jansen hit his way to the big leagues with tremendous offensive performances on the way up over the last two years. He more than held his own over the last two months of last season in the majors, so I'm not worried about him at all. I think right now he's just part of the overall malaise that seems to be affecting the offense to start the season.
3. Now we know that Charlie Montoyo is a nice guy who — like many of us — can drop some F-bombs when riled up. What else have you learned about Montoyo — personally or strategically — that you didn't know prior to spring training?
Jeff Blair (@SNJeffBlair):
I didn't expect he'd be as open with the media about strategy and lineup decisions. He hasn't been THE GUY in a major media
Arden Zwelling (@ArdenZwelling):
This is actually something that slipped my mind from when I profiled Montoyo this winter. Talking to players who had been on Montoyo's minor-league teams, I kept hearing about how much he valued keeping players active. If you were on his roster, you were going to play — regardless of performance or status. Montoyo's philosophy was that it takes all 25 players to win. Your team is only as a strong as its weakest link — and that weakest link won't be strong if he never plays. I think Montoyo's carried that belief to the majors where end-of-the-roster players such as Alen Hanson, Richard Urena, and Socrates Brito have never gone more than a day out of the lineup.
Shi Davidi (@ShiDavidi):
It became pretty clear during the Boston series that Montoyo is willing to take some risks on the basepaths. In one game the Blue Jays employed the hit and run, stole home and used the sacrifice bunt, which we've seen this team do in the past, but not in one game when the outs seemed especially scarce with the offence slumping. At the same time, he's willing to call out needlessly risky baserunning, as we've seen with Richard Urena, Freddy Galvis and Teoscar Hernandez, underlining that he's drawing a firm line in the sand, too.
Ben Nicholson-Smith (@bnicholsonsmith):
I liked Montoyo's reaction to the Blue Jays' baserunning blunder Monday night. He wasn't pleased and didn't hide his displeasure, but he addressed the issue with Brandon Drury and Teoscar Hernandez in a constructive way. Also: Montoyo seems to like sac bunting a lot. It's something to watch as the season progresses, but early on he's been more eager to bunt than I would be.
Mike Wilner (@Wilnerness590):
How many people across the game absolutely love him. When he got the job in November, there were plenty of congratulations from all around the baseball world, but at spring training, going to Port Charlotte and asking Kevin Kiermaier to talk about Montoyo for 30 seconds and getting four minutes; hearing Kevin Cash absolutely gush about him, that was something. Rocco Baldelli will neither confirm nor deny that he was interviewed for the Blue Jays' manager's job, but he will say that he mentioned Montoyo to every team he talked to in the off-season (and there were several before he got the Twins' gig) as someone they should really want in their organization.
Several scouts with plenty of other teams have mentioned that they're Jays fans now because they want to keep an eye on Charlie and see him succeed. And almost all of the kudos and compliments have been about Montoyo as a human being first, baseball guy second.
4. The Socrates Brito experiment is off to an ugly start. Yes, the sample size through play Wednesday is small (21 at-bats), but 10 Ks from that sample is jarring. How long of a rope do you think he has with the organization considering he is out of options and Anthony Alford isn't exactly tearing it up (.182/.250/.386/.636 in 44 at-bats) in Buffalo?
Jeff Blair (@SNJeffBlair):
If he's still here when this is posted the rope is too long.
Arden Zwelling (@ArdenZwelling):
From the time of the trade, I've believed the Blue Jays should be giving Anthony Alford regular MLB playing time over Socrates Brito. And the last two weeks certainly haven't changed my mind. Considering how Brito currently looks at the plate — he's swung-and-missed at 25 per cent (!!!) of the pitches he's seen as a Blue Jay — you've got to think the club has a pretty good chance of getting him through waivers. But the Blue Jays seem stubbornly committed to playing this experiment out. And baseball being baseball, there's probably a Brito hot streak coming at some point. It might just take a while.
Shi Davidi (@ShiDavidi):
Ross Atkins has talked up Socrates Brito's upside to the point that a quick withdrawal makes for an uncomfortable retreat. Anthony Alford hasn't been forcing anybody's hand, which hurts his cause, but maybe it's time for Roemon Fields to get a shot. He's a legit speedster who's also put up numbers in triple-A International League, which unlike the Pacific Coast League, doesn't set fire to the hopes and dreams of pitchers. And giving him opportunity would demonstrate that perseverance and determination is rewarded in the Blue Jays system.
Ben Nicholson-Smith (@bnicholsonsmith):
The Blue Jays are understandably intrigued by Brito's potential, but I personally think it's time to replace him with Alford. Brito has looked overmatched at the plate far too often. As for Alford, the ability's there, but the Blue Jays have never given him an extended shot to prove himself in the majors. Plus, the way Brito's playing he might clear waivers.
Mike Wilner (@Wilnerness590):
They really seem to like him, we keep hearing about all the tools he has (although we really have yet to see any beyond his ability to play defence), and it appears as though they want to give him every chance to show that he could turn into something. The longer Brito's struggles go, though, the likelier it is that that chance will come in Buffalo. We're likely past the point where the Blue Jays are at risk of losing him by exposing him to waivers, so I can see a trip to Triple-A in Brito's near future. They get to keep the asset and let him work out of his funk in Buffalo while also freeing up a spot on the 40-man roster. Seems like a win-win.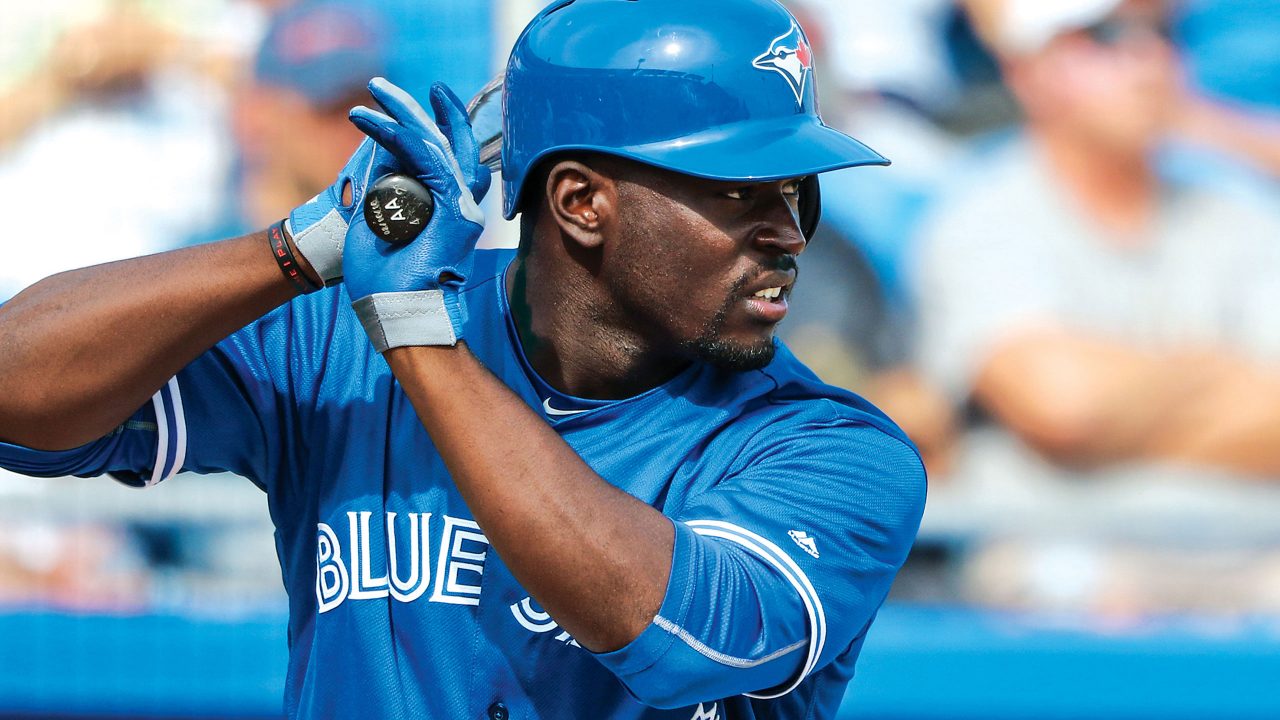 5. What's one MLB storyline outside of Toronto that's captured your attention early on in 2019?
Jeff Blair (@SNJeffBlair):
How correct I was predicting that Tampa Bay would finish ahead of Boston.
Arden Zwelling (@ArdenZwelling):
I stay up late so I catch a lot of west coast games in the wee hours — that means I'm often watching the Los Angeles Angels. And let me tell you, Mike Trout is unbelievable. You already knew that. But he's playing at a level right now that's even beyond the peerless standard he's set for himself. He's hitting .366/.571/.780 with 17 walks to only five strikeouts. He's swung at only 11 per cent of the pitches he's seen outside the strike zone (last year's MLB average was 30 per cent). He has seven swinging strikes. Seven! Pitchers are terrified of him — nearly a fifth of his plate appearances have started with a 3-0 count. He's been worth a win-and-a-half in 15 games. Somehow the world's best player has gotten even better.
Shi Davidi (@ShiDavidi):
Well, the Tampa Bay Rays are super intriguing, as always, but let's go with the San Diego Padres, who after years of collecting talent, are using the big-time adds of Eric Hosmer two off-seasons ago (he's slumping, I know) and Manny Machado this past winter to augment the emergence of their young players, notably Fernando Tatis Jr.
Ben Nicholson-Smith (@bnicholsonsmith):
Lots to choose from here, and the left side of the Padres' infield, the depth of talent in Tampa and the resurgence of Jose Altuve come to mind. But I'll go with the Braves' extensions for Ronald Acuna Jr. and Ozzie Albies. Objectively, these are great deals by Alex Anthopoulos, but the Albies contract in particular underscores the power gap between billion dollar teams and the athletes they employ.
Mike Wilner (@Wilnerness590):
It's not a surprise at this point, obviously, but having spoken to Stephen Bronfman in Montreal last month and getting the sense that the return of baseball to La Belle Province is closer than it has been since the Expos left, the fact that the Tampa Bay Rays continue to not be able to draw is something that has caught my eye. The Rays are off to a great start, with the best record in baseball, and their biggest home crowd in the month of April has been 11,093.
They just got home after a road trip on which they went 7-2 and their homestand has begun with two games played in front of fewer than 10,000 fans at each. They couldn't put together a plan for a new stadium that worked and nobody wants to go to Tropicana Field. It's now even harder to imagine the team staying in the Tampa Bay area much longer. Montreal has a site, a plan and a lot of funding…