TORONTO – Freddy Galvis understands that on occasion umpires make mistakes when calling balls and strikes. It's a tough job, human beings are fallible and hitters must learn to cope.
That's why when he turned around to argue a very sketchy third strike call by Quinn Wolcott in the fourth inning of the Toronto Blue Jays' 11-7 loss to the Tampa Bay Rays on Friday, it wasn't the location of the pitch he was complaining about.
Rather, the veteran shortstop says he was upset because during his at-bats in the first and fourth innings, Wolcott carried on a conversation with catcher Mike Zunino the entire time. Galvis said he'd never before experienced anything like it, and that's why he, and when the inning was over Blue Jays manager Charlie Montoyo, complained.
"Everybody here is a professional player and everyone has to be a pro," Galvis told reporters from Sportsnet and The Athletic. "I feel like the umpire wasn't a professional at that point. I know sometimes the umpire talks to the catcher between innings, something like that, but I feel like in my first at-bat he was talking for my whole at-bat with the catcher. In my second at-bat, he was doing the same thing, he didn't stop, he kept talking and talking and talking.
"…You're hitting and you hear those guys talking and talking and talking, I feel like you have to have some respect for the game. Everybody's trying to focus, we're in front of a lot of people and this is pro baseball. I went back to the video room to look at the pitches and they were balls. I wasn't mad because they were balls, I know as a human being, sometimes you're going to make mistakes, that's not my problem. My problem is if you don't act professional."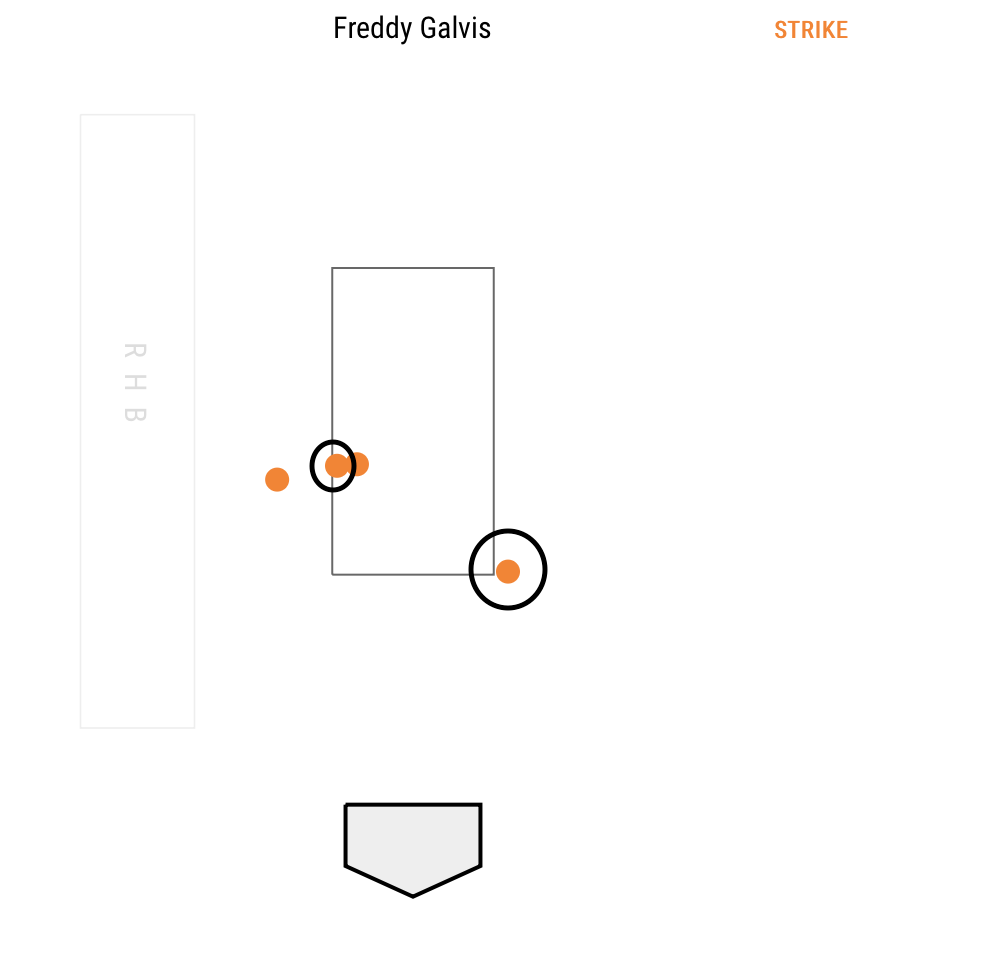 Catchers and umpires often exchange dialogue behind the plate, but lengthy, full-on conversations are unusual. The message delivered by Galvis and Montoyo to Wolcott, who became a full-time major-league umpire in 2014, apparently worked as Galvis said in his third at-bat, during which he also struck out, "they didn't talk too much."
"I think you have to have some respect because everybody's trying to do their job," said Galvis, who added later that: "Sometimes they're going to miss some pitches, but if it's that way, I'm going to get kind of mad because I'm trying to do my job, too."
The issues with Wolcott weren't the only challenges of the evening for Galvis, who in the seventh inning tried to advance from second to third when an 0-1 pitch to Justin Smoak squirted away from Zunino.
But rather than rolling away, the ball hit Smoak allowing Zunino to pick it up and fire it to third in time to get Galvis for the inning's third out, stopping what had been a six-run rally.
Galvis immediately pointed into the dugout to ask for a replay, which the Blue Jays didn't ask for even though it appeared that he may have beaten the throw.
"Our process said no, from what I hear," Montoyo said of the decision to not challenge. "We should have, so I guess we have to review our process to make it better."
Said Galvis: "I think it was close enough [to challenge]. I feel like at first, I put my feet on the base and then I feel the tag after. So that's why I made the sign to challenge."
And though making the final out of an inning at third base is one of baseball's greatest sins, Galvis believes he made the right decision to run.
"I knew Smoaky was the tying run," said Galvis, as the Blue Jays had cut Tampa Bay's lead to 8-6 at that point. "I see the ball going to the ground. I see the catcher going one way and the ball going a different way, so I was all right. It's easy. But the ball hit Smoaky and went back to the catcher. …
"Either way I feel I was safe. I know it was a risky play, especially with the rally we put, but you react to your instinct, and I followed my instinct, and I thought I was right to."
[relatedlinks]