BOSTON — As he prepared to leave the visitors' clubhouse at Fenway Park about 30 minutes after the Toronto Blue Jays earned a series victory over the Boston Red Sox, Lourdes Gurriel Jr. wrapped a blue-and-silver wrestling belt around his right shoulder. Walking to the team bus, he passed by Sunday's starter, Marcus Stroman, who had his own blue-and-silver belt around his waist. They don't give those to just anybody.
It's a new tradition for these Blue Jays after wins. The game's most valuable pitcher and position player, as determined by team veterans, are each awarded one of the belts, and they carry it with them until the next victory. Stroman earned his by pitching six shutout innings in Sunday's 6-1 win over the Red Sox. Gurriel earned his for picking up three hits on the day. Also, for this: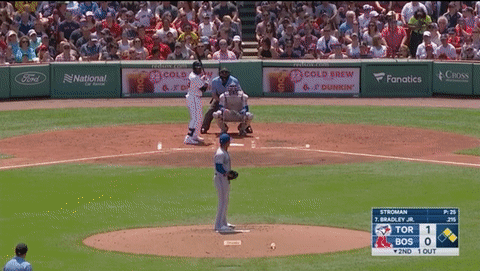 That's Gurriel in left field, playing the position for only the 27th time in his big-league career, gunning down Brock Holt at the plate with an absolute hose that was measured at over 90-m.p.h. by StatCast. Never mind that Holt pulled his hamstring on his way home, making it less of a play than it could've been. Gurriel's throw was on time and on target.
"Pretty soon," Blue Jays manager Charlie Montoyo said after the game, "people are going to stop running on Gurriel."
It may be wise. Gurriel now has five outfield assists in his 27 games in left field, which, no lie, ties him for fifth among all major-league outfielders this season. Leury Garcia of the Chicago White Sox leads the way with 9. Cody Bellinger has eight, Mookie Betts and Gerardo Parra, seven. Then there are five players tied with six, and nine tied with five, Gurriel included.
Livestream the Toronto Blue Jays on the most popular devices. Plus, get over 150 marquee MLB matchups, the Home Run Derby, All-Star Game and Postseason.
That's pretty remarkable considering he played his first major-league game in the outfield a month ago. Sure, he's getting plenty of opportunities as baserunners test his inexperience. But you'd expect him to at least be exhibiting some growing pains as he gets accustomed to the new position. Instead, he's looked right at home, not yet making an error over 233 innings in left.
"Lourdes is unreal out there. Man, I can't put it into words. He looks like he's been playing left field for years," Stroman said. "It's pretty shocking. And it's exciting. It's awesome to see how quickly he was able to adjust from infield to outfield. It's been almost seamless."
Baseball's a funny game like that. Gurriel grew up playing mostly infield in Cuba, and bounced between second base and shortstop upon signing with the Blue Jays in 2017. But while his exceptional athleticism allowed him to make highlight reel plays and get to balls other infielders couldn't, he often struggled with the routine ones hit right at him. A baffling inability to consistently throw the ball to first earlier this season, coupled with some significant offensive struggles, forced the Blue Jays to send him to triple-A for more than a month.
The club asked him to play left for the first time in early May, and less than three weeks later, he was back in the majors. All he's done since is hit .327/.371/.664 over 28 games with 17 extra-base hits, including 9 homers. All while getting accustomed to a new position.
"I put in a lot of time, a lot of work — working very hard in the outfield. I'm just trying to get better every day. And right now, I'm feeling very good out there," Gurriel said through Blue Jays interpreter Hector Lebron. "It definitely feels great. I'm feeling good at the plate. I'm helping the team as much as I can to win games. And I'll hopefully continue like that."
Playing left at Fenway Park for the first time, where the green monster creates all kinds of havoc for outfielders, should have been Gurriel's biggest challenge yet. But over three games in Boston, he never faltered.
Baseball being baseball, he was tested immediately as the first ball a Red Sox hitter put in play in the series was drilled in Gurriel's direction at 106-m.p.h. He casually jogged over, made the play, and pulled a card out of his pocket to check how he should be positioned for the next hitter: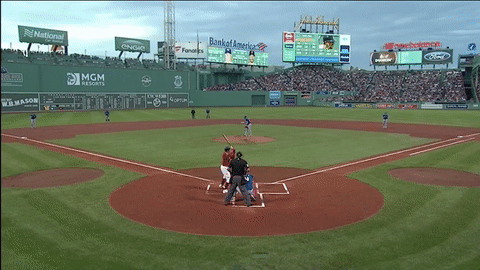 An inning later, he was tested for the first time with a ball off the wall, and played this 109-m.p.h. rocket perfectly, holding Michael Chavis to a long single: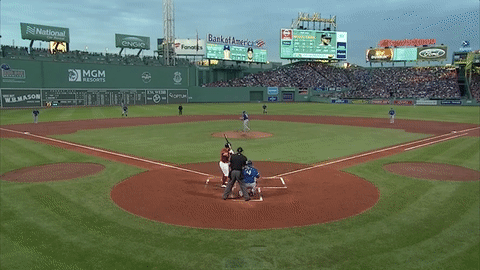 And that was only his first two innings in front of the green monster. Gurriel went on to make several more strong plays, none more impactful that gunning out Holt at the plate in Sunday's rubber match, which we might as well show you again: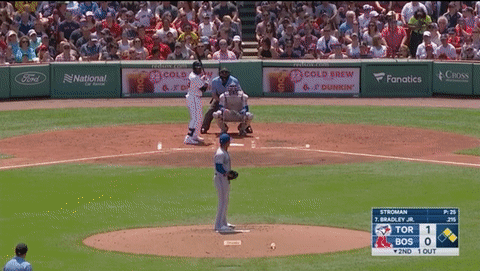 In the meantime, he went 5-for-15 in the series, recording his ninth and tenth multi-hit games since returning from the minors. It all made Gurriel a deserving winner of the championship belt he had wrapped his shoulder as the Blue Jays headed to the Bronx, where they'll begin a three-game set with the New York Yankees on Monday.
Problem is, the 29-49 Blue Jays don't win too many games, and thus don't get to hand out the belts as often as they'd like. So, even though Gurriel's been tearing it up over the last month, was Sunday the first time he'd been awarded one of the titles?
"Si," he replied. "And I'm going to carry it all the way to New York."