TORONTO – What a strange thing it must be to pitch against a team interested in acquiring you ahead of the July 31 non-waiver trade deadline, with so many opportunities for the mind to wander amid what is essentially a sales presentation directly to an opponent/suitor.
Yet, there was J.A. Happ facing the New York Yankees on Saturday afternoon, just the kind of battle-proofed American League East starter available for rent that the wild-card leaders need, inevitable speculation omnipresent.
"It would probably be a little bit weird," Blue Jays manager John Gibbons said beforehand. "He concentrates very well, he can isolate some things and just go out there and do what he does."
Livestream the Toronto Blue Jays on the most popular devices. Plus, get over 150 marquee MLB matchups, the Home Run Derby, All-Star Game and Postseason.
Usually, that's the case for the steady lefty, but not on this sunny Saturday afternoon before a crowd of 44,352. Happ's first pitch was sent over the wall in centre field by Brett Gardner, his fifth driven out to right-centre by Aaron Judge and things only went further south from there.
Add in six walks, a very uncharacteristic season high, due to fits with the strike zone of umpire Lance Barrett – who ejected CC Sabathia for chirping on Kyle Higashioka's behalf in the third inning before chucking Gibbons – and Happ suffered through his worst start of the season in an 8-5 loss.
Misfortune also struck Happ in his last time out, when he allowed seven runs in 5.2 innings against Detroit but pitched better than the line would suggest.
"I don't know, potentially subconsciously," Happ replied when asked if July's inherent uncertainty is impacting him. "I know these last two haven't been really me or what I feel I'm known for, certainly not what I'm capable of. Having said that, I don't think I feel any type of way about going out there or whatever. I've been ready to pitch. It hasn't gone my way. I've got to try to find a way to stop that as soon as possible."
Against the Yankees, the 35-year-old, by far the Blue Jays' best trade chip ahead of the deadline, ended up allowing six runs on four hits and six walks with five strikeouts in 2.2 innings of work, his shortest start of the year.
Four of the six walks he issued scored, two on a Brandon Drury blooper that bounced over Kevin Pillar's head for a cheesy double, two on a triple by Gardner off Jake Petricka, who took over with two out in the third after a sketchy Happ walk to Greg Bird.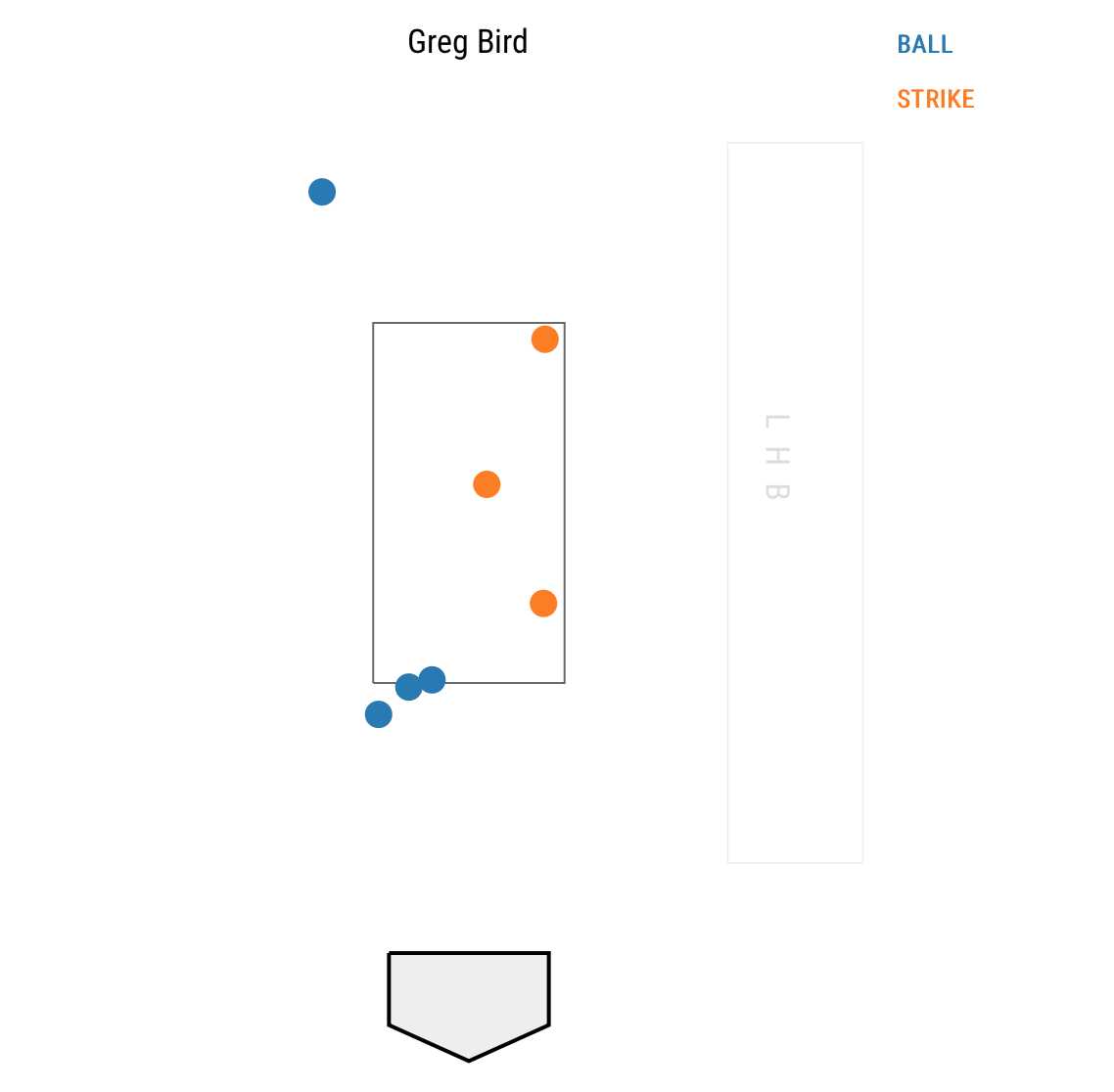 So, not exactly a back-up-the-prospect-truck-boys type of outing.
"It's a fine line of trying to force your repertoire on them and making them hit you and then trying to be too fine," said Happ. "I might have gotten caught up in the middle of that a little bit. Too many walks overall. Thought I was making some good pitches. They hit the two pitches and it seems like right now every walk I give up comes around somehow or other. They got that bloop hit and then the other two came around – it's just frustrating."
Decisions at this time of year aren't based on a single outing, of course, and the Yankees have sent different scouts to see Happ for a while now. And neither is one bad day likely to scare off a suitor, especially for a team that has lots of looks at a player over an extended period.
Really, the trade deadline is essentially a game of chicken between teams looking to get as much for a player as they can and clubs looking to pay as little as possible to make that deal. Front offices by-and-large understand how their trade partners have valued a player and they're essentially waiting to see who blinks first in determining a final sale price.
Amid the ongoing chess match, players on the market like Happ are left to be run through the wringer.
"He's been through it before, it's obvious why teams would want him," Gibbons said of Happ, who's been part of three deadline deals. "Naturally, these guys get settled into certain areas, they do their routines, I'm sure it's distracting. But you'd never know it. If there's one guy who could block it out, I would think it's him."
Perhaps, but the Yankees Gong Show always adds another element to the dynamic.
On Friday, a handful of New York reporters came into the Blue Jays clubhouse seeking out Happ's thoughts on the trade speculation and he politely deferred speaking with them until later in the weekend.
They had at him post-game Saturday, asking him how ideal it would be to join the Yankees – "I'm just trying to play and pitch, I'm happy right here and we'll see what happens," he said – and whether it was more disappointing to have a bad day against the Centre Of The Universe.
"Not any more so than if it was anybody else," said Happ. "I'm trying to win, I'm trying to compete and it hurts me right now as I'm standing talking you (about) the results today. It doesn't matter that it's the Yankees or whoever it is. I expect better and I think I'll be better."
Saturday, with the narrative was front and centre, he looked uncomfortable and tentative on the mound early, and then he had Barrett's tough zone to contend with, too.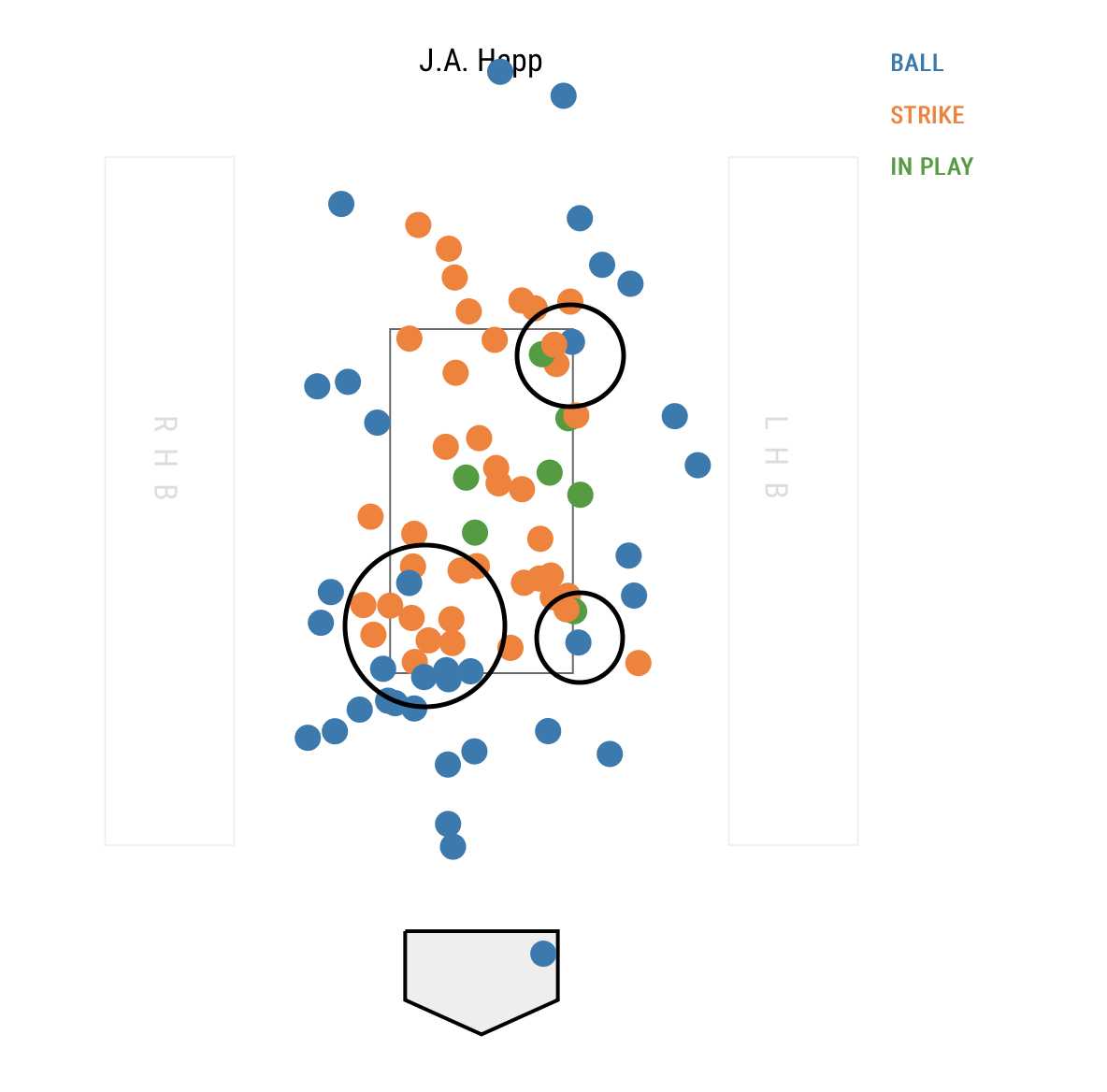 "Trying to be aggressive with my stuff and force the issue and then trying to be fine, it's a tough thing to balance," said Happ. "It didn't go my way."
The Yankees will have noticed all that, too, and you can bet they're all too happy to take the W and root for Happ to dominate in his next outing, when he takes the ball at Fenway Park against the Boston Red Sox.