TORONTO — When he's talking about the $80-million renovation of his team's Dunedin, Fla., facilities that will begin next month, Toronto Blue Jays president Mark Shapiro likes to relate the impact he believes it will have to a classroom.
"If you read education books and you think about students, it's been scientifically proven that students learn better when they're in better schools, with better equipment, with better computers," Shapiro says. "We want to put our players in the best possible atmosphere, with the best possible resources, and the most positive environment they can possibly be in."
That's something Shapiro hopes will be a reality come spring training in 2020, when the wide-scale renovation is expected to be completed. Speaking Wednesday morning at Rogers Centre, Shapiro shared designs and details of the project, one he hopes will directly translate into more wins in that very building.
"It's a huge opportunity for us, from a cultural standpoint, to align the major and minor league side of our operation. To put our players in a positive environment… Provide them with cutting edge resources and tools, equipment, opportunities for coaching that don't currently exist for us," he said. "Ultimately, everything is not just about getting caught up. I think in this case, we're going to be moving ahead. It's meant to be a competitive advantage. It's meant to lead to wins.
"I think we're going to have, overall, the all-around best facility in Major League Baseball when this is done."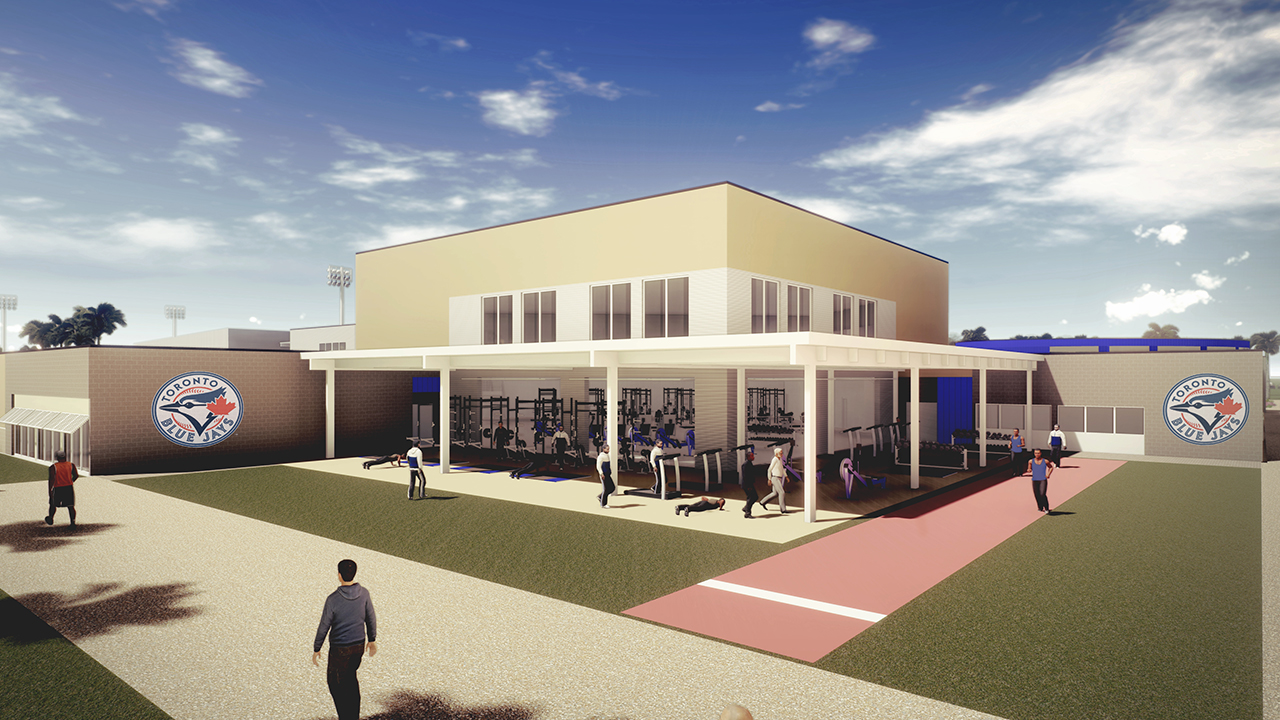 Artistic renderings of the Toronto Blue Jays' new spring training facility, featuring an outdoor workout area, in Dunedin, Fla. (Photo courtesy: Toronto Blue Jays)
If that's the case, it will be a dramatic change considering the Blue Jays' current Florida facility is unquestionably one of MLB's poorest. It isn't much different than it was when it was built in the late 1970s. The dressing rooms are cramped with eight-foot ceilings. The weight room is antiquated and inadequate, fitting only 15 to 20 people at a time. Over the last decade, 22 MLB teams have undergone major renovations or completely replaced their facilities, leaving the Blue Jays far behind.
And, in the meantime, paradigms have shifted. Teams no longer treat the function of their Florida or Arizona facilities as being purely for regular season preparations. They're now year-round player development, training, and rehabilitation centres. Shapiro's hope is to shift the Blue Jays operations from that old world to the new.
"The facility, in general, allows for programming 365 days a year," Shapiro said. "The hope, from both a staff and player perspective, is that we will have more and more players living and training there year-round when we're not in-season."
In planning the renovation, the Blue Jays visited the training facilities of several teams across professional sports, from MLB rivals to NFL and NBA teams, and even soccer clubs in England's Premier League. Several architectural firms pitched the Blue Jays and the city of Dunedin with proposals during a public request for quotation process. Populous, which has served as the architectural firm for several MLB stadiums, made the winning bid.
Currently, the Blue Jays have five full fields, a half field, and an agility field at the Bobby Mattick Training Center at Englebert Complex in northeast Dunedin. Following the renovations, all but one of the full fields will be replaced and an additional one will be added. A turfed, covered agility field will also be constructed, allowing players to train during inclement weather.
The complex's nucleus, an approximately 95,000 square foot training and administrative building, will be nearly three times the size of the current one. It will house everything from expansive clubhouses to sports technology labs to a yoga studio. A 10,000 square-foot weight room will feature a cardio loft and nutrition-focused "fuel bar." It will open up through roll-out doors to a covered, outdoor turf area.
Indoor mounds and batting areas will be outfitted with high-resolution data capture cameras and tracking devices, allowing pitchers and hitters to break down their mechanics to fragments of a second. Rehab facilities will include a variable depth pool with a movable floor and several hot and cold tubs.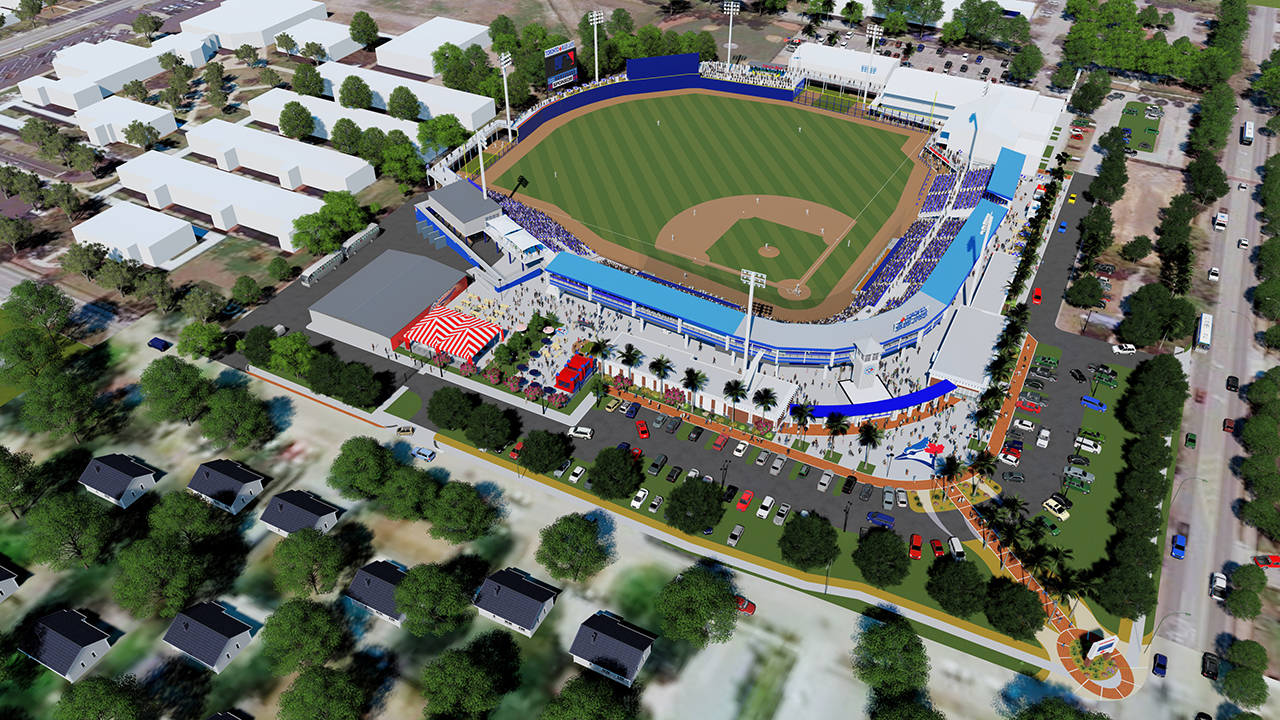 Artistic renderings of the Toronto Blue Jays' spring training stadium in Dunedin, Fla. (Photo courtesy: Toronto Blue Jays)
Shapiro says the facilities have been planned with flexibility in mind, allowing the Blue Jays to adapt the space as training and rehabilitation methodologies evolve. He envisions a day when the Blue Jays have indoor pitching mounds with force plate technology or space for virtual reality simulations.
"We can move to where the opportunities lie," Shapiro said. "Because it's emerging right now."
The building has also been designed to foster collaboration by including a pair of large classrooms — one can seat as many as 300 people — along with several smaller, breakout rooms for informal meetings between players, coaches, and staff.
The major-league clubhouse will be vast and features a private entrance, large dining room, sauna, and even a dedicated room for a barber. There will also be small "phone booth" rooms where players or staff can have private cell phone conversations.
Meanwhile, about 10 minutes away, Dunedin Stadium will receive a significant facelift in order to modernize the nearly three-decade old structure. Its capacity will go from 5,500 to 8,500, with a boardwalk ringing the outfield that will give fans the ability to walk around the entire ballpark, watching games from different vantage points and peering into both bullpens.
There will be new bars in each of the outfield corners, family-focused areas, and an "Autograph Alley" up the right field line near the Blue Jays clubhouse where fans can congregate for the chance to interact with players.
"Different types of fans want different experiences," Andrew Miller, the Blue Jays executive vice president of business operations, said. "And this will allow us to cater better to each of those types of fans."
Once the project is completed, a major change at Blue Jays spring training will be the major- and minor-league sides both taking place at the new training facility. Dunedin stadium will be used solely for games, with Blue Jays players and coaches making the 10-minute drive from the training centre 15 times each spring. It's not ideal, but there was no solution available in Dunedin that would allow the Blue Jays to house their training centre and stadium on the same piece of land.
Ground will break in January with a goal of completing the entire project by spring 2020. That will naturally create some challenges during 2019 spring training, including the loss of at least one field at the current minor-league facility. But Shapiro says the club will "happily deal with the inconvenience" considering what the Blue Jays hope to have in place when pitchers and catchers report in 2020.
The Florida State League's Dunedin Blue Jays will be displaced for the 2019 season, playing and training at an alternate location not far from Dunedin. Shapiro says the Blue Jays are still finalizing that agreement and will announce details of the one-year relocation by the beginning of spring training.
The project — budgeted at over $80-million USD — will pull its funding from a number of different sources. Pinella's county will pay the largest share, dipping into tourist development tax funds to contribute more than $40-million. The Blue Jays are kicking in $20-million, the state of Florida is contributing close to $13-million, and the city of Dunedin is providing around $6-million plus land.
Upon completion of the project, the Blue Jays will enter into a new 25-year lease with Dunedin, replacing the temporary lease the two sides have been operating under for a number of years. The Blue Jays will take on obligation for maintaining all facilities and capital repairs.
That means once the new complex and stadium are up and running, the Blue Jays operational costs in Florida will increase at least fivefold. That's a significant factor considering most teams operate at a loss during spring training. The Blue Jays do have the right to find a naming partner for the stadium, which could bring in a substantial amount of money. Any funding from that sale must be contributed back into a capital repairs fund dedicated to improving the stadium over time.
It's a major investment — a major project. One Shapiro hopes won't just catch the Blue Jays up with their competition, but put them ahead.
"That's the whole point of it. It's not something that we just need to get caught up to the rest of the industry. It's not something where we just feel embarrassed by our current facility," Shapiro said. "It's an opportunity for us to take a major step forward."
[relatedlinks]