TORONTO – The newcomers on the Blue Jays' roster generated plenty of discussion Friday, and rightfully so.
Cavan Biggio and Lourdes Gurriel Jr. both have a chance to be future pieces in Toronto, so their arrival here offers hope that better days await a team that's now 20-31.
On the other side of that transaction, the Blue Jays optioned Billy McKinney to triple-A after a disappointing start to the season that saw him hit just .229/.278/.371 through 41 games. That's a significant drop-off from the numbers he posted after being acquired in last summer's J.A. Happ trade, but the Blue Jays believe he can return to form, especially if he starts using the whole field more.
When McKinney hits the ball on the ground, he nearly always pulls it to the right side of the infield, making him an easy candidate to shift on.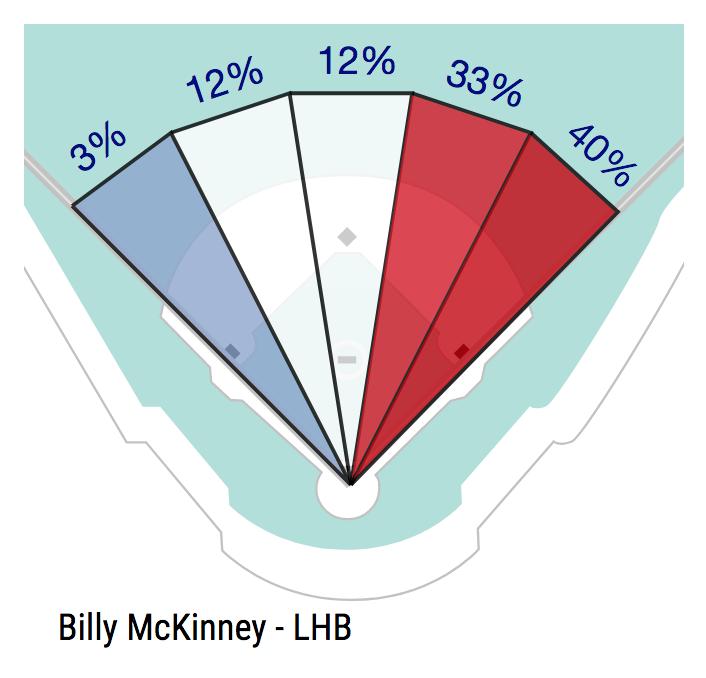 Perhaps it's not a coincidence that his batting average on balls in play remains below league average at .279. Either way, general manager Ross Atkins believes McKinney can turn his season around once he's in a more relaxed triple-A environment.
"Billy's such a hard worker," Atkins said. "He plays exceptionally hard. I think he put a little pressure on himself. Starting the season on the opening day roster, becoming almost an everyday player. It was a new role for him and he wanted it bad.
"I think he also in fairness to him was getting pitched really tough–pitched in a lot–and we thought our offensive struggles put increased pressure on him," the GM continued. "I think he'll benefit from getting to triple-A and having regular work there."
PROGRESS FOR SHOEMAKER
A little more than three weeks after undergoing surgery to repair the torn ACL in his left knee, Matt Shoemaker's moving around gingerly but progressing well.
Right now, he's working to reduce swelling and increase range of motion with a view towards returning strong in 2020.
"I'm definitely pleased with how it's going given a sucky situation," Shoemaker said outside the Blue Jays' clubhouse Thursday.
Marcus Stroman underwent a similar procedure in 2015, returning down the stretch to help the Blue Jays reach the ALCS. Stroman has texted with Shoemaker throughout the process, but it'd be unrealistic to expect a similarly quick return given that Shoemaker's surgery occurred a month into the season.
"We're pushing this thing as safely and as quick as we can," he said. "Just given the timing of it, being at the end of April, five months puts you through the regular season. Either way we're being as aggressive as we can – safely."
As long as the Blue Jays tender Shoemaker a contract through the arbitration process, he'll be back in 2020. Given how well he pitched before the injury and the current state of the Blue Jays' starting rotation, they could certainly use him.
LEFTY SPECIALIST
One day after claiming Zac Rosscup from the Seattle Mariners, the Blue Jays added the left-handed reliever to their roster Friday afternoon. Manager Charlie Montoyo will use him primarily as a lefty on lefty specialist given his success against same-handed hitters.
In parts of six big-league seasons, left-handed hitters have batted just .129/.277/.242 against Rosscup, making him valuable in those scenarios. Right-handers, however, have homered 10 times in just 202 plate appearances against Rosscup while batting .322/.400/.610. In other words, something's probably gone wrong if he's facing lots of righties.
A DIFFERENT TYPE OF VERSATILITY
Like his son Cavan, Craig Biggio was capable of playing many positions. In the course of his Hall of Fame career, he spent extensive time at catcher, centre field and left field as well as his primary position, second base.
The difference? Cavan changes positions day to day or inning to inning, while Craig's position changes typically occurred from season to season.
"I give him all the credit," Craig said. "What I did in moving positions is one thing, but when you bounce around from position to position that's hard to do because you're doing it during the season. It speaks a little bit to his athletic ability and I give him a lot of credit for continuing to stay on this path."