TORONTO — Toronto Blue Jays second baseman Devon Travis will miss the remainder of the 2018 season due to soreness in his left leg. The issue began with Travis' knee and has since impacted his hamstring. The problem isn't believed to be serious, but Travis was sent for an MRI Wednesday as Toronto's training staff continued to gather information on the issue.
It's a dispiriting end to the season for the 27-year-old who has missed significant time due to shoulder and knee injuries over the course of his career. This season, the Blue Jays endeavoured to give Travis more days off, and the results were encouraging from a health standpoint. It was the first season since he made his major-league debut in 2015 that Travis didn't require a stint on the disabled list.
That will remain true despite the leg issues that will force him to miss Toronto's final eight games. And, based on the information the Blue Jays currently have, Travis is expected to be ready to play come spring training 2019.
In terms of production, Travis hasn't played up to the standard he's set for himself. He finishes 2018 with a .232/.275/.381 line over 378 plate appearances, good for an 80 OPS+. In the three seasons prior — a span of 868 plate appearances — Travis hit .292/.331/.462 with a 110 OPS+.
Travis began the year in an extended rut, and was demoted to triple-A in late April in order to work on his game. He stuck with the big-league club for the remainder of the season after returning in late May, but never quite found his groove at the plate.
Part of his struggles can be attributed to poor luck. Travis has a .255 batting average on balls in play this season, well below his career average of .315 and this year's MLB average of .295.
There's also a large gap between Travis' wOBA (.284) and his xwOBA (.324), suggesting he hasn't seen favourable outcomes based on his quality of contact. Among Blue Jays with at least 100 plate appearances this season, Travis has the second-largest negative difference between his wOBA and xwOBA.
Considering Travis set career highs in average exit velocity (88.3 m.p.h.) and hard hit rate (36.9 per cent) this season, it's not unreasonable to anticipate a bounce-back year at the plate in 2019. He's certainly affordable, as he's entering his second year of arbitration eligibility with a platform salary of $1.4 million. And he'll still have two minor-league options remaining after this season.
But the Blue Jays are looking at a crowded infield picture for 2019. Yangervis Solarte's $5.5-million option could be declined, which would help clear some of the logjam. But infielders Lourdes Gurriel Jr., Aledymis Diaz, Brandon Drury, and Richard Urena will all likely return.
That's not to mention Vladimir Guerrero Jr., who is expected to join the club early in the 2019 season to play third base. And it's possible Cavan Biggio and Bo Bichette could factor into the equation as the season wears on.
[relatedlinks]
A reward for Berti
With Travis unavailable for the remainder of the year, the Blue Jays selected the contract of 28-year-old infielder Jon Berti, who spent the majority of his season with the double-A New Hampshire Fisher Cats. Drury was moved to the 60-day disabled list in order to open up a 40-man roster spot.
The right-handed hitting Berti was originally selected by the Blue Jays in the 18th round of the 2011 draft and has been climbing the ladder ever since, posting a .258/.342/.356 line over nearly 800 minor-league games.
He was inserted directly into the starting lineup Wednesday to man second base and will likely see more playing time as the Blue Jays wrap up their season. Travis, Drury, and Gurriel Jr. are all done for the year with injuries, and it's extremely unlikely you'll see Russell Martin asked to play again after sitting out for more than three weeks in order to open up playing time for young Blue Jays catchers.
In the eighth inning Wednesday, Berti turned around a 94 m.p.h., first-pitch fastball from Houston Astros reliever Dean Deetz for his first big-league hit, a well-struck single to centre. It came off his bat at 106 m.p.h., giving him the two hardest-hit balls of the game after his 105 m.p.h. third-inning lineout to centre.
Biagini anticipating bullpen role, working on new pitch
The Blue Jays will be searching for pitching options this off-season as they look to fill out both a 2019 rotation and bullpen that are currently looking rather thin. Right-hander Joe Biagini has filled both roles for the team off-and-on over the last two seasons, but says his focus now is on pitching consistently as a reliever.
"I'm looking forward to having one role for the whole season to see if that helps. Just kind of stay in your lane and really master that part," he said. "If I get the chance to start again over the rest of my career, I'm going to definitely have some things that I've learned to apply. But I don't think that [starting] is something I'm campaigning to do or anything because I feel like I have shown a lot of success in one area in the past and at times this year. And I feel like I can really maximize that."
Biagini's numbers have suffered greatly over the last two seasons as he's bounced between starting and relieving. He has a 5.51 ERA over 189.1 innings pitched since the beginning of 2017. In 2016, when he joined the Blue Jays as a Rule 5 pick, he pitched to a 3.06 ERA over 67.2 innings exclusively in relief.
That appears to be the role best suited to Biagini, who has served both as a multiple-inning long-man and a one-inning arm used in high-leverage situations.
"Really, the last couple years I've learned more about what not to worry about than what to worry about," he said. "And that's something that I'm working on at the end of this season and trying to keep simple. And I actually feel like I'm doing a better job of that. Even though sometimes you want to see the results right away."
Biagini says he's working on a new pitch he wants to deploy next season as part of a stream-lined repertoire he intends to feature as a reliever. The 28-year-old declined to reveal just what type of pitch it is, but did hint at its action.
"It may help me have a little bit more depth in the zone, miss more bats," he said. "I feel like that can add to my game. And also actually simplify it a little bit and take a little bit away as my role maybe settles into one thing versus the other. I'm excited about that."
It sounds a lot like a change-up or slider, but we'll have to wait and see just what Biagini has up his sleeve. This season, he primarily threw what Brooks Baseball classified as a sinker, along with a four-seam fastball, cutter, curveball, and change-up.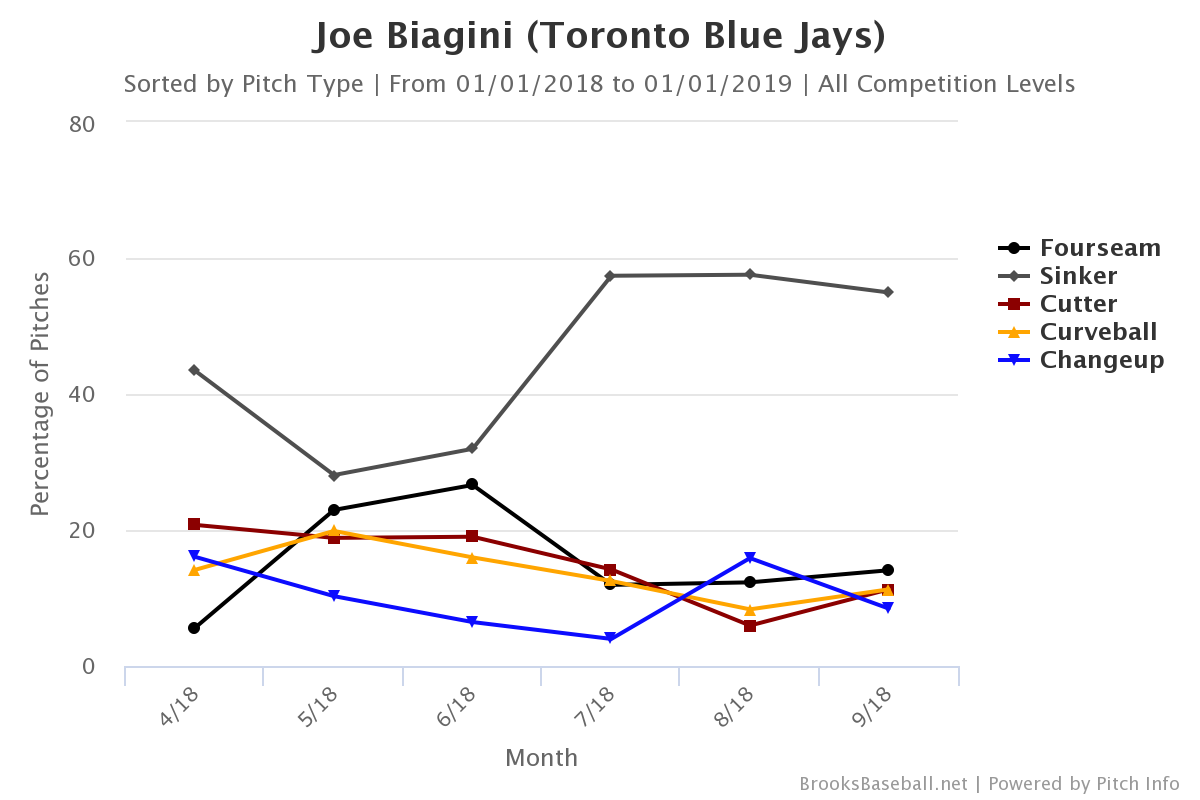 That's a lot of pitches for Biagini to stay on top of, and relievers don't typically need that many considering they're often only facing a hitter once in a game. When Biagini pitched exclusively as a reliever in 2016, he relied almost entirely on his fastball, cutter, and curveball.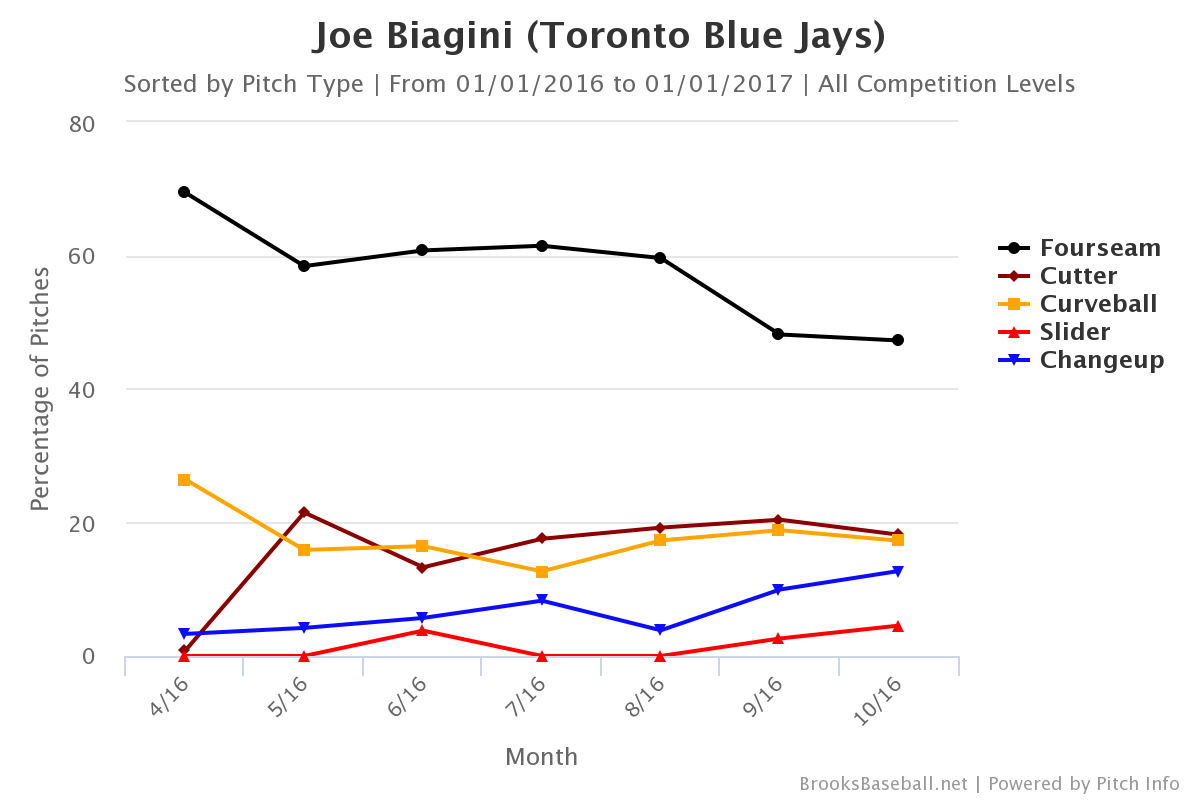 "I think that the new pitch and then taking something away a little bit might help me kind of maybe put the action behind the words," he said. "You know, sometimes you say it but you don't actually change anything that's important to be changed. I think this might be something that will help me, along with staying with one role all year."