BUFFALO – Aaron Sanchez says he's "itching" to get back in a Blue Jays uniform and will be ready whenever his team needs him – but his first relief appearance of 2015 suggests his return to the majors may still be a work in progress.
Two days after learning Toronto plans to convert him back to a reliever, the 23-year-old right hander had a rough rehab stint out the bullpen for the Buffalo Bisons, lasting just two-thirds of an inning, walking two, striking out one and watching two runs score on passed balls.
---
RELATED: Sanchez to make another triple-A appearance
---
With about a dozen scouts looking in from the stands, Sanchez flashed a fastball that hit as high as 96 mph on the radar gun. He started by retiring former Blue Jays outfielder Darin Mastroianni on two pitches, then walked the next two batters, including Jayson Werth, now rehabbing for the Washington Nationals.
Then the wheels came off entirely. Two passed balls by the catcher (one hit the umpire, the other came on a strikeout of Chris Nelson), a double steal and a single gave the Syracuse Chiefs two unearned runs, enough to give Sanchez the hook in front of about 7,000 fans at Coca-Cola Field.
Only 11 of the 24 pitches he threw were strikes.
"He started with good command, then he kind of left it a little bit," said Bisons manager Gary Allenson. "He probably needed to attack a little more. I don't know if he was nibbling too much, trying to make a perfect pitch."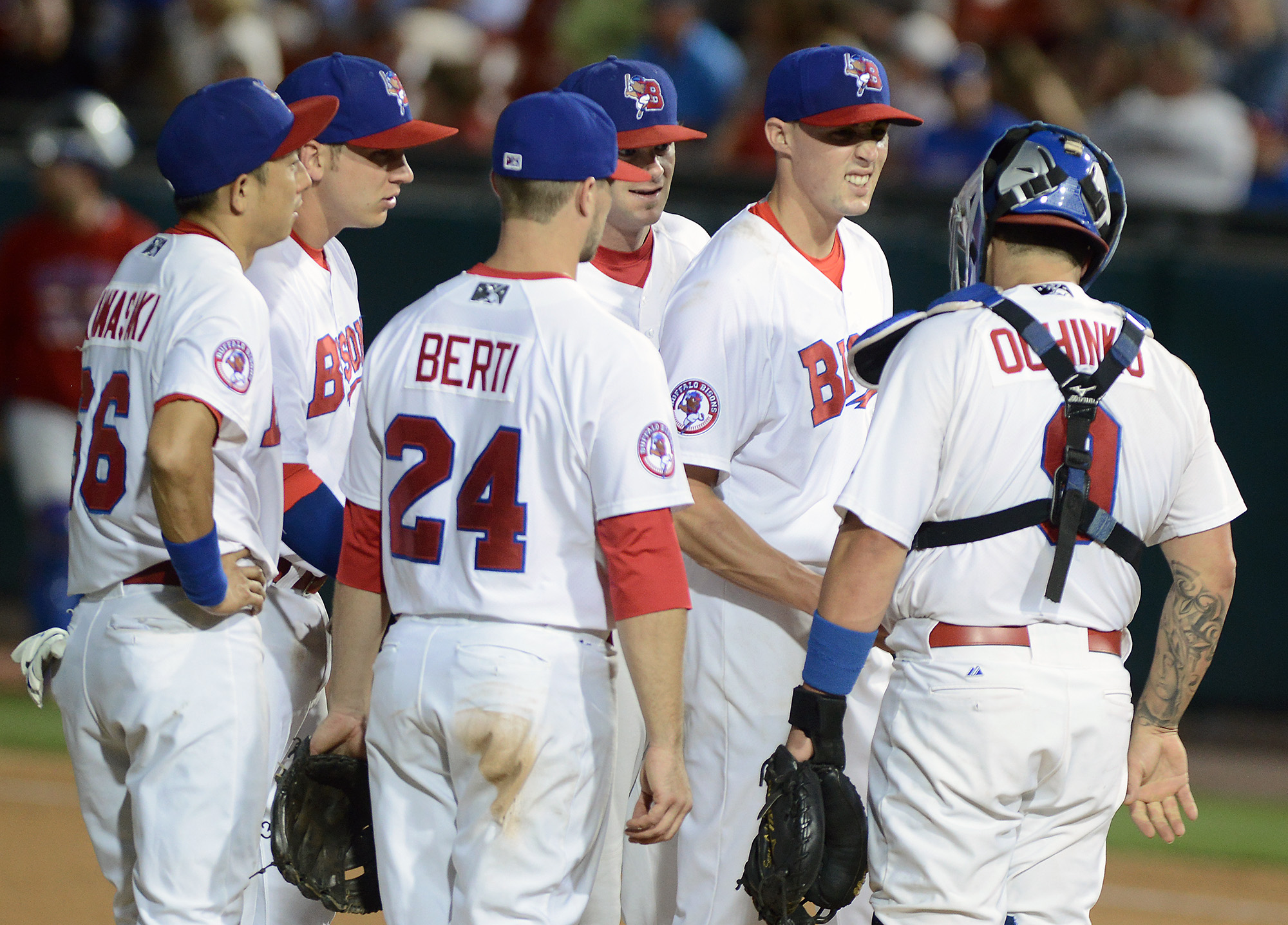 Sanchez admitted afterward he was surprised by the team's decision to revert him back to the bullpen, after being used as a starter all season.
"I found out Sunday, when everyone else found out," he said. "When they approached me with it, it was one of those things where obviously we've been struggling a little bit back there … and they feel they need help."
Tuesday was the first time Buffalo catcher Sean Ochinko had caught the electric righty, and Sanchez suggested his lively fastball was difficult to corral. He said he feels fine physically after a long rehab, but was a little amped up coming out of the bullpen.
"Everything feels good. Obviously, I had tremendous life on my fastball," he said. "Coming out of the 'pen, I'm facing fewer hitters, and I have a tendency to ramp it up a bit more."
When Sanchez was put on the disabled list for a strained lat muscle back in June, he went on his rehab assignment expecting to eventually rejoin the starting rotation.
But when Jays manager John Gibbons announced the young hurler would return to Toronto as a reliever, some felt it was the inevitable move to help bolster a struggling bullpen that has blown 15 saves this season. Sanchez thrived in a late-inning relief role for the Blue Jays last season, becoming the team's unofficial closer in the second half with a 1.09 ERA over 33 innings of relief.
"I was in that role for such a long time last year … so hopefully I can go back up and pitch well and help win games," he said.
While he had success in the bullpen, it's tough to switch gears quickly from starting to relieving because the mental approach isn't the same, he said.
"It's different. You're facing three or four guys and getting as many early outs as you can. Tonight, I didn't do that," he said. "But I'm going to continue to do what I've done my whole life, which is go out and attack guys, regardless it's the first inning or the eighth inning. I didn't have it tonight."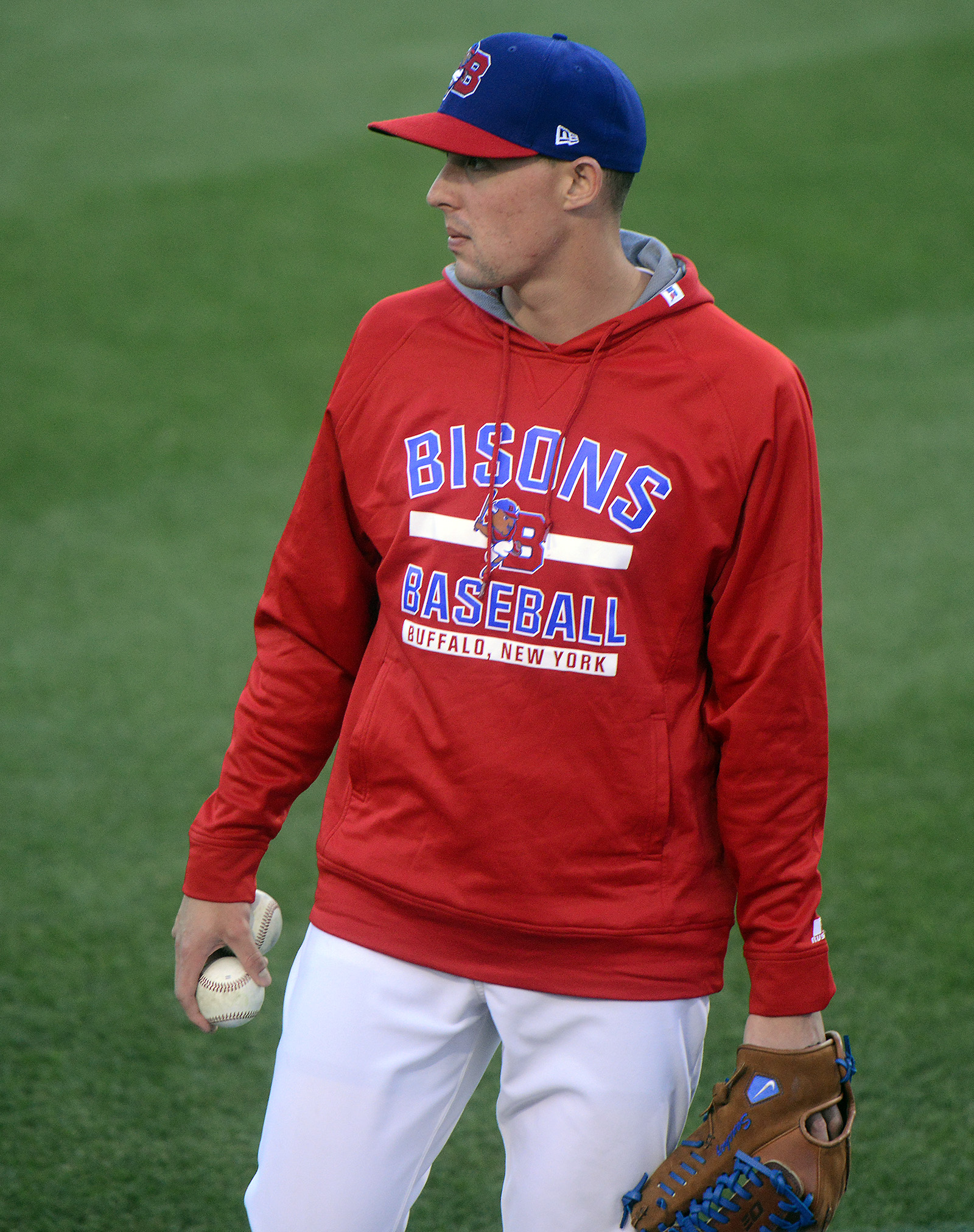 As for pressure to perform well to speed along his return to the Blue Jays, Sanchez insists he felt none.
"Absolutely not. What we're getting out of this is making sure that I feel good, regardless of how I do," he said. "You want to see results, but at the end of the day it's how I'm feeling. I'm on rehab, I'm not here to make every pitch a strike."
The Blue Jays will ultimately make the decision on when he returns to the majors, Sanchez said. But he has no doubts about his own progress.
"I feel like I've been ready for a while now. It's just about when they want me back," he said. "I'm itching to get back. But obviously, being hurt, you don't want to rush an injury and be right back on the DL. So whenever they feel the time is right I'll be ready."
And whenever that time is, Sanchez said he'll come back and play whatever role he's asked.
"They feel like we're a better team like that and obviously the ultimate goal is to get into October and to get deep into October. If they feel that's a move that's going to help us get there, then I'm all for it," he said.
Photos by Tony Saxon.