TORONTO — It's been a while since Toronto Blue Jays fans have seen Aaron Sanchez fired up on the mound. For the right reasons, at least. He's been frustrated on the mound. He's been angry. He's been aching and disheartened. He's pitched hurt, without his best stuff, without a feel for where his pitches are going, or how they'll come out of his hand.
But thanks to consecutive miserable seasons due to various finger issues, he hasn't looked at all like the guy Blue Jays fans got to know starting way back in 2014. The young kid with the live arm who'd yell and pump his fist after every electric strikeout. Saturday, in his first outing of the 2019 season at Rogers Centre, Sanchez showed flashes of being that guy again. Now, he has to carry it forward.
That will be the task for Sanchez, after he started his season on an excellent note against the Detroit Tigers, throwing five scoreless innings of three-hit ball, striking out six and walking three, in a 3-0 Blue Jays victory.
"I kind of recognized it during spring training — that we were getting that fierce Sanchey," said Danny Jansen, who caught Sanchez Saturday. "I never caught him back in the day. But it's really exciting to be a part of it now. Really, everybody should be excited. Because he's a bulldog right now. It's a lot of fun. Honestly, it puts a jolt through me. It fires everybody up. I love it."
Sanchez was certainly fired up early, letting out a roar after getting Niko Goodrum to swing through a full-count fastball with two on and two out in the first. That initial inning wasn't Sanchez's smoothest, as he fell behind Nick Castellanos before surrendering a single, and left a curveball up to Miguel Cabrera, who might have put it in the seats if the year was 2013.
Fortunately for Sanchez, it's 2019 and Cabrera isn't quite in mid-season form, so he settled for a well-struck single that came off his bat at 106-m.p.h. Of course, Sanchez eventually finding his way out of that mini-jam was a positive, as was the sight of the right-hander ramping his fastball up to 97-m.p.h. in the inning.
When Sanchez was at his best in 2016, leading the American League in ERA and spinning a 192-inning season, his fastball averaged 95.4-m.p.h. and touched 97 regularly. But as blister and finger issues plagued his next two seasons, Sanchez's velocity diminished. And his effectiveness followed.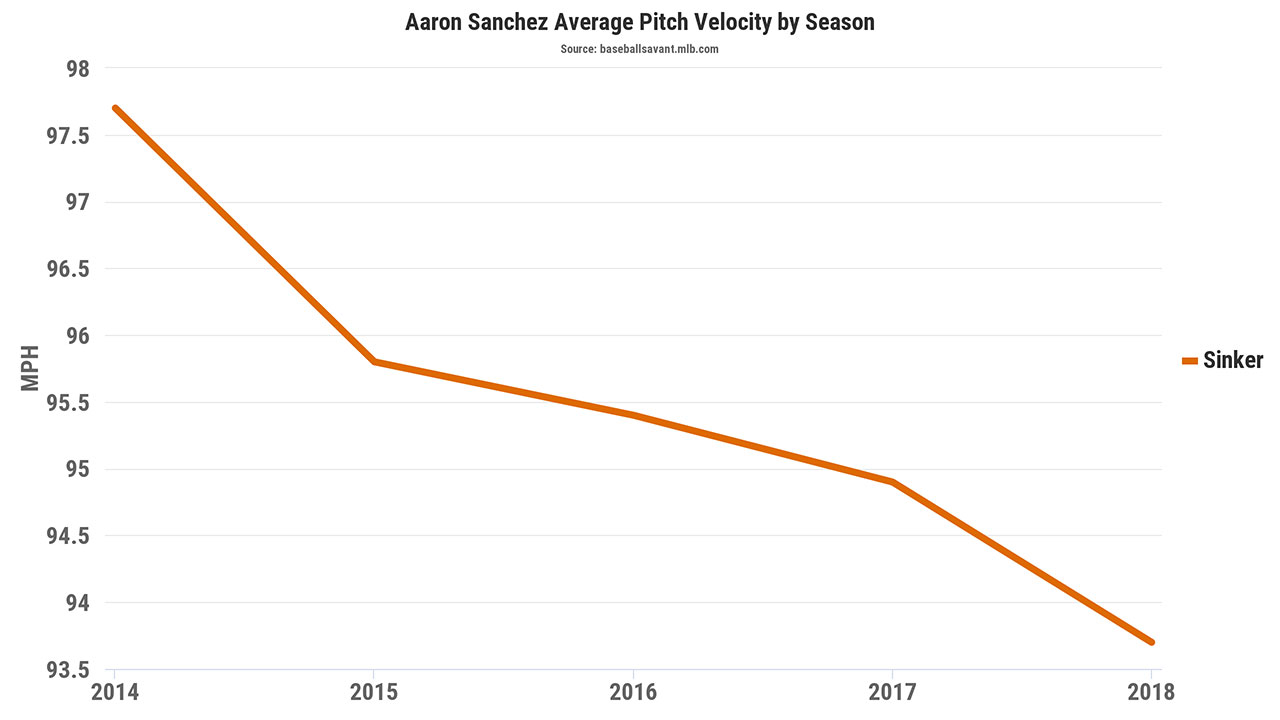 So, seeing some big velocity numbers up on the scoreboard was encouraging. But the high pitch total running alongside wasn't. Sanchez needed 18 pitches to get out of that first frame, a dozen to work around a leadoff walk in the second, and 20 to strand a pair of runners — including another leadoff walk — in the third.
"Early in the game, I just threw too many pitches," Sanchez said. "I felt like the zone was a little tight. I felt like he was up at some times, giving low at some times — it was kind of all over the place. Which made me throw pitches, which didn't allow me to get deep into the game."
And yet, Sanchez was keeping runs off the board, as is his job. It took 15 pitches, but his fourth inning was brilliant, as Sanchez got Goodrum to chase a curveball and Christin Stewart to swing through a 95-m.p.h. fastball for a pair of strikeouts before Grayson Greiner made an out on a weak grounder.
The fifth began with a nine-pitch battle (Sanchez won it, getting Dustin Peterson to ground out softly) and featured a two-out, full-count walk. But Sanchez rallied to strike out Castellanos — easily Detroit's most dangerous hitter at the moment — with a wicked curveball. That was Sanchez's 23rd pitch of the inning, and 88th of the afternoon, and as he walked confidently off the mound it looked like his outting had to be done.
But in a bit of a surprise, Sanchez emerged from the dugout for the sixth, looking to extend his outing after both Marcus Stroman and Matt Shoemaker set a high standard, pitching seven-inning scoreless gems to start Toronto's season. But after Sanchez caught Cabrera on the hand with his second pitch of the inning — a 93-m.p.h. fastball — Blue Jays manager Charlie Montoyo came jogging out of the dugout to end his starter's day.
"I just wanted to get him one more hitter — get their best hitter," Montoyo said. "He just happened to hit Cabrera. But that was our best matchup at the time. And he knew. When he came to the dugout, I said, 'Can you get me one more out?' And he said, 'Yes.' So, we sent him back."
All in all, Sanchez's 2019 debut was a reassuring one. He averaged 95-m.p.h. with his fastball, earned 12 swinging strikes, and threw his curveball 16 times, an encouraging sign considering Sanchez had trouble gripping the pitch in 2018.
In Sanchez's first outing last season — a year to the day from Saturday's start — he threw his curveball just seven times due to the discomfort he was pitching through. That led to a three-start span in late April and early May when he threw only eight curveballs total, taking the mound with only his diminished fastball and a change-up.
That change-up is an effective pitch when it's on — he used it 16 times Saturday, nine for strikes, and the Tigers never managed to put it in play — but it's still Sanchez's third-best pitch. He needs his curveball in order to be at his best.
"That's always been a huge pitch for me. I just didn't throw it enough," Sanchez said. "So, I did some things in spring training that allowed me to be more consistent with it, and I think it's going to pay off more and more as time goes on."
Part of that work has involved eliminating some of the hump from the Sanchez's curveball, and focusing on throwing it in the same lane as his fastball. That way, the pitch looks a lot like Sanchez's heater out of his hand, but dives down sharply out of the zone at a rate of speed about 15-m.p.h. slower.
That should generate some awkward swings, as it did during spring training and Saturday afternoon. Jansen says the pair will also look to use the pitch to start the odd at-bat and hopefully steal a strike, whether backdooring a left-handed hitter or working away from a right-hander.
"I know he's been working on that all off-season and in the spring — and now he's utilizing it. It's a really nice pitch. It's looking like the heater, and then it just has a lot of bite," Jansen said. "And he's pitching up in the zone really well right now, too. So we can do the textbook thing — work up and then use that curveball off that same plane. Or start guys with it. He can throw it for a strike and he can also bury it. It's a pitch where you can just keep guys off balance and utilize it in different ways."
Sure, Sanchez could've been more efficient, ultimately needing 90 pitches (55 strikes) to get 15 outs. But if he can carry forward the stuff he showed Saturday into his ensuing outings, with a firm fastball, a nasty breaking ball, and, most importantly, good health, he'll have the platform he needs to put two tormenting seasons behind him.
"I just liked how the ball was coming out of my hand. I was just trying to match what the other two guys did the two days before me," Sanchez said. "Obviously, as a starter, you're trying to get deeper than five innings. So, if I'm upset about anything, it's that — not getting deep into the game. Having to use four guys after me. I take pride in the day I pitch, and, for me, I want to give those guys a day off."
Meanwhile, Toronto's hitters had trouble early with Spencer Turnbull, who used a mix of four-seamers, sinkers, cutters, and a curveball to retire the first nine Blue Jays he faced.
But when the lineup turned over, Toronto's hitters had a better idea of what they were looking for. Cue the loud contact, as Brandon Drury smoked a 2-2 fastball to the wall in right-centre for a 108-m.p.h. double, before scoring on a Billy McKinney single to right. McKinney was thrown out trying to stretch it to a double, but Teoscar Hernandez promptly drew a walk to reinstate the runner at first, where he drew a couple pick-off attempts in between pitches to Justin Smoak.
Maybe because he was distracted by Hernandez, or maybe because he didn't quite finish the pitch, Turnbull left a 2-2 curveball just a little too high for Smoak, who drove it 362-feet over the opposite-field wall for his first homer of the season, giving the Blue Jays the only three runs they'd need.
It doesn't take many when your starting pitching is as good as Toronto's has been through the first three games of the season. The Blue Jays are now riding a franchise-record of 19 shutout innings from starting pitching to begin the year, and are one of only four teams to do it since 1995.
"It's just about staying together as a unit and just pushing each other to pass the baton, really. And I think that's what you're seeing," Sanchez said. "We know what we've got in this clubhouse. A lot of people around the league don't really see the same views as we do in the clubhouse. So, it'll be a grind all year in terms of that. But I think we're up for the task. And, three games in, it's shown. So, that's a good start, for sure."
[relatedlinks]