It's been 25 years since the Toronto Blue Jays reached the World Series for the first time in franchise history. We all know the result—the Blue Jays beat the Braves in six games—but the specifics of the series can fade over the years.
In 1992, I was a kid listening to Tom Cheek and Jerry Howarth call the games on the radio. Over the next week I'll be looking back at each game of the series on the 25-year-anniversary of the night it was played.
Final score: Blue Jays 2, Braves 1
Blue Jays lead series 3-1
For the fourth consecutive time, the Blue Jays and Braves played a closely-contested game decided by one run. For the third consecutive time, the Blue Jays won. For the first time ever, the Blue Jays were just one win away from a championship.
They got there thanks to Jimmy Key, the veteran left-hander who limited a righty-heavy Braves lineup to one run over 7.2 innings in what would be his final start for the team that drafted him in 1982. Tom Glavine pitched another complete game opposite Key, but this time the Blue Jays did just enough damage to defeat the Braves.
Pat Borders got the scoring started with a solo homer in the third inning and Devon White later drove home Kelly Gruber for an insurance run. The Braves got one back in the eighth, at which point the Blue Jays turned to Duane Ward and Tom Henke for the final four outs.
A mere two hours and 21 minutes after first pitch, the Blue Jays had a 3-1 series lead. The next day, they'd send 21-game winner Jack Morris to the mound with the chance to win it all on home turf.
How it looked on Toronto TV in 1992
City Toronto's post-game highlight pack from Oct. 21, 1992:

City Toronto report: How Toronto braced itself for 1992 World Series celebration:

Conventional-then-but-controversial-now managerial move:
In the top of the eighth inning, the Braves trailed 2-0, but they were rallying against Key when catcher Damon Berryhill stepped in with runners on the corners and nobody out. He had struggled at the plate since homering in Game 1, so he played some small ball and bunted, even though he hadn't completed a sacrifice all year.
Unless the slow-footed Berryhill thought he could get a hit, it's hard to see the upside here. He had managed 10 homers during the regular season. Why not swing away?
In the end Berryhill popped out instead of getting the bunt down, so the Blue Jays were able to limit the Braves to one run thanks in part to a move that we probably wouldn't see in today's game.
Game 4 Boxscore (via Baseball Almanac)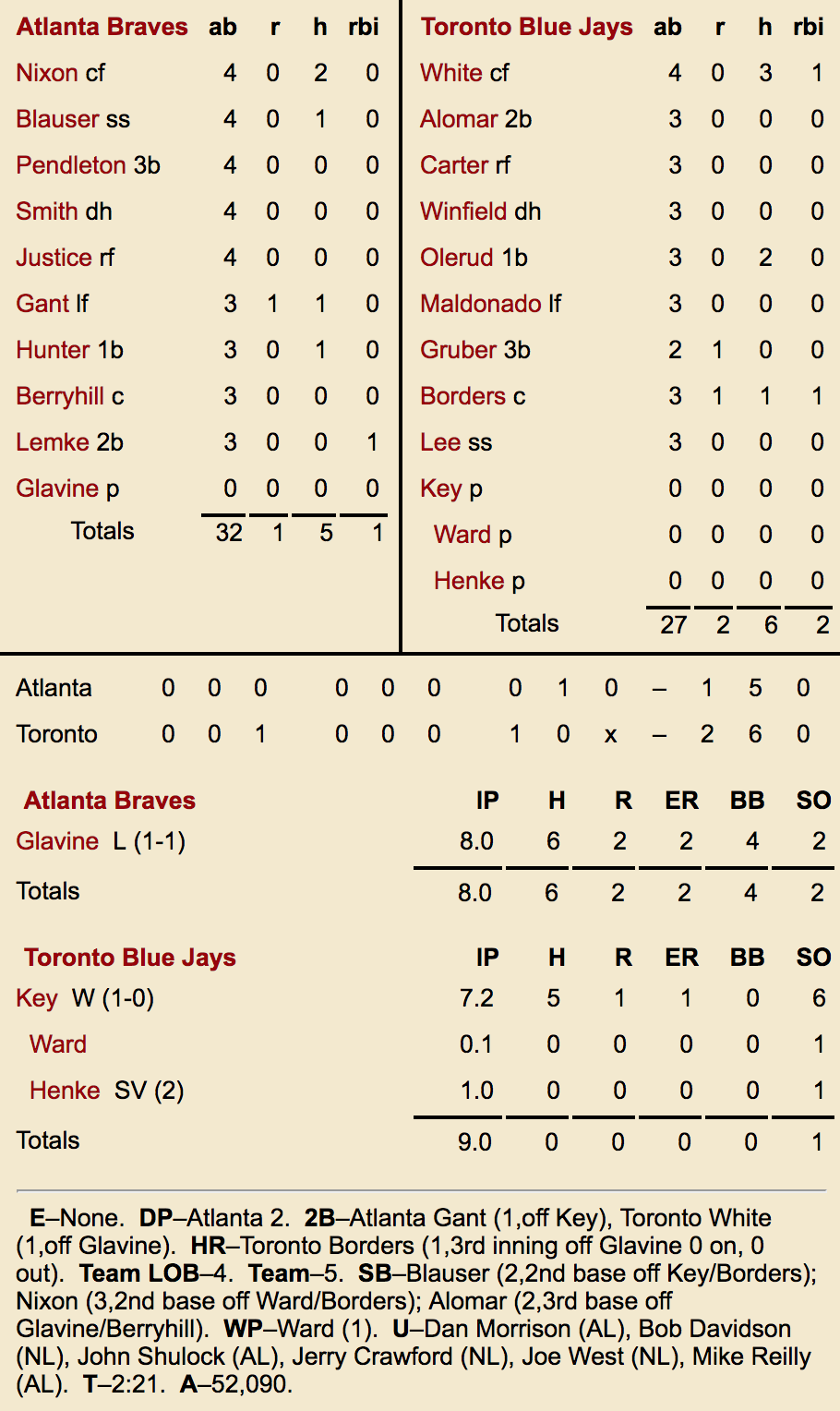 Game 1: Oct. 17
Game 2: Oct. 18
Game 3: Oct. 20
Game 4: Oct. 21
Game 5: Oct. 22
Game 6: Oct. 24