TORONTO — The last time Trent Thornton was tipping his pitches, during a rough April stretch when he gave up 13 runs over three outings, the problem was quickly identified and corrected with a mechanical adjustment. But a pitcher's delivery is a sophisticated thing, full of subtle cues and movements that all need to be working in unison for the athlete to be his best. And Thornton's delivery — deliberate gather, huge leg kick, hands moving up, then down, then back up again — is far from uncomplicated. It doesn't take much to throw it all off.
So here Thornton is, tipping his pitches again. It's his hands. And the way the Toronto Blue Jays starter comes set when he's pitching out of the stretch. The problem was so pronounced Tuesday that Thornton's shortstop, Freddy Galvis, pointed it out during his start. But the damage was already done.
The Boston Red Sox are a hell of an offensive ballclub, and after Thornton held them to two runs over 6.1 innings nearly two weeks ago, they came into Tuesday's rematch fully aware of the tells in his delivery. And they were all over the rookie starter from the jump, handing Thornton his worst outing as a big-leaguer in a 10-6 Blue Jays loss.
"Consistency's the biggest part. And for me, it's been up and down, up and down," said Thornton, who now has a 5.18 ERA on the season. "It just comes down to execution. That's been the one thing for me where I'll be great some days and some days I'm not. I need to find a little happy medium there and just continue to build off that."
The Red Sox had two runs on the board three pitches into the game, as Mookie Betts led off with a single before Rafael Devers crushed a Thornton fastball 419 feet to right-centre for a two-run shot. The loud contact didn't stop there, as the Red Sox went on to score four on five hits in the inning while Wednesday's starter, Sean Reid-Foley, warmed up over Thornton's right shoulder.
Thornton gave up another run and three more hits in the second, which got Reid-Foley back up on the bullpen mound. And when the Blue Jays starter began his third inning by surrendering hits No. 9 and 10 — the second a 108-mph double by Jackie Bradley Jr. — Reid-Foley was already preparing to warm up for a third and final time before the bullpen phone even rang.
Thornton ultimately left with two out in the third, after Devers came up with his third hit in three trips. He gave up 11 hits in all, 10 of them coming off bats at 96 mph or higher and seven at 103 mph or higher. That's an awful lot of hard contact.
"Just leaving balls over the plate, up in the zone. Just wasn't executing any pitches today," Thornton said. "My game plan against them last time worked out. And tonight it just came down to executing pitches. When you leave balls over the plate, they're going to get hit at the big-league level. Anywhere, really. But if I make my pitches when I need to and where I need to, I think it's a completely different story."
Perhaps. But the bigger issue for Thornton at the moment appears to be that hitters know what's coming, as evidenced by the sheer frequency with which the Red Sox were squaring him up Tuesday. Thornton definitely left a lot of pitches up and over the heart of the plate: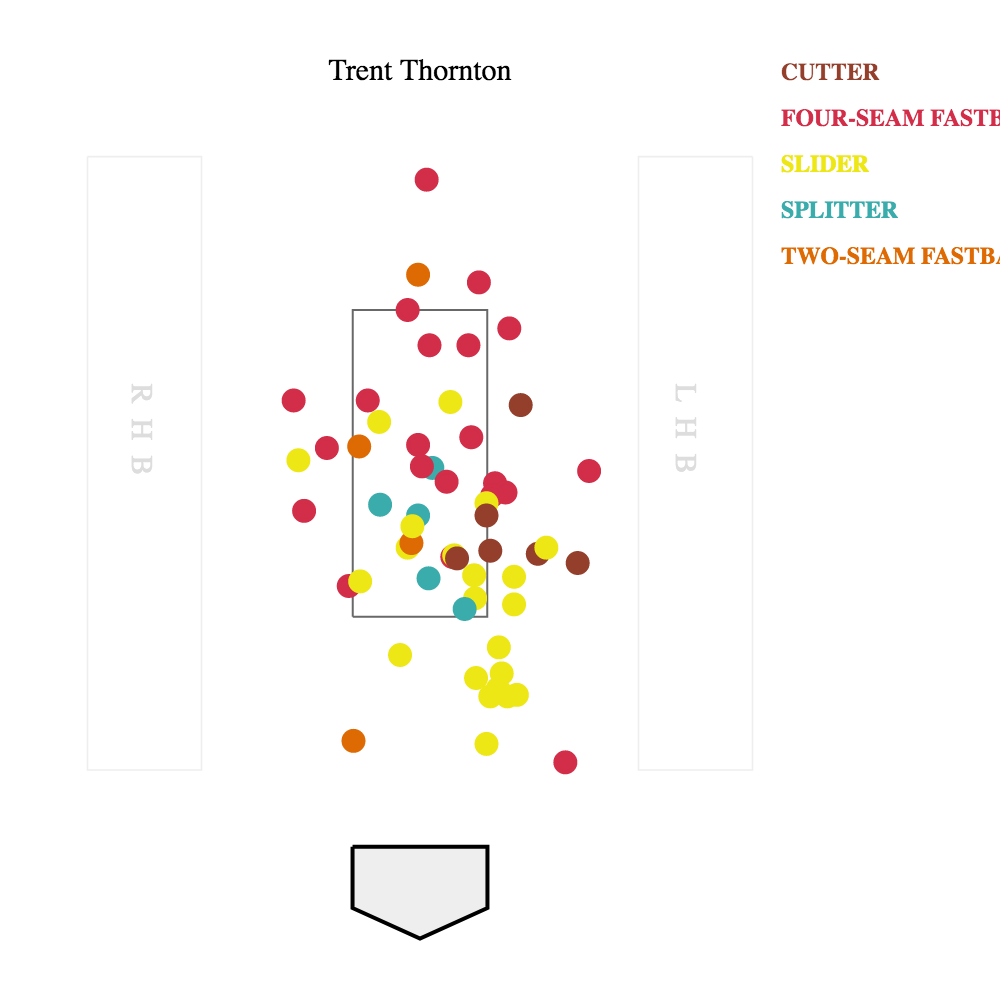 Yet, five of the six hardest-hit balls Thornton allowed came on pitches either down-and-away from right-handed hitters like Betts, who had a pair of rockets, or down-and-in to left-handers, like Devers who crushed one at 114 mph: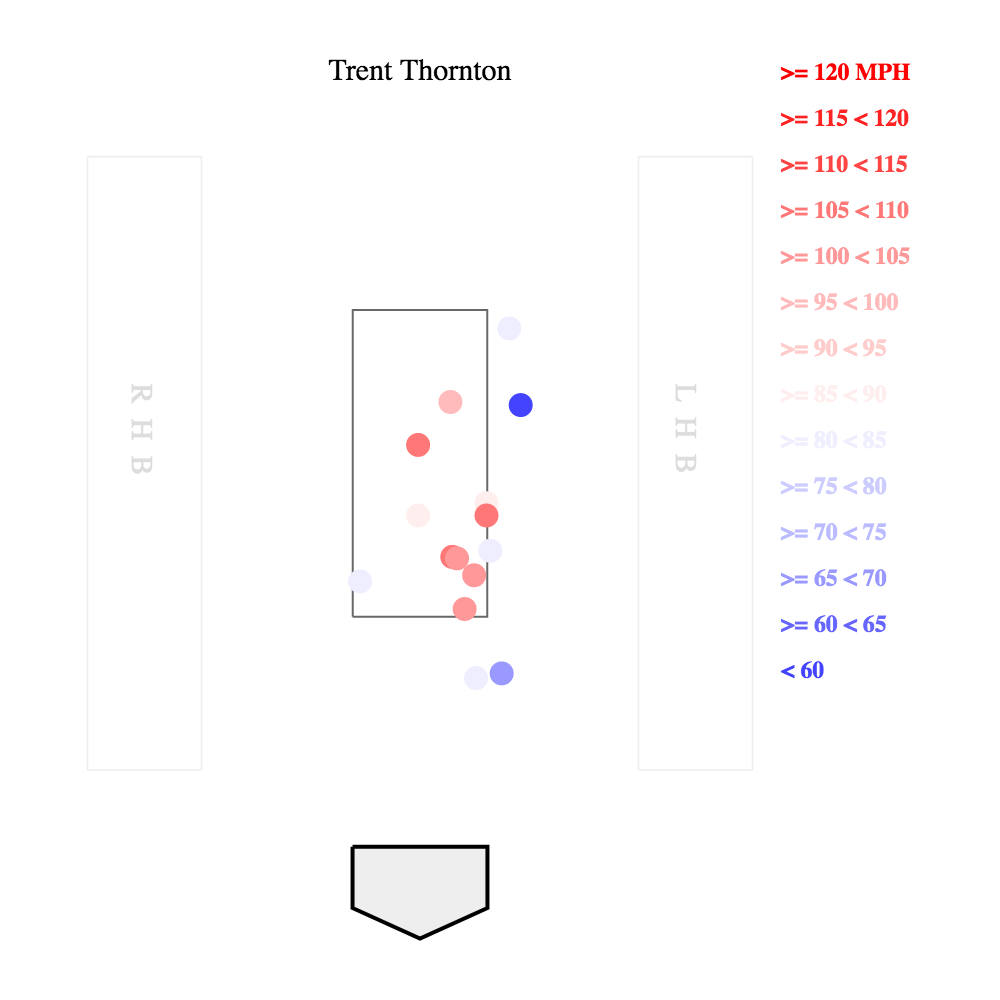 Only three of Boston's 11 hits against Thornton came on balls that were on the middle of the plate. He could certainly stand to locate better and find a way to return his stuff its level of effectiveness from earlier in the season. But cleaning up the tells in his mechanics should go a long way, too. Ultimately, with a delivery as busy as Thornton's, it's all connected.
"It's just something where the muscle memory might come back. He'll clean it up," said Danny Jansen, who caught Thornton. "He threw a couple nice cutters — cutters away and stuff — and guys were putting the bat on the ball and finding some gaps. So, [tipping pitches] might have been it, you know? Trent, he went out there and battled. But when you've got something like that, a team like Boston probably picks it up — that's a tough spot."
Jansen went 3-for-4 on the day with a double and a homer, continuing a mini hot streak that began when he made an adjustment in his batting stance during Toronto's recent series in New York. Jansen's now hitting in a lower position than he was earlier in the season, relying more on his legs and simplifying his swing. He's 10-for-25 over his last seven games with two doubles and three homers, going 26 consecutive plate appearances without a strikeout.
Meanwhile, Reid-Foley was stellar in relief of Thornton, retiring all 10 batters he faced on 44 pitches with four strikeouts, three groundballs and three fly balls. Of course, his reward for such a strong shift will likely be a demotion to the triple-A Buffalo Bisons in order to make room for a fresh arm to start in his place Wednesday. Such is life for an optionable pitcher at the end of a major-league roster.
"Sean was awesome," Jansen said. "Attacked, worked quick, got ahead and used all his pitches."
Reid-Foley's start will now go to Jacob Waguespack, who was due to pitch Wednesday for the Bisons. Waguespack came off the injured list a couple weeks ago after missing time with a shoulder issue and has been perfectly steady over three outings since, allowing three runs on eight hits and four walks while striking out eight over 9.2 innings.
Wednesday would be Waguespack's second career MLB outing and first start after he threw four innings of relief against the Tampa Bay Rays in late May. Considering he got up to 73 pitches his last time out, Waguespack could likely be stretched out to 90 against Boston on Wednesday, with Sam Gaviglio available out of the bullpen to provide some length behind him if needed.