ANAHEIM, Calif. — A day off, a flight across the continent and a new locale did little to ease the intense attention around Vladimir Guerrero Jr. Since his call up by the Toronto Blue Jays and major-league debut last week, baseball's top prospect has been feted like a conquering hero and documented like a tabloid sensation, surrounded by paparazzi-like media frenzy. The scene is unprecedented for a Toronto athlete, especially one just at the beginning of his career.
So Tuesday in the visitors dugout at Angel Stadium, a homecoming of sorts for the 20-year-old who roamed the park as a child while his dad starred for the Angels from 2005 through 2009, the latest mob of reporters to envelope him was just another chill ho-hum moment for the cool-as-ice kid.
"I feel very good about this," he replied, through translator Hector Lebron, when asked how it felt to be in the fishbowl. "But all I want to do is work very hard and help my team to win."
Guerrero certainly did that during a weekend sweep of the Oakland Athletics, who were very careful in how they pitched the phenom. He saw 51 pitches over his first three games, 23 of them called balls. He swung 21 times, with six of the pitches clearly out of the strike zone. He took seven called strikes and collected three hits and a walk.
He didn't get a ton to work with.
Guerrero Jr. through his first three games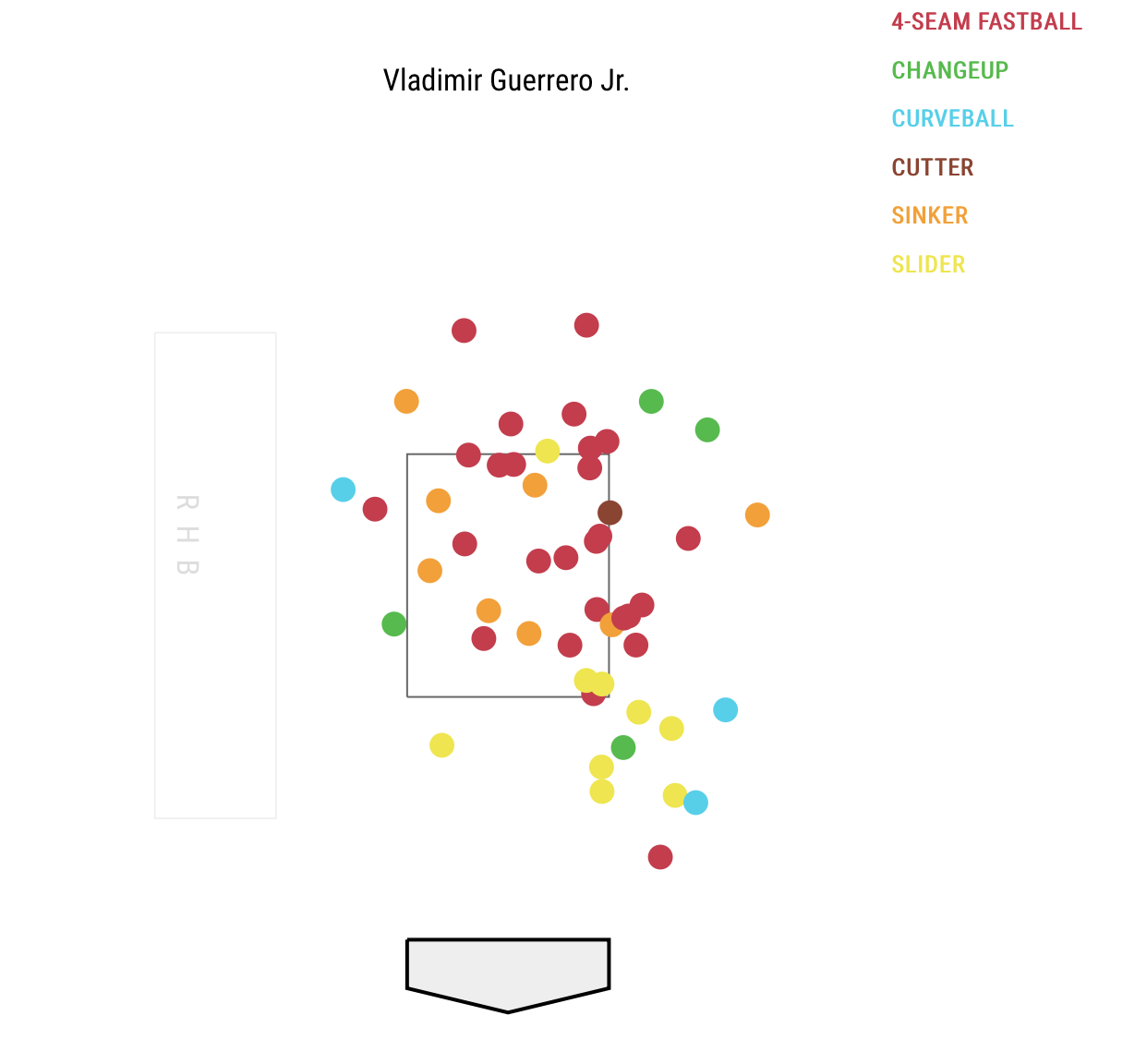 It was more of the same for Guerrero in Tuesday's 4-3 loss to the Angels, who again tested the young slugger's trademark batting eye and patience. In his first three at-bats, he saw just one pitch in the strike zone, chasing his way into a strikeout in the second and a groundout to short in the fourth before grinding out a disciplined walk in the sixth.
Then in the ninth, after Brian Goodwin's solo shot off Ryan Tepera put the Angels ahead 4-3 in the bottom of the eighth, he took a pair of on-the-black strikes from Hansel Robles before working another walk.
Guerrero Jr.'s fourth at-bat vs. Angels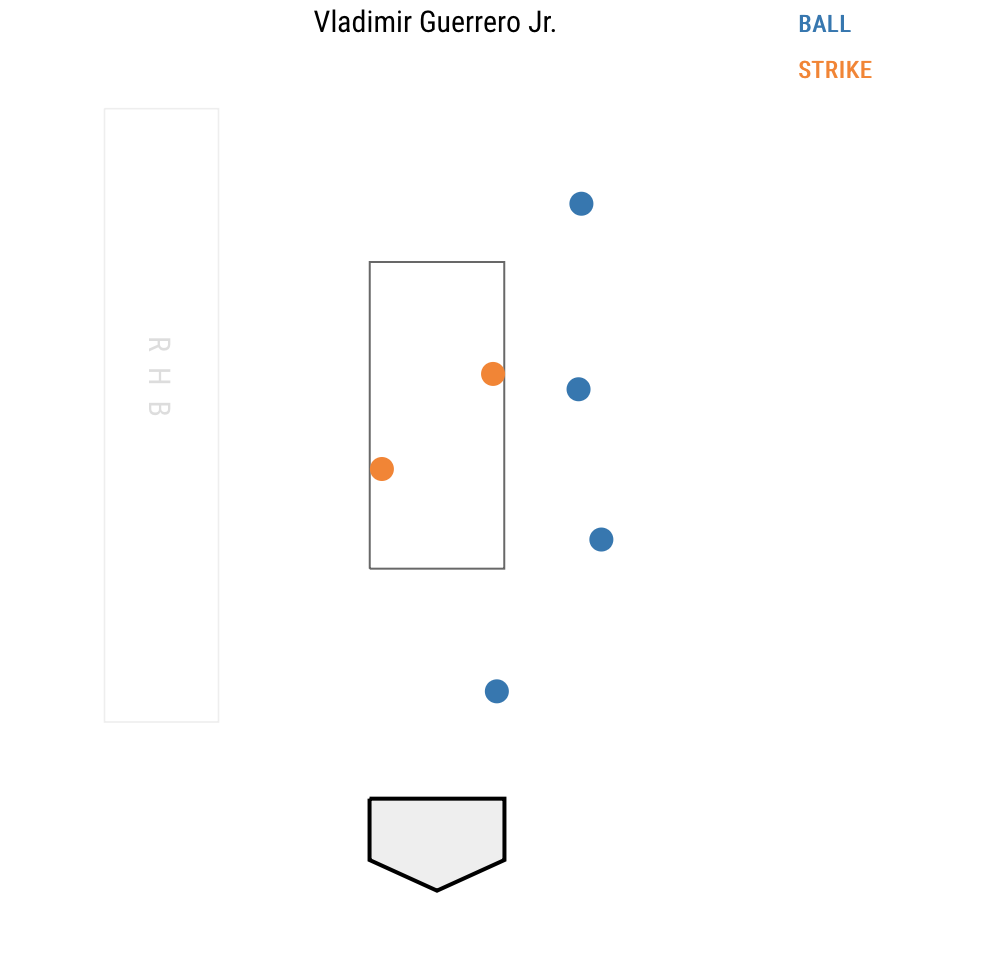 Alen Hanson came on as a pinch-runner, Rowdy Tellez promptly hit into a double play and Drury struck out looking to end the game.
The wait for Guerrero's next major moment continues.
"At the end of the day it's going to be up to Vladdy to be patient and get his pitches," Charlie Montoyo said before the game. "That's how it goes. The same thing happens to Mike Trout and he finds a way to hit the ball. He'll get there. That's the good thing about Vladdy. For being 20 years old, he doesn't mind taking a walk, and that's pretty good."
To be fair, he wasn't the only Blue Jays hitter to chase against Griffin Canning, the Angels' top pitching prospect making his big-league debut. He struck out five in a row in the second and third innings, expanding the zone with high fastballs and sliders off the outer edge.
He finally wilted in the fourth when Freddy Galvis scored on a wild pitch, and in the fifth when Brandon Drury went deep for the fifth time this year, an opposite field shot over the wall in right, and Billy McKinney delivered an RBI groundout to tie the game 3-3.
"The kid had a good (slider)," said Montoyo. "It was 88 miles an hour, it was moving pretty good. … Not as good in his fourth inning, but the first couple of innings it had some good action."
Evidence of that certainly came in the second, when Guerrero came up for the first time, to a large ovation from a crowd that fondly remembers his Hall of Fame father. He saw six pitches in the at-bat, all out of the strike zone, four them sliders, three of which he offered at. A high fastball got him in the end.
Guerrero Jr.'s first at-bat vs. Angels
In the fourth, Canning missed badly on his first two sliders to Guerrero, falling behind 2-0. Then, he tripled up on the pitch, throwing just off the outer edge, inducing a weak grounder to short.
Guerrero Jr.'s second at-bat vs. Angels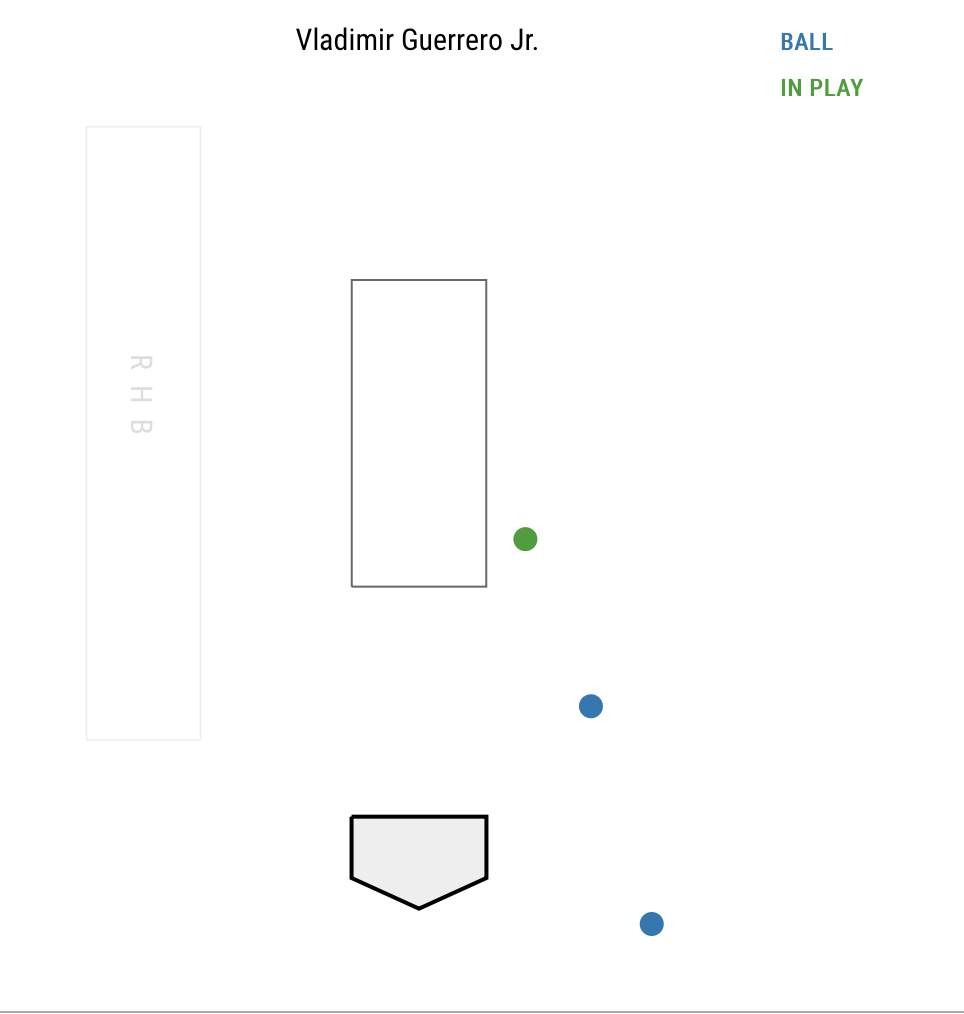 In the sixth, Guerrero tightened up his approach, taking a borderline slider for strike one, falling behind 0-2 on a fastball outside the zone called for a strike, and then rallying back with four strong takes to reach base.
Guerrero Jr.'s third at-bat vs. Angels
"I can control what I can control," he said before the game when asked about not getting much to hit. "They're going to throw the pitches trying to get me out but sooner or later something is going to happen."
And adjustments?
"Basically, I don't make adjustments," Guerrero replied. "I just see the ball and if it's a good pitch, I'll swing."
Guerrero found other ways to contribute, too, with a couple of nice defensive plays at third base. He dove to his left to snare an Albert Pujols smash and threw across the diamond for the out in the second, and then picked the ball up after it deflected off Clay Buchholz's foot to get Justin Bour at first in the fourth.
In some ways, that's more telling of where he's at than what he does with the bat.
"People have to give some time to him, don't have to rush it," said Galvis. "He's just a baseball player. Sometimes people think too much about him and expect him to hit a homer every single time he gets to the home plate. But that's not going to happen. He's 20 years old, he has to get used to the league and if everybody lets the kid do that and just play baseball, he's going to be pretty good."
DRURY DELIVERS
On the flight from Toronto to Anaheim, Charlie Montoyo spoke to Brandon Drury and told him to get ready to play right field Tuesday. After some pre-game work with first base coach Mark Budzinski, who preached being ready for the basics, he was back out in right for the first time since Aug. 12, 2016 with the Arizona Diamondbacks.
"I felt pretty comfortable. It still felt new but I was able to get the job done out there," said Drury, who played 89 games in left and right in 2016, but none since. "I guess it was a decent first day out there, got one ball and I've got to keep working at it."
Drury's positional flexibility is important to the Blue Jays now that Guerrero is up and Lourdes Gurriel Jr. is in the minors working through his throwing troubles. Already he's appeared at third, second and right field for the Blue Jays and it's possible he'll see more action elsewhere, too.
"I think my bat needs to be in the lineup every day," he said. "Whatever I have to do to be in there, I'm going to do. Ideally, I would like to stick to one position, but for now if I have to play around a little bit and play some second, third and outfield and be in the lineup, that's fine for now."
Drury has five homers, four doubles and three walks in his last 12 games, emerging from an early season funk just as the rumblings about Guerrero's imminent arrival started heating up.
"I'm excited to get my bat going here, I think I can really help this team win ball games if I'm on and add to an already pretty deep lineup," he said. "I'm excited to get a little bit of that feel back, but it's a long season, we've got five months left, there are going to be ups and downs."
SICK SOGARD
Second baseman Eric Sogard left the game in the fifth inning after feeling sick and vomiting in the clubhouse. He took some IV to rehydrate and was feeling better after the game, although his status for Wednesday wasn't immediately clear.
INJURY UPDATES
Veteran righty Matt Shoemaker underwent season-ending surgery to reconstruct his anterior-cruciate ligament and repair the medial meniscus in his left knee. … Top prospect Bo Bichette will have his broken left hand in an immobilization splint for the next two weeks before he's re-evaluated for bone healing. … Lefty Ryan Borucki (left elbow) started playing catch Monday and is scheduled to continue his throwing progression this week.
… Lefty Clayton Richard (right knee) threw his second bullpen Tuesday without issue and is slated to throw another later this week. … Righty David Phelps (Tommy John) threw his third bullpen Monday without issue and has another coming up later this week. … Canadian righty John Axford (right elbow) was cleared by team doctors over the weekend to begin a gradual strengthening progression and will be re-evaluated in two weeks.
… Canadian outfielder Dalton Pompey visited a concussion specialist in Pittsburgh on Tuesday and will continue his activity progression in Florida. … Second baseman Devon Travis (right knee) continues his baseball progression and is set to begin running this week. … Righty Julian Merryweather (Tommy John) is slated to pitch one inning in an extended spring training game Wednesday.