A couple weeks prior to the 2017 trade deadline, the Miami Marlins shipped David Phelps — a one-time swingman who'd settled in at the age of 30 as an effective, right-handed reliever — to the Seattle Mariners for a package of prospects. Phelps, who was in his third season with the Marlins, left his family behind on the east coast, and went off to the Pacific Time Zone to do his job. It was an adjustment.
"I'm in Seattle, getting ready to go out for a game, and my kids have already been in bed for three hours," Phelps said this month in Dunedin, where he's now a member of the Toronto Blue Jays after signing with the club in January. "That's one thing that people outside the game maybe don't understand. Just the impact that this job can have on your wife and kids. You miss a lot during the season, for sure."
That's part of the reason why, after Phelps tore 80 per cent of the ulnar collateral ligament in his throwing arm late last spring and underwent Tommy John surgery, he opted not to rehabilitate at the Mariners complex in Arizona. He'd already made arrangements to have his family with him for the summer in Seattle. So, he asked the Mariners if he could hang around for a year.
"I was really fortunate — we got to spend a lot of family time, do a lot of things that we don't typically get to do," Phelps said. "It's pretty cool seeing the way your kids respond to you being home more, spending more time with them. I swear, I saw my kids grow inches just being around them."
Ben Nicholson-Smith is Sportsnet's baseball editor. Arden Zwelling is a senior writer. Together, they bring you the most in-depth Blue Jays podcast in the league, covering off all the latest news with opinion and analysis, as well as interviews with other insiders and team members.
Phelps and his wife Maria have three young children: a pair of daughters — Adeline is seven and Eloise is five — and a four-year-old son, Jackson. The family lives In Pittsburgh during the off-season, and spends summers in whatever city Phelps happens to be pitching for. During a typical summer, Phelps would be gone about half the time. But 2018 presented a unique opportunity for him to be more present with his family while progressing through his rehab under the guidance of Ryan Bitzel, Seattle's physical therapist.
Phelps made only one road trip with the Mariners, tagging along to participate in the team's fantasy football draft. Otherwise, he settled into a routine while the team was on the road of completing each day's rehabilitation at T-Mobile Park in the morning, before spending his afternoon and evening with his kids.
When the Mariners were at T-Mobile Park, so was Phelps, providing whatever veteran guidance and leadership he could to the team's younger players. Staying close to the game helped Phelps, too, as he processed the reality of missing an entire season prior to entering free agency for the first time in his career.
"I've had some strange seasons — but that one was different," Phelps said. "It was good to be around the guys, help out, do as much as I could, be a presence in the clubhouse and whatnot. I'm thankful to the Mariners for letting me hang around for an entire year and just take up space, essentially."
Phelps will have his family in Toronto, too, whenever he gets there. The 32-year-old has yet to pitch in a game since his procedure but has been throwing bullpens and live batting practice throughout Blue Jays camp. Set to join a Toronto bullpen that currently resembles the war rig at the end of Mad Max, with Ryan Tepera and John Axford sidelined with elbow issues, and Bud Norris's status in limbo, Phelps can't arrive soon enough.
He'll give Blue Jays manager Charlie Montoyo a versatile option that can be effective against hitters of either handedness, whether airing it out in high-leverage spots or pitching multiple innings. Phelps features three hard pitches — four-seam and two-seam fastballs, plus a cutter — that have all played well since he became a full-time reliever in 2016, thanks to his ability to attack the edges of the strike zone with movement.
A significant bump in velocity from his time as a starter has helped, too. His four-seamer and two-seamer have both sat 94-95-m.p.h. out of the bullpen, and Phelps has shown an ability to get them up to 97-98-m.p.h. when he needs to. His cutter, which will sit in the low-90s, has been a useful weapon against left-handed hitters, and his 82-m.p.h. curveball can be a nasty out pitch down-and-in against lefties, or down-and-away against righties.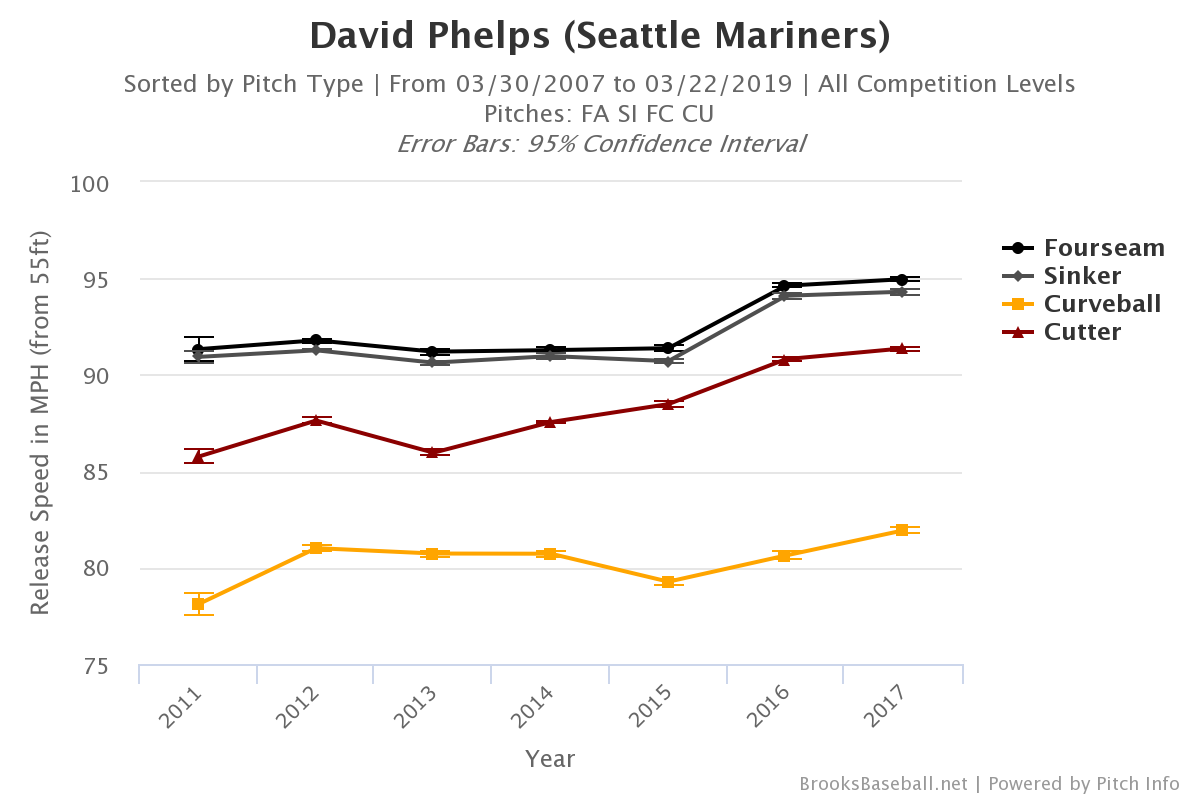 When Montoyo gains that option remains to be seen. There will be no rush with a pitcher coming off such a significant procedure. The Blue Jays have been keeping close tabs on how Phelps's arm has responded and recovered from each test this spring, being careful not to push him too far too soon. Thursday, Montoyo suggested somewhere in the realm of late-Aril, early-May could be a target for Phelps's debut. But, as with all injury recoveries, things remain fluid.
"This part of the rehab, it's really just how your arm recovers after each step. Even at this point, it's still day-by-day," Phelps said earlier this month. "You go out and do your scheduled throwing, come in the next day, see how you feel. If it feels good, you keep going. If it doesn't feel great, you slow it down a little bit. We've had more good days than bad, that's for sure."
When the off-season began, the Blue Jays were one of a handful of teams to contact Phelps about a possible commitment, and ultimately were the first to offer him a deal. It's a creative contract laden with incentives and escalators that protect the club against the possibility of Phelps not fully recovering from his injury, while ensuring the player that he'll be rewarded if he replicates his past workload and effectiveness.
Phelps will earn $2.5 million in 2019 no matter what happens, but can increase his salary in increments of $250,000 by appearing in 25, 30, and 35 games. He can boost his salary in further increments of $350,000 by appearing in 40, 45, 50, 55, and 60 games. He can also earn an extra $125,000 by finishing 25 and 30 games, and $250,000 for finishing 35 and 40 games.
The contract has a club option of $1 million for 2020, which will increase to $3 million if Phelps pitches more than 30 games in 2019, $5 million if he appears in more than 40, $7 million if more than 50, and $8 million if he reaches that 50-game threshold along with 40 games finished. And for those who are still with us, that 2020 option year will include its own set of bonuses, determined by the amount of games Phelps pitches in 2019.
"Yeah, it's an interesting deal — there's a lot of moving parts. But the contract makes sense for both parties if you look at it," Phelps said. "There's upside for both, protection for both. It's a good fit, it's close to home, it's a good city, it's a good division, it's competitive baseball.
"And you have to consider, it's an interesting free agent market to begin with. Being involved with the union, I'm fully aware of what's going on with the market. And then there weren't really any comparables. Coming off Tommy John, best case is you're ready for opening day — teams are going to be apprehensive. So, when we felt like we had a fair, good offer, we were ready to sign."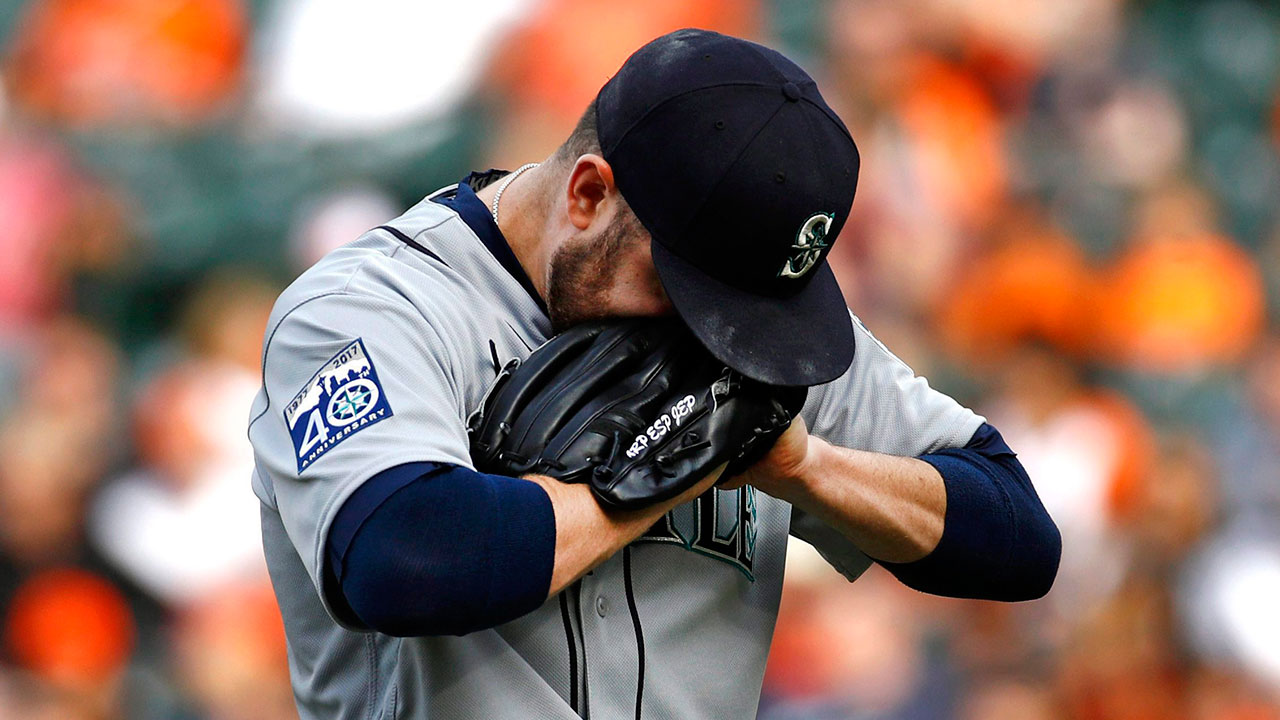 With a typical Tommy John recovery taking anywhere from 12-18 months, being ready for opening day was always a longshot. Tuesday will mark the one-year anniversary of Phelps' surgery. Opening day is 48 hours later. And Phelps won't be on Toronto's roster.
But an early season debut isn't out of the question. As a reliever, Phelps can be a bit more aggressive with his recovery than a starting pitcher, who has to build their arm back up to throw upwards of 100 pitches in an outing. Throughout 2017, Phelps threw more than 30 pitches only five times, and never more than 42.
"You don't want to have opening day be the goal and then be grinding the entire season. The expectation is, once we get there, we want to stay there and feel good the entire time," Phelps said. "All I'm really focused on is getting to a point where I'm fully healthy. We're trying to be on the shorter end of the typical recovery. But, at the same time, be smart with it."
What's interesting about Phelps's situation are the competing influences that, from an outsider's perspective, would appear to be pulling him in two different directions. He's returning from major surgery on his arm, which he needs fully healthy in order to do his job and make money. He should take as much time as he needs to recover.
But his contract is designed in a way that incentivizes him to pitch as early and often as possible. In order to maximize his earnings, both this season and next, Phelps needs to start piling up appearances. Of course, when you're the guy with the scar on your inner elbow, that's the last way you can look at things.
"It doesn't do me any good to think about all that kind of stuff," Phelps said. "I'm incredibly blessed to be where I am to begin with. And all I'm trying to do is get healthy and bring value to this ball club. Whether its pitching in 20 games or whether its pitching in 60 games. Those chips will fall where they may.
"I've proven to myself that if I'm healthy, I can be a pretty good big-league pitcher. I'm not out to prove anyone wrong, or to show anyone that I can come back and be a certain guy. At this point, it's just about getting healthy. And letting the rest take care of itself."