TORONTO — John Gibbons made his way out of the Toronto Blue Jays dugout a little slower than usual, signalling to the bullpen to bring in the lefty. On the mound, Marco Estrada looked down at the ball in his hand. His teammates gathered silently around him, offering encouraging pats on the back with their gloves. Gibbons took the ball, nothing said, and Estrada started his walk.
Among the Rogers Centre crowd — 23,463 of them on a Monday night, the third-last home game of the season — most stayed seated as Estrada's feet hit the turf. But then a few began to stand; and then some others did, too. Estrada looked up at one pocket behind the Blue Jays dugout offering its ovation and nodded his head. He raised his glove from his hip just enough. Then he looked back down at his feet in front of him, and disappeared into the dugout.
"I don't know what's going to happen next year, but I gave them a quick thank you. They've always been behind me. They've been the greatest fans ever," Estrada said. "Hopefully it's not my last one. But if it is, I'm thankful for everything that the fans have given me. For their support. I love it here. I love Toronto."
If this is how it ends for Estrada in Toronto — and, as he hits free agency at 35 with a 5.64 ERA, it's hard to imagine it's not — the moment can only be described as somber. A losing season for the Blue Jays. A challenging one for Estrada himself. And a long walk back to the dugout after giving up four over 4.2 innings in a 5-3 loss to the Houston Astros.
"I heard a lot of cheering. And I left having given up four runs. So, that meant a lot to me," he said. "And I hope the fans understand what I've battled through. But also know that I did everything for my teammates and for the fans. I was out there every five days. That means a lot more to me than anything. And I'm proud of myself for being out there."
It's difficult, frankly, to watch Estrada go out like this. Difficult because Blue Jays fans have seen him be so good. Difficult because he hasn't been his best this season — far from it. And difficult because he hasn't been his best for the better part of the last two years.
Of course, you can say the same of the Blue Jays. In the four years since he arrived in Toronto — via a widely-panned trade for Adam Lind prior to the 2015 season — the fates of Estrada and his team have mirrored one another. It's much more correlation than causation, to be clear. But Estrada's struggles have still played their part.
And it's not at all hyperbolic to call Estrada one of the most important, indispensable pitchers of the club's recently-closed window of contention. Do the Blue Jays qualify for back-to-back post-seasons in 2015 and '16 without his 3.30 ERA over 357 regular-season innings? Is Toronto as competitive as it was in both those playoff runs without Estrada's 2.16 ERA over six October starts? It's tough to see a way.
"I'll always remember that. And I hope that's what I'm remembered for here," Estrada said. "I did pitch in a few big games. And I did well for this team. Some of the most fun years I've ever had were '15 and '16, going to the playoffs. It's just something you'll never forget."
In this MLB and Toronto Blue Jays podcast, Dan Shulman takes a look at the human side of baseball. Because everyone in the game has a story.
Remember, it was Estrada who threw 6.1 innings of one-run ball in the oft-overlooked third game of the 2015 ALDS vs. the Texas Rangers. The Blue Jays had dropped the first two games of that series at home and were faced with three straight must-wins to stay alive. Many fans had resigned themselves to what looked like an unavoidably dire fate for a team that had captured the attention of a nation. Then Estrada took the hill in Texas, shoved, and the Blue Jays charged back to claim the series.
That remarkable start earned Estrada the nod in Game 1 of the ensuing ALCS, which saw him hold the Kansas City Royals to three runs over 5.1 innings while Toronto's bats were shut out. He came back to pitch the fifth game of that series — another must-win — in Toronto the day following a 14-2 drubbing that saw Gibbons throw a position player on the mound in the ninth.
Estrada was brilliant, allowing only a run on three hits over 7.2 innings, sending the series back to Kansas City where Toronto's run ended in an epic sixth game. The image of Estrada walking off the mound after that outing, right arm pointing up at the crowd, is one of the most indelible, underappreciated moments in Blue Jays history.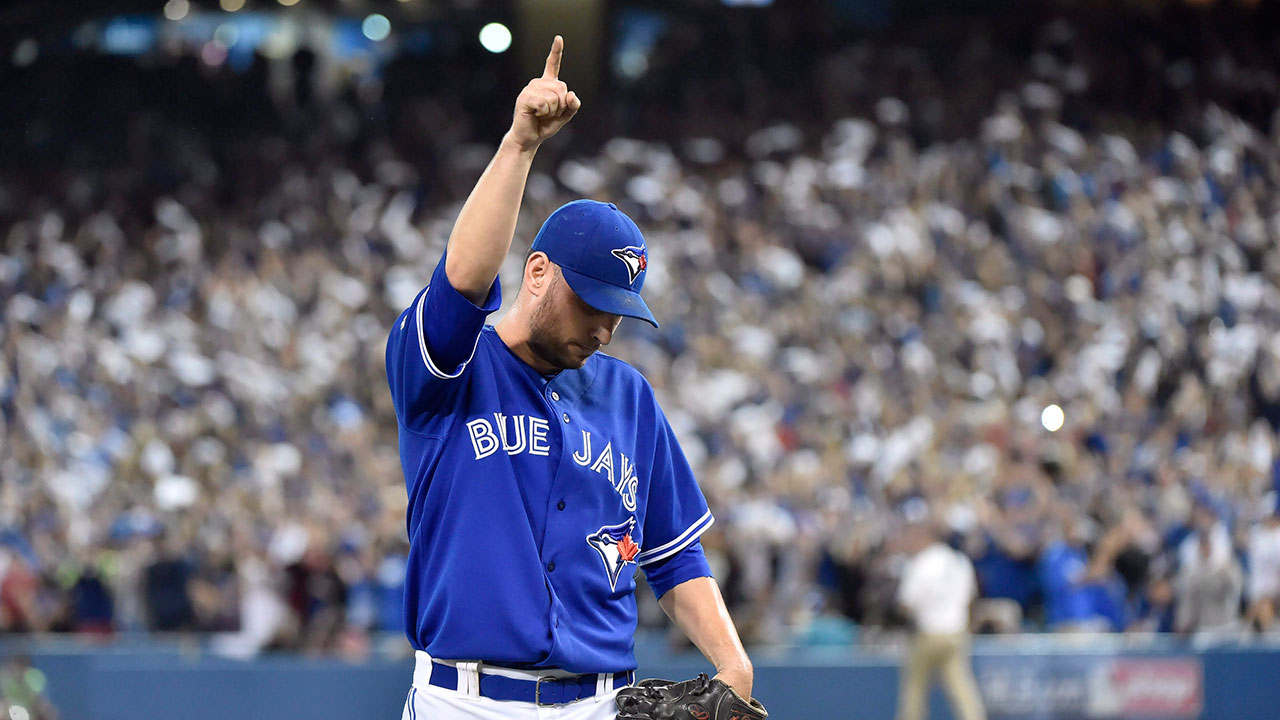 "I've never heard an ovation like that. It was crazy," Estrada said. "I didn't know what else to do. It caught me off guard. I knew it'd be a little loud, but it got really loud and I wanted to smile really bad but all I could think was just make sure you thank the fans. So, I just kind of pointed up at them. It was just pure reaction."
Considering his performance on those critical occasions, it was no surprise to see Estrada called on to start the opener of both the 2016 ALDS rematch vs. Texas, and ALCS vs. Cleveland. And it was no surprise to see him be stellar in each, holding the Rangers to a run over 8.1 innings, and Cleveland to two runs over eight.
He came back for Game 5 of that ALCS, the last time Toronto appeared in a playoff game. The Blue Jays loss that day was no fault of Estrada's, as he held Cleveland to two earned runs, striking out seven over six innings while Toronto's offence couldn't muster a run.
And this is all to say nothing of his sterling performance in the regular season. His 3.30 ERA across 2015 and '16 was the 18th-best in baseball. His 1.08 WHIP was 13th. His .202 batting average against was fourth. Only R.A. Dickey threw more innings for the Blue Jays over that span, and no Toronto pitcher contributed more than Estrada's 4.7 wins above replacement. In 63 starts, he allowed more than four runs only five times, and north of five just once.
"I'm thankful for everything that the fans have given me. For their support. I love it here. I love Toronto."
Through it all, he was the embodiment of poise and composure on the mound. His confidence wasn't an expressive one like Marcus Stroman's. It wasn't one prone to passionate reactions like Aaron Sanchez's. It was quiet, contained, and absolutely lethal. It was, as Josh Donaldson famously put it, the most comfortable 0-for a hitter would ever take.
"I try not to have emotional reactions on the mound," he said. "Because you're going to have bad games. I've had plenty of those. And I want to look the same out there. When I have good games, I don't need to show any emotions. I don't need to let people know that I'm happy or whatever inside. I just let the pitching do the talking for me and that's it."
But it's been a while since we've seen that vintage Estrada. In flashes, sure. But too many nights have been like Monday vs. Houston, when he took the mound without his best stuff, without his finest location, and suffered for it.
"This is the worst year I've had. This last month and a half or so, it sucked," he said. "It's not the way I wanted to go out. I wanted to pitch better for Toronto. And, unfortunately, I didn't."
Ben Nicholson-Smith is Sportsnet's baseball editor. Arden Zwelling is a senior writer. Together, they bring you the most in-depth Blue Jays podcast in the league, covering off all the latest news with opinion and analysis, as well as interviews with other insiders and team members.
To that end, George Springer took the first pitch of the night — an 86-m.p.h. fastball — to the wall in left-centre for a double. He'd score the game's first run. The second began with back-to-back solo shots to right from Brian McCann and Josh Reddick, pushing Houston's lead to three. The third saw a lead-off single on a change-up, a wild pitch to advance the runner, and an Alex Bregman double on another change-up cashing a fourth. It took 69 pitches to earn nine outs.
You get the picture. By the time Gibbons made that long walk, Estrada had allowed seven hits, matching his one walk with a strike out. It was the 12th time this season he's given up at least four earned runs over fewer than six innings pitched. That happened only eight times between 2015 and '16.
Of course, injuries have played a large part in all this. Estrada's battled back issues, hip issues, glute issues, blister issues. And as with any guy pitching through pain, his effectiveness has suffered. The change-up's a little less deceptive. The breaking ball's a little less sharp. The fastball, which never had that much behind it to begin with, is coming out with a little less zip. In fact, the velocity on every one of Estrada's pitches has gone in the wrong direction since 2015: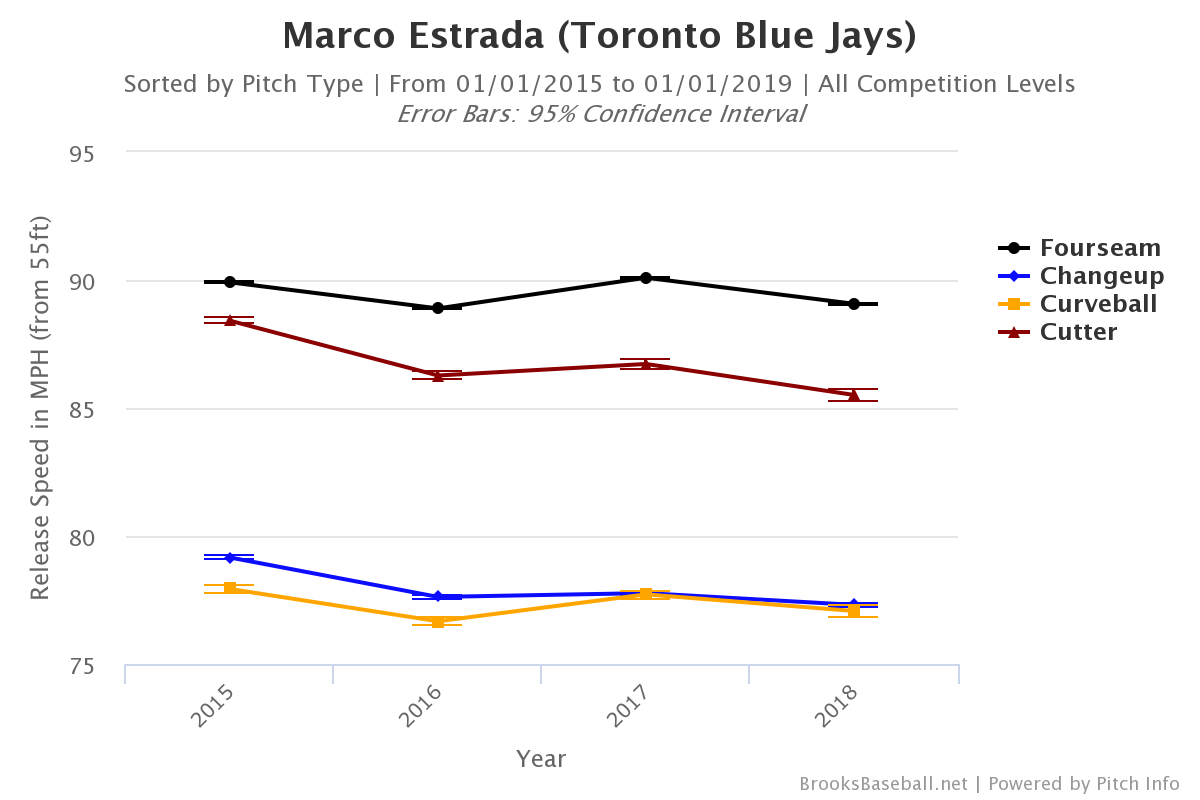 Mix poorer stuff with lower velocity and missed locations, and, well, this is what happens. Hitters start having more success. They start seeing you better, getting fooled less. Estrada's change-up was once one of the most difficult pitches to square up in the game. Now, hitters are finding knocks against it at a much higher rate:
And, in turn, when they're getting to Estrada's diminished fastball, they're doing a lot more damage:
"Obviously, I had some back issues towards the end here. And I think it's all because of the strained hip that I had," Estrada said. "It was just one thing after another coming up. So, yeah, it was hard. It was hard. Physically, it was really hard. But it's not an excuse. I didn't pitch poorly because I had whatever going on. I just wasn't making pitches. I just have to get better."
So it goes. Nothing lasts forever, particularly in sports. Blue Jays fans have had to accept that in a lot of ways this season. Estrada has, too. But if Monday was it, Estrada's final start as a Toronto Blue Jay, his final start in that uniform at Rogers Centre at the very least, it was most certainly the end of something meaningful. The end of something venerable. An ending that came and went quietly, just like Marco Estrada always did.