At the end of each season teams typically conduct exit interviews with players before everyone parts ways, an opportunity for the sides to exchange thoughts on the season that was and look towards the year to come. Here at sportsnet.ca, we decided to do the same with every player that finished out the season with the Toronto Blue Jays.
Yesterday we published what the position players had to say. Now it's the pitching staff's turn.
*All stats are major-league totals in 2018
Starting Rotation
Marco Estrada
7-14 | 5.64 ERA | 1.42 WHIP| 143.2 IP | 50 BB | 103 K
"This is the worst year that I've had. This last month and a half or so, it sucked. It's not the way I wanted to go out. I wanted to pitch better for Toronto. And, unfortunately, I didn't. It is what it is, you know? All I can say is I was out there every five days and I gave it my all. Obviously, I had some back issues towards the end here. But I think it's all because of the strained hip that I had. I think that had a lot to do with it. So, now that I'm done with putting so much torque on my lower half, it'll heal. And I'll work on it. There are a lot of exercises that I can do. A few treatments. So, I'm going to do those things. And I know I'll be 100 per cent once next year comes. … Physically, it was hard. But it's not an excuse. I didn't pitch poorly because I had whatever going on. I just wasn't making pitches. And I have to get better. And I will."
Marcus Stroman
4-9 | 5.54 ERA | 1.48 WHIP| 102.1 IP | 36 BB | 77 K
Declined.
Aaron Sanchez
4-6 | 4.89 ERA | 1.56 WHIP| 105 IP | 58 BB | 86 K
Unavailable due to injury.
Sam Gaviglio
3-10 | 5.31 ERA | 1.44 WHIP| 123.2 IP | 38 BB | 105 K
"It's been a good experience, a lot of learning. I wish I could be a little bit more consistent at times. It's been a fun group of guys to play with. (I've learned) what allows me to have better mechanics and stay with mechanics, especially late in the game. My slider, especially early on when I got called up, was really good. I kind of lost feel for that. That's something that I've got to have every time I'm out there. It plays off my fastball where if I have a good fastball working I can get away with not as good of secondary stuff."
Ryan Borucki
4-6 | 3.87 ERA | 1.32 WHIP| 97.2 IP | 33 BB | 67 K
"It was good. Since I got up (to Toronto), I feel like I've made a lot of strides. I feel like I'm more of a complete pitcher than I was when I first got here. I've tightened up some stuff, I'm throwing it low in the zone and throwing a quality slider, which is good. I didn't have the quality slider that I have now when I first came in. It's been good, just being able to go out there every fifth day and make all of my starts. I wanted to be able to come up (to the majors) and perform. My biggest key is just staying healthy and having my arm feel good. Pitching 160-170 innings this year is going to be good for me and hopefully jump-start me into next year."
[snippet id=3305549]
Sean Reid-Foley
2-4 | 5.13 ERA | 1.56 WHIP| 33.1 IP | 21 BB | 42 K
"This whole year was putting it all together, not so much developing pitches but knowing when to throw them and how to throw them, why you're throwing them. I repeated back at double-A to start, learned a lot, got fortunate enough to get moved up to triple-A and then I was very fortunate to be put into the big leagues because I wasn't on the 40-man so they had to make room for me, which was nice of them. Got to the big leagues, that was the goal and now it's to stay. I've got to figure out how to do that."
Thomas Pannone
4-1 | 4.19 ERA | 1.21 WHIP| 43 IP | 15 BB | 29 K
"This season is the biggest accomplishment of my career, probably of my life. I made it to the big leagues, which is a pretty good accomplishment in itself, and then winning four games and going out there and taking the ball, whether it was starting or relieving, it was just a great experience, really. I think my stuff played OK. I pounded the strike zone, which I think helped me out a tremendous amount. I got ahead of a lot of guys and stayed ahead of a lot of guys. But my stuff wasn't the best it could have been. I've had stretches where my stuff is better than it was while I was up here. That's going to be what I work towards in the off-season – to get my mind and my body right and get myself in a spot where I feel like I'm going to at my best."
[snippet id=4235507]
Relievers
Ken Giles
0-3 | 26 sv | 4.65 ERA | 1.21 WHIP| 50.1 IP | 7 BB | 53 K
"I want to keep on working on what I've been working since I've been here, fine-tuning my mechanics a bit more, be more consistent, those were my struggles this year, the mechanics weren't the best for me. I'm going to redefine my throwing program, maybe, make sure I stay in line with my mechanics a little bit better. Of course I want to get faster, I want to get stronger, I want to be smarter. I'm going to do all that in the off-season. I just created bad habits (mechanically) this year. When I started off the season, I felt good about myself and then I started getting into bad habits and they're hard to break. When you want to break bad habits, you've got to be patient with yourself, I think. Coming here, I stayed patient with myself and it doesn't matter where you're at, you've still got to compete no matter what, you can't worry about what you've been working on on the field. I went out there and let it loose, whatever happens, happens and I've been rewarded so far."
Tyler Clippard
4-3 | 7 sv | 3.67 ERA | 1.17 WHIP| 68.2 IP | 23 BB | 85 K
"I feel like I made some good adjustments over the course of the season. I came in feeling pretty good about where I was at and overall as the season's progressed, I've made some nice adjustments and feel like it's going to serve me well moving forward. Obviously there's room to improve but I feel like I'm on the right track. It's funny, a weakness last year was that I wasn't able to get my fastball to the glove side so I was really focusing on that and I got it really dialled in but I wasn't able to get the fastball to the other side. It's kind of been a reversal the latter half of the season, getting the fastball to the arm side of the plate, which is usually a strength of mine, and I've done that the last six-to-eight weeks pretty consistently. So that's been nice. I gave up a few more runs than I normally would have because of the fastball leaking over a little bit when I was trying to go arm-side to lefties. But overall, it's been pretty good."
[relatedlinks]
Ryan Tepera
5-5 | 7 sv | 3.62 ERA | 1.22 WHIP| 64.2 IP | 24 BB | 68 K
"Looking back on it, the first half of the season I thought I pitched pretty well. Then I had that elbow thing, went on the DL around the all-star break and wasn't really the same afterwards. I've still kind of been struggling with it as far as command-wise and everything. So I almost look at it as two different seasons. With that being said, overall it's been a pretty average year. There were things I wanted to work on and be better at coming into the season. One thing I look back and think about is the opportunity to come in and save games. For the most part I felt like, if it was just a one-inning save, I was pretty good at it. I struggled to come in and get four or five outs at times, whether there were runners on base or whatever it might be. That's another thing I want to get better at — inherited runners. I haven't been too great at stranding those this year."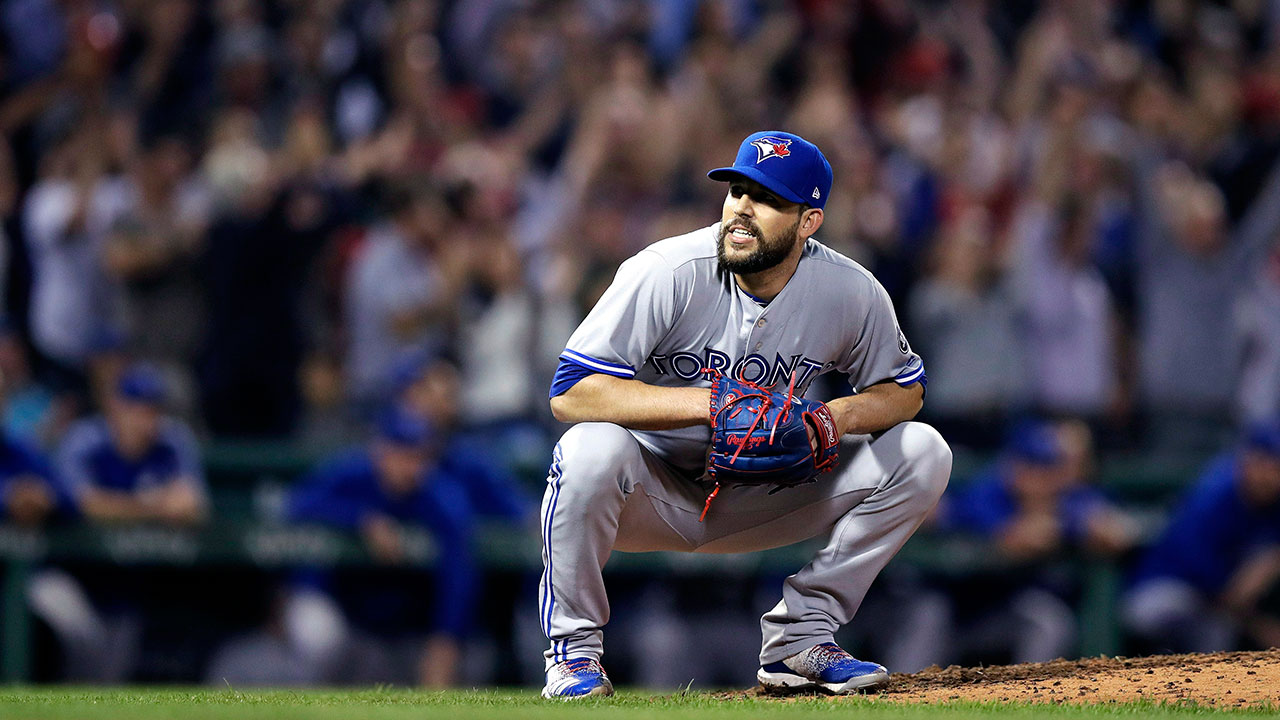 Tim Mayza
2-0 | 3.28 ERA | 1.32 WHIP| 35.2 IP | 14 BB | 40 K
"Anytime you have to go through the adjustments of having options, being sent up and down, it's continuing to learn about yourself. This season as a whole was a good learning process for me and I take a lot of positives away from some of the adjustments I was able to make throughout the year. Some of the things I was able to improve on, whether it was slider command, fastball command, just preparation heading into games, I think have come a long ways over the course of the year, so there are a lot of positives to take into next year."
Taylor Guerrieri
0-0 | 4.66 ERA | 1.34 WHIP| 9.2 IP | 4 BB | 8 K
"It's nice to finally be here after (7½) seasons in the minors and however many injuries I went through, it made it that much sweeter for me. It feels like a big weight was lifted off my shoulders, I can breathe a little bit easier. It was just stressful wondering if I'm going to get there, am I not going to get there. I'm glad I'm here. There are a lot of things I can work on and get better, we're still working on things every day as far as a getting quicker to home plate. That's a big thing for that I want to take into the off-season, and just general command of my pitches would be a positive if I can improve on any of that. Those are the goals going into the off-season and we'll see where I'm at in spring training.
Justin Shafer
0-0 | 3.24 ERA | 1.56 WHIP| 8.1 IP | 7 BB | 2 K
"I just want to build off what I did this year, try to repeat the success I had and bring it up here. I think I threw well up here but put myself in a lot of bad situations just by walking guys and had to pitch out of some jams. I got thrown into being a closer in Buffalo and hadn't really ever done that before in my career. I got thrown into it a couple times the year before and it didn't really go so well, but I was able to get comfortable at being uncomfortable in those situations and finding ways to being successful when your back was against the wall in those types of games."
[snippet id=4071101]
Danny Barnes
3-3 | 5.71 ERA | 1.68 WHIP| 41 IP | 22 BB | 38 K
"It was a very challenging year. It started off well that first month and then I ran into some nagging injury things that I couldn't really get over the hump with. I spent a month in Florida trying to rehab (left knee tendinitis) and that's probably something that I'll fix in the off-season. Going through that process of trying to figure out a way to adjust and still be good was very frustrating because most of the time it didn't work out. I'd get on good stretches and then it'd be 'This is getting worse,' or 'I need to figure out something else.' The results weren't there that I wanted, but as far as positives when you go through something like that if it comes up again you're better-prepared to handle it. As far as on-field stuff, I think my slider this year was better than it's ever been in my career. That's a big positive for me since it's something I've been trying to work on for a while. It's something to add on going forward when I'm healthy and going well."
Jake Petricka
3-1 | 4.53 ERA | 1.64 WHIP| 45.2 IP | 16 BB | 41 K
"Personally, being healthy and contributing was big for me. My first half of the year was 'all right, let's get back to health.' Now it's 'let's execute the way you're supposed to to succeed,' where I have outings that I do and I have outings that I don't. You can't peel back and forth as often. You can have a bad day every couple of weeks, but not every couple outings."
Joe Biagini
4-6 | 6.00 ERA | 1.67 WHIP| 72 IP | 24 BB | 53 K
"I would say it was frustrating. I learned a lot about how important it is to be consistent and what goes into being consistent. I think the challenge of changing roles over the last couple of years has taught me a lot about that. It's motivating because it makes you want to take what you know you can do and feel like you've left on the table and leverage that into consistent success in the future. Dealing with failure, whether it be something that you just really screwed up on or whether it's just how the ball bounces some days, I think this baseball life teaches you a lot about that."
Jose Fernandez
0-0 | 6.10 ERA | 1.35 WHIP| 10.1 IP | 4 BB | 6 K
"I'm really happy, it's the first time I've pitched over 50 innings in a season, I'm up to 71. I'm healthy, that's the main thing that I wanted to accomplish so I'm happy that I'm here right now. My velocity is way higher, my movement is better, my control is better. I would like to command my pitches better, I'd like to have more control of all my pitches. But it's been my best season so far."
David Paulino
1-0 | 1.35 ERA | 1.20 WHIP| 6.2 IP | 2 BB | 6 K
"I was very fortunate to be in the big leagues with this team. I know I wasn't here for a long time, but I'm happy with what I accomplished here and the opportunity that they've given me. I'm going to be ready to do what they ask of me next year, starting, bullpen, whatever they ask of me I'm going to get ready to fight for a spot."
Mark Leiter Jr.
0-1 | 7.71 ERA | 2.01 WHIP| 23.1 IP | 12 BB | 22 K
Declined.