TAMPA — Billy McKinney heard the chirps from the first base dugout and knew they were directed toward him, but even in a Grapefruit League game this wasn't the time for him to give in to the distraction.
Maybe on another day. But Monday the Blue Jays were re-familiarizing McKinney with a position he has barely played as a professional: first base. So even as his former teammates playfully questioned his eyesight from the nearby dugout, he tried to focus.
"It was a little tough staying fully concentrated. I had guys from the dugout yelling at me, but it was pretty fun," McKinney said later in the visiting clubhouse at George M. Steinbrenner Field. "I felt comfortable over there."
Ben Nicholson-Smith is Sportsnet's baseball editor. Arden Zwelling is a senior writer. Together, they bring you the most in-depth Blue Jays podcast in the league, covering off all the latest news with opinion and analysis, as well as interviews with other insiders and team members.
At a time when bullpens are expanding and benches are smaller than ever, teams need as much versatility as possible from their position players. The Dodgers won consecutive National League pennants while moving players around the diamond constantly, and other teams are now prioritizing versatility, too.
That's why the likes of Lourdes Gurriel Jr., Cavan Biggio and Brandon Drury play all over the diamond and why top prospect Bo Bichette saw some time at second base last year. In a way McKinney's joining that mix, too.
As a left-handed thrower, McKinney can only play at first or in the outfield, but he's embracing the challenges both positions present, prioritizing his outfield work but taking regular ground balls at first base as time permits. If it works, the Blue Jays will have that much more flexibility. McKinney might not be Cody Bellinger out there just yet, but he does provide a measure of flexibility for manager Charlie Montoyo.
"It makes it easier for a manager if more guys can play different positions," Montoyo said. "That's one thing we have here."
"Versatility's pretty key in today's game," added McKinney, who joined the Blue Jays in the trade that sent J.A. Happ to New York last July. "It's hard to play 162, so guys just need breathers on their legs and just mental days, too. I have zero problem doing that. I'm comfortable."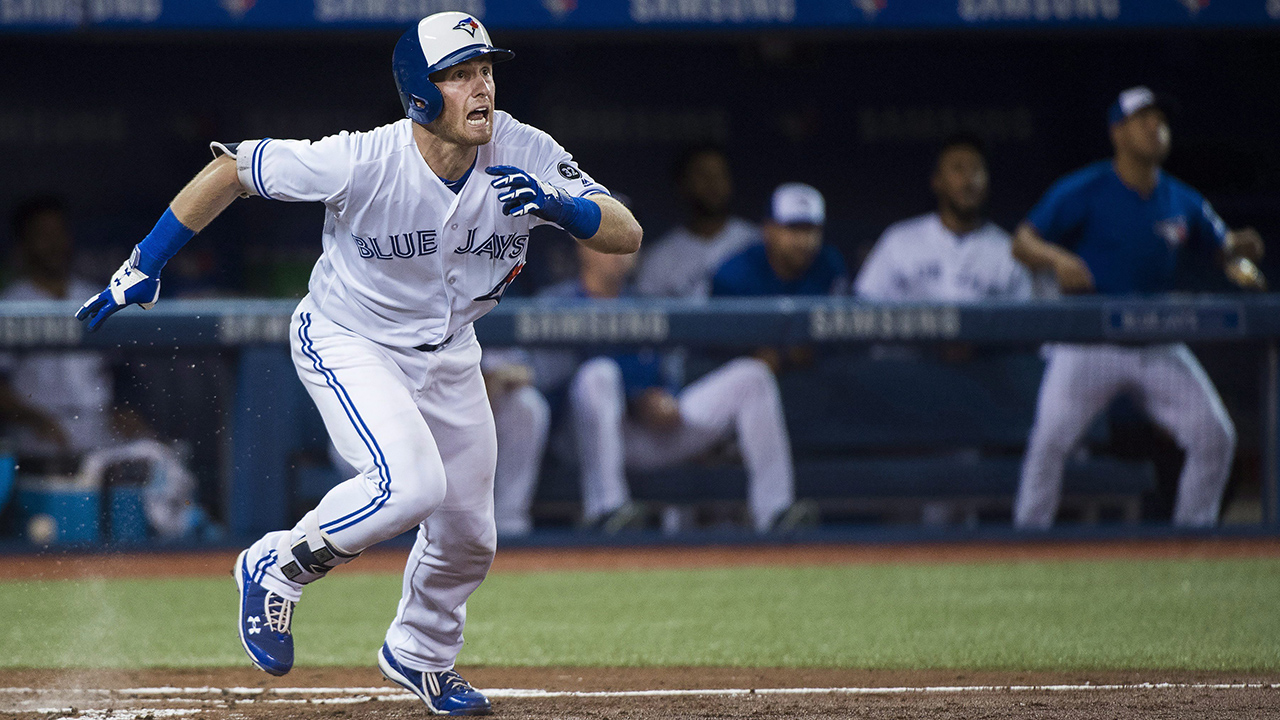 It's thanks to the Yankees that McKinney had a few first base gloves handy. After the 2017 season, the Yankees asked him to add first base back onto his resume. He had played the position during his freshman and junior years of high school, and ahead of the 2013 draft he told teams that he would play there if needed. At the time, the offer went nowhere.
"Everyone shot that down and said 'no, you're an outfielder,'" McKinney recalled.
Six years later the 24-year-old's still an outfielder, and will likely begin the season in a left field platoon with Teoscar Hernandez. Meanwhile, Justin Smoak will get most of the starts at first base. But as Montoyo says, Smoak will sometimes need a rest.
On those days, McKinney would be a candidate to start at first along with Brandon Drury and Kendrys Morales. While the 35-year-old Morales isn't as mobile as he used to be, his manager doesn't sound concerned.
"He's fine," Montoyo said. "He hits."
If needed, Rowdy Tellez represents another layer of depth at triple-A Buffalo, but even if McKinney never starts a game at first for the Blue Jays he could help them in another way.
"If Smoak's on first in the eighth inning or seventh inning, you use a pinch runner, there goes McKinney and he can play first," Montoyo explained. "So we're good."
McKinney played first for one inning last year under those exact circumstances. The Blue Jays pinch ran for Smoak trailing by one in the eighth on September 16, and McKinney moved from left to first after Toronto scored.
Even then, McKinney still has limited professional experience at first base. Beyond that one inning in September, he has all of six appearances at the position since going pro and in the scenario that Montoyo's outlining the score will be close and every run will matter.
That's why Montoyo wants to see McKinney play first 'a lot' in the Grapefruit League. If that familiarity returns, the Blue Jays will have more flexibility in the late innings of games that matter.
In the meantime, though, it's still spring training. For the next month or so Montoyo's advice for McKinney remains simple.
"Make sure you're ready."