There are tales of awe left in Vladimir Guerrero Jr.'s wake at every place he plays and John Schneider, the manager at double-A New Hampshire who spent most of the 2018 season with baseball's top prospect, certainly has some good ones.
A favourite begins in the batting cage at Northeast Delta Dental Stadium, where the 19-year-old one day picked up the 34-inch, 40-ounce bat hitters swing to loosen up and used it during his round of BP. In-game, Guerrero steps into the box with a 34-inch, 32-ounce bat.
"I was throwing to him and he was just crushing it," Schneider recalls with a grin. "So someone said to him, 'Hey, use that in the game tonight,' and we all kind of laughed. He said, 'OK – first at-bat.' I didn't think he was going to do it and the guy on the mound was throwing hard. So first at-bat he goes up and it's not his usual two-tone Louisville and I'm like, 'He's doing it!'
"He lined out to left and the whole dugout just cracked up laughing. He used the bat against a knuckleball pitcher after that, too, but I guess that's what you do when you're hitting .410. You've got to challenge yourself somehow."
The next challenge for Guerrero begins Tuesday when he suits up for the Surprise Saguaros as the Arizona Fall League opens its 27th season.
While he certainly showed enough to earn a big-league promotion in dominating at New Hampshire (.402/.449/.671 in 61 games) and triple-A Buffalo (.336/.414/.563 in 30 games), the Blue Jays left him in the minors all season long, citing the need for his continued growth on defence and as a teammate and leader. His big-league debut will come in 2019, which is why Blue Jays president and CEO Mark Shapiro said in early September that "we have a limited time to develop him and we're trying to do the best job we can with him."
Others took a different view, believing the Blue Jays didn't bring Guerrero up as a way to manipulate his service time, setting themselves up to grab an extra year of club control by holding him down in the minors until about three weeks into the 2019 season. Shapiro rejected that notion but the Major League Baseball Players Association argued on the kid's behalf, saying the team made "a business decision, not a baseball decision," by refusing to promote him.
Whatever the case, Guerrero's stint in the six-team AFL offers essentially six weeks of finishing school among many of the game's top prospects.
The priorities for him will be "continuing similar development, continuing to be the best teammate and leader he can be, increasing his athleticism and first-step quickness as much as he can and continuing to improve with his defensive footwork and angles," says Gil Kim, the Blue Jays' director of player development.
"The AFL does present a special opportunity to develop that teammate and leadership quality because he will be in an environment with players that he doesn't know as much, the best players in minor-league baseball, the best prospects and guys he'll probably be playing with and against hopefully for a long time," Kim adds. "That's an added challenge to mix with that level of player that you don't know. That will be interesting see."
Here's a look at the other six Blue Jays assigned to the AFL:
CAVAN BIGGIO
2018 Team: Double-A New Hampshire
Position: 2B, 3B, 1B
Stats: 132 games | .252/.388/.499 | 26 HRs | 100 BB | 148 K
AFL plan: After a breakout offensive year, Biggio heads to the AFL to primarily play the outfield as the Blue Jays try to increase his versatility. He played two games in right field during the season out of need but with an organization-wide glut of infielders, the more positional flexibility he has, the better off he'll be.
Quote: "For Cavan, the main focus is helping him become the best second baseman he can be. We focused on that this year and we plan to continue to focus on that. But we have an extra six weeks of games in Arizona where one of his best opportunities to get out there was to play in the outfield. Knowing that when spring training hits the focus will be back in the infield, it's something we felt comfortable doing." – Kim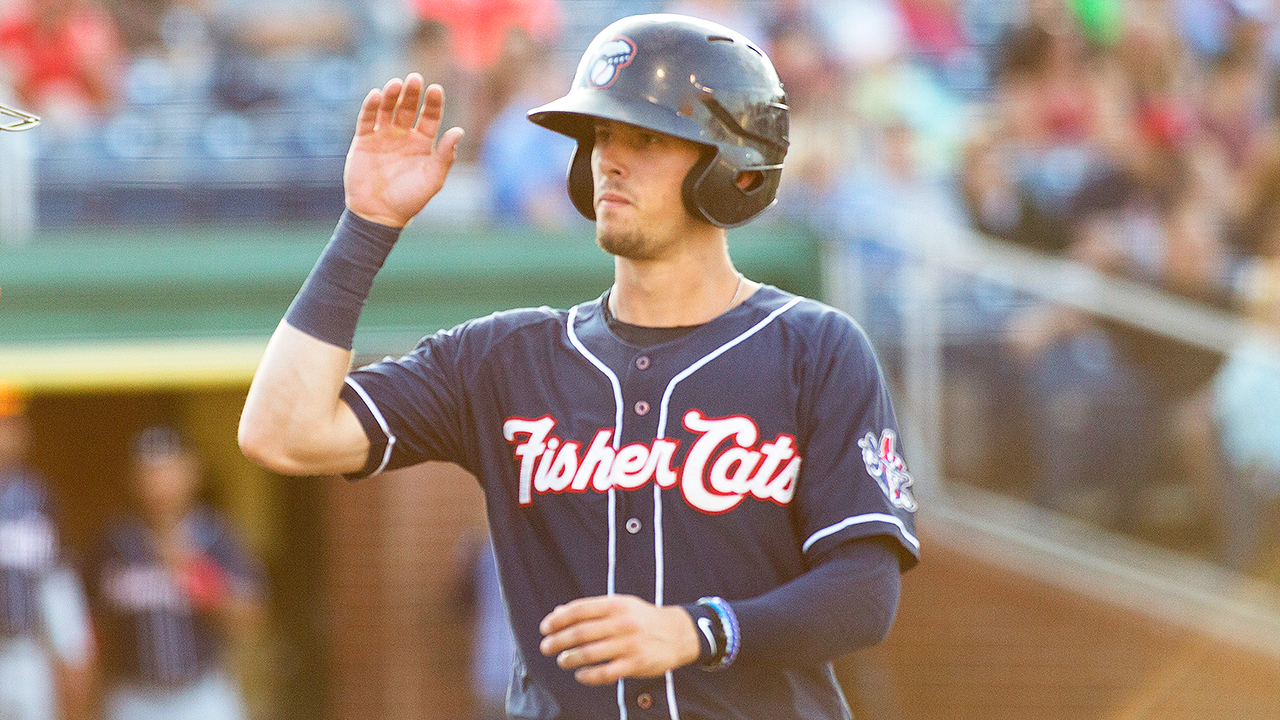 SANTIAGO ESPINAL
2018 Teams: Double-A New Hampshire; Advanced-A Dunedin and Salem
Position: SS, 2B, 3B
Stats (combined): 124 games | .297/.356/.444 | 10 HRs | 38 BB | 67 K
AFL plan: Espinal was assigned to the AFL after lingering knee and elbow soreness forced shortstop Bo Bichette to withdraw. Like Biggio, Espinal is caught up in the middle infield glut and had to timeshare at shortstop, his natural spot, with Bichette as New Hampshire won the Eastern League championship. He may also see some time in the outfield in the desert.
Quote: "With Santiago, he's an infielder, he's a shortstop and we know that come 2019 he'll be playing the infield. We saw a unique opportunity to get him more at-bats and more exposure in Arizona and at the same time get a few more opportunities at other positions that maybe we wouldn't be focusing on as much next year." – Kim
NATE PEARSON
2018 Teams: Advanced-A Dunedin
Throws: RHP
Stats: 1 game | 10.80 ERA | 1.2 IP | 0 BB | 1 K
AFL plan: The electric-armed Pearson started the season late after suffering an oblique injury late in spring training and then in his first start back, suffered a broken forearm when struck by a comebacker. He didn't get back to pitching again until the club's fall instructional camp so he'll be looking to make up some lost innings in Arizona.
Quote: "Nate's been very encouraging in what we've seen so far. He really committed to his rehab and has come back strong, come back looking healthy and come back ready to compete."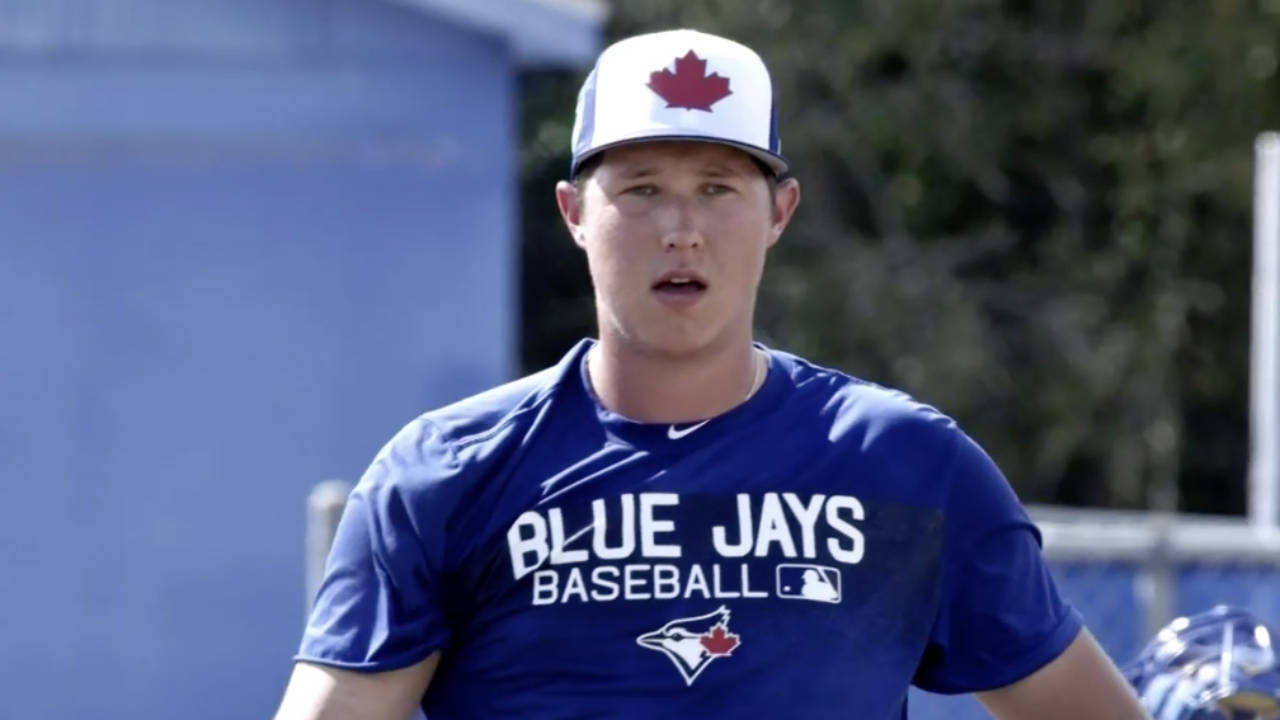 SHAWN MORIMANDO
2018 Teams: Triple-A Buffalo and Columbus; Rookie GCL Blue Jays
Throws: LHP
Stats (Combined): 13 games | 5.26 ERA | 51.1 IP | 13 BB | 32 K
AFL plan: The 25-year-old touched the big leagues in 2016 but got stuck in a deep Cleveland system last year and was released this past July while sidelined with shoulder soreness. The Blue Jays picked him up and he eventually made four starts at Buffalo while rebuilding himself.
Quote: "Workload. He's going to the AFL as a reliever and spot-starter. For 2019, we're hoping that he'll be able to compete for a starting spot in Buffalo." – Kim
ZACH JACKSON
2018 Team: Double-A New Hampshire
Throws: RHP
Stats: 43 games | 2.47 ERA | 62 IP | 51 BB | 75 K
AFL plan: The 23-year-old was one of most reliable relievers for the Fisher Cats but an unsightly walk rate of 7.4 per nine innings remains a concern. His curveball is a prime weapon but he needs to improve his fastball command to fully leverage it.
Quote: "He has deception, he has one of the best curveballs in the organization and he has a good fastball. For him, it's more about trying to improve his fastball command and doing that in an environment with challenging competition and hitters."
Ben Nicholson-Smith is Sportsnet's baseball editor. Arden Zwelling is a senior writer. Together, they bring you the most in-depth Blue Jays podcast in the league, covering off all the latest news with opinion and analysis, as well as interviews with other insiders and team members.
JACKSON McCLELLAND
2018 Teams: Double-A New Hampshire; Advanced-A Dunedin
Throws: RHP
Stats (Combined): 39 games | 4.33 ERA | 43.2 IP | 21 BB | 57 K
AFL plan: The 24-year-old reliever has slowly added to his velocity through four years in the Blue Jays system and broke through the triple-digit barrier this year. Working on refining his command of all that gas remains a priority for him.
Quote: "Huge arm. You look at the body, he's six-foot-five, 240, he's a big imposing dude out there who touched 101 this year with us. The biggest step for him will be moving that fastball around the zone a little bit and continuing to work on his slider a little bit." – Schneider