SEATTLE – In his last big-league moments before joining the Toronto Blue Jays on Thursday, Ken Giles was overcome by the frustration of another bad night in a difficult season. He was stomping around the mound after allowing three straight singles to the visiting Oakland Athletics, and Houston Astros manager A.J. Hinch was on his way to get the ball. Before handing it over, the 27-year-old angrily muttered a few words before storming off the mound.
The next day he was assigned to triple-A Fresno. Nineteen days later he was sent to the Blue Jays along with triple-A right-hander David Paulino and double-A righty Hector Perez for Roberto Osuna.
"It's easy to put it behind me," Giles said of his turbulent ending in Houston, which also included a May 1 tantrum in which he punched himself in the jaw. "I mean, once it happened, it happened, you can't change anything about it. All you do is what you learn from that situation. There are dumb things I wish I did better to conceal, sometimes the way things were going it's hard to conceal that stuff. You know what? I know I can do better. I know I can learn something. So I'm just going to take it in stride and be a better person."
The trade to the Blue Jays, said Giles, who at points over the past 4½ seasons has been among the most dominant relievers in the big leagues, was a fresh start. He's young in his career with room to grow, he pointed out. There were adjustments he needed to make, he acknowledged. Some had already taken hold during his time at Fresno, he believes.
Blue Jays manager John Gibbons, no stranger to run-ins with players, spoke briefly with Giles before the game. They discussed mutual acquaintances. A few basics. Nothing too heavy.
"He had open arms to me," said Giles. "He told me to be myself, that's what I'm going to do."
Did the incident with Hinch come up?
"You mean like ask him please don't do it with me?" Gibbons quipped. "Those things happen in baseball. I've been part of them. They don't happen a lot, but there are a lot of cameras around now, too. He's a part of this organization, just like Roberto is a part of that one now. I told him make yourself at home, enjoy it and go get them. I don't worry about that."
Gibbons intends to install Giles as the Blue Jays closer, a role he struggled in during Houston's World Series run last year and at times this season, but not until letting him get his feet wet in a lower-leverage spot, first.
The right-hander is having a head-scratching season, carrying a strong strikeouts-per-nine-innings rate of 9.1 and walks-per-nine-rate of 0.9 yet allowing a career-high 10.6 hits-per-nine leading to an unsightly ERA of 4.99. His Fielding Independent Pitching, a metric that judges a pitcher only on the elements under his control, is 2.28, right in line with his career average of 2.25.
"There are numbers where it doesn't look so pretty but there are other numbers that make me really attractive," said Giles. "That's why I believe I'm here, I have those numbers, I've proven myself over the course of my years in the big leagues. I've just got to make my adjustments right now. Sometimes making adjustments isn't easy, especially in the big leagues, but I'm working very hard to establish myself again and that's what I'm going to do right now."
Giles still has real-deal velocity, with his fastball averaging a tick under 98 m.p.h. He complements it with a fall-off-the-table slider, which comes in around 10-m.p.h. slower and his stuff is in line with career norms.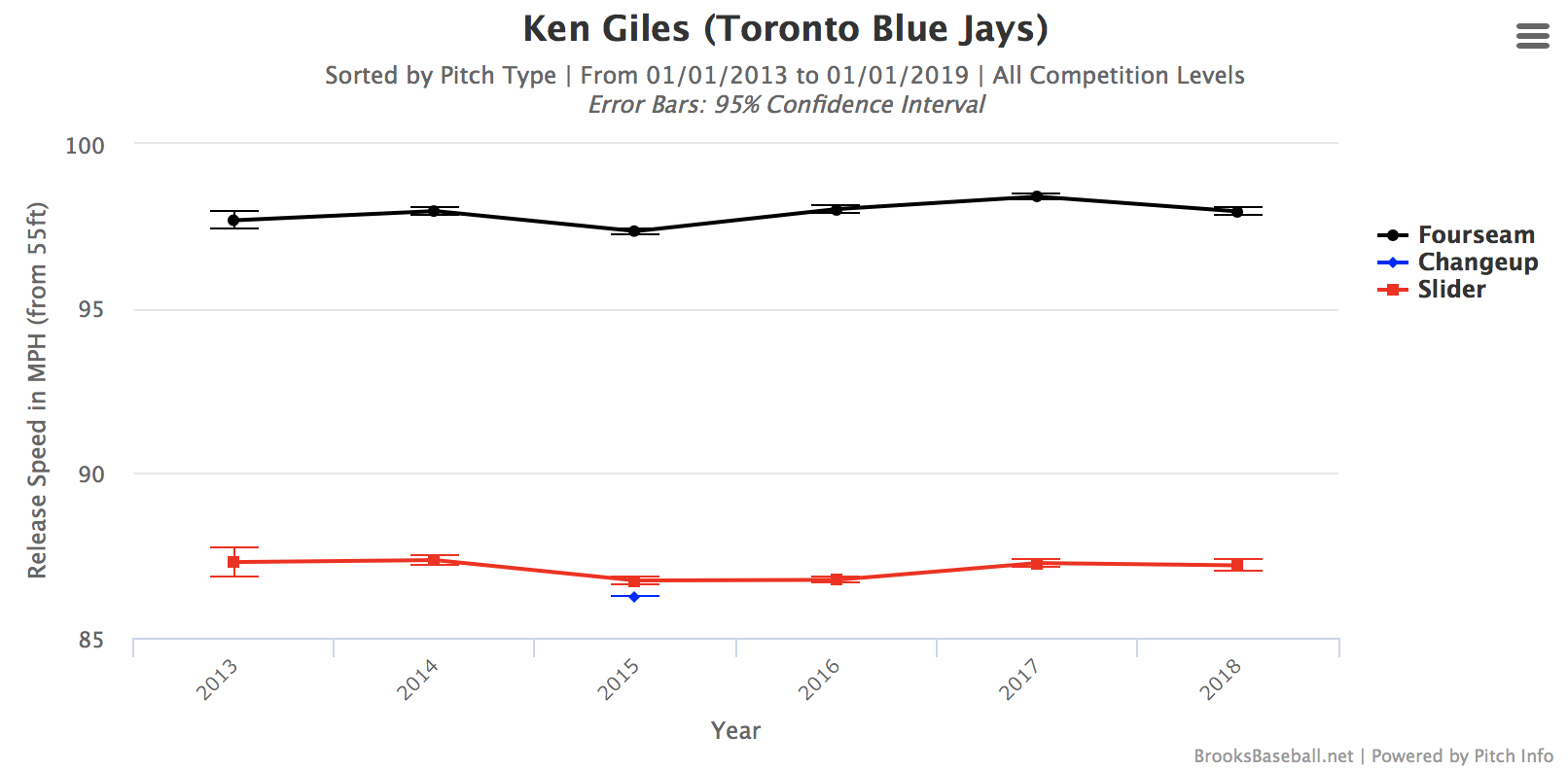 The same goes for batting average against, with a slight uptick on a four-seamer that comes in hot but with little deception.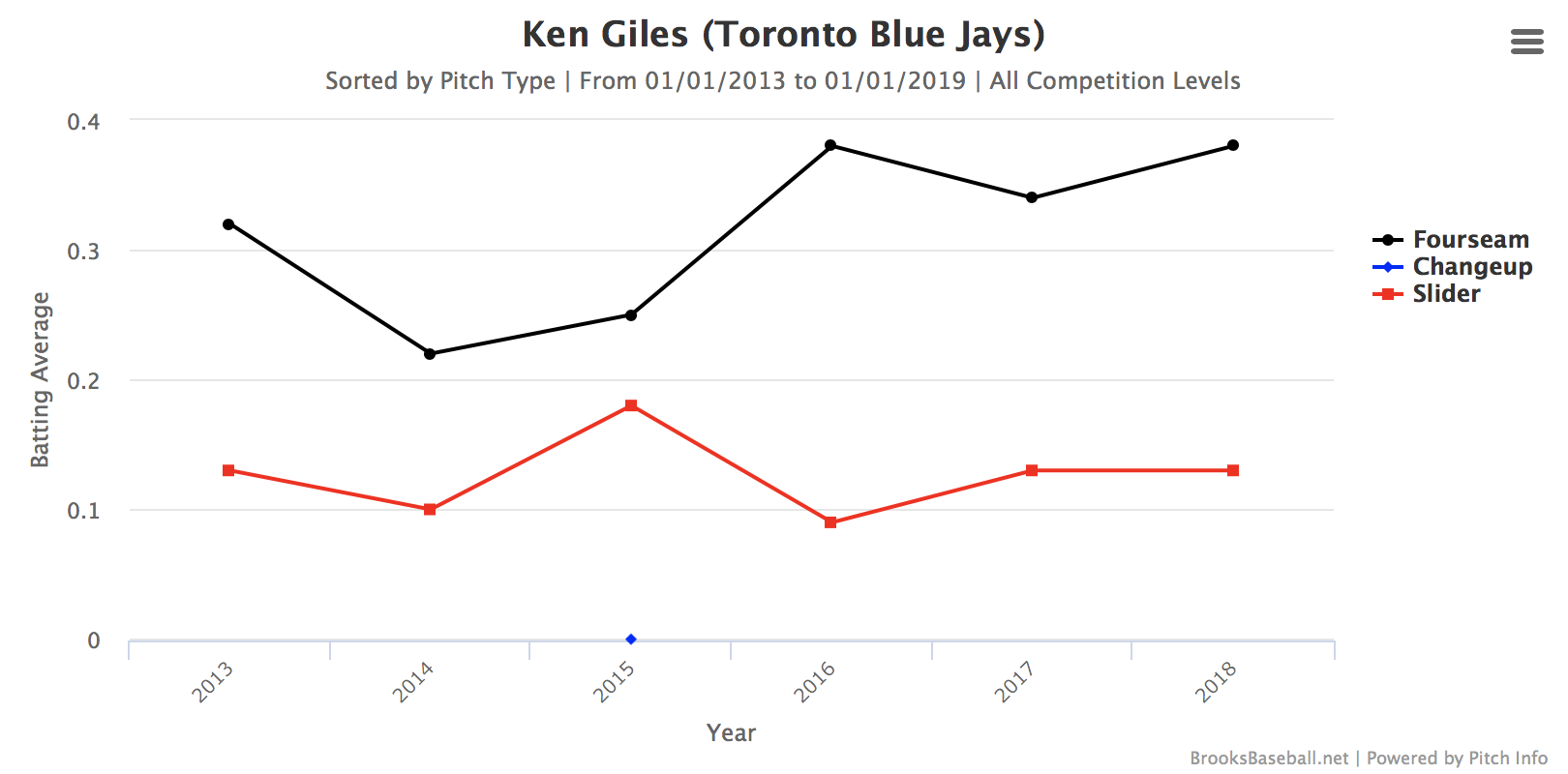 Theories abound as to what's led him to get hit harder of late, and Giles feels stuff aside, he needs to adjust to the way batters have attacked him.
"I got a great feel for my slider when I got demoted to triple-A, I got my slider back, now it's about me establishing my fastball better to make me more successful," he said. "Knowing that guys are going to ambush me early, I've got to be more prepared.
"I am prepared overall, but sometimes you don't expect some guys to ambush you as early as (they did) early in the season. I'm ready to make those adjustments and I'm ready to make the next leap forward to great performances."
The Blue Jays could certainly use that, as a lack of stability in the back end of the bullpen has been one of many issues to plague the team this year. Giles could certainly provide a lockdown element to the ninth inning when right, and could turn into an asset they can flip at next year's trade deadline if he's right.
Part of that will be making sure his emotions are in check, and perhaps being dealt from the Astros, something he described as "disheartening" because of the bonds he had formed and the desire to continue succeeding with one of baseball's best teams, helps him in that regard.
"My mentality off the field is a laid back, sarcastic guy," said Giles. "On the field, it's all about business. I go out there with a vengeance and with a mission and I go out to war with those guys out there, and make sure I give them the best chance to win a ballgame. That's the mentality I'm going to stick with."
[relatedlinks]