DUNEDIN, Fla. – It seems like only yesterday that the Toronto Blue Jays took the field for their first Grapefruit League game, sending Casey Lawrence to the mound against the Atlanta Braves at Disney World on Feb. 25th, but the Jays went into their Thursday off-day with less than a week remaining before they hop on a plane and head north to Montreal, leaving behind the Tampa Bay area for another spring. Or for a week, anyway, until they come back to play the Rays four times in the second series of the regular season, beginning April 6th.
With 25 pre-season games in the rear-view mirror and 10 more to go before the results start to count, here's a look at some of the more notable performances by Blue Jays this spring:
STARTING ROTATION
The Blue Jays had the best starting rotation in the American League last season, and the fivesome is off to a pretty tremendous start down here in Florida.
Led by Francisco Liriano's silly numbers (1.86 ERA, 0.83 WHIP, 18 Ks in 9 2/3 innings), the Jays' rotation features four starters who have posted a WHIP under 1.00 so far this spring, which means they've allowed fewer than one base runner per inning pitched. J.A. Happ – fortunate that his outing against Team Canada on March 7th doesn't count in Grapefruit League statistics – leads the squad with a 0.67 WHIP, followed closely by Marco Estrada's 0.69 in more than twice as many innings. Liriano's spring WHIP is 0.83, and Marcus Stroman's is 0.86, the result of two terrific starts he had before joining Team USA and eventually becoming the World Baseball Classic MVP.
The only Jays starter with a WHIP over 1.00 this spring is Aaron Sanchez, who just happened to win the American League ERA title last year. Sanchez walked four in 3 1/3 innings in his last start, March 21st against the Orioles, but none of them scored, so that's something.
WELCOME BACK
Most Blue Jays observers (including this one) believed that Jose Bautista's great career with the team with which he became one of baseball's most feared hitters was over at the end of last year's ALCS, once the Jays were knocked out by Cleveland.
The Jays looked at several other options over the winter, but they finally circled back to Bautista, who never wavered in saying Toronto was where he wanted to be all along.
The slugger resumed his Jays career seamlessly, smacking a double into the left-field corner in his first at-bat of the spring and going on to hit a scorching .563/.611/1.063 in 16 spring at-bats before leaving to join Team Dominican Republic in the World Baseball Classic.
There, Bautista belted a three-run homer in a rout over Team Canada and may well have saved his team from an early elimination by throwing out what would have been the winning run at the plate in the bottom of the ninth in their final Pool C game against Colombia. The D.R. eventually won in extra innings, winning the pool and advancing to the second round.
QUIET KENDRYS
There was great hue and cry from the masses when Edwin Encarnacion signed a free agent contract with Cleveland in January, as there ought to have been. Edwin's pretty great, and certainly both sides messed up in not assuring his return to the Blue Jays. But one of the reasons Encarnacion's no longer a Jay is because when he declined the Jays' best offer (which was better than the one he eventually signed), they went out and signed Kendrys Morales to take over as their designated hitter.
The switch-hitter hit the ground running, with an RBI single and solo home run in his spring debut, and he has very quietly continued to rake all spring long.
Morales is hitting .367/.424/.667 over 30 spring at-bats, holding a share of the team lead with two home runs. He has even gotten in a couple of games at first base and not looked out of place at all.
Toronto Blue Jays on Sportsnet NOW
Want to stream every Blue Jays games this season? Sportsnet NOW has you covered. Catch every Blue Jays game, marquee MLB matchups, the 2017 Home Run Derby and All-Star Game, the playoffs and entire World Series.
PILLAR OF STRENGTH
The Blue Jays' defensive wizard is known far more for his glove than his bat, but there have been a few stretches in his big–league career over which he's looked more like the guy who hit over .300 at every level of the minors on his way up than the guy who can't stop himself from swinging at a two-strike pitch that's off the plate.
Pillar has had a streaky spring, starting off 10-for-20, then going 2-for-18, and now has hits in three of his last four at-bats for an overall .349/.417/.535 line.
But the most notable thing about Pillar's spring is the fact that he has walked more than he's struck out. Five free passes in 49 plate appearances is very different for Pillar – it's more than double his career walk rate of 4.2% – and it looks even better standing against only four strikeouts.
Of course, the proof will be in the regular season, if Pillar can maintain this approach, but he's looked great so far.
LIGHT TOWER POWER
One of the least-noticed signings of the Blue Jays' off-season came at the end of November, when the Jays gave catcher Mike Ohlman a minor-league deal and invited him to spring training.
Ohlman, a 26 year-old out of the Cardinals' organization by way of Baltimore, reached triple-A for the first time last season and hit .280/.333/.464 with the Memphis Redbirds.
A hulking figure at six-foot-five and 240-lbs, Ohlman is a big target behind the plate and though he hasn't played as much as some of the other catchers in camp, he's done damage with the bat when given the chance.
The right-handed hitter shares the Blue Jays' team lead with two home runs (with Bautista, Morales, Ryan McBroom and Jarrod Saltalamacchia), but to say his shots have been prodigious would be doing an injustice to the word.
Ohlman's first home run came Feb. 28th, with the Blue Jays in Bradenton visiting the Pirates. Facing A.J. Schugel (who gave up only four homers in 52 big-league innings last season), Ohlman sent a shot to left field that cleared the Blue Jays' bullpen behind the fence, went over the fan boardwalk that rings the stadium and landed in the bus parking lot.
Then on March 14th, against the Red Sox in Fort Myers, Ohlman went even deeper.
JetBlue Park is mostly a copy of Fenway Park in Boston, with the same on-field dimensions and a Green Monster in left field. But in order to fit seating inside the wall as well as on top, the Monster at JetBlue Park is 44 feet high, as opposed to Fenway's 37-footer.
There's only one row of seats atop the Fort Myers Monster, but at the far end of the wall, in left-centre, there's an elevator, and the housing for it is about twelve feet high. Ohlman hit it over the elevator housing.
And it hasn't just been the homers – Ohlman is doing a fine job behind the plate and hitting .294/.368/.647 for the spring.
Ben Nicholson-Smith is Sportsnet's baseball editor. Arden Zwelling is a senior writer. Together, they bring you the most in-depth Blue Jays podcast in the league, covering off all the latest news with opinion and analysis, as well as interviews with other insiders and team members.
LESS THAN GOOD RESULTS
Two Blue Jays who started this spring behind the 8-ball in many fans' eyes haven't done themselves any favours by struggling through the Grapefruit season.
Melvin Upton, Jr. stumbled to a .174/.206/.304 mark in 23 spring at-bats before hurting his shoulder a week ago. He hasn't played in a game since.
Justin Smoak is off to a .150/.255/.290 start, and the Jays are giving him plenty of looks. He's among the team leaders with 40 at-bats so far. Smoak has six walks against 13 strikeouts, and the fact that his on-base percentage is over a hundred points higher than his batting average is a very good thing. But it's hard not to look at the batting average.
The Jays are committed to giving Smoak a legitimate shot this season, so expect to see him playing first base just about every day for at least the month of April, assuming Steve Pearce is healthy enough to play left field.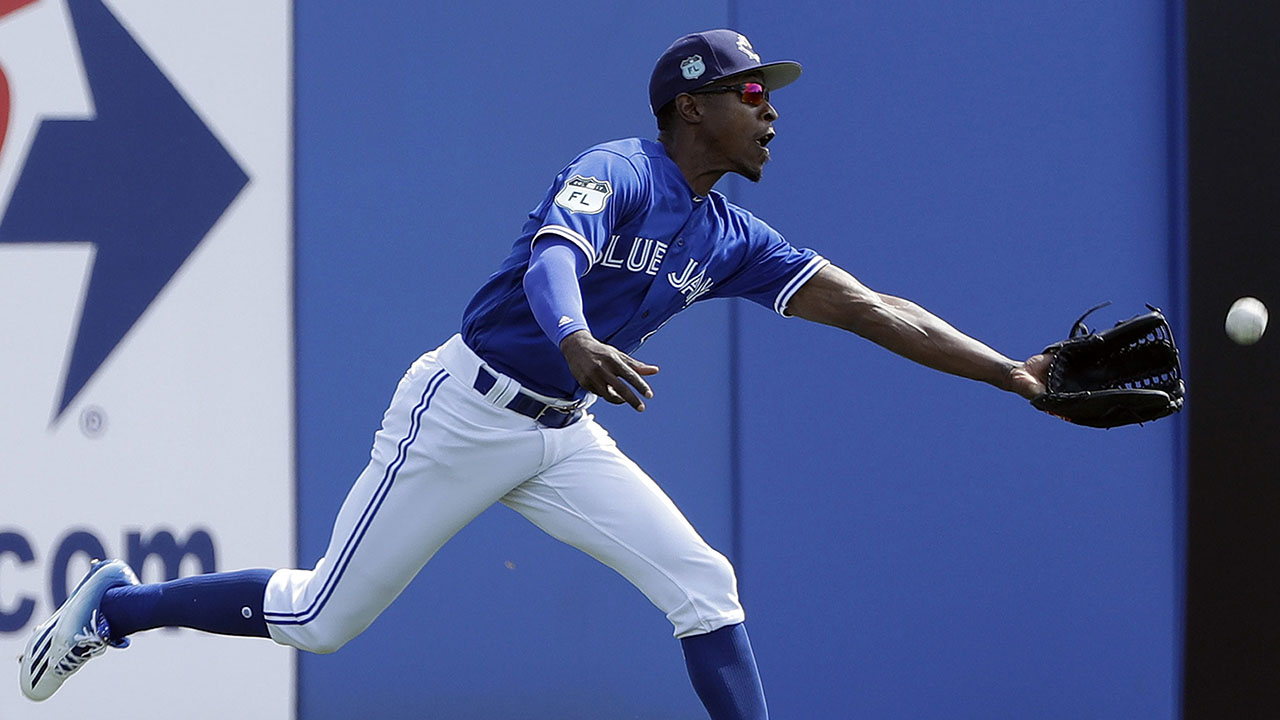 Melvin Upton Jr. is currently dealing with a sore right shoulder. (Chris O'Meara/AP)
THAT'S JUST WEIRD
Sometimes numbers can be confusing, and that's certainly the case with Mat Latos this spring, at least at first glance.
It's been said many times that Latos, brought in on a minor-league deal to contend for a spot in the Blue Jays' bullpen and to be starting pitching insurance, is having an up-and-down spring, and nowhere is it better illustrated than this:
Latos has held opponents to a .195 batting average this spring. Sensational.
Latos has a 6.94 ERA. Not as sensational.
A dive a little deeper into the numbers shows why. In his 11 2/3 innings of work over five appearances, the righty has allowed only eight hits. The problem is that half of them have been home runs, a mark that leads the team.
Latos also has a share of the team lead in walks allowed, with seven, tied with Lawrence.
There have been times when Latos has dominated, and there have been times when he has been knocked around. In the overall, there's been more bad than good, but it's easy to see that there's a lot in there. Barring a terrific final week of spring, it would appear the righty will start the season in Buffalo.