BUFFALO, N.Y. — In the New Hampshire Fisher Cats clubhouse, the one Vladimir Guerrero Jr. called home until his promotion to the triple-A Buffalo Bisons this week, there's a big whiteboard on a wall near the coach's offices. The names of every hitter on the team run down one column, while another lists how many balls each Fisher Cat has hit with an exit velocity of 100-m.p.h. or higher. A third column lists the hardest-hit balls to come off their bats. New Hampshire's hitting coach, Hunter Mense, updates it after every game.
"It's kind of cool to come in every day and be like, hey, did I get one over 100?" says Jonathan Davis, a Buffalo Bisons outfielder who started the season with New Hampshire. "It's good competition. But, before he got hurt, no one was catching Vlad."
At the time he went down with a patellar tendon strain in his left knee this June, Guerrero was leading the Fisher Cats with 68 balls in play north of 100-m.p.h., while fellow top prospect Bo Bichette was second, but trailing by more than 20. It took Bichette the full six weeks that Guerrero spent out of New Hampshire's lineup in order to pass his teammate, edging ahead just before baseball's top prospect returned in late July.
"The day Vlad got back, he walked in and saw Bo's name ahead of his. And Vlad just laughed and gave Bo a look, like, 'okay, I got you,'" says New Hampshire's manager, John Schneider. "And then he passed him."
By the time he was called up to the Bisons, who the 19-year-old phenom debuted with Tuesday night, Guerrero had hit 83 balls at 100 m.p.h. or higher. He added 15 in seven games. He also still holds the team's hardest-hit ball of the year, coming off his bat at a blistering 120 m.p.h. In MLB this season, only four balls have been hit 120 m.p.h. or higher. Giancarlo Stanton has two, Aaron Judge has one, and Gary Sanchez has the other.
"It was a lot, man. We'd check the numbers every night, and there were some games where every ball he hit was 105 or above," Schneider says. "It's crazy. Really, it's just crazy."
**
Tuesday, on a humid night in Western New York, Guerrero wrapped blue athletic tape around each of his wrists, buttoned up a white Buffalo Bisons uniform, pulled a fresh cap over his amber-tipped dreadlocks, and took the field for what should be his final step before the major leagues. He was in a triple-A lineup for the first time in his life, only 137 days after his 19th birthday, batting third and playing third base against the Lehigh Valley IronPigs.
In his first plate appearance, he worked a full count and laid off a breaking ball down and in to draw a walk. In his next, Lehigh starter Ranger Suarez refused to give him anything near the plate, repeatedly throwing fastballs away and issuing a four-pitch walk.
His third time up, Suarez again started Guerrero with two balls way outside the zone, forcing a mid-plate appearance mound visit from his manager, who delivered a terse, animated message with the entire infield on the mound. Three pitches later, Suarez walked him again. Last week, Suarez was in the majors. He throws a 93-m.p.h. fastball. Guerrero never got one to hit.
"I went to home plate to swing," Guerrero said later. "And they weren't throwing anything to swing at."
Stepping in for his fourth plate appearance of the night, moments after Anthony Alford drew a walk to load the bases in the bottom of the sixth, it looked like the IronPigs would finally be forced to pitch to the youngest player in the league.
And still, the first pitch was a ball. The second was a strike, but the third was a ball, too, even though it was called a strike by the home plate umpire. As the arm went out, Guerrero looked back and said, "down — that was down." The umpire offered his perspective and Guerrero reiterated his differing one before stepping back in and shooting a line drive into left-centre field. It took a diving play by Lehigh Valley's left-fielder to hold him to a sacrifice fly.
The first @TripleABaseball RBI for Vlad Guerrero Jr.#Bisons #BlueJays pic.twitter.com/tCywxHK72B

— Buffalo Bisons (@BuffaloBisons) August 1, 2018
"The left-fielder gets paid to do that," Guerrero said. "And that's what he did."
In the eighth, Guerrero sent a full-count pitch skipping on the grass and over the pitcher's mound, where the second baseman was shading him up the middle. It went down as a groundout, and sealed his first ever line in a triple-A box score as 0-for-1 with three walks, two runs scored, and an RBI.
Not long after, he sat at a table outside the Bisons clubhouse in a black t-shirt and jeans, talking about his night. If Guerrero was frustrated to have been held hitless for the first time in a dozen games, to have not made more of an impact in his debut, to have hardly seen one good pitch to hit, he wasn't showing it.
"I felt good at the plate," he said. "When I go to home plate, I just stand there waiting for my pitch. And if they don't throw my pitch, I'm not going to swing at it. … They've just got to throw the ball over the plate."
Of course, maybe Suarez knew better than to do that. He's faced Guerrero before — three times this year, in fact, at double-A. He walked him twice and gave up a sacrifice fly. Last season, facing Guerrero when he was with high-A Dunedin, the then-18-year-old went 2-for-3 against Suarez. Lesson learned. And he's far from the first.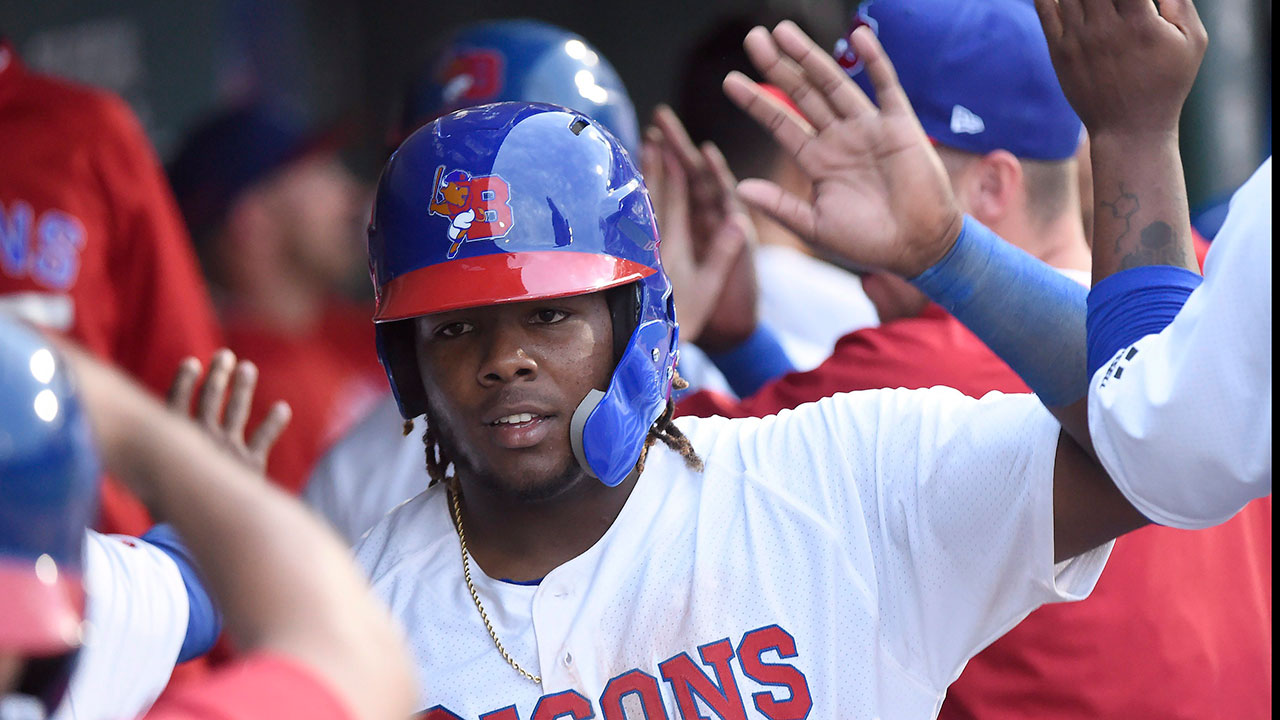 **
Late this May, in the sixth inning of a scheduled seven-inning game against the Binghamton Rumble Ponies, the Fisher Cats coughed up a one-run lead and went into the game's final inning trailing by two. Binghampton's closer — 25-year-old Tyler Bashlor, a hard-throwing right-hander with a 96-m.p.h. fastball who's now pitching out of the New York Mets bullpen — was coming on. Not a good spot. But the Fisher Cats are a bit of a cocky bunch.
"In the dugout," Davis says, "we were like, 'we're gonna win this game.'"
Davis set the stage, leading off with a double down the line. Then Bichette doubled to deep centre, cashing Davis and bringing New Hampshire within a run. Guerrero, watching from the on-deck circle, looked into his dugout at Fisher Cats second baseman Cavan Biggio, who was hitting behind him, and said, "hey, this guy's going to throw me a cutter away — and I'm going to hit it over the right-centre field wall."
"First pitch, very first pitch," Davis says, "he did it."
As he slapped Schneider's hand rounding third, Guerrero rifled his batting helmet into the ground, pointed at the raucous teammates waiting for him, and hopped, skipped, and jumped onto the plate.
"It was crazy," Davis says. "You don't get guys that sit on pitches like that. It just doesn't happen, man."
That's not an isolated event. Teammates and coaches marvel at Guerrero's approach. He never goes to the plate without a plan. And, frequently, he tells teammates which pitch he'll be looking for, and then hammers that pitch when he gets it. He was making his predictions even last season with Dunedin.
"One at-bat, he goes, 'when this guy throws me a curveball, I'm gonna hit it out of the park,'" says Connor Fisk, a Bisons reliever who's been with Guerrero at three different levels. "Sure enough, guy threw him a curveball, and he hit it out of the park in Dunedin.
"Same thing this year. We're facing this guy who's throwing hard, he had downhill angle. Vlad goes, 'I'm just going to take my bat and I'm going to chop it instead of trying to hit a line drive.' Next at-bat — boom. He chopped it, hit a ball out in Trenton. I think it made it on Barstool or something. It's just amazing."
And remember Guerrero's breathtaking home run in Montreal to cap spring training? The one he crushed to left-centre, wearing his father's number, in the ballpark where the hall-of-famer started his legendary career? Same thing.
"He told guys on the bench, 'I've seen two fastballs this whole series. If he throws me a slider, I'm hitting it," Fisk says. "Sure enough, two pitches later, guy hangs a slider, and he hits it out of the park for a walk-off. I'm pretty sure he told Bo while he was on deck. That's why Bo was going nuts."
**
Of course, it's not only moments like the one in Montreal that make being Vlad Jr. one hell of an experience. Camera phones are raised all over the stadium whenever he walks to the plate. Autograph seekers camp out at his hotels on the road. MLB Network brought a camera crew to Manchester to document him hitting off a tee.
Tuesday at Coca-Cola Field in Buffalo was a zoo in and of itself. Nearly 9,500 turned up to watch Guerrero's first game. The Bisons are averaging 7,440 on the season. The last time they had a Tuesday night home game, 6,233 were on hand.
Shortly before the game, Guerrero signed autographs up the right-field line, as a horde of fans extended souvenirs over a railing. One of the items he signed was a Blue Jays jersey with his name and number on it. He's yet to play a game for that team.
When he was in New Hampshire, the Fisher Cats coaching staff kept a close eye on the attention and requests Guerrero was receiving, checking in with him every few weeks to ensure he wasn't being pulled in too many directions.
"When you're a kid his age, and you're hitting .400, you're hitting balls off hotels, you're kind of like a rock star — it would be easy to veer off a little bit with the success and hoopla that comes with being Vladdy Jr.," Schneider says. "But it was cool to watch him just take it all in and really be a pro with it. I was really impressed with how he continued to work, continued to try to improve, continued to be a good teammate and an awesome guy to be around.
"Whenever we did have those conversations, he would just smile and laugh and be like, 'no, I'm good, let's go. I'm fine.' It wasn't like, 'oh, yeah, this is crazy.' He was like 'yeah, okay, let's go. What time are we going out to the field?'"
In this MLB and Toronto Blue Jays podcast, Dan Shulman takes a look at the human side of baseball. Because everyone in the game has a story.
Guerrero's English is actually a lot better than many assume. Those who work with him every day will tell you Guerrero can understand most that he hears in English; it's speaking the language himself that continues to challenge him. But every once and a while, he'll surprise people.
Last week, when he was in Hartford with the Fisher Cats, Guerrero popped into his manager's office unannounced and said, "Hey, Schneider, I have a question." Every one of New Hampshire's infielders had been given a defensive positioning cheat card for that night's game. But Guerrero noticed that a player they'd shifted the night prior wasn't being shifted that night. He wanted to know why.
"I was like, okay, for one, he's taking in all this information, which is pretty cool," Schneider says. "And, two, he's comfortable enough to just walk in and ask me something in English."
Schneider and Guerrero text often, in both English and Spanish, which the manager has been picking up more and more with some help from his Cuban wife. While Guerrero was in Florida rehabbing his knee injury, Schneider FaceTimed with him every few days. The language of their conversations is probably best described as Spanglish. But that Guerrero is getting as adept as he is with the English side of that equation is very encouraging for the Blue Jays organization, as the Dominican-raised teenager continues to assimilate to life in North America.
Ben Nicholson-Smith is Sportsnet's baseball editor. Arden Zwelling is a senior writer. Together, they bring you the most in-depth Blue Jays podcast in the league, covering off all the latest news with opinion and analysis, as well as interviews with other insiders and team members.
And it's helped in the clubhouse. Prior to the season, Schneider sat down with Guerrero to talk about him assuming a leadership role with the Fisher Cats. Guerrero will probably never be a vociferous, rousing, scream-and-yell type. He was a shy, reserved presence with the Bluefield Blue Jays during his first professional season. And he only started truly coming out of his shell last year.
He's been the youngest guy in the league everywhere he's played, and he won't be far off when he eventually reaches the majors. But Schneider says Guerrero doesn't have to deliver motivating speeches to lead.
"A dude like him who's so talented on the field, it's kind of easy to say, 'okay, he's going to lead by example,'" Schneider says. "But we just wanted to make him more self-aware of the impact that he can have on other people because of the type of talent that he has on the field.
"And since then, he's really taken on a quiet leadership role. And he's not afraid to speak up when he's needed to speak up. For a 19-year-old kid to really understand that and then to put it into play and have guys follow his lead, I think that says a lot about the respect that the other guys on the team have for him."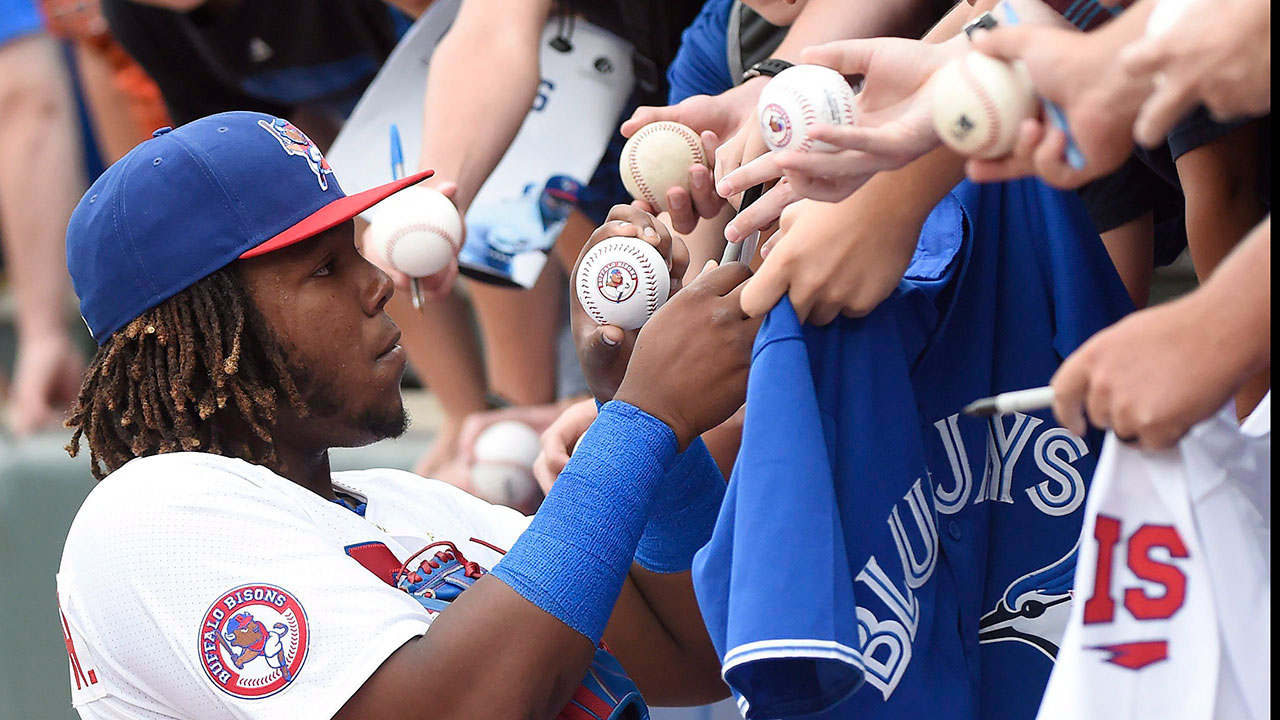 **
So, about that whiteboard in the Fisher Cats clubhouse. The one with the exit velocities. There's another column to the right of the ones tracking the hardest-hit balls. That one accounts for all the balls that came off bats under 70 m.p.h. that went for hits. The idea is to show young Blue Jays prospects that baseball is a peculiar, maddening game. Yes, of course the organization wants players hitting the ball hard consistently. But, more than anything, they want players doing things the right way — running out soft contact, forming good habits and routines, being supportive of one another in times of success and failure. The whiteboard is meant to show that, over the long haul in this game, things have a funny way of evening out.
That's a good takeaway from Guerrero's first night at triple-A, too. He may not have seen a pitch to hit. But he did exactly what the Blue Jays want him to. He took what he was given.
"I'm almost glad he didn't get a hit," said Bobby Meacham, Guerrero's new manager with the Bisons. "Because there's more to being a big-league ballplayer, more to being a really good ballplayer, than getting hits. And we saw a lot of really good things tonight. We saw good things on defence. We saw footwork before pitches on balls that weren't even hit to him. We saw good awareness on a lot of good things.
"Oh, yeah — and he was patient at the plate, too."